Finding America's Best Warranty Providers the Easy Way
Protecting your property from malfunctions and failures isn't an easy task. Be it a car, home, or appliance warranty, the protection is usually limited and lasts only a few years. Most cars and devices start breaking down after the manufacturer's warranty expires, leaving your pockets empty in no time.
This article will teach you how to choose your new warranty company wisely and avoid inconveniences.
What Are Warranty Companies?
Warranty companies are businesses that sell additional warranty plans for retailers and customers. 
Depending on the warranty type, such plans cover all the systems prone to failures. It can be a specific set of components in a car, a particular household appliance, or any other property.
Third-party warranties are usually more affordable than standard policies provided by manufacturers. They also offer certain perks that may include:
Low deductibles

Contract transferability

Simpler claim procedures

Pre-owned car

assistance

Bigger or lifetime coverage
All these attractive features are the reason why many people opt for warranty companies and their services. To get the best out of third-party warranty policies, you need to learn how to detect the reliable ones and eliminate the others.
How To Recognize Reliable Warranty Providers?
The table below shows the top three indicators of a solid warranty company:
Indicator
Examples

Experience and quality

The company has been in business for a long time

The plans the provider offers are well-made and comprehensive

Transparency

The warranty policy clearly states what it covers/doesn't cover

Customer care representatives are ready to explain the offer in more detail and respond to your queries

Reputation

Most reviews you can find on the internet are positive

People you know have had positive experiences with the company

The company hasn't been involved in scandals or suspicious activities
The Most Popular Third-Party Warranty Companies in America
Depending on the type of service you need, you will bump into various providers on the market. To simplify your search, check out the list of the most prominent car and home warranty companies in America in the table below:
Company Name
Warranty Type
Benefits

American Home Shield (AHS)

Home warranties

Amazon Home Warranty

Home warranties

Comprehensive plans

Affordable monthly fees

Wide choice of contractors

Experienced and skilled technicians

Choice Home Warranty

Home warranties

No fees for contract transfer

Extensive plan offer

Available discounts when you start an annual warranty plan

Endurance

Car warranties

Five different levels

Amazing discounts—up to $300

Best coverage on the market—up to 15 years

CarShield

Car warranties

Great reviews

Six levels of coverage

24/7 roadside assistance

CARCHEX

Car warranties

Low prices

Amazing customer service

Diverse plans for all types of vehicles
Claim Warranties From Any Company With DoNotPay
Some companies have a simple claim procedure, but some providers complicate the process unnecessarily. If you wish to jump over numerous protocols and file a warranty claim in the blink of an eye, DoNotPay is here to help.
All you need to do is visit our app in your web browser and do the following:
Find the

Claim Warranty

section and select the type of warranty you want to claim

Provide the chatbot with more info about the particular provider or warranty details

Specify the issue you are experiencing and describe it in full detail

Submit your claim
Our AI-powered system will use the provided information to generate a claim letter and send it to the provider in question. The company should contact you soon after claim submission and schedule a repair, refund, or replacement of the affected property part.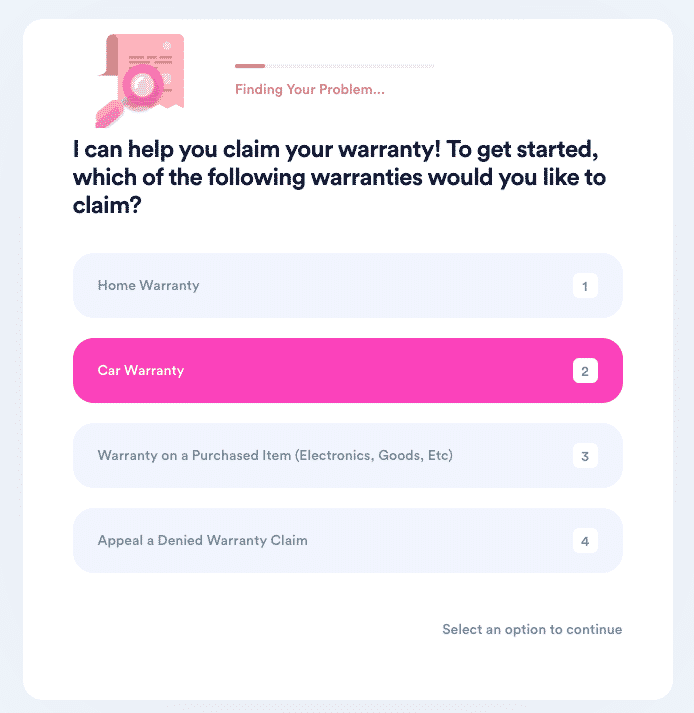 Appeal a Rejected Warranty Claim Within Minutes With Our App
Not every warranty claim is successful. Many providers don't comply with their terms and conditions or even refuse to cancel your extended warranty. In such cases, you can use DoNotPay to submit an appeal quickly, without dealing with bureaucracy.
Here are the steps you should follow:
Open DoNotPay and find the

Claim Warranty

section

Pick

Appeal a Denied Warranty Claim

Choose

Extended Warranty Provider

Tell us more about the warranty provider and attach a digital copy of the rejected claim

Click on

Submit
We will generate and forward an appeal in your stead right away and make sure the provider gets in touch shortly.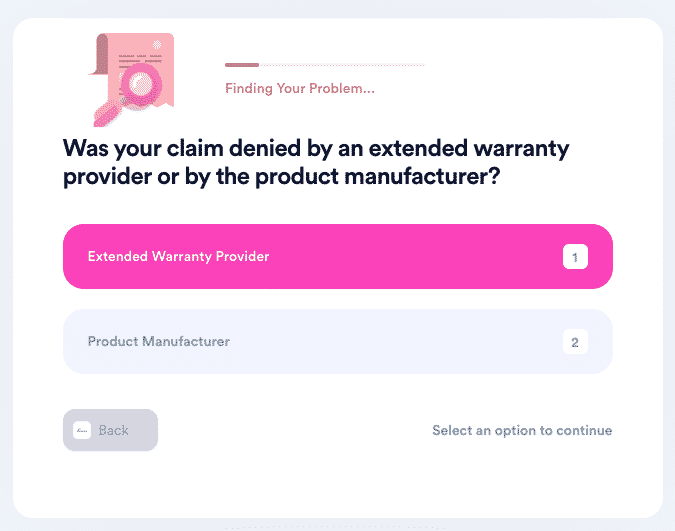 What Else Can DoNotPay Do?
As your virtual assistant, DoNotPay helps you avoid the worst warranty companies in America. Our advice makes claiming warranties with companies like AAA, Select, Carmax, or Landmark as easy as ABC! 
You can learn even more by checking out our knowledge base that has solutions for all those boring bureaucratic chores you would rather avoid.
Visit our learning center anytime in your web browser and discover more tricks for:
Fighting traffic tickets

Appealing speeding tickets