The Best Way of Filing American Family Insurance Claims
American Family Insurance—known as AmFam— is a private mutual company that focuses primarily on auto, casualty, and property insurance. The company offers a great deal of budget-friendly insurance policies, but it lacks competence when it comes to servicing claims.
If your car gets damaged in an accident or a flood, hurricane, or hailstorm wrecks your home, DoNotPay will help you file an American Family Insurance claim with no hassle.
What Does American Family Insurance Cover?
American Family Insurance provides various types of insurance. You can check what policies AmFam offers in the table below:
Type of Insurance
What Does It Cover?

Vehicle insurance

Car insurance

Motorcycle insurance

Classic car insurance

RV and camper insurance

ATV insurance

Boat insurance

Snowmobile insurance

Property and business

Home insurance

Renters insurance

Condo insurance

Landlord insurance

Manufactured home

Farm and ranch insurance

Business insurance

Added protection

Life insurance

Health insurance

Umbrella insurance

Credit monitoring

Identity theft insurance

Travel insurance
What Do You Need for Filing American Family Insurance Claims?
Before you start the claim filing process, you should have the following information prepared:
Date and time of the event

Photos of the damage caused to your vehicle or property

A short description of what happened

Your contact information and details about the insurance policy

Contact and insurance information of anyone else involved in the event
How To File
American Family Insurance Claims
on Your Own
Whether you want to file a car, home, health, or any other AmFam insurance claim on your own, you can choose between the following options:
Contacting your agent

Over the phone

Online
How To File American Family Insurance Claims by Contacting Your Agent
If you want to communicate the problem to the American Family Insurance agent in charge of your insurance policy, here is how you can do it:
Go to the AmFam official website

Open

Claims

Click the

Claim Process

tab

Select

Contact Your American Family Insurance Agent

Specify whether you want to search your agent by location or name

Enter the required information in the

Contact an Agent

form

Hit

Search
Once you locate your agent, you can discuss the event that occurred, the problems it caused, and the next steps for filing a claim.
How To File American Family Insurance Claims Over the Phone
If you like to resolve all your problems over the phone, here's how to do it regarding American Family Insurance claims:
Call an AmFam representative at

1-800-MYAMFAM

or

1-800-692-6326

Discuss the accident, damages, and your insurance policy details

Ask them to file a claim
How To File American Family Insurance Claims Online
You can file an AmFam insurance claim online through the MyAmFam app or your account. Here's how to submit your claim through your account:
Access the official website

Go to

Claims

Select

File a Claim

Sign in to your account or file a claim as a guest

Choose a type of claim you would like to report

Enter the last name and policy number of the insured person

Provide your contact information, including full name, phone number, and address

Explain the event that caused you to file an insurance claim

Submit
If you are using the MyAmFam app or MyAccount to submit the claim, you can:
Upload the photos of damages on your car or property

Find the repair shop for your vehicle or a handyman to repair your property

Rent a car while yours is at the mechanic's
What Happens After I File an American Family Insurance Claim?
Once you submit your insurance claim, representatives at AmFam will review it within two business days. In the meantime, you should gather copies of the police report, photos of damages, and any other official records regarding the accident that can work in your favor.
The insurer will contact you with information about the next steps.
DoNotPay Can Help You File American Family Insurance Claims Without Hassle
The process of filing insurance claims can often be so time-consuming and overwhelming that people try to avoid reporting claims as much as they can. The fact that people hesitate to take what belongs to them is beneficial to insurance companies, as they tend to avoid paying their clients.
DoNotPay created a feature that helps people file insurance claims with minimal effort. You can use our practical Claim Insurance feature to file a claim for:
Property insurance

Medical insurance

Vehicle insurance
How To File an American Family Insurance Claim With DoNotPay
We made the process of filing insurance claims as easy as ABC. Access DoNotPay from any and follow the four-step process:
Select the type of insurance you're filing a claim for

Type in

American Family Insurance

in the search box

Enter your contact information and policy number

Provide details about the accident, such as date, time, and damage it caused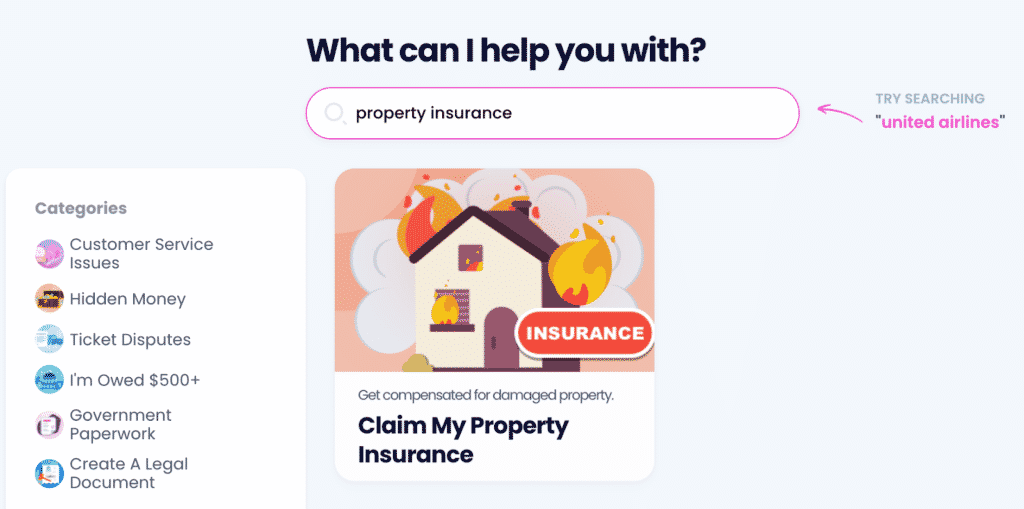 Once you submit your report, we will compose a claim letter to the insurance company. They will contact you in a couple of days with further information.
What Steps To Take If Your Insurance Claim Is Denied
If you gave the wrong information or misspelled a detail in your insurance claim, there's a great chance the company will deny your request. In case your claim gets rejected, will help you salvage it! With our Appeal Denied Insurance Claim feature, we will make sure to secure your compensation by writing the best insurance appeal letter.
DoNotPay Helps You Fight for Your Consumer Rights
Did you know that companies often reject first-time warranty claims?
You're probably familiar with how complicated the process of appealing parking tickets is. Trying to get a refund for an unsatisfactory purchase or a delayed flight has likely made you mad at least once.
Not anymore! DoNotPay makes all these issues go away in less than five minutes, and that is not all we can do for you!
You don't have to deal with customer service reps of any company on your own anymore—we do it all for you!
DoNotPay bypasses any bureaucratic obstacle for you—scheduling DMV appointments, delaying bill payments, getting in touch with your incarcerated loved ones, filing lawsuits in small claims courts, and claiming insurance policies.
Keep Your Data Safe With DoNotPay
Do you love free trials but are reluctant to disclose your credit card details, phone number, or email address?
Our app lets you try out different subscriptions in a risk-free way!
Use DoNotPay's Burner Phone feature to sign up for services without providing your phone number! We'll make sure robocall scammers and text spammers cannot harass you!
With our virtual credit card, you can sign up for any free trial and not worry about canceling it! Since the card is not linked to your bank account, no one will be able to charge you once the trial expires. An additional perk is that the card comes with a free email address, which means no spam emails from the company.