Your Ultimate Guide to Drafting an Amendment to a Lease Agreement
Your lease agreement is a legal document that you should honor, but what if some of the agreed-upon terms no longer suit you? In that case, you can introduce an amendment to the lease agreement.
If you're unsure whether you can change your lease agreement or how to do it, you've come to the right place!
This article will:
What Is an Amendment to a Lease Agreement?
An amendment to a lease agreement has the purpose of making changes to an existing legally binding contract.
Whether you are a lessee or a lessor, you can amend your lease agreement if you want to change the original terms and conditions. You should write a new document that includes the changes you want to make and attach it to the lease agreement.
You do need to honor the original lease when you're amending it, so your first course of action is to review the agreement to see how you'll go about the process.
Legal documents usually contain a clause that dictates under what conditions the changes to the document can be made. Reading it carefully will tell you how to introduce an amendment to your lease.
Standard Lease Agreement Amendment Practices
Whatever the specifics of your lease agreement, here are a few standard guidelines about amending it that you should know about:
Agreeing to the amendment

—If you want to amend your lease, you need to get the other party to agree to the proposed changes and sign the amendment with you

Paying attention to the notice

—Your contract should specify how many days in advance you need to notify the other party before you want to make changes

Abiding by the law

—Your original agreement had to comply with your state or federal regulations, which means the amendment needs to be under the same law
How To Draft an Amendment to a Lease Agreement
The process of writing an amendment to an existing lease agreement is not at all complicated.
Once you negotiate the new terms and conditions with the other party, you can write an amendment that you'll attach to the original lease agreement.
Here's what information you need to include in your amendment:
Property

—Write the address of the property that is being leased

Parties

—Include the full names of the tenant and the landlord and the contact information of the parties

Amendments

—Note all the changes you will be introducing with your amendment and describe them in detail

Statement about the amendment

—Add a statement that the provisions in the amendment that are different from the provisions in the original agreement will govern the agreement from now on

Signatures

—Leave space for you and the other party to sign the amendment

Date

—Provide space for the date when you and the other party sign the amendment
Keep Your Money in Your Pockets and Create Legal Documents With DoNotPay!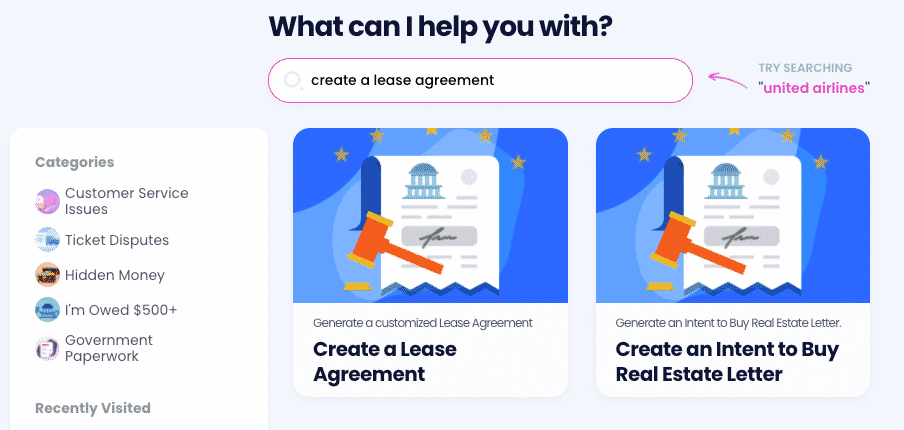 Whether in your personal or professional life, you need to write, review, and sign a legal contract whenever you enter into a deal with another individual or entity.
Since legal documents are specific and need to abide by the law, people feel safer hiring a lawyer to draw up a contract for them than drawing up agreements on their own. The issue is that lawyers are too expensive.
DoNotPay understands this problem, which is why we designed a feature that lets you create legal documents all by yourself.
Make a DoNotPay account, and you'll never stress over hiring a pricey lawyer to write a legal document for you.
Besides creating contracts for you, DoNotPay is also a great learning center when you want to know more about any type of legal document.
Check out the table below to see what you can learn about lease agreements on our site and what kinds of contracts you can get DoNotPay to create for you:
Lease Agreements You Can Learn About
Legal Documents DoNotPay Generates

General business contract

Promissory note

General affidavit

Quitclaim deed

Intent to purchase real estate

Child care authorization form
How To Create All Kinds of Contracts With DoNotPay
Getting our robot lawyer to generate all kinds of legal documents for you could not be faster or simpler. You only need to take the following four steps:
Go to your DoNotPay account

using any web browser

Enter the name of the legal document you need

Answer a few questions about the agreement

Download your customized contract
The best part about using DoNotPay to generate legal documents for you is that you can then e-sign your contract and have it notarized online using the same app!
Do Not Let Companies Burn Your Pocket—Fight Back With DoNotPay
In the golden age of consumerism, it's easy to fall for greedy corporations' tricks and waste your money, sometimes without even knowing it. We are here to nip the money-grabbing techniques in the bud!
With your DoNotPay account, you'll be able to sign up for free trials without worrying about losing money once the trial expires. Are you also concerned about your privacy since most free trials require credit card info? With DoNotPay's virtual credit card, your privacy will remain intact.
Say goodbye to drawn-out refund and cancellation processes with the virtual assistant extraordinaire by your side.
If you need help returning an item or claiming its insurance or warranty, we'll help you throughout the entire procedure.
Need Some Extra Money? Find Unclaimed Funds or Get Compensations
Whether you need help with bills, you're strapped for cash, or you just want to get your money back but you can't bear dealing with customer service, we know what to do!
DoNotPay can help you overturn your parking tickets, apply for a college fee waiver, lower your property taxes, and get free raffle tickets. We can also show you the best way to discover your unclaimed money and obtain different types of refunds and compensation involving airlines, gift cards, and late deliveries.