Can You Amend a Trademark Application? DoNotPay Has All the Answers
The trademark registration process can be quite confusing and overwhelming, especially if you don't know how to go about it. What are the requirements to register a trademark? How do you file one? Can you amend a trademark application in case you make a mistake?
DoNotPay provides the ultimate guide to registering and amending trademark applications. You can also discover how to file your trademark without a hassle ! We can also give valuable insights on:
Why Are Trademarks Important?
A trademark protects intellectual property to ensure that other people do not try to profit from your brand. It can be a mark, a word, or a combination of both. Unlike copyright, a trademark usually lasts for ten years and has to be renewed if you intend to keep using it.
Below are examples of items you can trademark:
Most small business owners believe that registering a trademark is not worth the hype, but a federally registered trademark protects your brand from infringement. Trademark protection laws safeguard your brand from competitors who might want to use it for their profit.
Can You Amend a Trademark Application?
Once the USPTO receives your application, you will receive a tracking number and a summary of the application form so you can review it once again. You must ensure that all the information that you entered in the application form is correct. In case you make a mistake when filing your application, the examining attorney assigned to your case can delay the approval process or even reject your application.
You must bear in mind that not all errors are fixable, and you might not be able to amend your application in all cases.
The following is a list of amendments that are strictly prohibited:
Adding goods or services to the application after registration
Amending the design or description of the trademark
Changing the owner of the trademark
How To Amend a Trademark Application
If you find an error in your application, you can handle it by contacting the Trademark Assistance Center in the following ways:
| Ways To Contact | Details |
| --- | --- |
| Phone | 1-800-786-9199 |
| Email | trademarkAssistanceCenter@uspto.gov |
| In person | 600 Dulany Street, Madison East, Concourse Level, Alexandria, VA 22314 |
The support team is available Monday to Friday from 8:30 a.m. to 8 p.m.
Once you contact the support team, they will ask you to provide the following information:
Your name, address, and contact details
Your application number
The error(s) that you need to correct
Amending a Trademark Application Online
You can also use the TEAS Response form to request a correction online. Depending on the status of your application in the Trademark Status and Document Retrieval (TSDR) system, here are the specific forms that you need to use:
Application Status
Form Type
Your application has been filed but not reviewed by an examining attorney

Voluntary Amendment Not in Response to USPTO Office Action/Letter
You should wait seven to ten days before filing this form to give enough time for the information to be uploaded to the USPTO database

The examining attorney has issued an office action
Response to Examining Attorney Office Action
The trademark has been published in the Trademark Official Gazette (TMOG)
Post-Approval/Publication/Post-Notice of Allowance (NOA) Amendment
Your mark has been registered
Section 7 Request for Amendment or Correction of Registration Certificate
If your error cannot be corrected, you will need to file a new application. You will not get a refund for the registration fee, and you will have to pay it again.
How To Register a Trademark
In some circumstances, you may need to or want to file a new trademark application.
Before you start the registration process, conduct an extensive search on the USPTO trademark database for any marks that seem similar to yours. Once you have verified that your mark is unique, follow these instructions:
Enter information in the trademark application form, such as:

Your details, including your complete name, address, and contact information
Design and description of your trademark
Purpose of your business
The trademark class(es) under which you are categorizing your goods and services

Pay the processing fee
Review the form to ensure that there are no errors in the application
Digitally sign the form
Click on Submit
Alternatively, you can turn to DoNotPay and let us do the hard work for you.
Avoid Having To Amend Your Application by Using DoNotPay To File a Trademark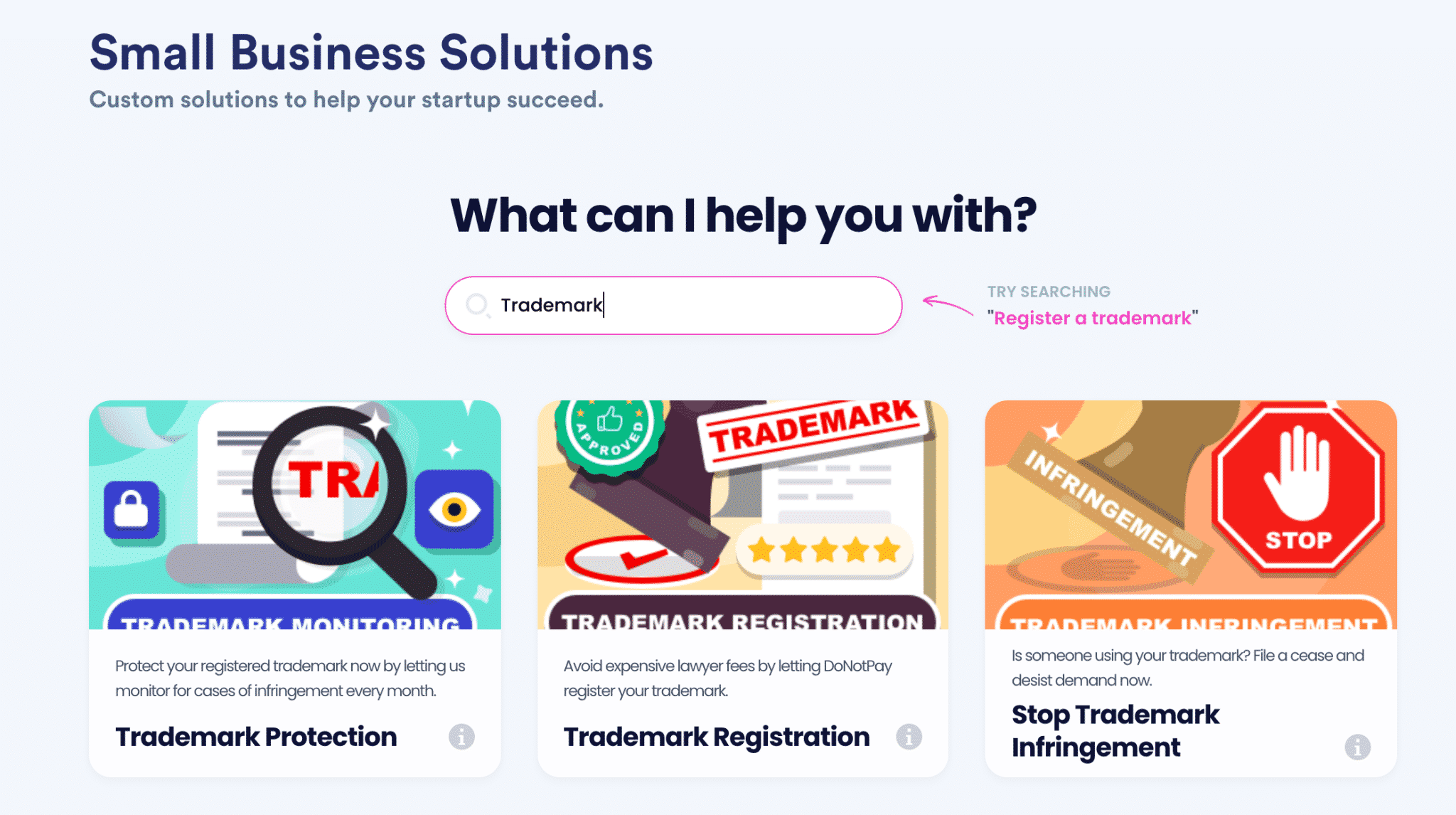 If you have had to bear the consequences of amending a trademark application, you know the hassle that comes with it. Why bother going through a costly and time-consuming process all by yourself when DoNotPay offers a more convenient solution?
Our AI-powered app can help you:
Search the USPTO database
Fill out the application form correctly
Submit it to the correct trademark department
Send you a serial number to track your application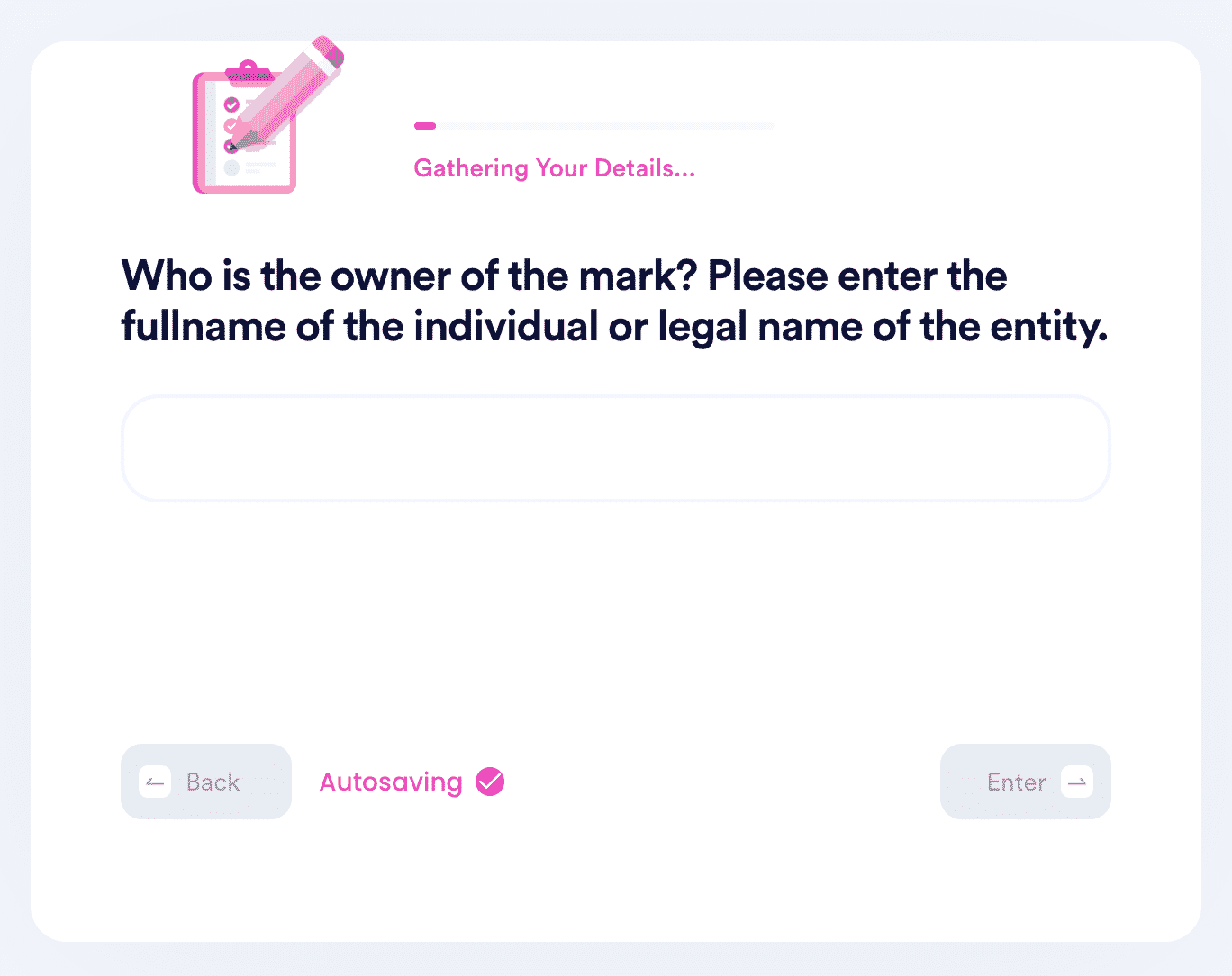 Here is what you need to do:
in your web browser
Choose the Trademark Registration product
Enter a few details about your trademark
Pay the USPTO processing fee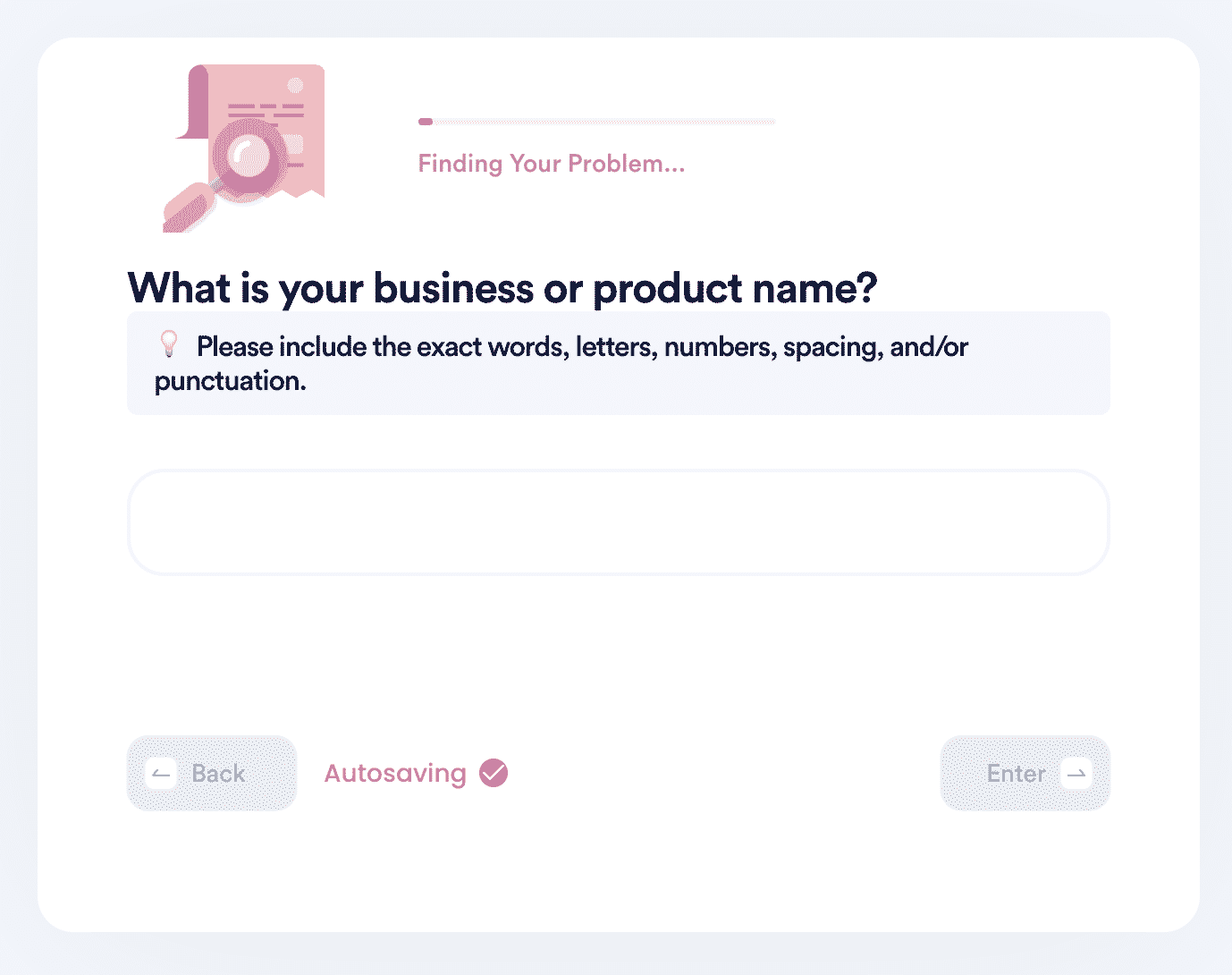 DoNotPay Helps You Do Everything by the Book!
Are you confused by the numerous business-related laws and procedures? If you cannot seem to get the hang of all of the processes, you should rely on DoNotPay. Allow your robot lawyer to help you take care of Employer Identification Number (EIN) and DMCA agent registration in a matter of minutes!
Once you handle those tasks, you should consider using DoNotPay to register your business slogan, name, or logo as a trademark and protect your brand by allowing us to check for trademark violations regularly.
Not sure how to handle 83(b) election forms? Automate the entire process and have your employees fill out and submit the forms in a few clicks! We can even help you protect the privacy of your clients by filing a self-certification request with the Privacy Shield program on your behalf so your website complies with data protection requirements.
Running a Business Is Smooth Sailing With DoNotPay
DoNotPay has a solution for any business issue. We can help you:
Draw up a professional and convincing small business loan request letter and get the necessary funds for your business
Report unjustified negative reviews that could damage your brand until they are taken down
Request payment from clients who break the contract
Dispute chargeback requests when they are unfair
Send letters or paperwork without going to the post office