Am I Responsible for My Parent's Debt if I Have a Power of Attorney? DoNotPay Knows!
Did your parents ask you to be their attorney-in-fact, but you're not sure whether to accept it because you don't know which responsibilities you'll have? DoNotPay is here to help you out.
If you're wondering, "Am I responsible for my parent's debt if I have a power of attorney?'' or have any other concerns regarding this role, you can count on DoNotPay to find out the answer. Our app will also provide you with all the other info you may need about powers of attorney (POA) and help you create this document in a flash.
What Are the Power of Attorney Responsibilities and Liabilities?
Regardless of who wants to appoint you as an agent—whether your parent, friend, or family member—you should be aware of your potential responsibilities. Those can include:
Acting diligently and in good faith for the principal's benefit
Managing the principal's real estate, investments, financial assets, and bank accounts
Keeping accounts of all transactions involving the property
Determining if the principal has a will and what the contents are
Using the principal's assets to cover the expenses related to their care and support
Consulting with supportive family members and friends regarding important decisions
If you breach any of your duties, you will become liable for the consequential damages. You may need to compensate the principal or the beneficiaries of the grantor's estate if you fail to handle your obligations properly.
Am I Responsible for My Parents' Debt if I Have a Power of Attorney?
If you are appointed as an agent of your parents' POA, you do not have to take on your parents' debts on yourself. As long as your parents are alive, they are the ones responsible for the money they owe. Once they become incapacitated, you—as the agent—will need to pay the debts using your parents' assets and not your own money.
A power of attorney document ends when your parents pass away. In that situation, the administrator of the estate is the one who is in charge of paying any debts.
While you won't have to return the money your parents owe, note that your inheritance might be affected by their debts.
If I Have a Power of Attorney, Am I Responsible for Debts When the Principal Passes Away?
Normally, the agent is not responsible for any debts when the principal passes away, but there are a few exceptions. Take a look at the table below for more information:
The Agent Is Responsible for Debts if They:
Brief Explanation
Were a co-signer of a loan
If the agent co-signed a loan or jointly took one out, they are in charge of the outstanding balance. When the principal passes away, the debt is still valid and needs to be paid
Hold a joint account with the principal
When both the agent's and the principal's names are on an account application, the debt must be paid even if one of the parties passes away
Were married to the principal and live in a community property state
In some states, spouses have equal responsibility for debts. These are the states where the surviving spouse needs to pay for the deceased spouse's debts:

Arizona
California
Idaho
Louisiana
New Mexico
Nevada
Texas
Washington
Wisconsin

Are the administrator of the deceased principal's estate
If the agent is also the administrator of the estate, they are obligated to cover the principal's debts
Now that you've seen that a POA can protect your interests, you can create the document fast and without trouble using DoNotPay!
Use DoNotPay To Make a Power of Attorney in No Time
Once you decide that you want to make a power of attorney, you should turn to DoNotPay for help. If you use our app, you won't need to spend a small fortune on a lawyer. We can provide you with a POA letter suited to your needs and requirements.
You only need to follow these instructions:
Sign up for DoNotPay in your favorite web browser
Type in Power of Attorney in the search bar
Inform us what powers you wish to include in your POA
Our app will make sure you get two additional notices with information that you will find useful.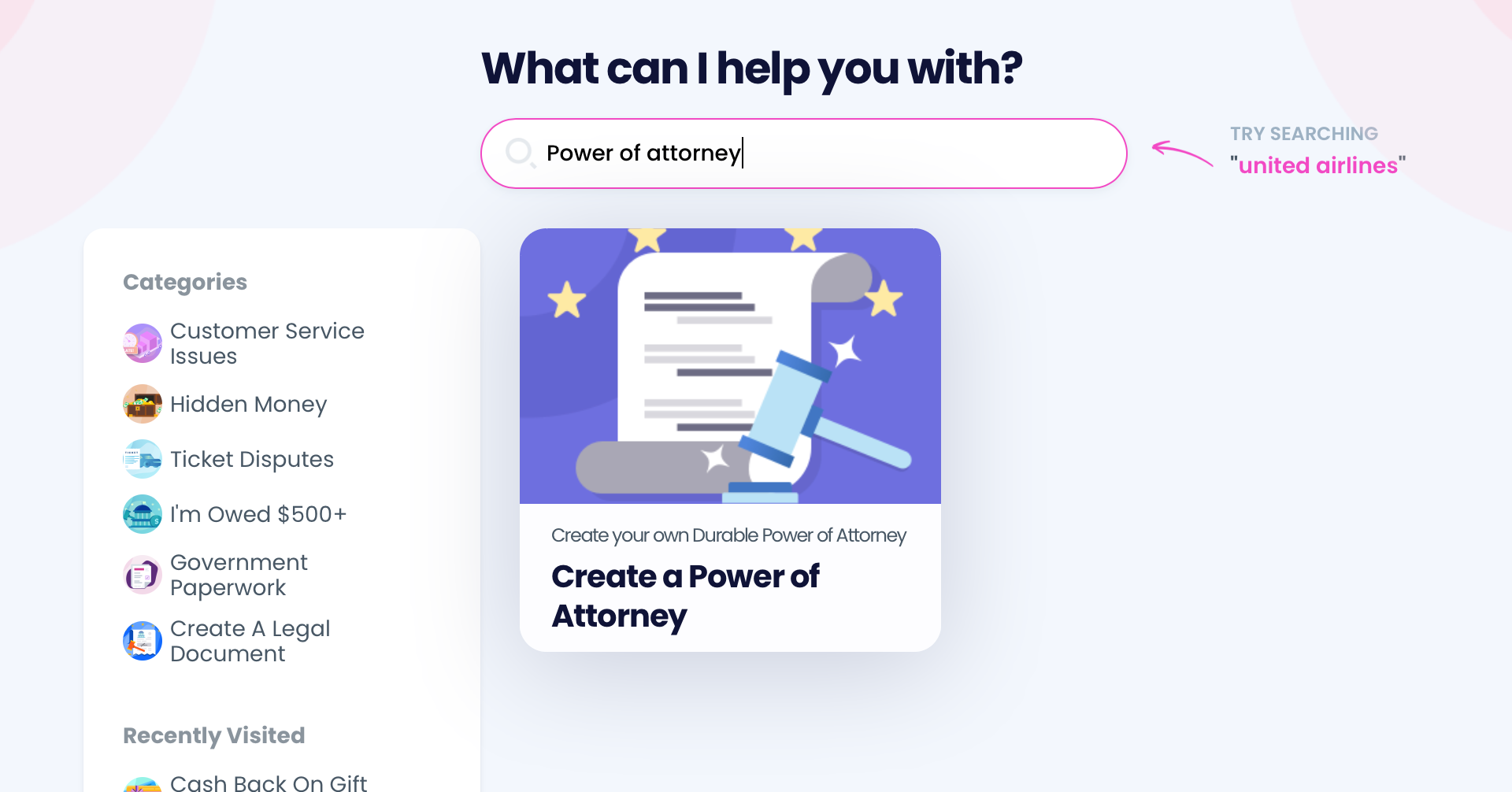 Need a Notary's Signature on Your POA? Look No Further Than DoNotPay!
In most states, you need to get a power of attorney notarized to make the document valid. If you feel like that process is too complicated to handle on your own, you can turn to DoNotPay for help.
While you are filling out the POA form in our app, let us know that you want to get it notarized. We will match you with an online notary in no time!
Learn About Different Types of POA With DoNotPay!
DoNotPay can not only help you create a POA, but we can also provide you with valuable information regarding this document. With us, you can learn all about different types of powers of attorney, including:
DoNotPay—Easy Fixes for Your Daily Struggles
Calling customer support takes hours. Dealing with refunds and chargebacks takes weeks or sometimes months. And don't even get us started on DMV appointments. The good news is that, with DoNotPay, you don't have to stress out about these tasks any longer.
Our platform can help you turn exhausting administrative troubles into two-minute tasks. Thanks to AI technology, you can easily create legal documents, request compensation for canceled flights, send a complaint letter to your neighbor, or book appointments with online notaries.
Diversity of services is one of the biggest advantages DoNotPay offers, and the best part is that our subscription won't cost you an arm and a leg.
Do You Need Help With Anything Else?
All you need to do is ask, or in this case, sign up for DoNotPay, and the world of practical, user-friendly products awaits. Finishing boring or annoying tasks with the help of our AI bots is fun, easy, and super intuitive—you won't need any special knowledge of legalities or administrative terminology.
With our help, you will be able to: