Am I Registered To Vote? 
Voting is a constitutional right for every American citizen. The law does not require citizens to vote, but it is essential for you to promote democracy by taking advantage of the chance to exercise your role in government.
You need to register with the election office near you to qualify as a voter, providing personal information. If you have relocated, changed personal details, or stayed for long without voting, you will need to check whether you are still registered as a voter before the last day of voter registration.
Government services might take longer to fulfill because of the large number of people who need them. DoNotPay can help you check your voter status within minutes and find out whether you are still registered to vote.
Who Is Eligible to Register to Vote?
To register as a voter in U.S. federal, state, and local elections, you need to fulfill the following requirements:
Be an American citizen. Non-citizens can be allowed to vote in local elections only in selected places
Be 18 years old on the day of elections; in most states, you can register before turning 18 years as long as you will be of age on the elections day
Meet your state's residency requirements; homeless people can register as voters as long as they meet the other requirements
Be of sound mind and fit mental health
How Do I Register to Vote?
There are three ways in which you can register as a voter. 
Online Voter Registration
To register as a voter online, follow these steps:
Visit the official election office website
Confirm your eligibility criteria as per your state's law
Download, fill out and sign the National Mail Voter Registration Form
Mail the filled out form to the address indicated on the form
In-Person Voter Registration
You can walk into any local or election office near you and request to register as a voter. You can also register in the following public offices:
Armed forces recruitment centers
The department of motor vehicles
State and county public assistance offices such as SNAP/food stamps and WIC
Registration for Overseas and Military Voters
You can register to vote and request an absentee ballot through the Federal Voting Assistance Program if you are:
A service member working overseas
A U.S. citizen living outside the U.S.
The spouse or eligible family member of a service member working overseas
How Do I Check If I Am Registered to Vote?
Each state has its own set of rules regarding voter registration, updating personal information, and confirming status. No matter the state you live in, you need to check your voter's registration status and verify your polling station.
To confirm your voter registration:
Visit Can I Vote and select "voter registration status"
Search by the name of your state
You will be redirected to your state's website, where you can confirm your registration status
Note: You should check your registration status before the voter registration deadline in your state to get enough time to re-register in case you need to.
Can I Change My Voter Registration Details?
You do not have to register as a voter every year; you only need to change your registration details if you have relocated or changed your name. To update your details:
Log onto the USA Gov website and navigate to Change "Your Voter Registration"
Update your new location, name, state driver's license, or state ID card appropriately before the election
Note: if you have moved permanently to a new state, you need to register as a new voter.
If you relocate to a different state, very close to the date of a presidential primary or general election, contact your previous residency state to know if you can vote by mail, after which you can register with the new state.
Is It Important for Me to Check My Voter Registration Status?
It is important to check your voter registration status and information regularly. Each state has a different way of maintaining and updating voter records, most states delete the records of inactive voters. 
If you find that your name is missing from the voter's list on the election day, you can cast a provisional vote before re-registering for the next election. The election office will have to confirm your eligibility for your vote to count as legitimate.
Checking your voter status and information helps you confirm the following:
Your registered polling station
Your state did not get rid of your registration details; if they did, you will have time to re-register
Your name, address, and party affiliation are up-to-date
You qualify as a voter
How to Check If You Are a Registered Voter With DoNotPay
If you are unable to check your voter registration status or don't have enough time, DoNotPay can help. You can register, update, check or cancel your voter registration through the DoNotPay Voter Registration tool within a few minutes.
All you have to do is:
1. Search "voter registration" on DoNotPay.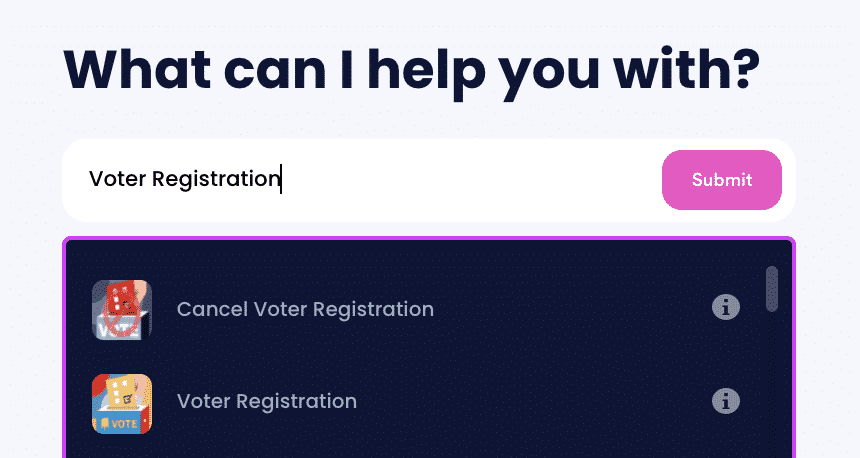 2. Select whether you want to register to vote, change your voter information, cancel your registration, or verify your registration.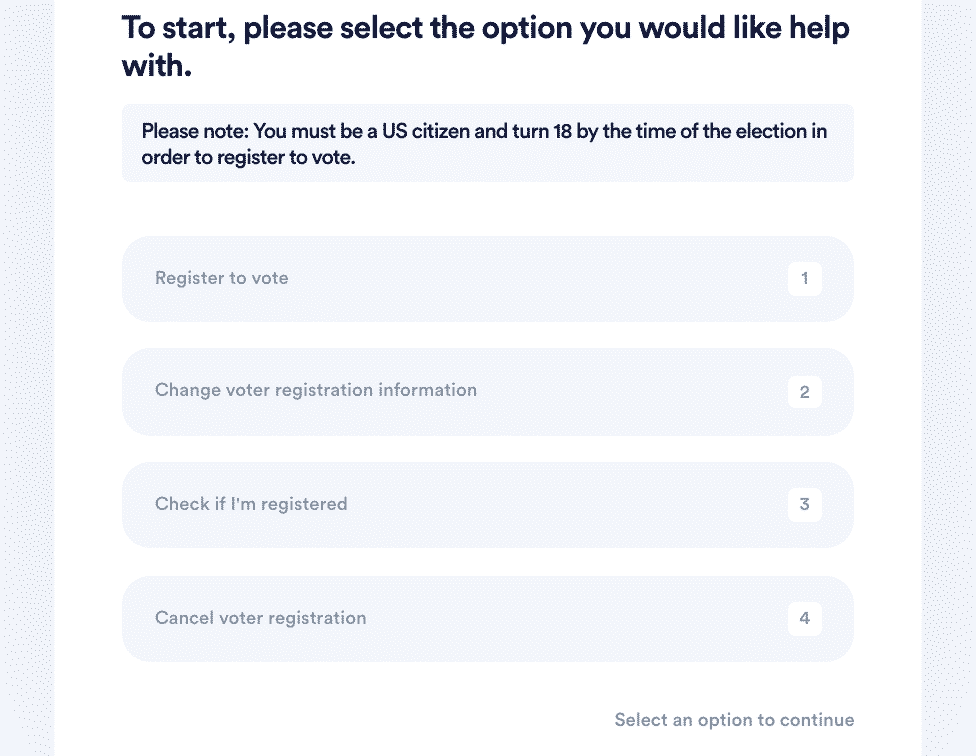 3. Enter the state you want to register in (or are registered in) and confirm that you meet the eligibility requirements. Answer a few questions about you to help us verify your identity and complete your application.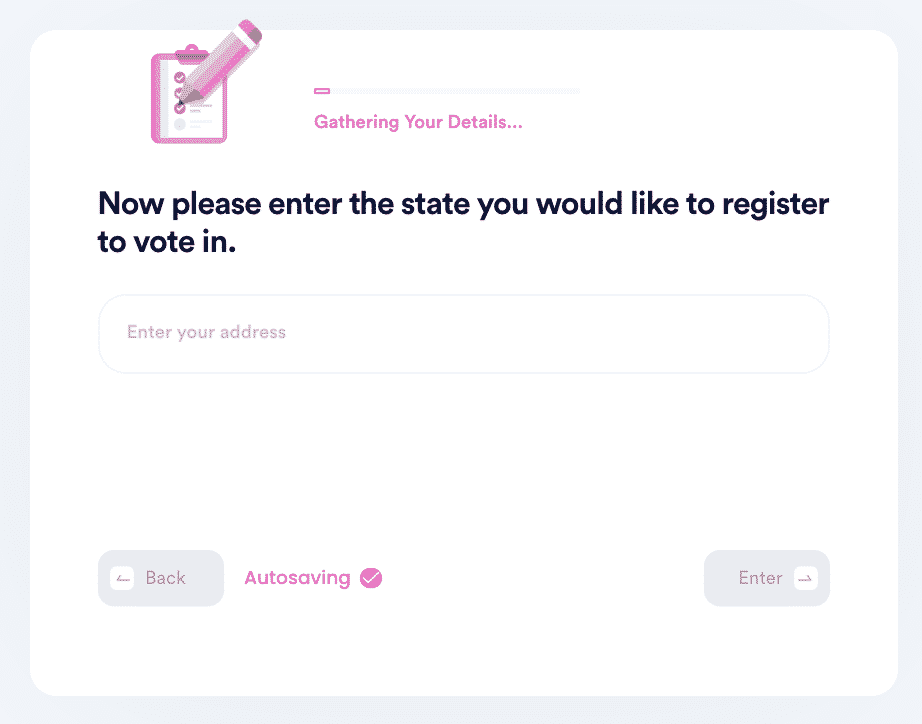 4. Provide your signature and verify that your information is correct.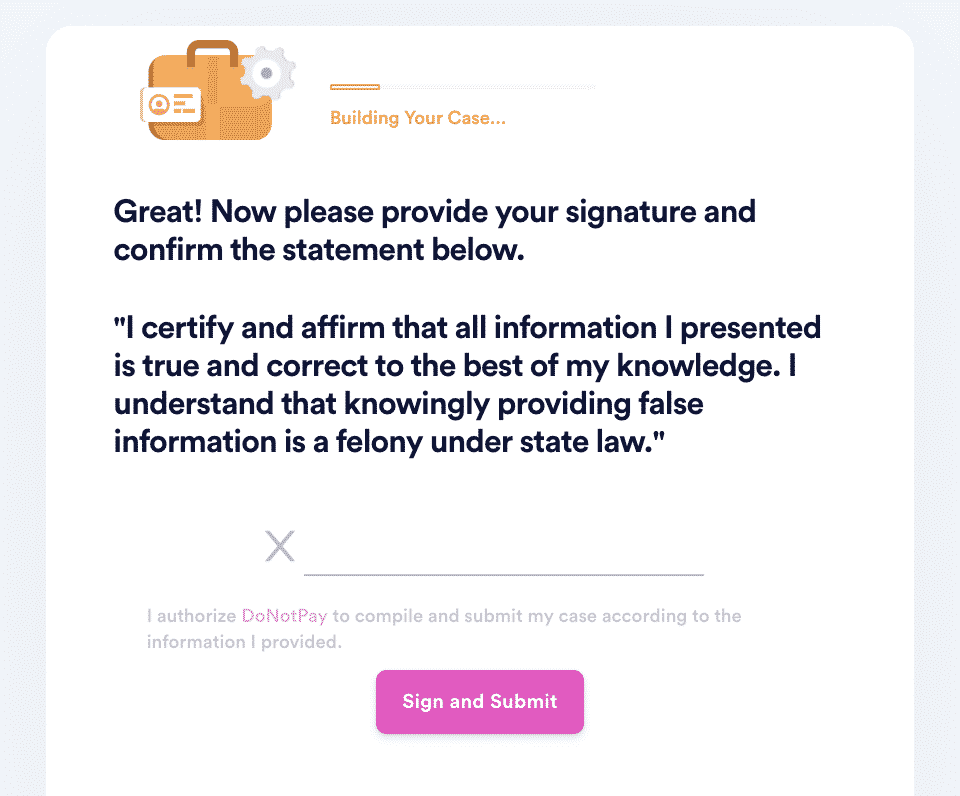 And that's it! DoNotPay will make sure your registration changes get sent to the right office, and your registration status is updated accordingly.
DoNotPay Voter Registration Guides By State
Voter registration processes vary by state. Here is a summary of voter registration guides of different states to help you understand more:
You Can Get More Services From DoNotPay
DoNotPay brings you the fastest, safest, and most convenient solutions to all your legal and administrative issues. Besides helping you check your voter registration status, we offer the following services:
Sign up on our website to enjoy these services and more!