Finding the Best Alternative Schools for Elementary Students
While all elementary school students deserve an equal education, not all students learn the same way or have the same educational needs. Many parents decide for whatever reason that a traditional elementary school is not the place for their child. However, finding the best alternative schools for elementary students can be a complex and difficult process, as there can be many to choose from, but it is hard to know which one will provide the most important learning opportunities for your child. With DoNotPay's Find the Best Schools product, you can obtain a report on the best alternative schools in your area, based on academics, safety, and much more.
What Is an Alternative School?
Alternative schools are designed to educate students who have not had success in traditional schools due to their unique learning style, special needs, or other issues that make the traditional school setting less than optimal for them. Examples of the type of alternative elementary schools available include:
Boarding schools, which combine residential and educational facilities so that students live where they attend school.
Magnet schools, which are designed to draw students with a particular aptitude for a certain subject.
Independent study programs, where students study online or remotely.
In addition to different ways of offering instruction, alternative schools often also have different ways of grading students, focusing more on ensuring that smaller classes of students are able to master the content before moving on rather than simply requiring all students to move on to another subject simultaneously for ease of instruction.
How Do I Choose an Alternative School for My Elementary Student?
When choosing an alternative school for your elementary-aged child, it is important to consider the specific needs your child has that can be addressed through the type of school you choose. For example, if your child has autism, you will want to seek a school setting that caters to children with autism. If your child is gifted in science or math, you might check out a STEM school.
Many people decide on an alternative school based on reviews they receive from family or friends about certain schools in the area. The problem with this method is that while you're able to obtain information from people whose students actually attend the school, it is difficult to make a decision for your own child based on the needs of someone else's child. However, searching online for schools in your area that address a specific need is often difficult as well, as you do not know if the offerings are as good as reported on the school's advertisement or website, as you don't know anyone whose students attend there.
Considerations When Choosing an Alternative Elementary School
There are many considerations to be made when choosing the best alternative elementary school for your child. Here are three of the most common considerations to be made:
| | |
| --- | --- |
| Cost | Some alternative schools are offered through the public school system and education is, for the most part, free. However, other types of alternative schools, such as private schools or boarding schools, will require tuition for your child to attend. |
| Religious Affiliation | Many private schools and other alternative options are provided through churches or religious groups. If religion is an important part of your child's education, you will want to seek an alternative school that provides training in the religion you follow. |
| Class size | One of the most important draws of an alternative school for many parents is the smaller class sizes that allow for more individualized instruction instead of a "one size fits all" approach. |
Finding the Best Alternative School Using DoNotPay
Fortunately, DoNotPay cuts the extensive research and hassle out of finding the best alternative schools for elementary students by allowing you to simply answer a few questions about what you're looking for in an alternative schools in order to receive a detailed report of the best schools in your area according to class size, special programming, and tuition.
How to Use DoNotPay's School Search Tool
To find the best alternative elementary schools in your area, simply follow these steps:
1. Go to the Best Schools Search product on DoNotPay.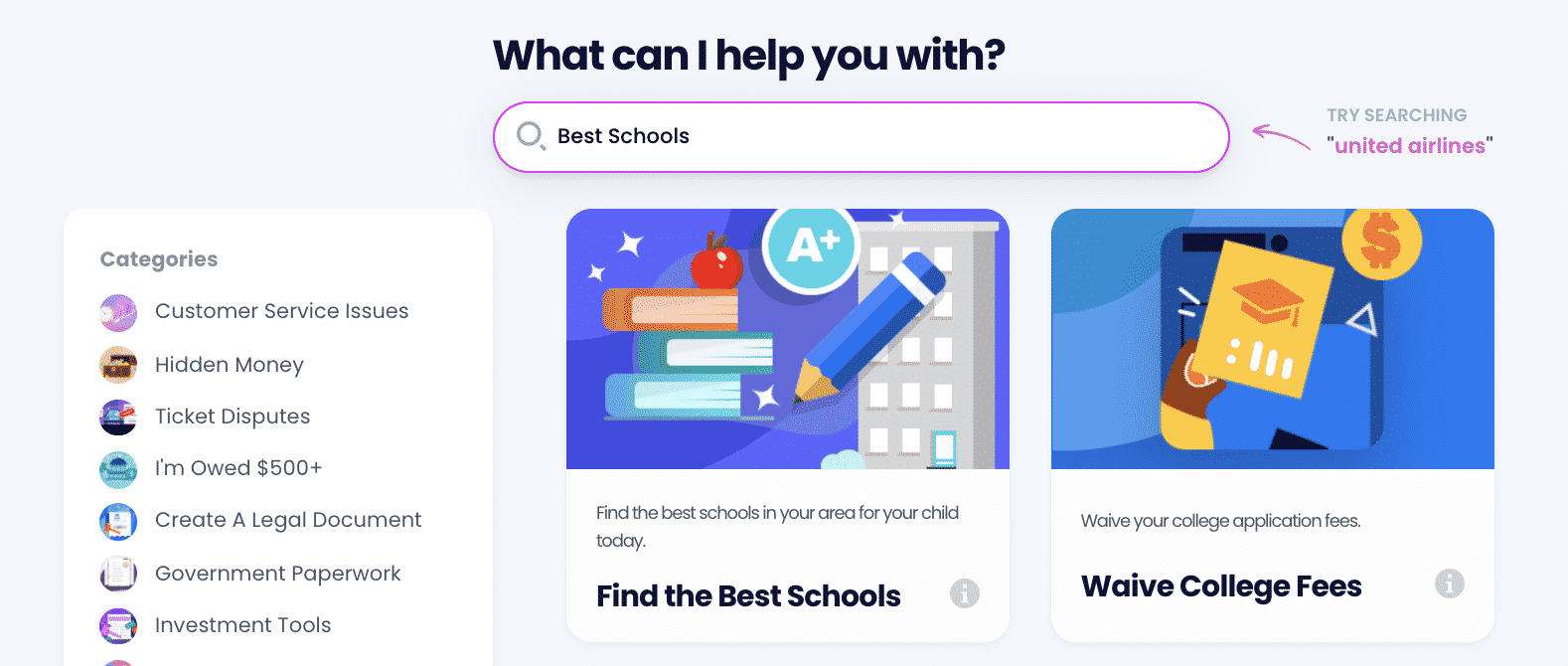 2. Let us guide you through the different priorities you can filter by, including whether you're looking for a private school vs. public school, your ideal student-to-teacher ratio, and what grade level you are looking for.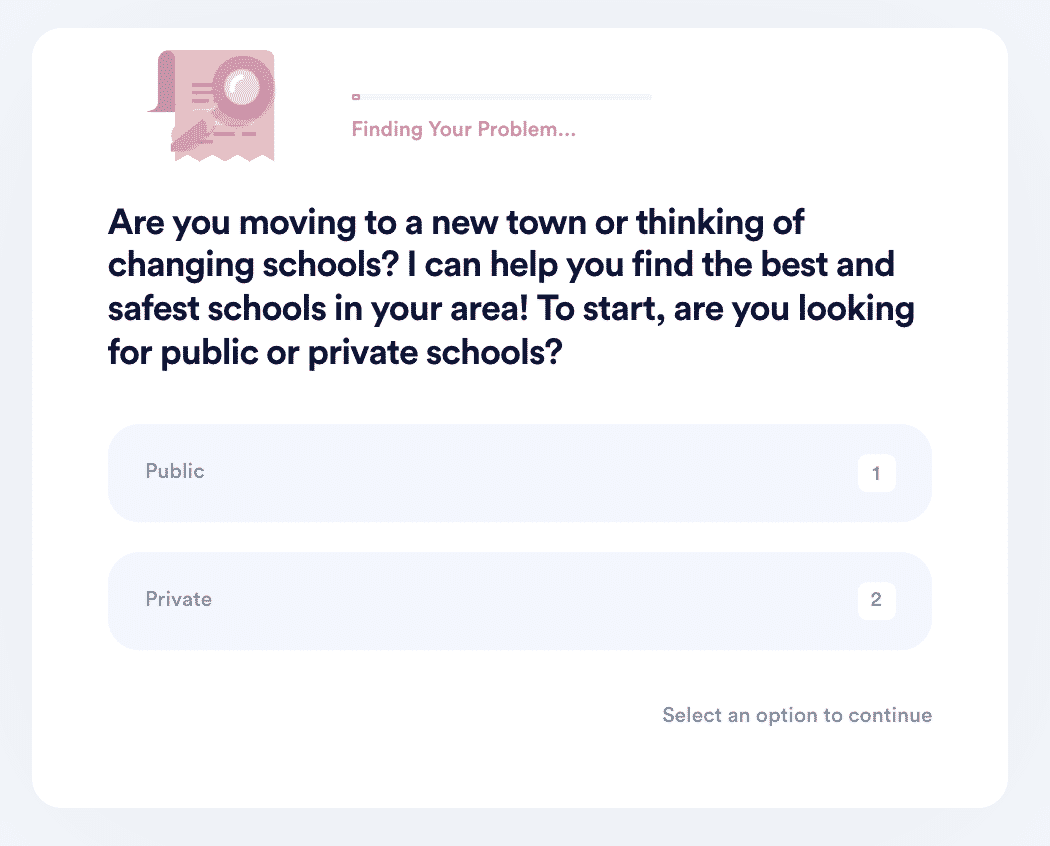 3. Tell us how you want us to rank the results (by what's most important to you!) Some examples include, best schools overall, most diverse, best teachers, etc.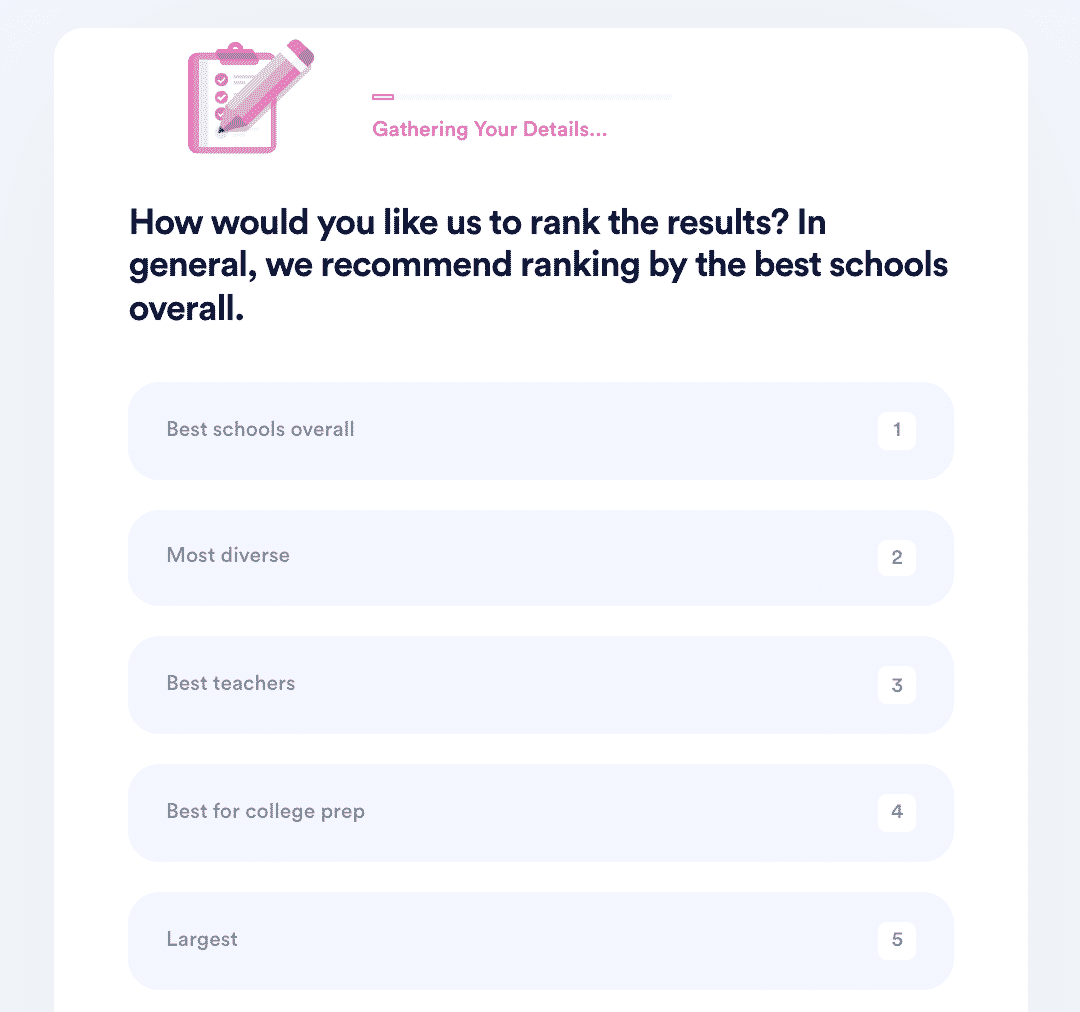 4. Enter the search area you want to search in for. The wider the area, the more schools we can match you with.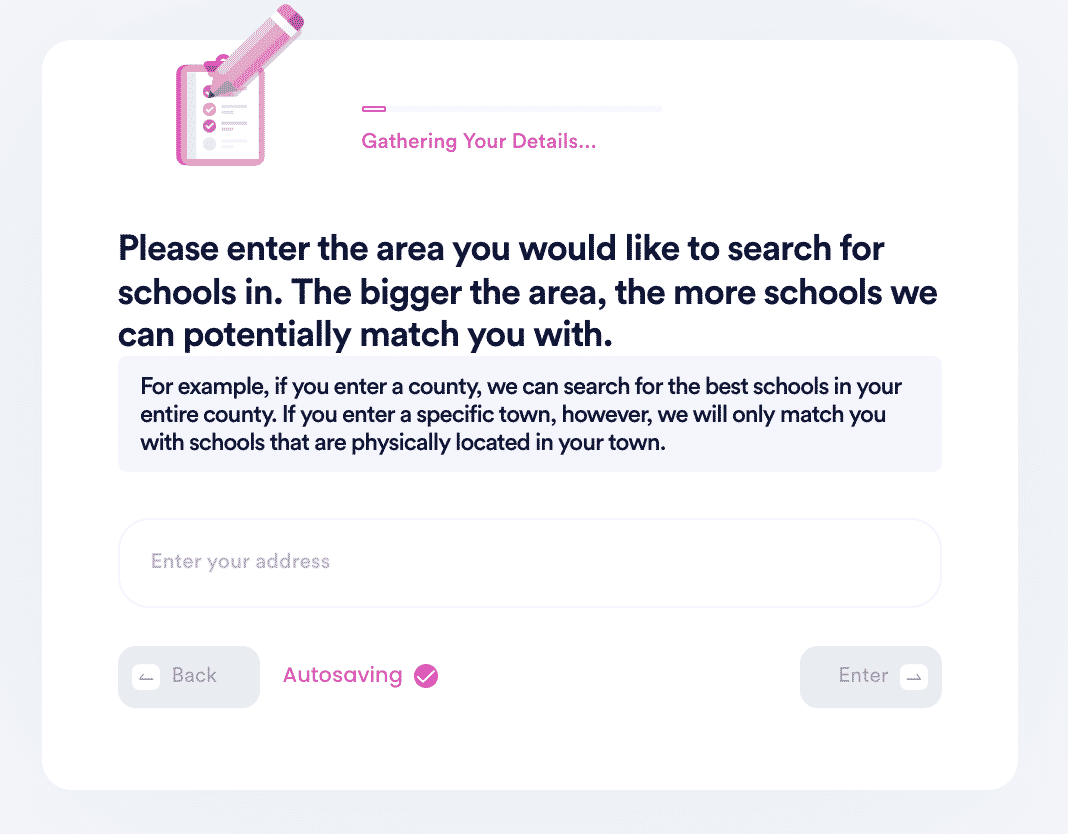 By using the search tool, DoNotPay is able to provide you with a report of the top five schools in your area based on your preferences, including information about academics, safety, teachers, programs, diversity, and more.
What Else Does DoNotPay Do?
Many of the tasks in life, such as finding the best alternative elementary school for your student, are both necessary and time-consuming. DoNotPay can help you with dozens of these necessary and time-consuming tasks, such as these:
Would you like to know more about what DoNotPay can do for you? Sign in or sign up today.