Don't Feel Like You're in Good Hands? File Allstate Insurance Claims Easily!
The Allstate Insurance Corporation is an American insurance company with headquarters in Illinois. The company offers its clients protection through various insurance types, including life, auto, home insurance, and many more. Allstate brings insurance to clients by working with brands like Esurance, Encompass, Square Trades, and Answer Financial.
If you get into a car accident, have a flood ruin your floors, or something else occurs that your insurance should cover, you should file an insurance claim. DoNotPay can help you deal with that in the blink of an eye!
What Types of Life Insurance Does Allstate Offer?
If you are investing in your future or you want to secure your family's financial stability, you should consider taking life insurance. Take a look at the following table to see what Allstate offers in that area:
Type of Life Insurance
Features

Term life insurance

Offers affordable protection

Costs $24.64 per month

Lasts between 10 and 30 years

Universal life insurance

Costs $144.76 per month

Lasts for a lifetime

Has a building cash value

Whole life insurance

Costs $310.44 per month

Lasts for a lifetime

Guarantees cash value

Variable universal life insurance

Has varying rates

Lasts as long as the insured is alive

Offers a chance for investment

Does not guarantee cash value
What Does the Allstate Home Insurance Cover?
If you opt for Allstate home insurance, you get to work with a specialized Allstate agent.
Standard types of home insurance coverage include:
Liability protection

—covers the expenses if someone sues you for getting an injury on your property or because of your actions

Dwelling coverage

—protects different parts of your house, like the

roof

, floor, and walls

Guest medical protection

—covers the medical bills if a person suffers an injury while on your property

Personal property coverage

—protects your belongings from theft and damage, even if something happens to them outside of your home
What Is Covered by Allstate Auto Insurance?
If you are unsure what the best auto insurance for you is, consider contacting an Allstate agent specialized in auto insurance. In the table below, you can find the types of auto insurance coverages and their features:
| | |
| --- | --- |
| Type of Coverage | What Does It Cover |
| Liability coverage | Costs of medical bills, death, or vehicle damages of others in case the accident is your fault |
| Collision coverage | Costs related to your vehicle damages in the car crash |
| Comprehensive coverage | Expenses related to damages to your vehicle in case of vandalism or a natural disaster |
| Medical payments | Medical bills if you or your passenger get hurt in the accident |
| Uninsured and underinsured motorist coverage | Your expenses if the other driver caused the accident and didn't have an insurance |
| Sound system insurance | Costs of replacing or repairing stolen or damaged audio or video equipment |
| Roadside coverage | Costs of common roadside services |
| Personal injury protection | Expenses for your injuries in the covered accident |
| Personal umbrella policy | Costs of liability claims that exceed your home or auto coverage liability limit |
| Rental reimbursement coverage | Costs of a rental vehicle while your car is at the mechanic's |
What Information Do You Need for Filing
Allstate Insurance Company Claims
?
Regardless of how you want to file an insurance claim, you will need to answer some questions about your policy. Before starting a claim, you should gather the following information about the policyholder:
Name

Date of birth

Policy number

Social Security number
Once you have all the necessary information, you can file your Allstate insurance claim in person, via claim notification form, or over the phone at 1-800-366-3495.
How To File an
Allstate Insurance Claim
on Your Own
Whether you want to file an auto or home insurance claim, there are two options:
Online

Over the phone
If you want to file a life insurance claim, you can also do it in person or using the notification form.
How To File an Allstate Insurance Claim Online
You can file an Allstate insurance claim by following the next steps:
Go to the Allstate official website or download the

Allstate Mobile app

Choose the

Claims

option

Select

Log in to My Account

or

Create an Account

Click on the

File a Claim

button

Add your contact information

Answer some questions about your insurance policy

Provide details about the accident or issue you have

Submit the claim
How To File an Allstate Insurance Claim Over the Phone
You can file an insurance claim over the phone by contacting your Allstate insurance agent or representative. To file a claim, do the following:
Dial

1-800-ALLSTATE

or

1-800-255-7828

Provide the required contact and policy information

Explain the reasons for your claim

Give brief details about the accident or event that occurred

Discuss the next steps with the representative
What To Expect After Filing Allstate Auto and Home Insurance Claims
Here is what will happen once you submit your Allstate insurance claim:
You will get a claim number to track your auto or home claim

The insurance company will inspect the damage

You will receive the details of your claim settlement

The company will help you choose a contractor or a car repair shop

You will receive the claim payment
DoNotPay Is the Easiest Way To File
Allstate Insurance Claims
Being in an accident or having your home wrecked by a hurricane or fire is stressful and overwhelming. Having to deal with the paperwork and insurance companies can be over the top. DoNotPay created the Claim Insurance feature to help anyone going through this process.
We can help you file claims for various types of insurance, including:
Vehicle insurance

Home and property insurance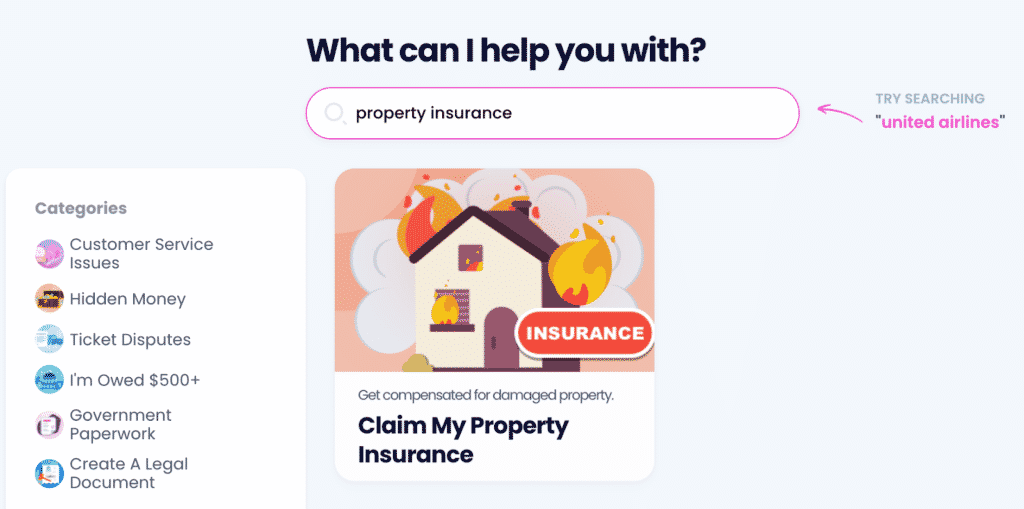 The process is fast and straightforward:
Access DoNotPay from a

Select the insurance type and write

Allstate Insurance

in the search box

Add your contact information and policy number

Provide details about the accident or issue you have

Hit

Submit
We will file the claim on your behalf, and you can expect the company to contact you after it reviews it.
If Allstate rejects your claim, we can help you file an appeal. Open our app in a , and we will handle that issue fast!
Your Online Safety Is Our Priority
The benefits of the internet are numerous, but so are the opportunities for scams of all kinds. DoNotPay can help you fight scammers left and right with easy-to-use features, highly customizable to match your needs.
Our app can provide invaluable resources for fighting:
If you're an avid online shopper, we have your back. In case something goes wrong, we will help you contact customer service without holding, request a refund, or even sue the company in small claims court.
Diversity Is Our Middle Name
DoNotPay doesn't stop at online safety. Do you need to set up an appointment at the local DMV, but keep procrastinating because you know how awful the lines are? Are you a prospective college student trying to save on application fees? Have you lost track of all unnecessary subscriptions and memberships that keep draining your bank account?
If the answer is yes, DoNotPay is the right platform for you. Whether you're preparing for government-issued tests or looking for ways to lower your bills, our app will be of assistance.