Get in Touch With a Loved One at Allen Oakwood Correctional Institution
Allen Oakwood Correctional Institution is a mixed custody facility located in Lima, Ohio. The correctional facility, which was opened in 1987, currently holds 1,610 inmates. Inmates held at the facility receive educational programs as well as a variety of skills to help them integrate with the community once they are out of prison.  Friends and loved ones can visit the inmates on specific days. However, most people are either afraid of visiting prison or do not know where to get the approval to visit their loved ones. This article will help you learn to get approval for inmate visitation or how to keep in touch with a prison pen pal.
Although you can connect with an inmate at the Allen Oakwood Correctional Institution, the process of getting approval is a little complicated. You may encounter challenges writing letters to an inmate, or be forced to pay more when connecting with your loved ones through phone calls. However, you reduce the stress and time consuming trying to connect with your loved ones by using the automated DoNotPay platform. DoNotPay can also help with learning how to address a letter to an inmate, or how to write to a prisoner.
Allen Oakwood Correctional Institution Contact Information
The table below provides you with contact information that can be used to communicate with your loved one.
Physical Address
Allen Oakwood Correctional Institution

2338 North West Street

Lima, Ohio 45801

Phone Number
(419)-224-8000
Website
DRC. Ohio
How to Contact Inmates at Allen Oakwood Correctional Institution
There are four ways in which you can maintain contact with your loved ones held at the facility. You can contact them through:
Making an in-person visitation
Contacting them by mail
Contacting them by phone
Or video visitation
In-Person Visitation
Each day is a visitation day at Allen Oakwood Correctional Institution. You do not have to wait for the weekend to visit your loved ones. However, you have to seek approval from the prison authorities before visiting an inmate. The inmate you are visiting must include you in their visitors list before your visitation request is granted. Once your visit is approved, you can spend some time with your loved one between 7:45 am and 2:45 pm.
At the entrance to the visitation area, you will be required to provide an identification document before proceeding to see your loved one. Other than the identification documents, the prison administration requires you:
Not to carry any contraband or electronic devices to the visitation area
Present your car to the metal detection area
Minimize jewelry since it complicates security checks
Ensure children under the age of 18 are accompanied by an adult
Contact by Mail
You are allowed to send an unlimited number of letters to your loved ones. The inmates can also send unlimited correspondence home. However, all mail is opened by the authorities before getting to the inmates. To write to a loved one, use the format and address below:
Inmate Name, ID Number
​Allen Oakwood Correctional Institution
P.O. Box 4501
Lima, Ohio 45801
Phone Calls
Global Tel Link is contracted by the facility to provide phone call services. However, an inmate can only place a collect call for you since you are not allowed to call them directly. You also need to register your phone number with the Global Tel Link and the prison administration to receive calls from the inmates. The inmates can call:
From 8:00 am to 12:00 am during working days (Monday to Friday)
And from 9:00 am to 8:00 pm during the weekend's
Video Visitation
Inmates in Ohio have access to three sessions of video visitation. You can keep in touch through video visitation in any of these sessions: 7:30 am-10:30 am, 12:30 pm-3:30 pm, and 5 pm- 8 pm.  However, you have to create an account with JPAY to participate in the video visitation and pay $9.90 for every 30 minutes of video visitation.
Difficulties You May Have Contacting Loved One in Allen Oakwood Correctional Institution
If you are planning to contact an inmate on your own, you may run into some challenges. First, the process of getting approval for an in-person visit is long and tedious. Second, contacting your loved ones via video or phone is expensive. However, you can use the more convenient and automated DoNotPay platform.
Get in Touch With Your Loved Ones via DoNotPay
DoNotPay offers you an easier option of contacting your loved ones, held at the Allen Oakwood Correctional Institution. Through the 'Connect With an Inmate' product, you can reduce the stress of locating and contacting a friend or relative held at the institution.
DoNotPay Can Help You Locate Your Imprisoned Friend
Locate the Connect With an Inmate service on DoNotPay.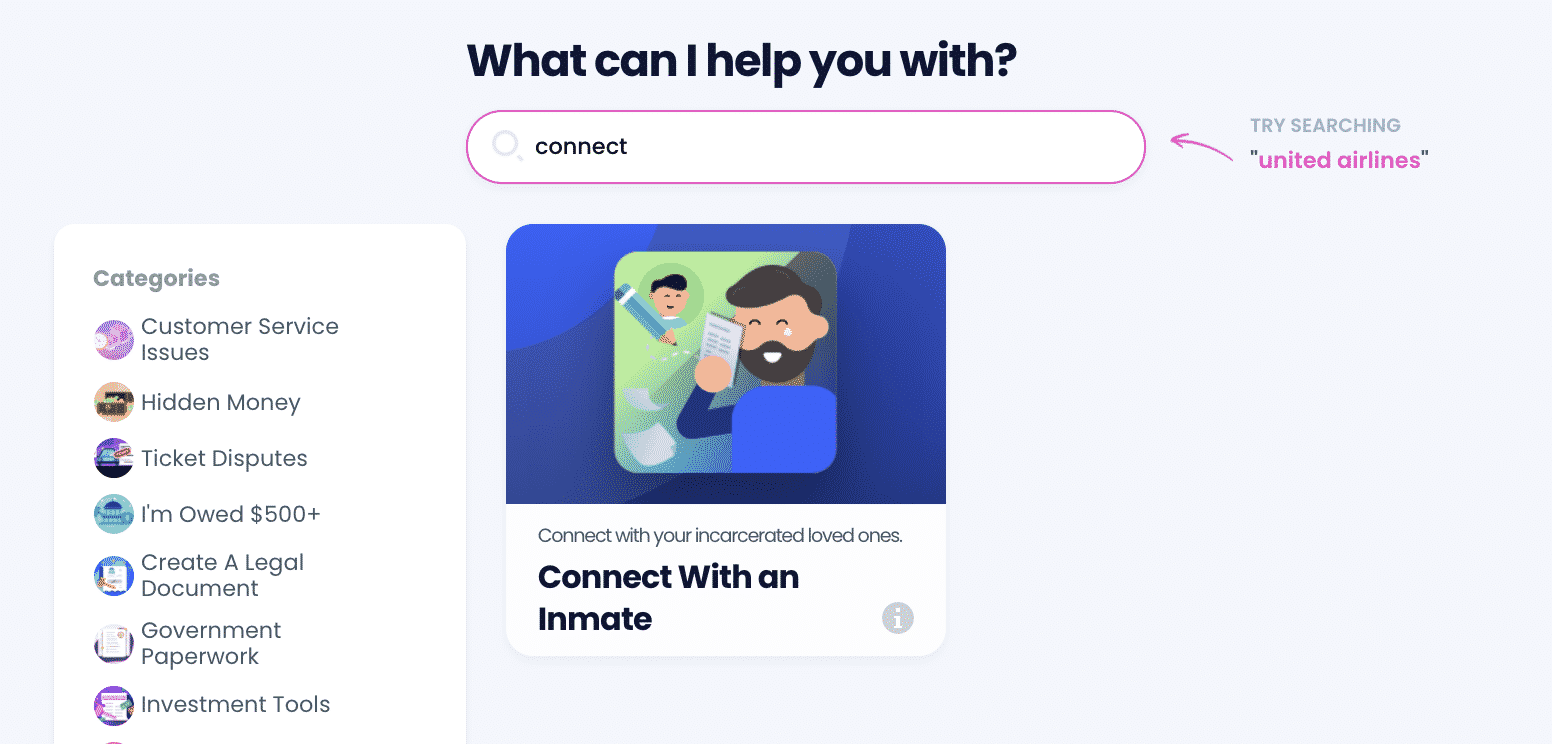 Choose whether you want to locate a loved one, create a virtual mailbox, or send a personalized letter.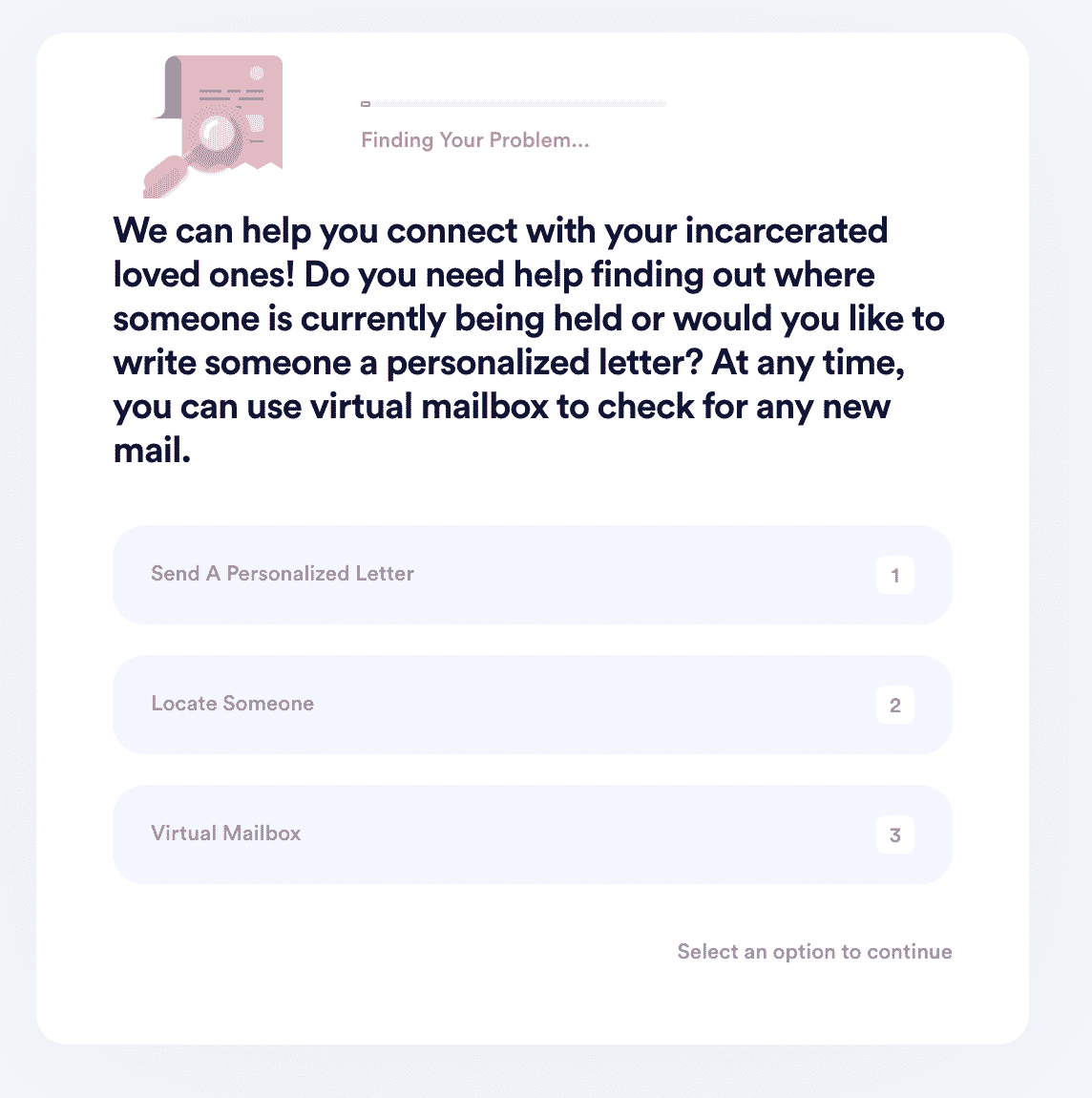 If you want us to find your loved one, provide his or her personal details and the state they are located in. We'll then conduct a search on the appropriate state database.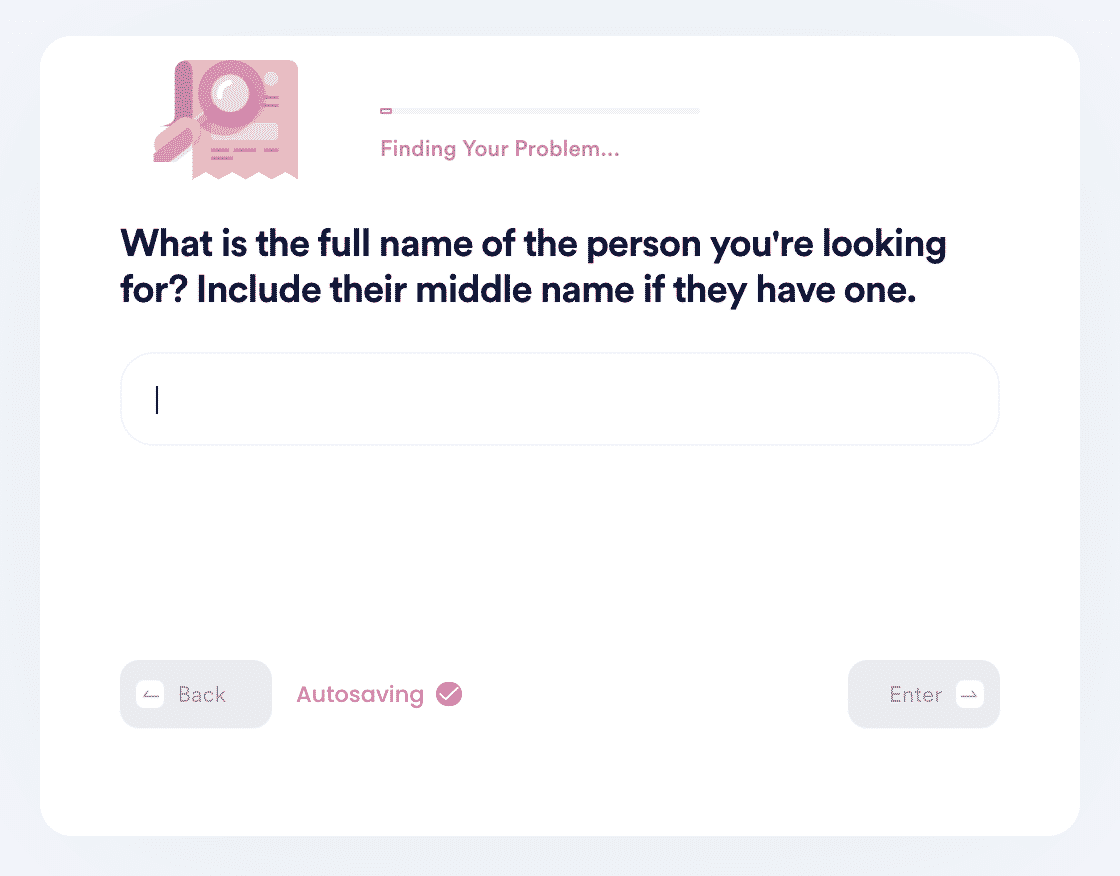 If you want to create a virtual mailbox, just provide your full name! We'll set one up for you so you can easily receive incoming mail from your loved one.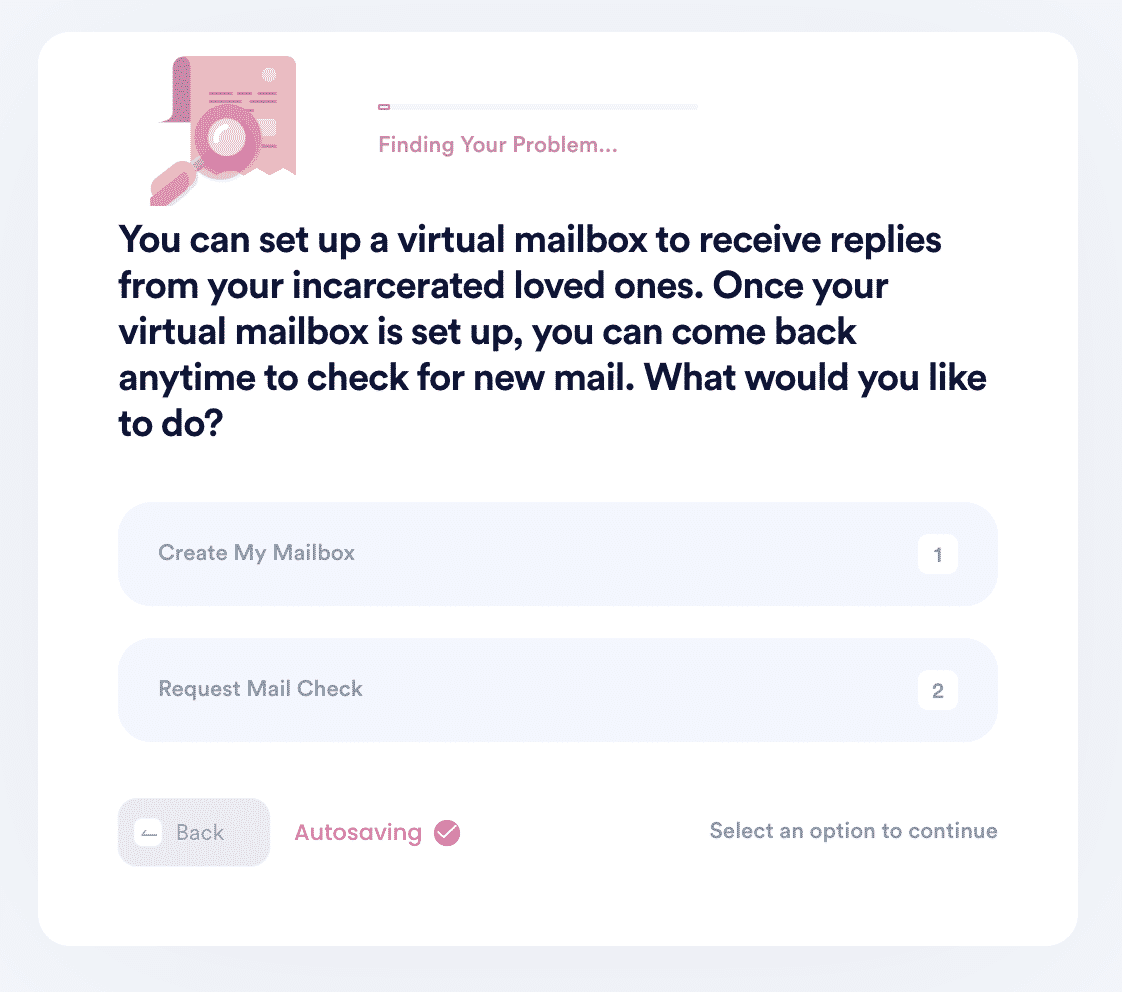 If sending a personalized letter, tell us which facility your loved one is located in and what you would like to say to them. You can even include a photo! Your letter will be delivered automatically - just wait 10 days for it to arrive to your loved one!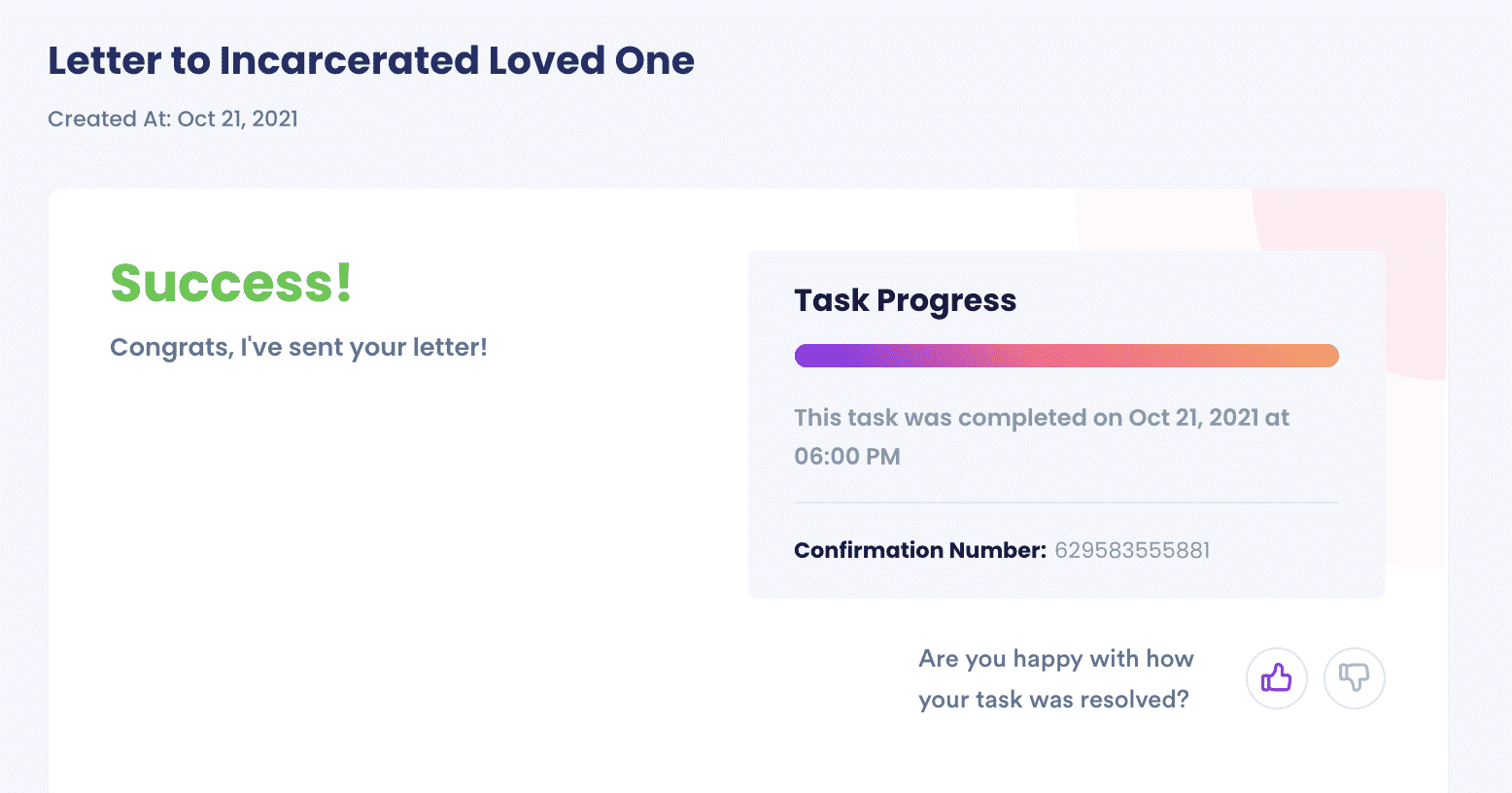 To connect with a loved one at the Allen Oakwood Correctional Institution, click here.