Burn Bridges With the Allegheny County Divorce Forms
Filing for divorce in Allegheny County can be complicated, and you need to know how the process works to ensure it is as quick, cheap, and painless as possible.
Although the Pennsylvania legislature claims that it wants you to be able to represent yourself in court, navigating the state and county divorce landscape can be a nightmare.
DoNotPay is here to help with info, tips, and breakdowns of the correct Allegheny County divorce forms you need to launch your divorce proceedings.
What Types of Divorce Are Allowed in Allegheny County?
Allegheny County recognizes no-fault divorces, meaning that you don't have to prove any wrongdoing on the part of your spouse.
Within the no-fault framework, your divorce can be classified as:
Contested
Uncontested
Contested
A contested divorce means that you and your spouse cannot agree on how your family responsibilities or finances should be divided. You need the court to rule on a settlement.
Uncontested
If the two of you can reach an agreement on the dissolution of your marriage, your divorce will be considered uncontested. In most uncontested cases, you won't need to attend any court hearings. If you are divorcing on friendly terms, you may not even need a lawyer to assist you.
When filing for divorce in Allegheny County, you or your spouse must fulfill the residency requirements, meaning that one of you must have been a county resident for the last six months.
What Forms Do You Need To File in Every Divorce Case?
Regardless of whether your divorce is contested or uncontested, you will need to complete the following forms and file them with the clerk of the Allegheny Department of Court Records Office:
| Required Forms | Explanation |
| --- | --- |
| Self-Represented Party Entry of Appearance | This form asserts your right to represent yourself in the divorce proceedings |
| Notice to Defend and Divorce Complaint | This is a formal request to the court to dissolve your marriage, combined with a summons to your spouse |
| Divorce Decree | Your divorce decree will be signed and stamped by the judge once your divorce has been granted |
| Counseling Notice | You—as the plaintiff—should fill this form out and send it to your spouse to inform them that marriage counseling is available |
| Marital Settlement Agreement | If you have reached an out-of-court settlement before filing, it can be included in your papers |
| Qualified Domestic Relations Order | If either of you has a pension scheme, both parties have a right to a portion of it. This form confirms that fact |
Once you have filed the above forms, you need to serve them on your spouse using one of these methods:
A deputy sheriff
A process server
USPS
In person
The forms confirming servitude are as follows:
Acceptance of Service
Affidavit of Service of Original Process by Mail
Affidavit of Personal Service
Certificate of Service of Legal Papers Other Than Original Process
Certificate of Service
As soon as your divorce papers have been served, the correct confirmation needs to be filed with the court.
What Are the Specific Forms for Your Scenario?
Depending on your divorce being contested or uncontested, you may have to file several other forms, as follows:
Divorce Type
Supplementary Forms Needed
Contested

Affidavit under Section 3301(d) of the Divorce Code
Notice of Intention to Request Entry of Section 3301(d) Divorce Decree and Counter-Affidavit

Uncontested

Affidavit of Consent of Plaintiff
Affidavit of Consent of Defendant
Waiver of Notice for Defendant
Notice of Intention to Request Entry of Section 3301(c) Divorce Decree and Counter-Affidavit under 3301(c)
When you file your divorce forms, you will have to pay the filing fee of around $330.
What Happens After You File Your Divorce Forms?
After all the necessary forms have been filed, you and your spouse will have to wait mandatory 90 days before your case can proceed.
Many couples use the 90-day cooling-off period to negotiate and draw up a divorce settlement agreement—also known as a marital settlement agreement in PA.
A divorce settlement agreement is a legal document that sets out how your married responsibilities and finances will be divided after your divorce has been granted. The agreement will cover areas such as:
Filing a settlement agreement before your case comes before the Allegheny County judge signifies that your divorce is uncontested. This should ensure that granting your divorce decree is a formality.
Drafting a Divorce Settlement Agreement—The Best Methods
Your settlement agreement is the most important document in your entire divorce paperwork, so it needs to be done right.
Your options for drawing up the settlement agreement are:
Lawyer
DoNotPay
Lawyer
A lawyer is the go-to choice for many spouses but may be unnecessary if the partners agree on the main points of their settlement.
If you are looking to keep your costs down, you should remember that PA lawyers charge up to $400 per hour and often demand a hefty upfront retainer for their services. Your attorneys' bill could easily come to thousands of dollars—even in uncontested cases.
As an alternative to using a lawyer to negotiate your settlement, you could submit to mediation. In this process, you negotiate face-to-face with your spouse, but you are assisted by a trained mediator who facilitates the discussions.
Online Service
Several websites offer online divorce packages that you can download and fill out.
You should exercise caution, though—while these services are cheap, the templates you get are often too generic to suit your exact needs.
DoNotPay
DoNotPay gives you the best of both worlds!
We can create a tailor-made settlement agreement to your exact specifications, but without engaging expensive attorneys!
DoNotPay Bridges the Chasm With Our Settlement Agreement Feature!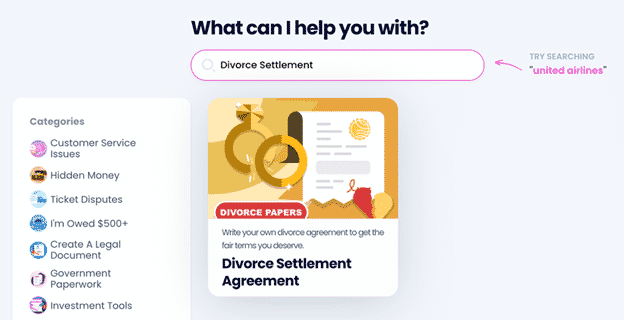 DoNotPay is your best resource for keeping Allegheny County divorces easy and hassle-free!
Our Divorce Settlement Agreement product can create a customized document that covers all your bases—all you need to do is print and sign it with your spouse!
Here's what you need to do to set your agreement up:
Sign up with DoNotPay in your web browser
Locate the Divorce Settlement Agreement product
Fill in the details you want to be included in your document
DoNotPay will take it from there—in a few seconds, your settlement agreement will be ready. The next step is to sign the document with your spouse and have it notarized.
If you can't find a notary in your area, there's no need to worry. DoNotPay is here to help with our online notarization service!
Need More Info About PA Divorces?
DoNotPay has specific info on several other counties and cities in Pennsylvania—here are a few examples:
What Other Issues Can Our App Solve?
DoNotPay can support you through various burdensome procedures and turn them into a breeze! Here's a table showing a tiny part of our extensive offer:
| DoNotPay Can | Services |
| --- | --- |
| Create various documents | |
| Protect your safety and privacy | |
| Get your money back | |
DoNotPay Is Your Ticket to Simpler Life
Don't bother going through complicated tasks alone—we are here to take care of them! Seek our help if you want to get in touch with customer service instantly, fax anyone online, or get your documents notarized. Besides providing these amazing services, DoNotPay can make preparations for your travel adventures by assisting you in getting passport photos at home and obtaining tourist visas.