Algeria Tourist Visa—Everything You Need To Know
The northern jewel of Africa is certainly worth visiting, but doing so is easier said than done. The first question that comes to mind is whether you need an Algeria tourist visa or not. A handful of countries are exempt from the visa requirements—is the U.S. on that list?
DoNotPay can tell you if you need a visa or not in a matter of minutes. If you do, we can direct you to an online application portal (if it exists), provide you with a visa application form, or contact the embassy for you.
All those services are a part of a single subscription, so sign up today!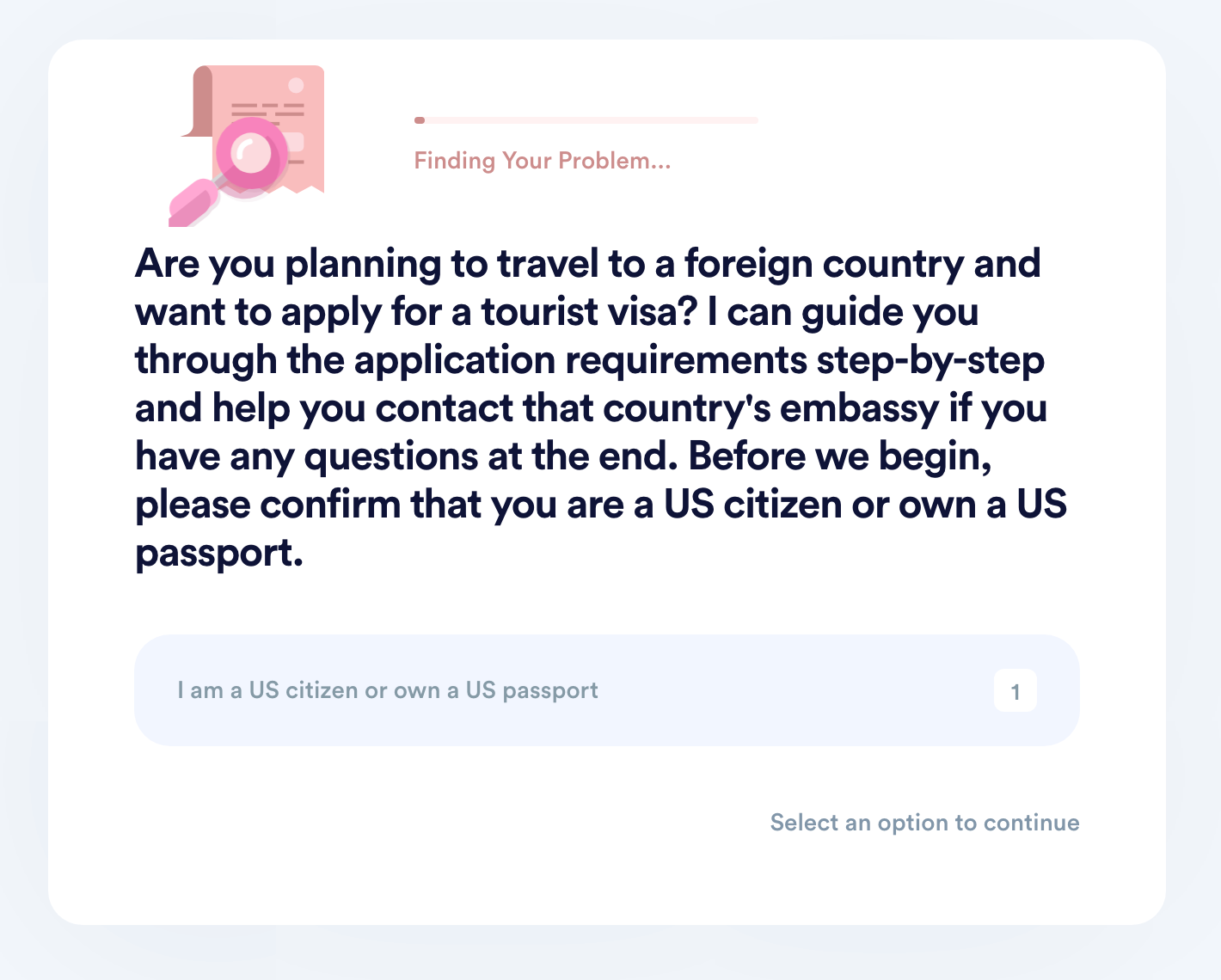 Who Needs a Tourist Visa for Their Stay in Algeria?
Citizens of the following countries are exempt from needing a visa to enter Algeria:
Tunisia
Malaysia
Mali
Mauritania
Libyan Arab Jamahiriya
Seychelles
Morocco
Maldives
Sahrawi Arab Democratic Republic
Everyone else (aside from certain diplomats and government officials) needs a tourist visa, including U.S. citizens.
What Requirements Do You Have To Meet To Obtain an Algerian Tourist Visa?
If you wish to apply for an Algerian tourist visa, you will need to submit the following documents:
Passport that remains valid for at least 180 days after leaving Algeria
Copy of your passport's first page
Notarized invitation letter (whether from a travel agency or an individual) or a hotel reservation
Copy of your round trip flight ticket
Pay Stub or bank statement confirming your financial independence
$160 money order from USPS
Two copies of a filled-in application form
Passport size photo for each of the application copies
An application form must be submitted even for children. If children share your or your spouse's passport, the only additional requirements are a birth certificate and two photographs.
If you have dual citizenship, you must apply for a visa using your U.S. passport.
Where Can U.S. Citizens Apply for a Tourist Visa for Algeria?
There are two visa offices that process Algeria tourist visa applications in the United States, namely:
The Washington DC Office
The New York Office

Address—Embassy of Algeria—Visa Office 2137 Wyoming Avenue NW, Washington DC 20008
Phone number—202-265-2800 ext 153
Email address—visaoffice@algerianembassy.org

Address—Visa office, Consulate General of Algeria 15 E 47th Street, New York City 10017
Phone number—212-486-6930, 31 or 32, ext 204
Email—visa@algeria-cgny.org
The Washington D.C. office accepts visa applications from citizens of the following areas:
District of Columbia
South Carolina
North Carolina
Maryland
Delaware
Virginia
West Virginia
Residents of other states must refer to the New York office.
No matter which office you contact, to apply for a visa, you must:
Schedule an appointment
Wait until you are called
Bring all the necessary documents
Wait for the visa processing time. Usually, getting a visa takes between five and eight business days
The U.S. Embassy in Algeria Contact Information
Every American citizen that's visiting Algeria should know the location of the U.S. Embassy:
05 Chemin Cheikh Bachir Ibrahimi
El-Biar 16030
Alger, Algeria
If you need to reach the embassy via phone, you can call 213 0770 08 30 00.
COVID-19 Restrictions for Tourists in Algeria
Due to the global pandemic, the Algerian government enforces the following measures on all tourists:
A negative PCR test taken no earlier than 36 hours before arrival is mandatory
Anyone might be subject to a temperature check on arrival
Passengers flying with Air Algerie must stay in a state-nominated hotel for quarantine. The quarantine takes ten days, or it can be reduced to five days for visitors who get a negative PCR test on the fifth day of isolation. The hotel fee must be paid in advance.
Obligatory Vaccinations for Entering Algeria
You don't need to be vaccinated against COVID-19 to enter Algeria, but most travelers must confirm they are vaccinated against typhoid and hepatitis A. If you traveled to certain South American, Asian, or African countries before visiting Algeria, you must be vaccinated against yellow fever, rabies, malaria, cholera, and hepatitis B.
DoNotPay Visa Tourist Guide Product Saves Your Valuable Time!
Getting straight answers about specific visa requirements is never easy. Many third-party sites include a bunch of unnecessary info, while official websites tend to be slow and outdated.
DoNotPay won't let you down! We have a failproof feature that quickly tells you whether you need a visa or not, based on your destination entry. All it takes is for you to follow the prompts:
Select the Tourist Visa Guide product
Confirm that you're a U.S. passport holder
Enter the destination country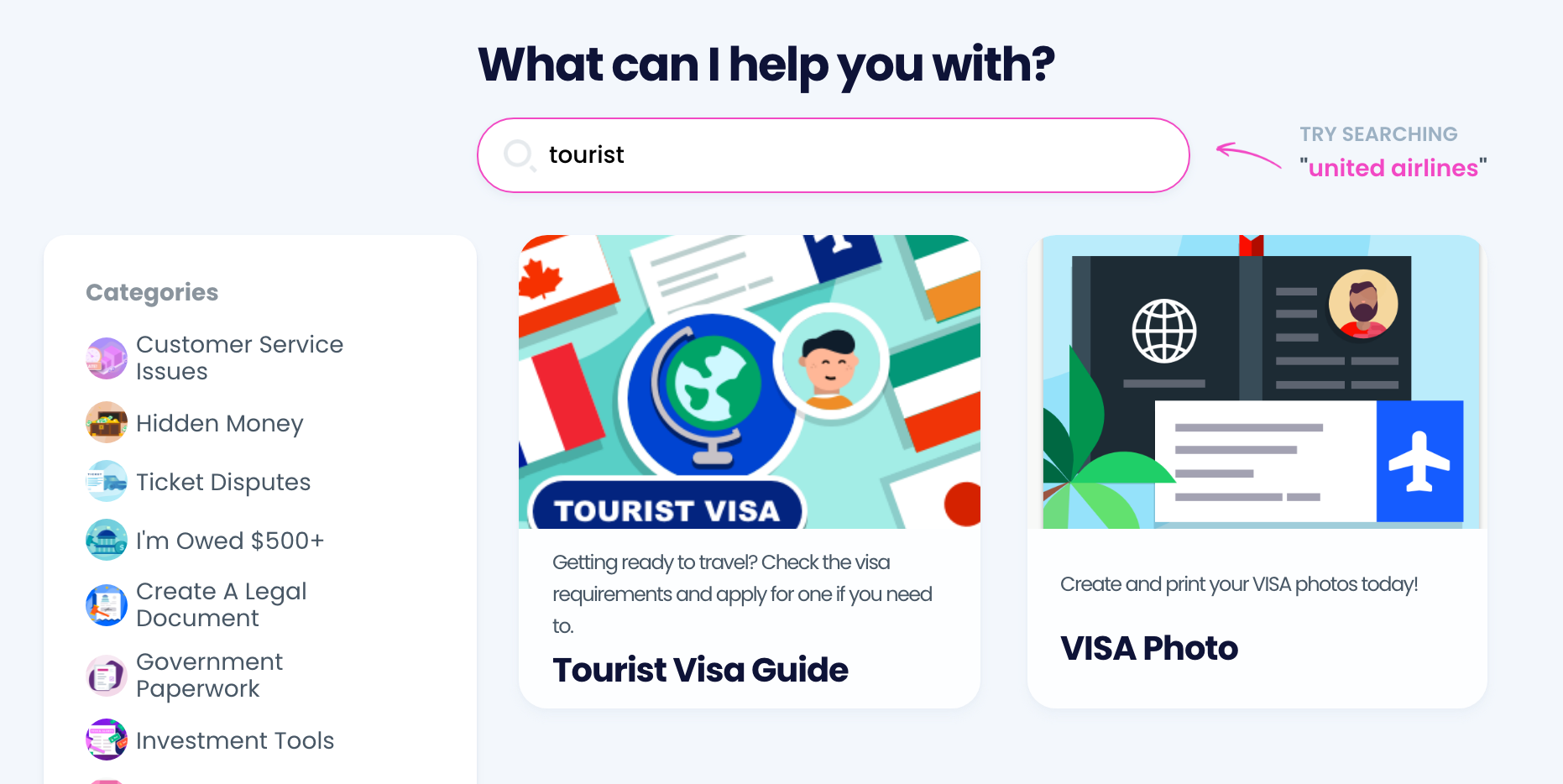 You will be directed to an online portal where you can apply for your visa if you need one or be provided with a full visa guide in PDF in minutes!
Visit Africa and Don't Worry About the Visas—DoNotPay Is Here To Help You
Africa is the cradle of civilization, and visiting only Algeria when you get there would be a pity. Sure, Algeria has a lot to offer, but why miss out on an epic adventure presented to you? DoNotPay can help you with the visas, so you can explore this fantastic area stress-free. Check out our country-specific guides in the table below:
DoNotPay's Features Are Here To Make Your Life Easier
To simplify confusing bureaucratic procedures, we developed a number of features you may find super useful. Sign up for our app and let us assist you in:
DoNotPay Doesn't Stop There!
Assisting you with bureaucratic tasks is only a fragment of what DoNotPay can do—we have a lot more nifty features to offer! We can show you how to:
Struggling to draw up a financial aid appeal letter, an HR complaint, or a child travel consent form? DoNotPay is here to do it in minutes!