The Easy Way to Connect With an Inmate in Albion Correctional Facility
Statista.com reveals that in 2020, nearly 2.12 million people were incarcerated in various prison facilities in the U.S. If your loved one is being held at Albion Correctional Facility, you know how difficult it is to connect with them. The inconvenience of writing letters to inmates discourages many family members and friends from keeping in touch with a loved one.
Fortunately, DoNotPay offers a more convenient and easy way to locate a loved one in U.S. prison and communicate through letters. Through our newly integrated mailing technology and encrypted database, you can now send letters to any inmate from our app or website just like you send emails. You can also use our new search tool to quickly locate a loved one, whether held in a federal, state, or county facility.
Where Is Albion Correctional Facility Located?
Albion Correctional Facility is a medium-security level facility for females. It is located in Orleans County, New York, and currently houses roughly 1,200 adult female inmates. The following are the contact details of Albion Correctional Facility:
Physical Address
Albion Correctional Facility

3595 State School Road

Albion, New York 14411-9399

Phone Number
(585) 589-5511
Website
https://doccs.ny.gov/location/albion-correctional-facility
Fax
(585) 589-7770
General Email
N/A
Inmate Mailing Address
ID Number, Inmate Name,

Albion Correctional Facility

3595 State School Road

Albion, New York 14411-9399

Visiting Hours
8:00 am-2:30 pm. – weekends and holidays
How to Contact Inmates at Albion Correctional Facility 
Albion correctional facility provides the following ways to contact a loved one incarcerated in the facility:
Physical Visits
Visiting hours for inmate visitation at Albion correctional facility are between 8.00 am and 2:30 pm on weekends and holidays. Visiting schedule alternates Sundays and Saturdays depending on inmates' last names. This means you have to get in touch with the facility for the current rotation. A maximum of five visitors can visit an inmate at a time. The following is a checklist to make your visit successful:
Confirm that your loved one has not been transferred and has visitation privilege.
Bring valid government-issued photo I.D.
Check clothing and jewelry for compliance with the facility's regulations.
Check your vehicle for contraband such as poisons, intoxicants, weapons.
Connecting Through Phones
Inmate calling at Albion Correctional Facility is subject to the county rules. Ideally, inmates are the ones who initiate phone calls, and specific times are provided for inmates to make calls to their families. To receive calls from the inmate, you need to be on their approved calling list. The facility monitors all calls for security reasons. 
Writing Letters
You can also communicate with prison pen pals in Albion Correctional Facility through letters. Before you write the letter, research the facility's rules regarding letters to inmates. Unfortunately, sending letters to inmates in prison isn't easy. Simple mistakes such as using the wrong envelope, forgetting the inmate I.D., or adding the wrong unit number can lead to a letter being rejected.
Fortunately, DoNotPay provides an easier way to send letters to a loved one in Albion correctional facility. Through our new prison product, we make the process of sending letters as easy as writing a text or an email.
Steps to Take Before Writing to a Prisoner
The following are the steps to take before calling/ writing to a prisoner in Albion Correctional Facility:
Find out the mailing address of the facility. This is crucial for knowing how to address a letter to an inmate.
Research the inmate I.D. number and Unit number.
Find out the facility's rules regarding letters to prisoners.
Review your letter to ensure it complies with all the rules.
If you are communicating via call, ensure you understand the call rates before accepting inmate phone calls on your bill.
DoNotPay Can Help You Locate Your Imprisoned Friend
Get started by following the easy steps outlined below:
1. Locate the Connect With an Inmate service on DoNotPay.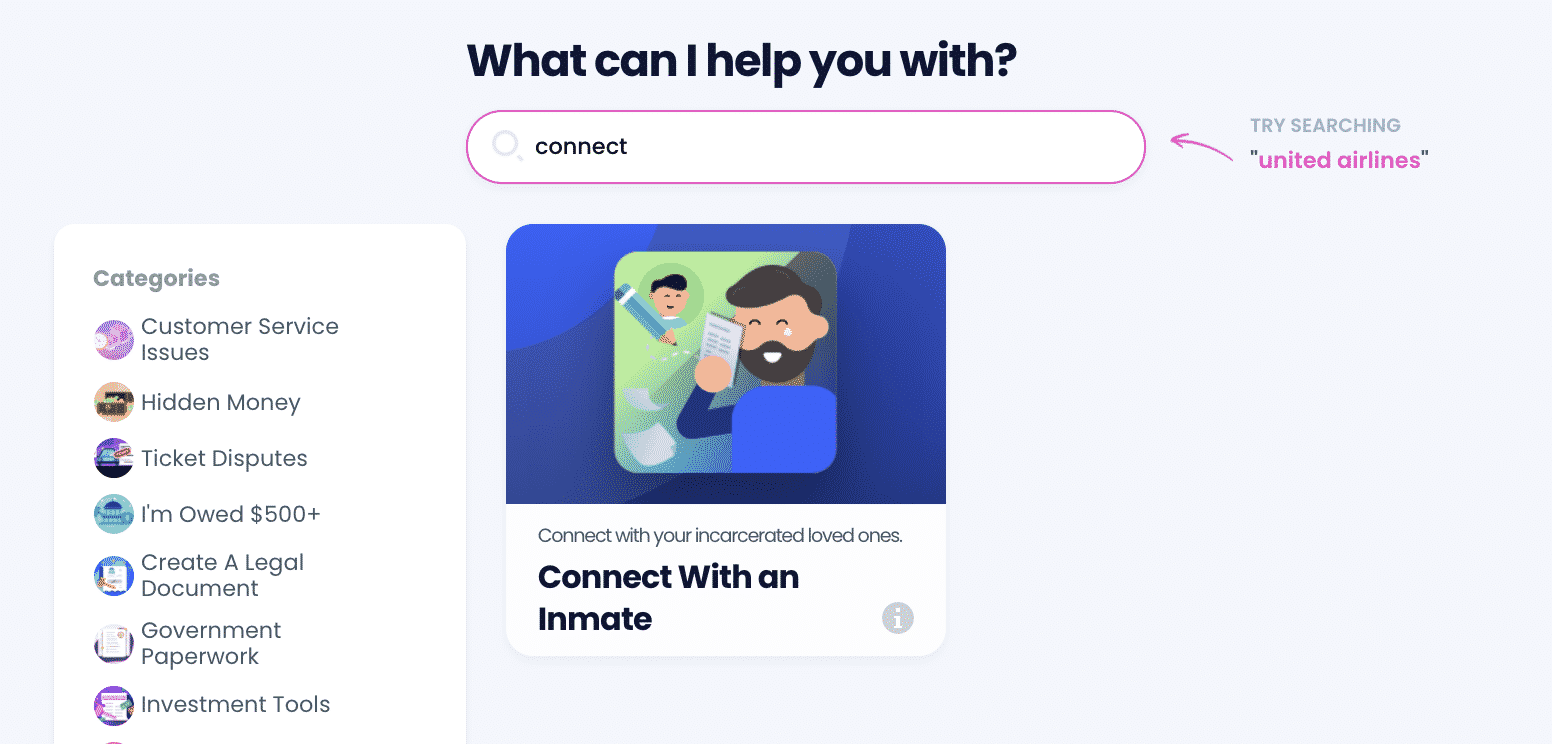 2. Choose whether you want to locate a loved one, create a virtual mailbox, or send a personalized letter.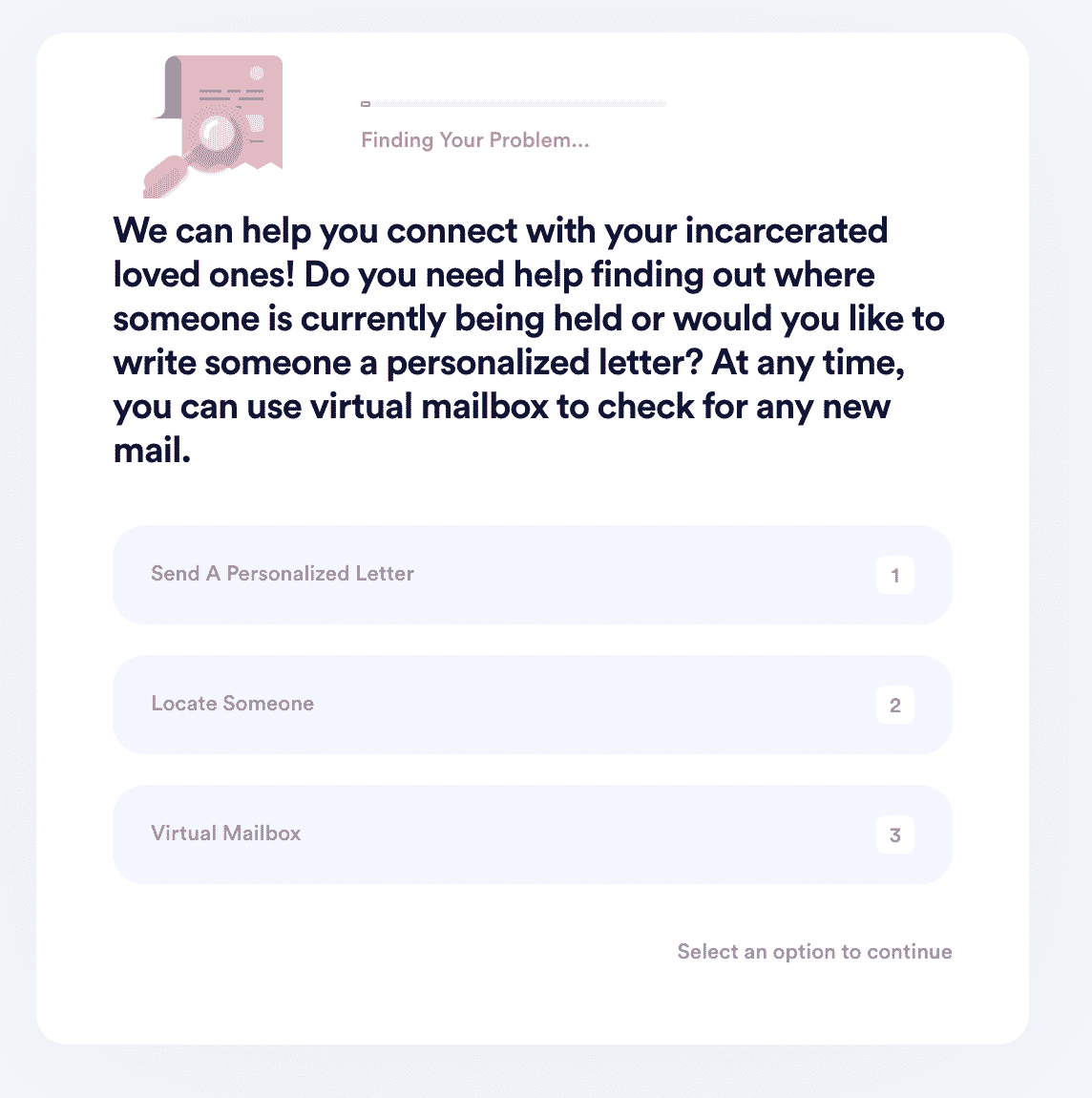 3. If you want us to find your loved one, provide his or her personal details and the state they are located in. We'll then conduct a search on the appropriate state database.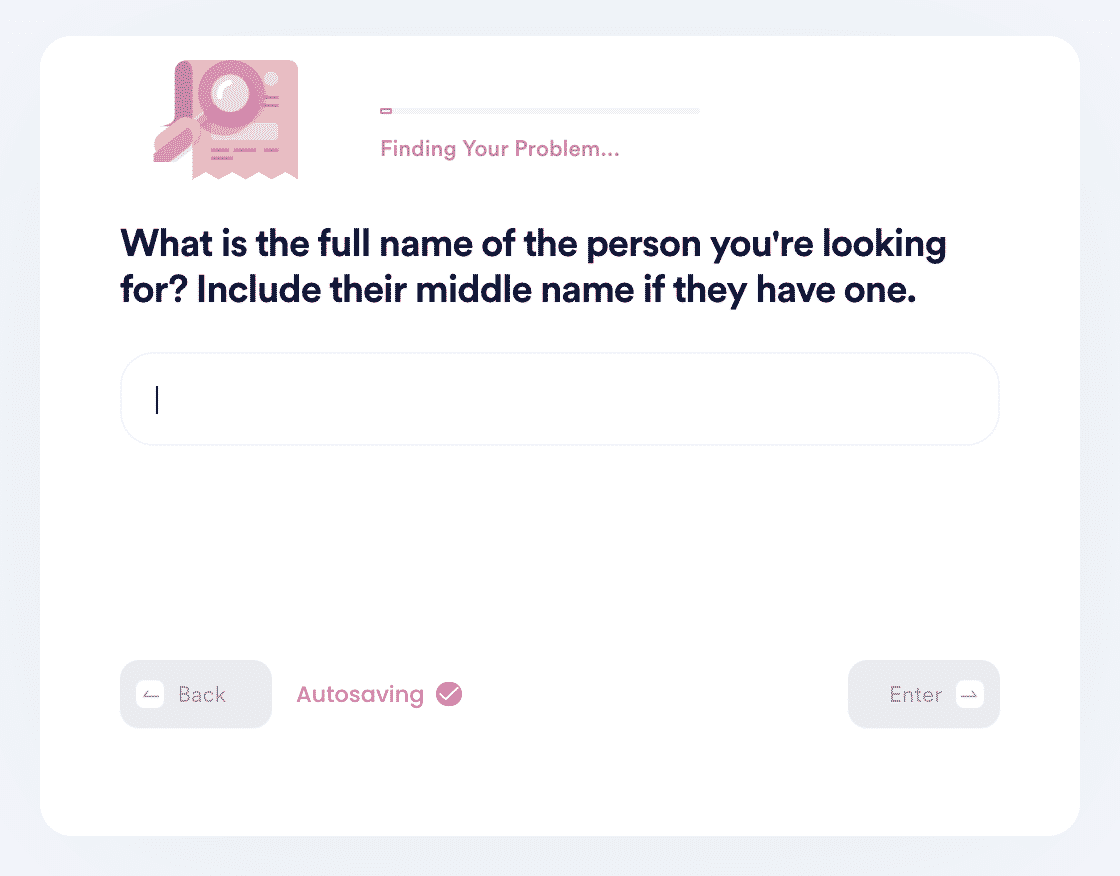 4. If you want to create a virtual mailbox, just provide your full name! We'll set one up for you so you can easily receive incoming mail from your loved one.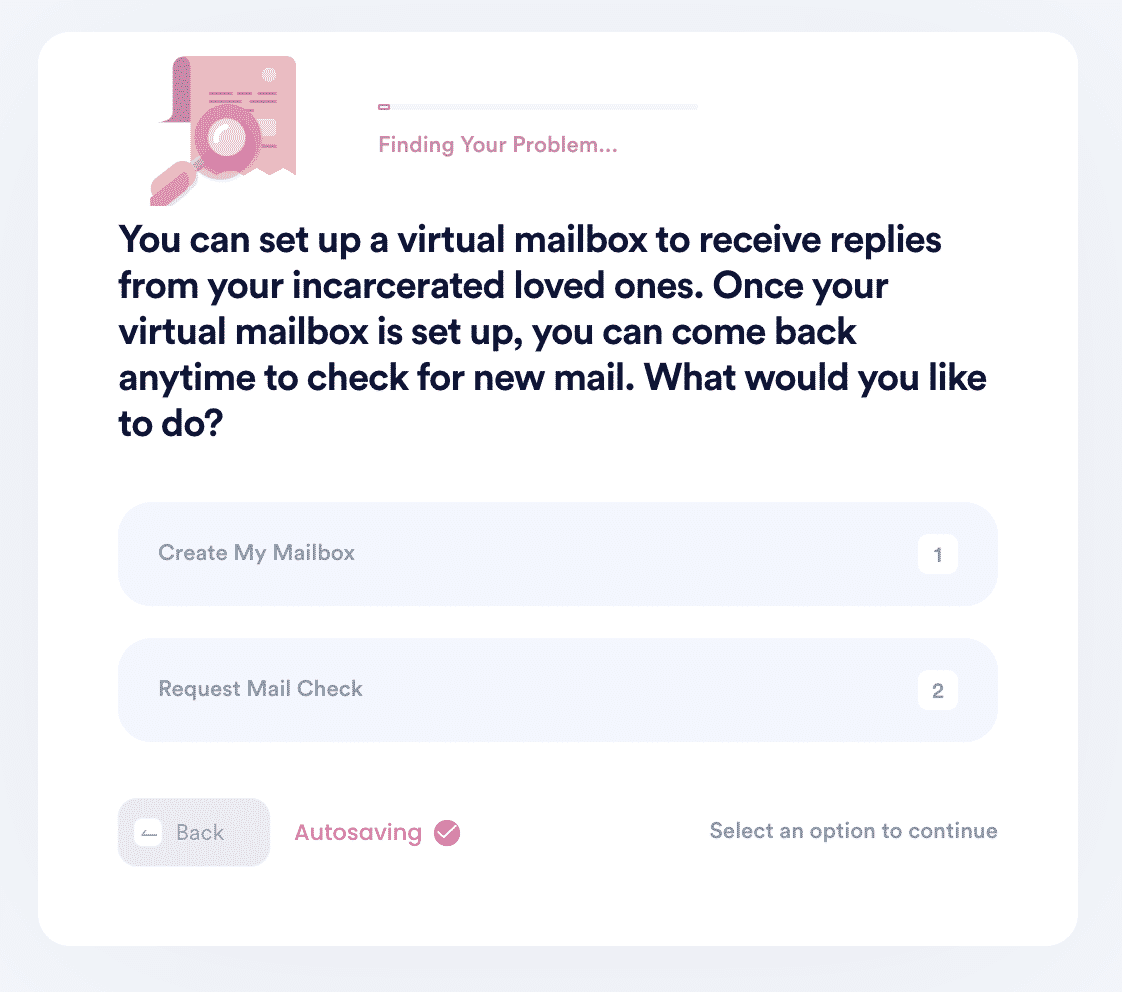 5. If sending a personalized letter, tell us which facility your loved one is located in and what you would like to say to them. You can even include a photo! Your letter will be delivered automatically - just wait 10 days for it to arrive to your loved one!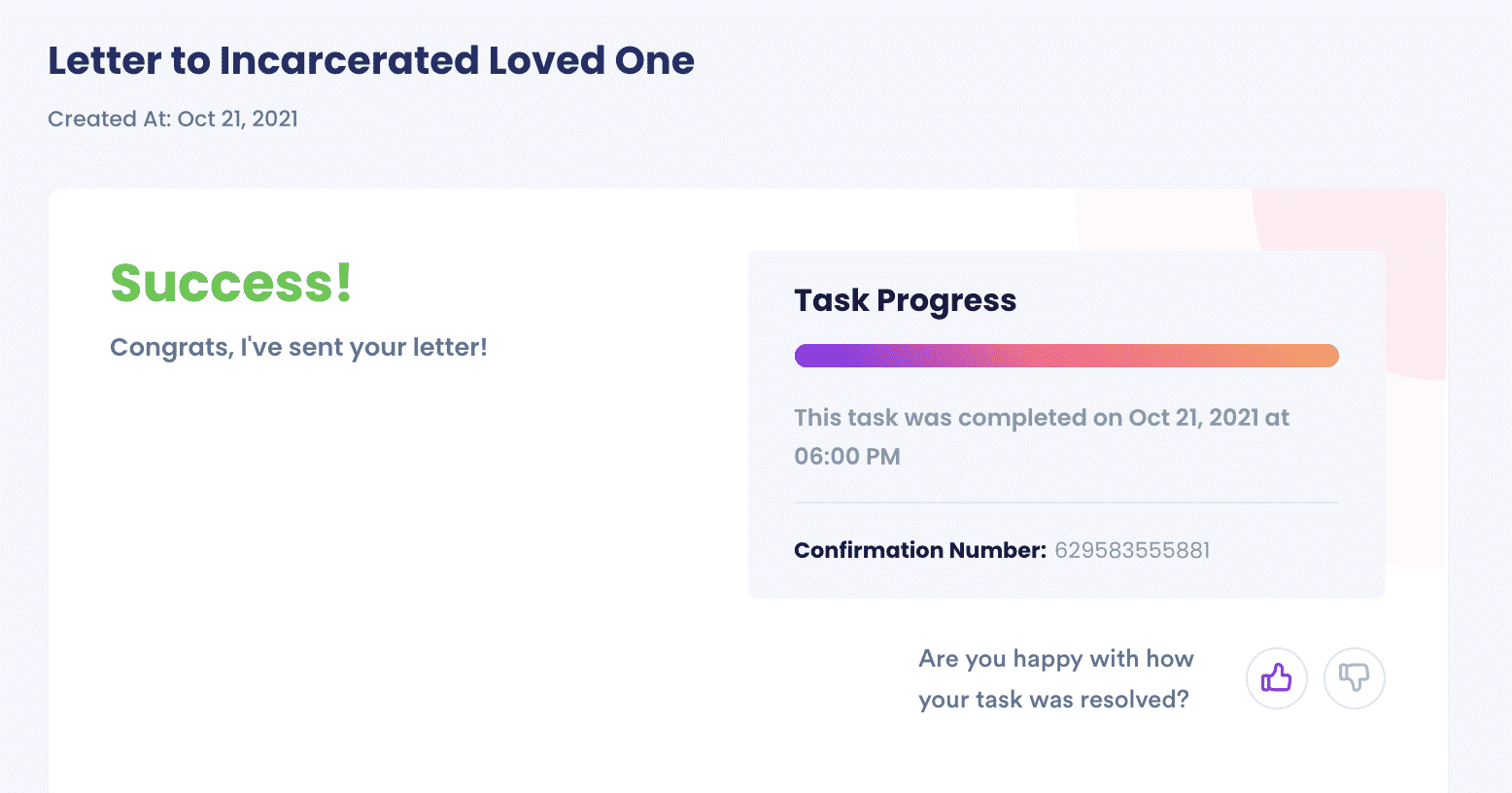 What Else Can DoNotPay Do?  
DoNotPay can also help you with the following:
Let DoNotPay Help You Contact an Inmate in Albion Prison Today
Letters and phone calls are crucial in connecting with loved ones in prisons and jails. Unfortunately, communicating with inmates through these channels is never easy. DoNotPay provides an easy way to locate and connect with your incarcerated friend, partner, or family member in any prison facility in the USA. Contact us today to learn more about our product.