DoNotPay Can Help You Navigate the Albania Tourist Visa Policy
Albania will take your breath away with its vast array of citadels, forts, and castles built across scenic locales. Many of the country's virgin beaches and exotic coastlines are yet to be explored by tourists!
Travelers often feel lost when it comes to getting an Albania tourist visa because the country is neither a part of the European Union nor the Schengen Area, which dictates a common visa policy for its members.
Albania's visa policy has changed multiple times in the past few years. DoNotPay's Tourist Visa Guide feature will make it easier for you to understand your visa eligibility and perfect your application as per Albania's latest guidelines. Sign up for our app today to use our multi-level support!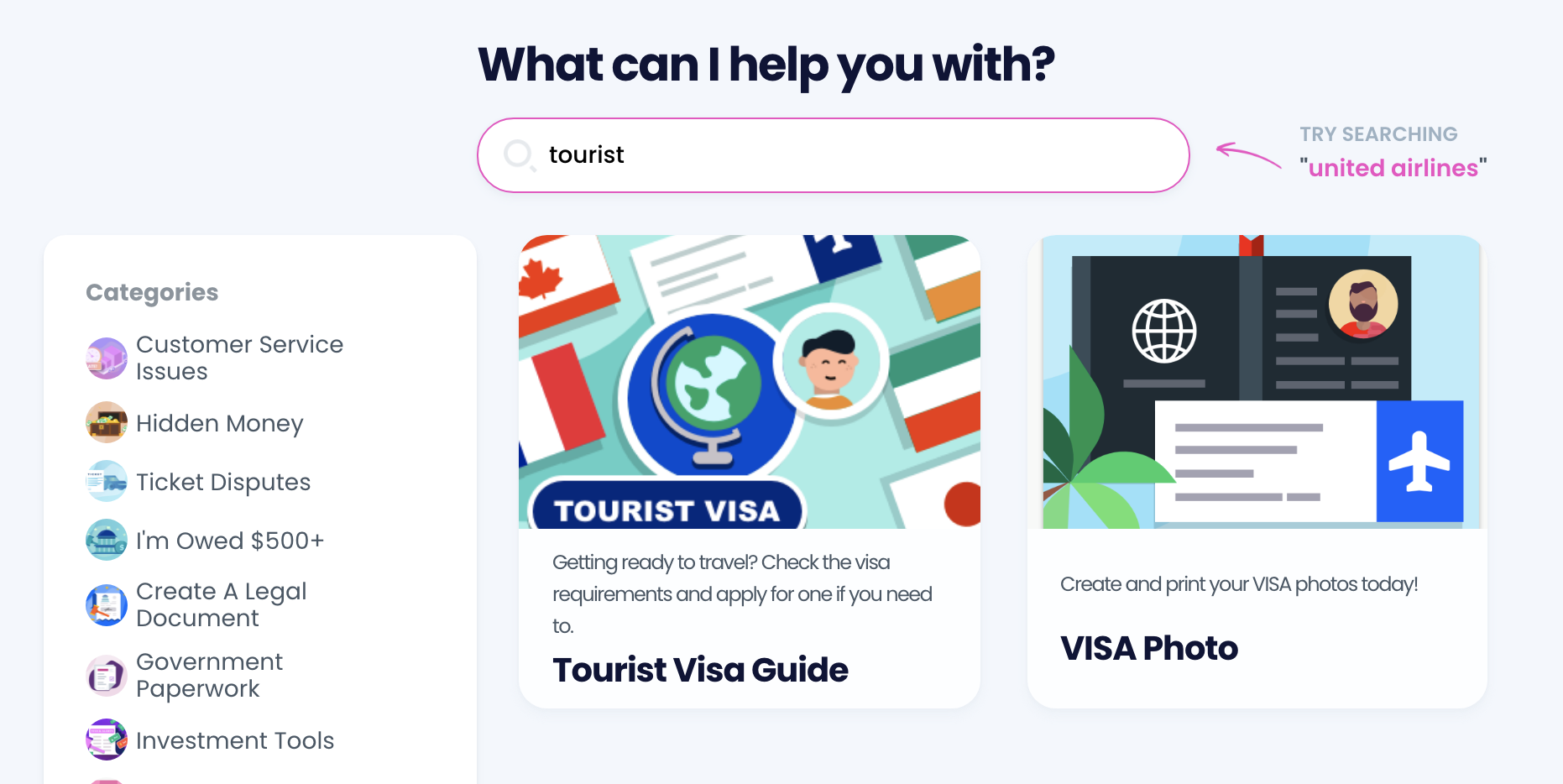 Do U.S. Citizens Need a Tourist Visa To Visit Albania?
If you are a U.S. citizen with a valid passport, you can travel to the Republic of Albania without a tourist visa only if your:
Duration of stay in Albania is less than a year
Travel intent is tourism
U.S. passport won't expire for at least three months beyond your stay
You must also qualify as an eligible traveler based on the entry and exit rules valid for both countries on your date of travel.
Here are the current entry-exit guidelines that you must follow as a U.S. traveler:
You cannot enter or exit Albania with more than one million Albanian Leks (about $9,600)
You must be fully vaccinated for COVID-19 before entering Albania. The Centers for Disease Control and Prevention (CDC) may also make the vaccinations for the following diseases compulsory (depending on your age, medical conditions, or travel itinerary):

Hepatitis A and B
Measles
Rabies
Yellow fever
Polio
No U.S. Passport? Use These U.S. IDs as a Substitute Visa!
If you live in the U.S. but don't have a U.S. passport, you can use your valid, multiple-entry U.S. visa or Green Card to travel to Albania. The Albanian authorities treat these American IDs as substitute visas but only for a 90-day stay.
Have You Planned a Trip to Albania? Here's Your Document Checklist
Whether you are entering Albania with or without a tourist visa, you need to assemble the following paperwork before your travel:
An invitation letter from your host in Albania
Accommodation details
Financial records—to prove that you can sustain yourself in Albania
Vaccination certificates
Return ticket
Your documents will be verified by a Border and Migration officer, and you may be asked to produce additional paperwork depending on the specifics of your travel.
The list of required paperwork changes all the time, so make sure to check DoNotPay's latest documentation guidelines.
When Should I Apply for an Albania Tourist Visa?
As Albania already allows a one-year visa-free stay for U.S. citizens, you will need to apply for a residency permit visa if you intend to stay longer in the country. A residency visa will cover all travels related to:
Prolonged tourism
Work or business
Education
Migration or immigration
Can I Extend My Stay as a Tourist Without a Residency Visa?
The short answer is no, but the U.S. Embassy in Albania suggests a roundabout way to extend your stay without a residency visa lawfully.
Here's what you can do:
Leave the country the moment you exhaust your visa-free stay
Spend the next 90 days in another country while your one-year clock resets in Albania
Re-enter Albania after 90 days for another one-year, visa-free stay
Consequences of Overstay
If you overstay your visa-free period, you will face the consequences as per Albanian laws, and the U.S. Embassy will be unable to assist you in any manner. At present, you may face one or more of the following overstay penalties:
Immediate removal and ban from entering Albania for five years
Fines charged for your period of unlawful stay
Detention as decided by the authorities (until you pay off the fines or fund your return ticket)
Delayed deportation once your detention period is over
How To Get a Visa for Albania
If you want an uninterrupted stay in Albania for more than a year, getting a residency visa is your only option. This table will give you an insight into the three stages of the application process:
Stages
Details
Online application

Apply for the visa online through the official portal
Enter your details and upload the following documents:

Recent passport photo
Invitation letter
Travel documents
Travel and health insurance
Minor consent form, if applicable

Submit your application

Verification
The Consulate officers will verify your application and inform you if you need to submit more documents
Visa issuance or refusal
If your application was accepted, your visa will be issued within 15 to 30 days. You will receive a formal refusal letter if your application was rejected in the previous stage
DoNotPay's Magic Touch Resolves All Your Doubts Regarding Tourist Visa Applications
Processing tourist visa rules and requirements can overshadow the fun part of your travel plans. DoNotPay's Tourist Visa Guide product is specially designed to address your uncertainties about submitting an error-free visa application!
Our app will immediately tell you if you need a tourist visa for any country. Follow these simple steps to check your eligibility for a visa-free trip:
Log in to DoNotPay and select Tourist Visa Guide
Confirm that you have a valid U.S. passport
Set your destination country
You will get a quick assessment on whether you can travel to your selected country without a tourist visa!
If you do need a tourist visa, keep interacting with our chatbot to get customized help with the application process.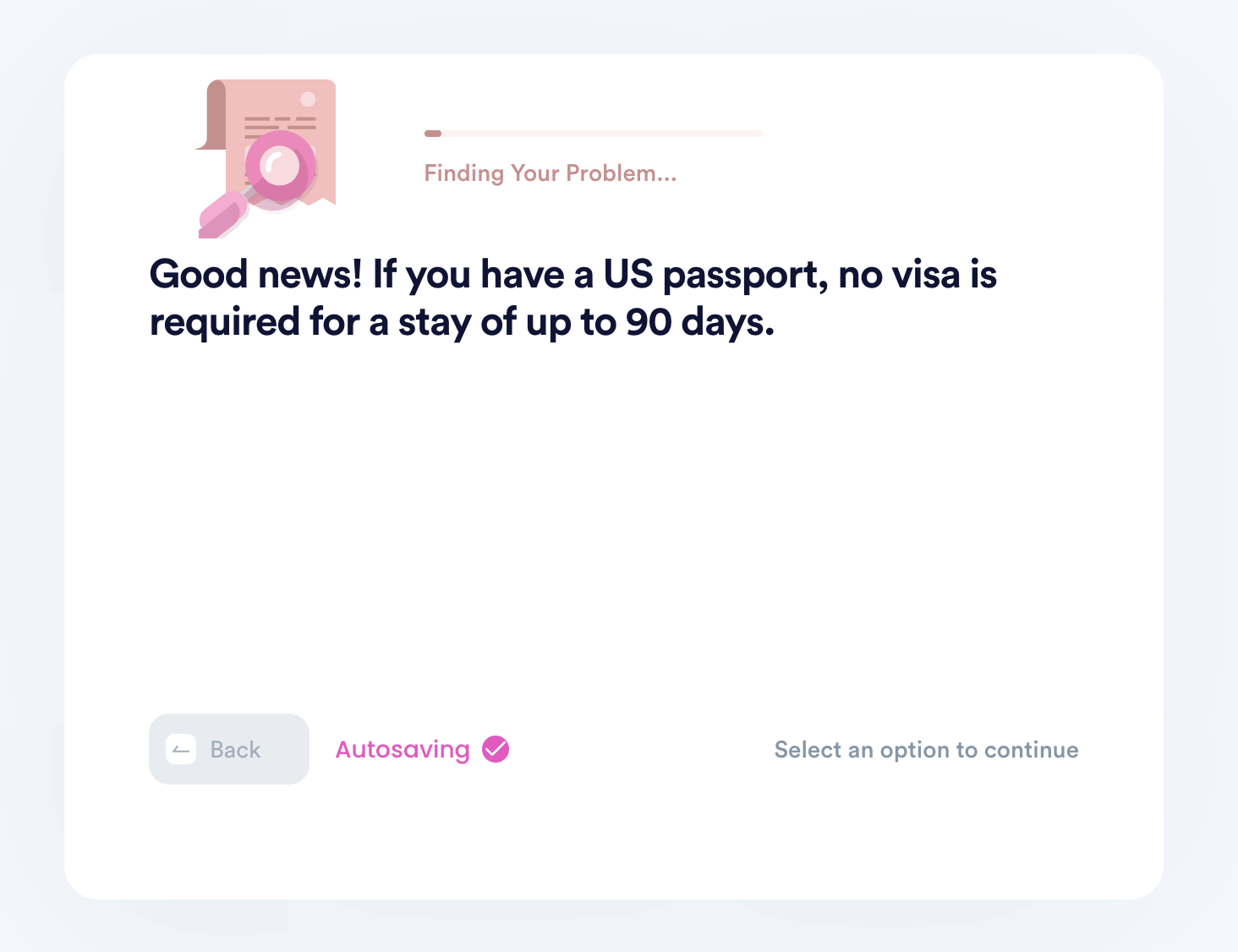 DoNotPay will give you a detailed list of the documents you need to arrange as per your destination country's guidelines. Once you are clear on documentation, our app will:
Direct you to the authentic government portal (if the government allows online submissions)
Give you a downloadable PDF version of the application form (for physical applications)
Contact the embassy for mailing instructions (if you're applying through an embassy)
If you need to renew your passport for the upcoming trip, our app can also help you create passport photos from the comfort of your home!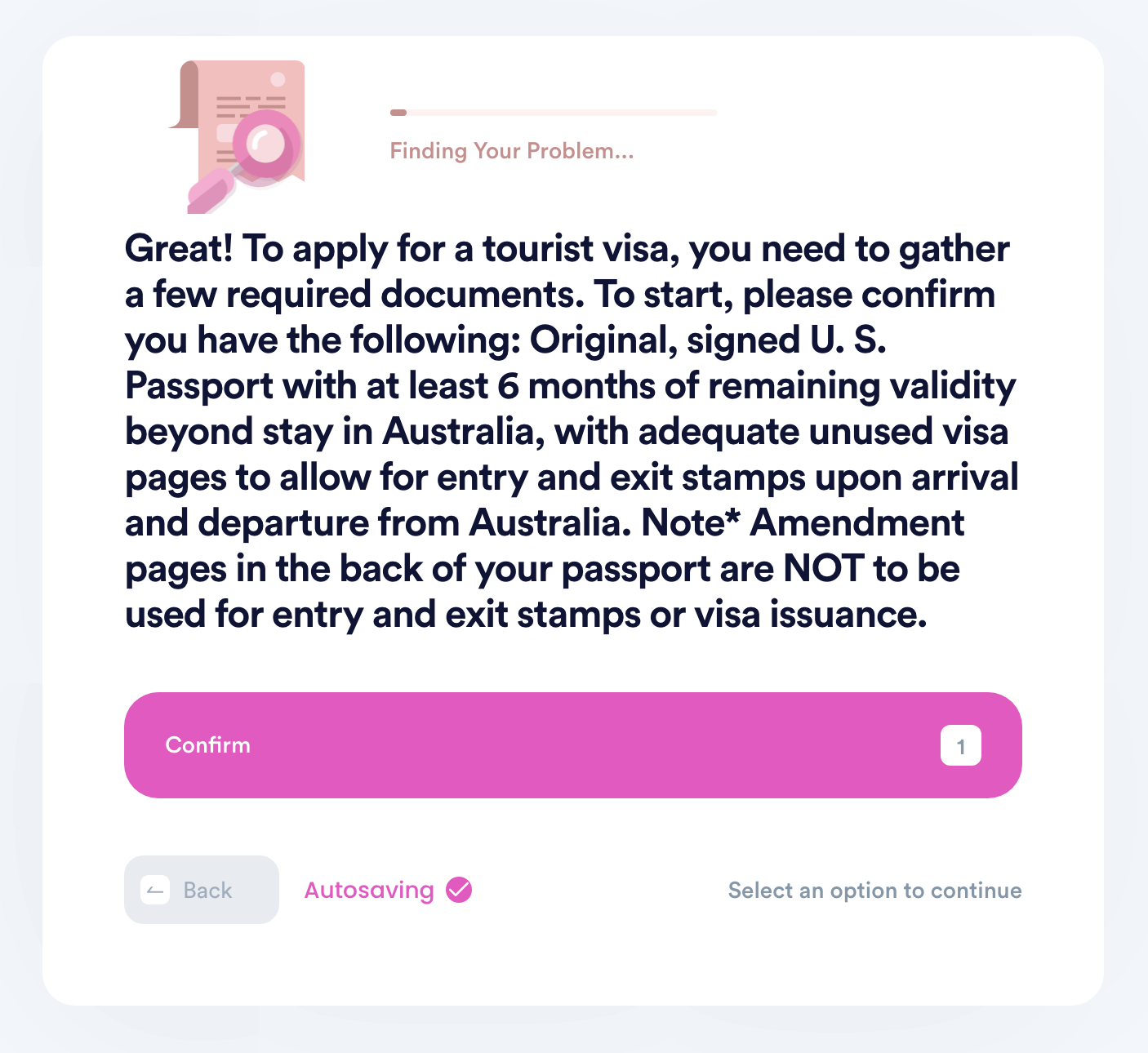 DoNotPay's reliable assistance will ensure your tourist visa application experience is error-free!
Rekindle Your Wanderlust With DoNotPay's Tourist Visa Guides
Don't turn your back on your long-standing travel dreams! Treat yourself to a trip to your cherished country and let DoNotPay handle the tricky procedural bit. Browse this table to check out our tourist visa guides for multiple countries:
Solve Your Legal and Bureaucratic Issues With DoNotPay
The primary purpose of our app is to provide you with practical tools that can speed up all the drawn-out tasks you must complete. All you need to do is choose a suitable feature from our offer and get your problems solved in a heartbeat!
Once you create an account with DoNotPay, you can:
Feeling Unsafe or Harassed? DoNotPay Can Help You!
Have annoying calls and messages become your everyday problem? Don't give up on your peace—rely on DoNotPay and deal with robocalls and restless text and email spammers easily.
We also take care of your privacy, allowing you to create burner numbers and virtual credit cards to avoid revealing sensitive information when signing up for various online services.
If you are being stalked by somebody or discriminated against at work, we will do our best to help you fight for justice and report the case accordingly! We will also safeguard your creative work from copyright violation and ask for violent crime compensation on your behalf.