How To Get the Alaska Senior Property Tax Exemption Without Bother
Property tax exemptions offer an opportunity to citizens of a county or state to lower their property tax bills. If you live in Alaska, you may want to look into its senior property tax exemption program. 
Seeking information about tax relief programs online is not only boring but also exceptionally hard. You usually need to open a dozen or more web browser tabs and switch between them every two minutes to get an answer to a single question.
Our app helps you get property exemptions by generating a specific guide that contains all the information that you need. If you want to get our property tax exemption guide right away, sign up!
Are Property Taxes in Alaska Expensive?
Since Alaska's average tax rate of 1.7% is higher than the national average, it cannot be said that it's a state with low property tax. Not everything is bad news, though. Alaska offers a variety of property tax exemptions to help citizens pay their bills, and it also has a positive tax environment overall. For example, Alaska residents don't have to pay income taxes.
Every city and borough in Alaska has its own tax rate, which is reset yearly. Here's a list of some of the areas in Alaska with the lowest and the highest tax rates:
Highest
Rate
Lowest
Rate

Anchorage Municipality

1.32%

Prince of Wales-Hyder Census Area

0.27%

North Slope Borough

1.30%

Skagway Municipality

Hoonah-Angoon Census Area

0.44%

Nome Census Area

1.29%

Sitka City and Borough

0.54%

Dillingham Census Area

1.28%

Wrangell City and Borough

0.66%
Tax assessors estimate the market value of your property on a six-year basis, but the property tax changes slightly every year.
If you believe that your property assessment is not accurate, you have 30 days from receiving the statement to appeal your property tax.
What Is the Alaska Senior Citizen Property Tax Exemption?
The state of Alaska is charitable to its senior citizens when it comes to paying property taxes. In Anchorage, for instance, homeowners aged 65 or higher can get a total of $150,000 exempted from their property value.
Since every city and borough has its own tax system, the information may vary by location. Generally, you have until March 15 to apply for a senior citizen property tax exemption.
You should also note that you:
Must apply for the exemption in the year you want to receive it

Have to notify your tax assessor of changes in use, occupancy, or ownership of the property that's exempted

Don't have to resubmit an application when there is no change in ownership of your property 

Must apply for an exemption again if you purchase a new property
Are You Qualified for the Senior Citizen Property Tax Exemption in Alaska?
In Alaska, you are usually eligible for senior citizen property tax exemptions if you:
Are 65 years old or older

Occupy the property you own permanently

Have been a resident of the city or borough for the entirety of the preceding year

Didn't rent or lease the property to another person while you were not occupying it

Are a widow or widower of an eligible citizen and are at least 60 years old 
Alternative Alaska Property Tax Exemptions
Senior citizens property tax exemptions aren't the only type of tax relief programs Alaska offers to its citizens. You can also apply for:
Disaster exemptions

Residential exemptions

Disabled veterans exemptions
Alaska Disaster Exemptions
Some cities and boroughs, including Anchorage, offer a disaster reassessment program for real property that was destroyed by fire. Disasters that were made by wanton misconduct or gross negligence at the hands of the owner aren't qualified for tax relief. 
Alaska Residential Exemptions
Alaska also offers a type of homestead exemption, called a residential exemption. Owners can apply to have 20% of their property's value exempted for taxes.
Residents of Anchorage can save up to $50,000 when they apply for this exemption.
Alaska Disabled Veterans Exemptions
Disabled veteran exemptions work similarly to senior citizen ones. Veterans with a 100% service-connected disability can have $150,000 of their property's value exempted.
Anyone with at least 50% of disability is qualified. When you apply, you need to submit your VA letter.
Say Goodbye to Information Overload! DoNotPay Makes the Process Quick and Easy!
If you want to learn more about how tax exemptions work in Alaska, whether you are eligible for them, and how to apply error-free, you can use our app! You won't have to go through complicated government pages or fishy blog posts to find out about tax relief programs if you use our robot lawyer app.
Our app gives you a detailed guide on exemptions that are relevant to your property and your area.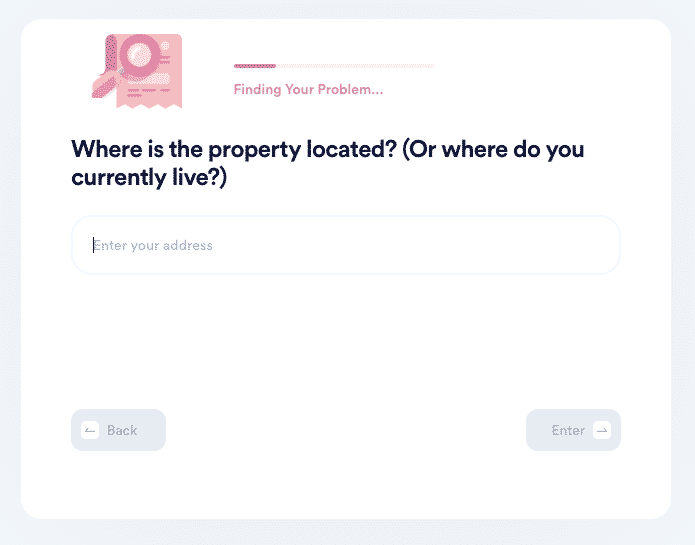 To get this comprehensive and easy-to-understand guide, you only need to:
Log in

to your DoNotPay account

Enter

Property Taxes

in the search bar

Answer several questions about yourself and your property
If you don't get an exemption, DoNotPay will also help you appeal your property assessment!
Do You Know What Else You Are Eligible For?
DoNotPay is a handy virtual assistant that can reveal a world of possibilities that you may not have even been aware of. We've perfected our algorithms to identify opportunities for you to save up and take charge of your rights. 
Here's a fraction of what we can do for you:
What Else Is New With DoNotPay?
DoNotPay boasts several new features that can help make your everyday life so much easier. 
Have you been wondering how to file an insurance claim but weren't sure where or who to turn to? We'll gladly do it for you. 
Are you tired of outdated faxing practices and manual documentation? Our app can provide you with an online fax solution and draft all your legal paperwork in no time at all.
Do you need a safe place to prepare for your upcoming government test? DoNotPay will give you all the prep tests you need.
We can help out with locating an imprisoned loved one and keeping correspondence with them via our virtual mailbox.
See what else DoNotPay has in store by accessing our web app in any browser.