Alaska Jury Duty—Your Questions Answered
Not sure how to manage your Alaska jury duty? You have to do jury duty from time to time as an American citizen.
Preparing for your time in an Alaskan court means understanding the requirements and effects it will have on your day job. This article will answer your questions about jury duty in Alaska and explore how can simplify the task of asking your boss for time off.
Alaska Jury Duty FAQs
If you've never been a juror before, you may have a few questions about how jury duty works:
What makes someone eligible?
How does jury selection work?
Why is jury duty necessary?
How long does jury duty last?
Jury Duty Eligibility
Alaskan laws state that eligible jurors must be:
U.S. citizens
Alaska residents (for at least one year)
18–70 years of age
Of a sound mind
Able to understand English (written and spoken)
Guilty of no felonies without a pardon
You may be called for up to three months of jury duty within a two-year period.
Jury Duty Selection
Prospective jurors are drawn from a random pool of eligible state residents. Once you receive the summons, the court may select you for service on trial following these processes:
You fill out a Jury Questionnaire
The clerk's office reviews your questionnaire to confirm eligibility or grant excusals
Prosecution and defense attorneys ask you a series of questions to identify potential bias
Jury Duty's Purpose
Jury duty is important because it provides an impartial panel of citizens to consider the integrity of evidence held against a person accused of a crime. This civic duty is one of the ways American citizens contribute to the country's justice system.
Jury Duty Length
On average, Alaska jury duty lasts 1–3 days. Jurors remain on-call for four weeks if the case requires additional periods of service.
How To Get Out of Jury Duty in Alaska
Consult the table below to learn what makes you eligible for an exemption from jury duty in Alaska:
| Can You Be Exempt From Jury Duty if You Are | Yes/No |
| --- | --- |
| Army member | Yes |
| Elected official | Yes |
| Law enforcement officer | Yes |
| Disabled | Yes |
| Firefighter | Yes |
| Breastfeeding mother | No |
| Student | No |
You can postpone jury duty up to ten months, but you can only do so once. If you skip jury duty, you risk being held in contempt of court and may have to pay a fine.
Does Your Employer Have To Pay You for Jury Duty in Alaska?
No—your employer is not required to compensate you while you serve as a juror. While you will lose income, the state of Alaska offers the following payment and reimbursement for jurors:
$25 per day
$0.54 per mile traveled
Juror pay can range from $7.50–$60 per day, depending on the state. Federal jury duty is subject to different standards—jurors receive $50 per day on duty.
Your boss cannot fire you for missing work because of jury duty. You are entitled to unpaid time off while serving as a juror. You can request a Certificate of Attendance from the court clerk to verify your jury duty with your employer.
Draft a Leave Request Letter With DoNotPay
Asking for time off isn't easy, even when it's to do your civic duty. Streamline the process by using DoNotPay—we will take the stress out of requesting your work leave.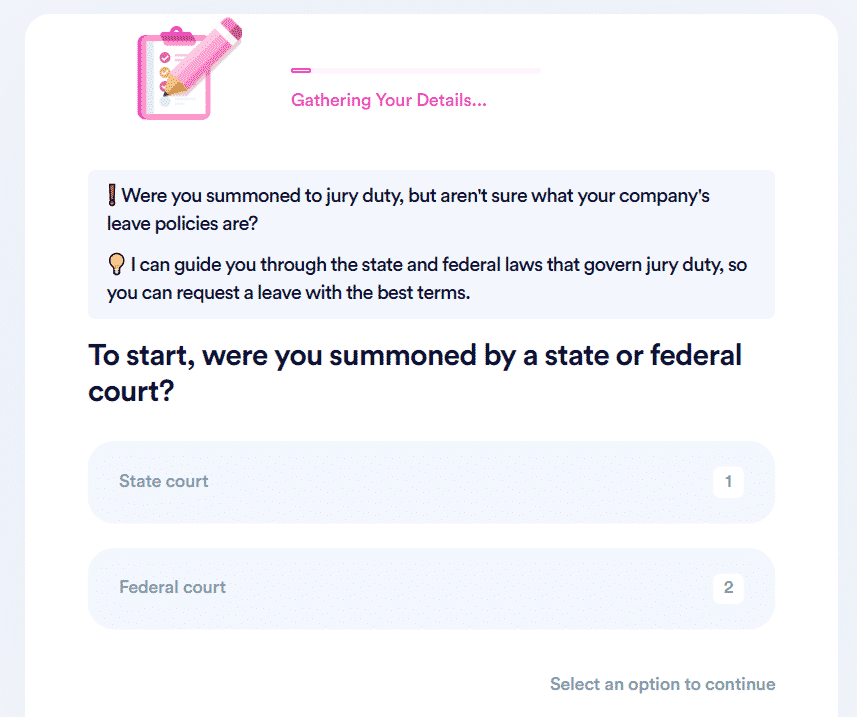 Here is how it works:
Select the Request Jury Duty Leave tool
Input the necessary information about your employer and jury summons
Specify which days you will be absent
Upload a photo of your summons and provide an electronic signature
From there, you can either download and personally hand in your letter or let us do it on your behalf.

Put Greedy Companies in Their Place
If being on hold with customer service and requesting refunds and cancellations is your idea of the worst nightmare, we come to the rescue!
When you create a DoNotPay account, you'll be able to do the following with ease:
If worse comes to worst, we can guide you through suing any company in small claims court.
Use DoNotPay To Resolve Numerous Issues
The number of products we offer keeps growing. From simple chores to bureaucratic tasks and serious issues, there's not much DoNotPay won't be able to handle in a few clicks.
Would you like to search for unclaimed money you may not know about? Are you trying to save your work from copyright violations? Do you want to contact government representatives? Once you have a DoNotPay account, you will get everything done in a flash.
Even if you are a victim of stalking or harassment, violent crimes, or workplace discrimination, we can help you out! DoNotPay can also perform a sex offender search in your area and give you weekly updates.
If robocalls and spam are what's bothering you, our app will free you from such annoyances for good. Whether the spam is coming via email or text, we'll know what to do.