How to Get Your Alaska Hunting License Easily
People have long been drawn to Alaska for its wild, open spaces and endless natural beauty. It's also an extremely popular destination for hunters. In fact, every year more than 100,000 Alaska residents and thousands of out-of-state hunters try their luck. It's no wonder since Alaska is home to a wide range of big game like moose and caribou as well as many small game species.
If you're interested in hunting in Alaska, whether you're a resident or an out-of-state visitor, you'll need to make sure you have the proper permits and hunting licenses. But, that can take time, especially if you're not in the state. Don't worry, you can get an Alaska hunting license almost instantly when you use DoNotPay.
What's It Like to Go Hunting in Alaska?
When you think of Alaska, you may picture endless, seemingly untouched wilderness covered in snow and devoid of life. The truth is, Alaska isn't always cold and snowy. In fact, some areas of the state get quite warm. It's also home to a wide range of animals. Hunters in Alaska often stalk:
Moose
Bear
Caribou
Mountain Goats
Who Needs an Alaska Hunting License?
For the most part, anyone who is hunting in Alaska will need to have a valid hunting license. There are a few exceptions to the rule, such as if you're permanently disabled. Individuals who need a hunting license in Alaska include:
All Alaska residents between the ages of 18 and 59 years must have an Alaskan resident hunting license.
Residents aged 60 or older must have a permanent identification card.
Non-resident hunters of any age must obtain a non-resident Alaska hunting license.
What Are the Different Types of Hunting Licenses in Alaska?
The State of Alaska issues hunting licenses to both residents and non-residents. You can choose from many different species including migratory caribou, elk, bison, and even wolves. The type of license you need depends upon your residency. In addition to a hunting license, you may also need to obtain a permit to enter certain areas to hunt.
Hunting License Costs in Alaska
There are ample opportunities for hunters of all abilities, ages, and interests in Alaska. The cost of obtaining a hunting license isn't all that high. The rates for an Alaska hunting license are as follows:
Resident Licenses

Resident Annual Hunting  - $45.00
Resident Annual Low Income Sport Fishing, Hunting, and Trapping License - $5.00
Resident Hunting License for the Blind - $45.00
Resident Annual State Waterfowl Stamp - $10.00

Nonresident Licenses

Nonresident Annual Hunting and Sport Fishing License - $260.00
Nonresident Annual Hunting - $160.00
Nonresident Annual Hunting – Small Game only - $60.00
How to Get a Hunting License in Alaska on Your Own
The easiest way to get your hunting license in Alaska is online through the Department of Fish and Game. You'll need to create an account, upload some documents, and pay the fees. If you have trouble with that process, you may be able to find a location that sells hunting licenses near you that can help. If not, don't worry, there's an even easier way to get a hunting license in Alaska or anywhere really.
What to Do if You're Having Trouble Getting a Hunting License?
If you're not in Alaska, or you're just struggling with the hunting license process, let DoNotPay lend a hand. It's secure, fast, and easy!
Here's how you can use DoNotPay to get your hunting license:
1. Search "hunting license" on DoNotPay and select the state you would like a hunting license for.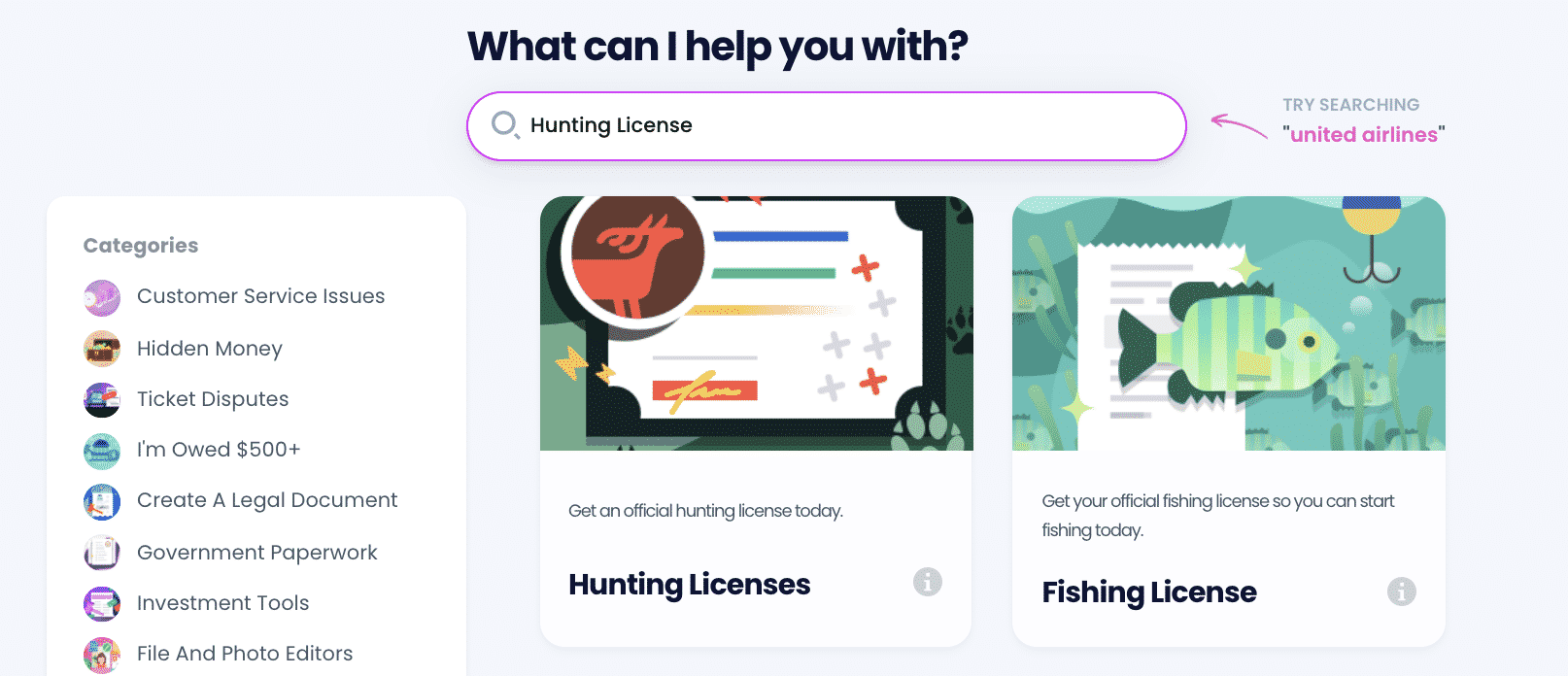 2. Indicate whether you are a resident or non-resident, and choose the type of license you want. For example, an annual or one-time pass, big game or small game license, bear tag, etc.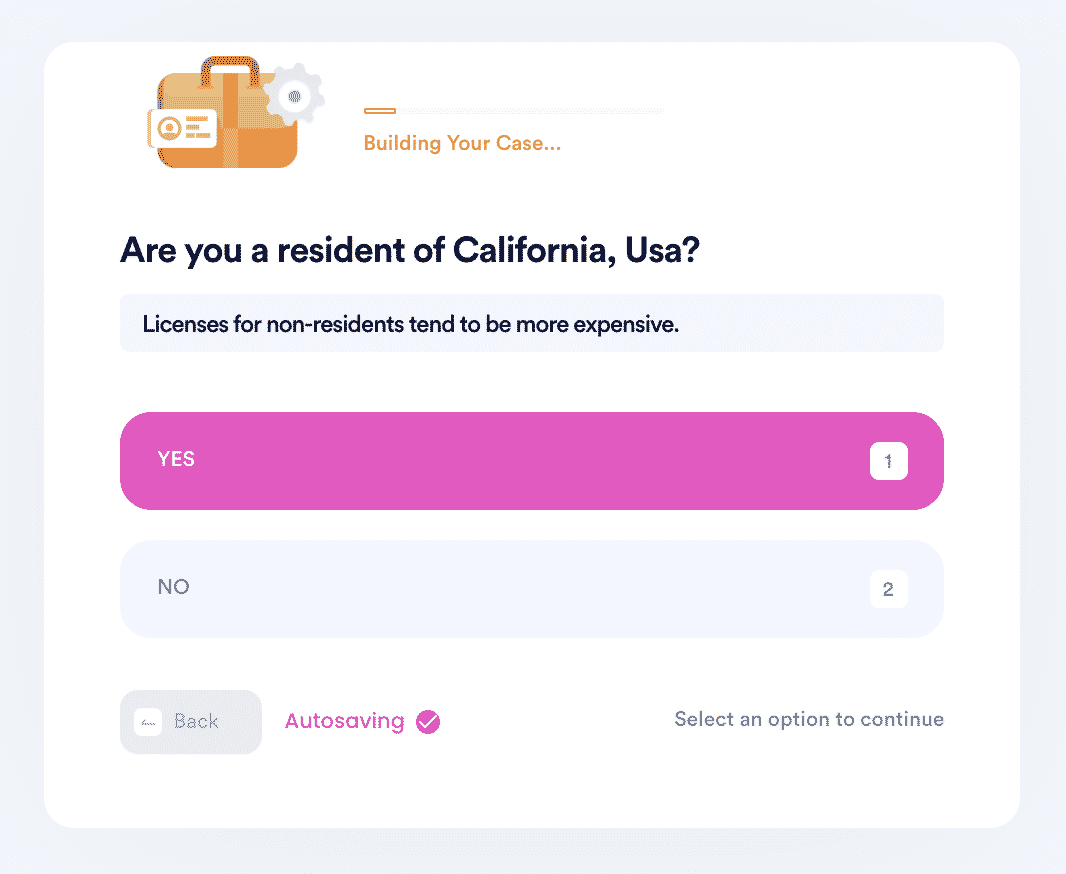 3. Provide your contact information, a copy of your government-issued ID, and pay the fee required by the state.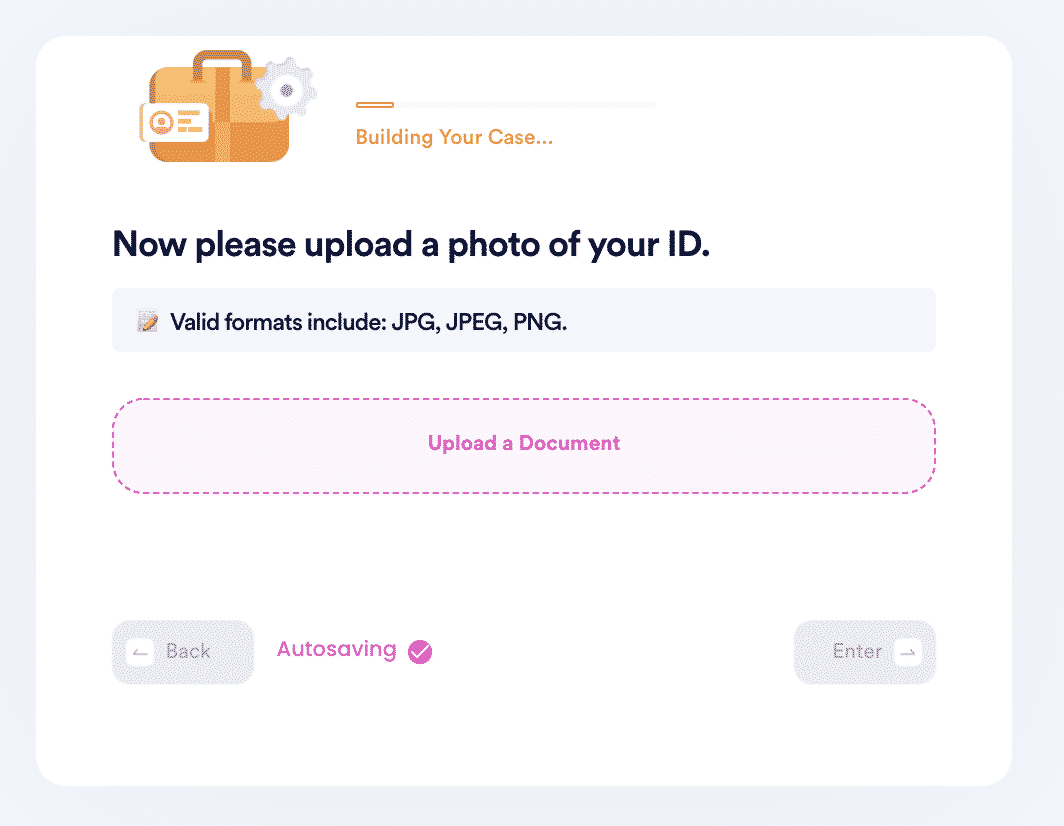 And that's it! DoNotPay will get the hunting license on your behalf, which will be valid immediately. Just download the file and print it as a temporary license, while a physical copy gets processed and sent to you by mail.
Why Use DoNotPay to Get a Hunting License
The thrill of the hunt awaits you in Alaska's wilderness, but you have to go prepared. Take along plenty of supplies, guns, and ammunition, but most importantly, make sure you have the proper Alaska hunting license in your possession.
Get your Alaska hunting license and go hunting today.
Use DoNotPay to Get a Hunting License Anywhere With the Click of a Button
Alaska isn't the only state with phenomenal hunting opportunities. If you're an avid hunter who enjoys traveling from state to state to experience the natural beauty and hunting, DoNotPay can help. Just follow the same fast, easy process to purchase a hunting license for Michigan, Florida, Texas, or any other state in seconds.
What Other Tasks Can DoNotPay Help With?
DoNotPay is the world's first robot lawyer and it's capable of managing a huge number of tasks for you including: 
There has never been an app quite like DoNotPay. Visit today to learn about all the ways this amazing product will help you live a better life.