Alaska Advance Health Care Directive Explained
Mulling over medical procedures and treatments in case of a serious or terminal disease is not anyone's favorite pastime. You should prepare an advance health care directive to express your health care preferences in case you are not able to make decisions in the future.
Since state laws differ, this article explains the specifics of an Alaska advance health care directive you should pay attention to. Register for DoNotPay to get help drafting this legal document.
What Is an Alaska Advance Health Care Directive?
You need to create an Alaska advance health care directive if you would like to:
Provide instructions about your medical care
Specify your preferences for your health care provider
Appoint a person—also called an agent or health care proxy—to make medical decisions on your behalf
This legal document is also referred to as a:
What To Include in an Advance Directive Form in Alaska
To get a better understanding of what you need to include in an advance directive form, take a look at the following table:
Alaska Advance Health Care Directive
Details
A durable power of attorney for health care
This form lets you appoint an agent to make medical decisions if you:

Cannot make them on your own any longer
Want another person to make health care decisions for you now (regardless of the fact that you are able to make them by yourself)

Keep in mind that your agent cannot be an owner, operator, or employee of a medical center where you are receiving health care

Instructions for medical care
This part of the advance directive form:

Allows you to specify your preferences for health care
Can be limited to take effect in case of specific circumstances, such as when you:

Have a terminal illness
Cannot make your own medical decisions

Keep in mind that in Alaska, doctors and other medical providers must follow a state policy when using do not resuscitate orders
Additional Parts of an Alaska Advance Health Care Directive Form
Aside from the medical power of attorney and health care instructions, an advance directive form in Alaska could also cover the following sections:
Anatomical gift at death—This part of the form gives you an opportunity to specify your wishes regarding the donation of all or part(s) of your body upon your death
Mental health treatment—Alaska advance health care directive allows you to make decisions on some forms of mental health treatments in advance
Primary physician—In this part of the form, you should specify who you would like to be your primary care physician
Keep in mind that an Alaska advance health care directive comes into effect when:
Your doctor determines that you are not able to express your medical decisions
You grant power to your agent to make health care decisions on your behalf (even if you are still capable of making them for yourself)
Sign up for DoNotPay to ensure your advance directive includes all necessary sections.
DoNotPay Can Create a Rock-Solid Advance Health Care Directive for You
Our AI-powered app saves you lots of time and energy you would need to waste browsing through online living will forms and adjusting them to your specific needs.
We can also help you save the money you would need to set aside for a pricey lawyer to draft the document for you.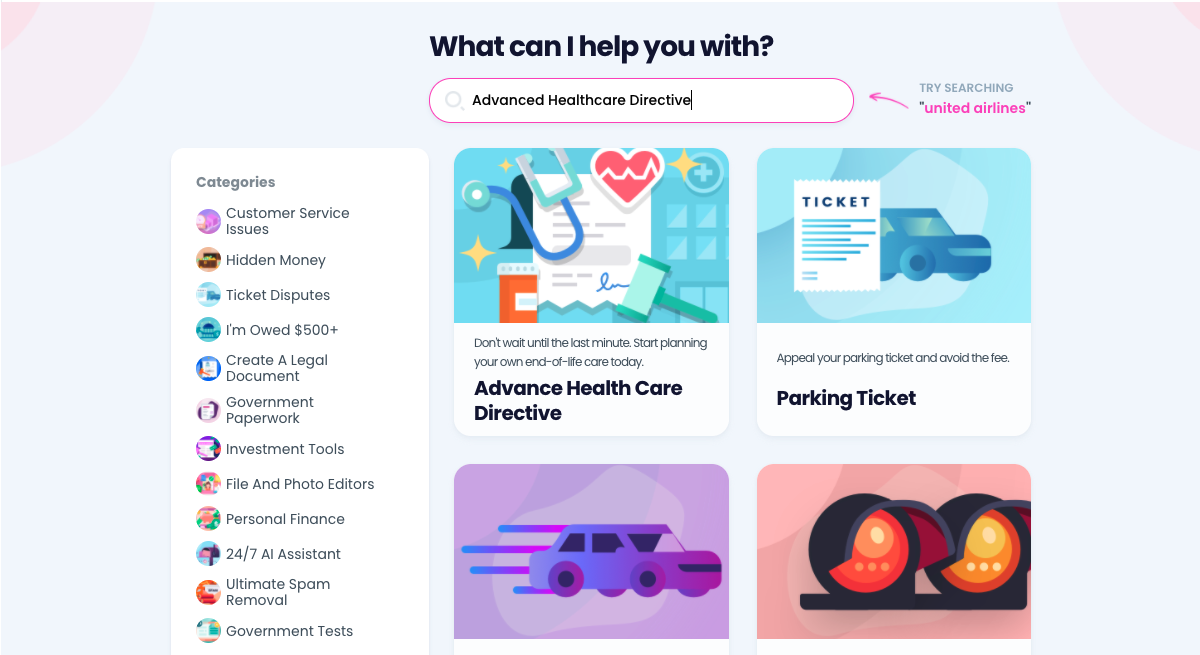 DoNotPay can create a living will, medical POA, and advance directive for you in a matter of minutes!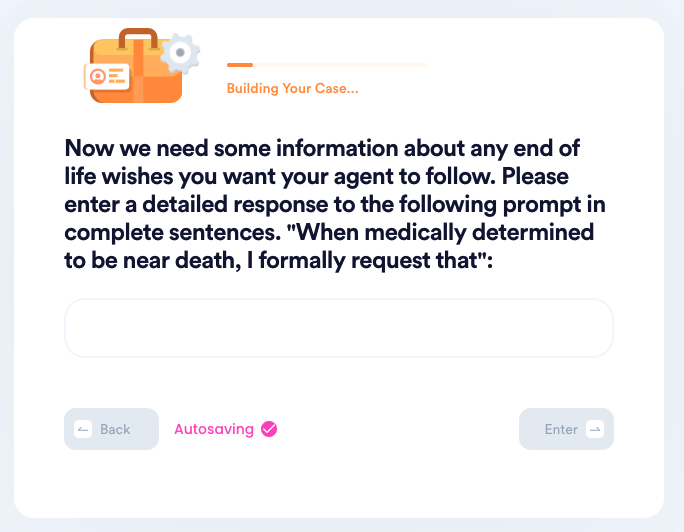 Open our Advance Health Care Directive tool
Name your agent and enter health care information
List what powers you want to grant to your agent and what treatments you authorize them to give you
Provide the names of the witnesses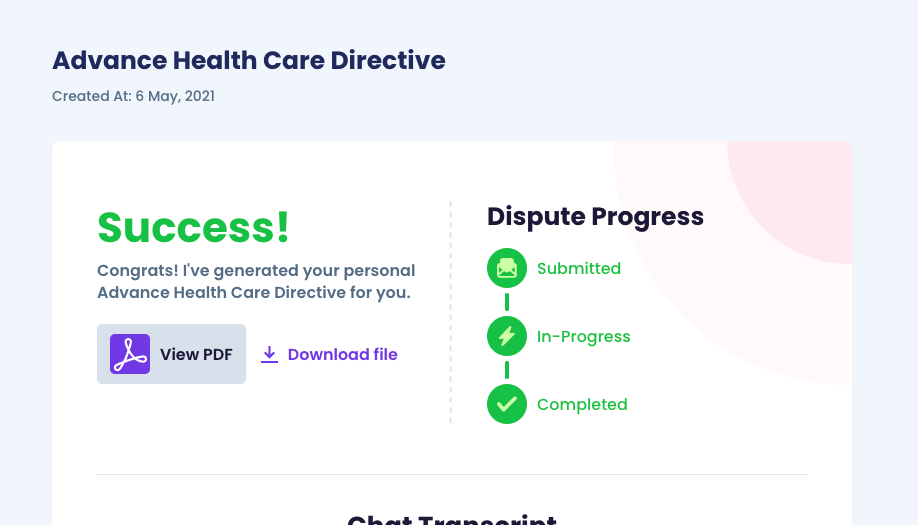 Aside from making sure that you receive a rock-solid advance health care directive fast, we can also help you get the document notarized remotely.
Solve Any Problem Within a Few Clicks
DoNotPay keeps adding new features that are designed to help you navigate your tasks and resolve issues. You can rely on your AI-powered app whenever you need to:
Earn and Save Money Using DoNotPay
When money is tight, every penny counts. DoNotPay can help you get what you're owed and also some extra cash.
Here are some of the ways our app can help you get paid:
We can also assist you in searching for your unclaimed funds, demanding a college fee waiver, and joining clinical trials.
If a company refuses to give you what you're owed, don't hesitate to file a complaint and take it to small claims court.