Filing for Alameda County Divorce? End Your Marriage Fast!
Getting divorced is emotionally draining. The process can also be tricky and costly if you don't know what paperwork to file and decide to hire a lawyer to help you out.
DoNotPay has prepared a guide that will make the divorce process easier and cheaper!
We'll show you how to file for Alameda County divorce without breaking the bank and end your marriage on a friendly note.
Divorce in Alameda County—The Basics
Before filing for divorce in Alameda County, you must familiarize yourself with the laws and regulations in California:
Residency requirements—The Golden State laws require you or your spouse to have lived in California for at least six months before filing divorce papers. You must also live in Alameda County for three months
Grounds for divorce—California is a no-fault state. You can get divorced if you state that your marriage is irretrievably broken. You can also get divorced on the grounds of incurable insanity. In such cases, you will need to provide medical or psychiatric testimony as proof
Property division—Couples from California can divide their property and debts on their own. The court can do it for them as well. The only requirement is that the assets and debts of both parties acquired during the marriage belong to both of them equally
Types of Divorces in Alameda County
There are two types of divorces in Alameda County:
Best Way To Get a Divorce in Alameda County
Choosing to file for an uncontested divorce is your best option. It'll take much less time and isn't as complicated as a contested one. To be eligible for an uncontested divorce, you will need to agree on the following with your spouse:
Alameda County Divorce Forms
To get an uncontested divorce in Alameda County, you will need to file the necessary forms at one of the two family court locations in the county or the official government website.
The documents you need to prepare are:
Petition for divorce (FL-100)—This document needs to state whether you're getting divorced because of:

Incurable insanity of the other spouse
Irreconcilable differences that have led to the breakdown of your marriage

Summons (FL-110)—This paper informs your spouse that you've filed for divorce
Declaration Under Uniform Child Custody (FL-105)—If you have any children with your spouse, this document will have to contain your current custody arrangement
Child Custody and Visitation Application Attachment (FL-311)—This document is used to propose a custody visitation arrangement
You will also need to prepare a Marital Settlement Agreement. This document outlines how your property, assets, and other important aspects will be handled during the divorce. You can get it either by:
Creating one yourself while being careful because you don't want to get dismissed by the court
Spending big bucks on a lawyer
Using DoNotPay and getting an agreement in a flash and with no effort
Get a Professional Marital Settlement Agreement Without Spending Big Bucks—Use DoNotPay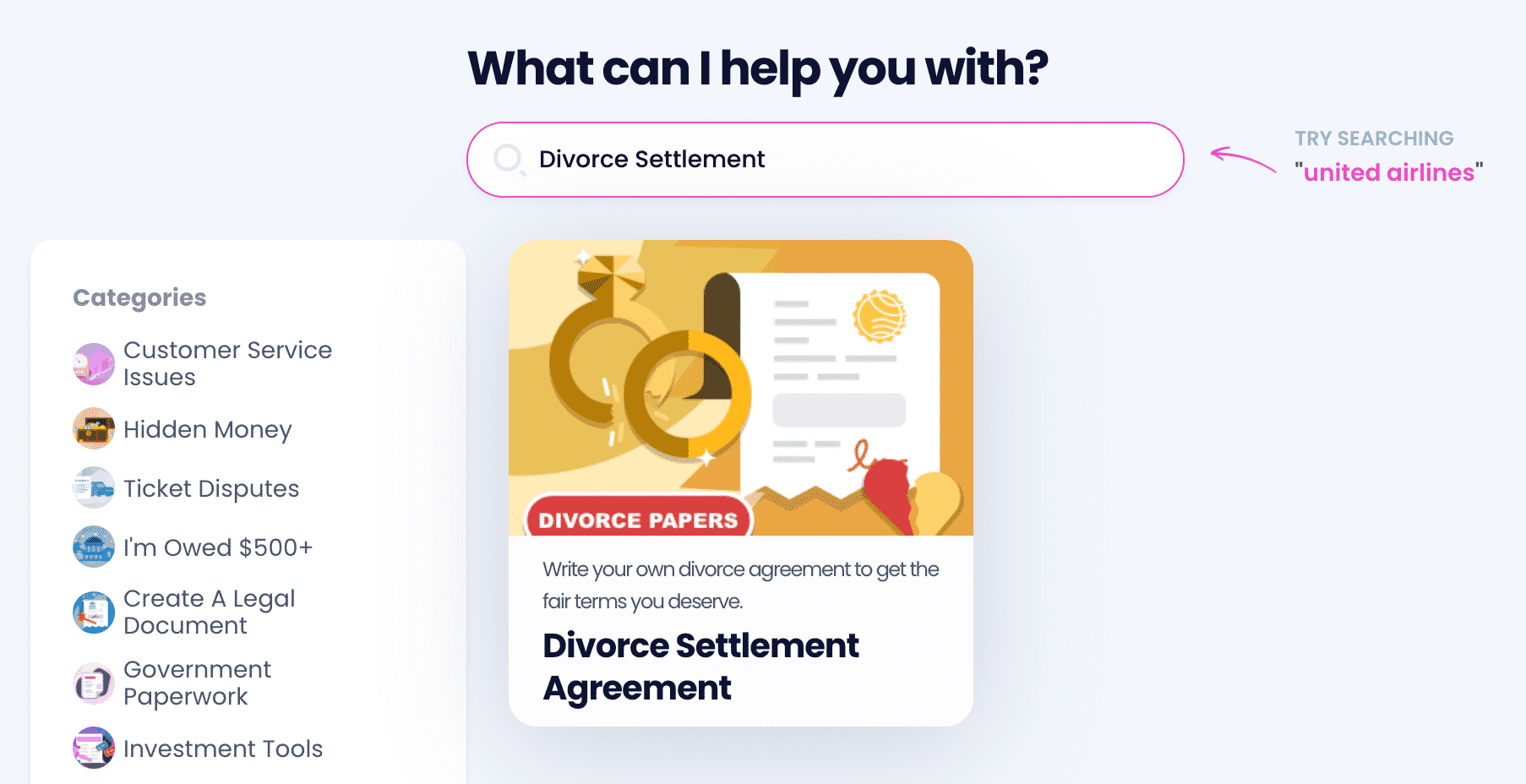 If you want to get this important document without paying sky-high lawyer fees or trying to create one yourself, use DoNotPay!
We can help you draft a flawless settlement agreement, and all you'll need to do is follow these simple steps:
Select our Divorce Settlement Agreement product
Provide us with details regarding your assets, income, spouse, and children (if any)
Select whether you want to get your document notarized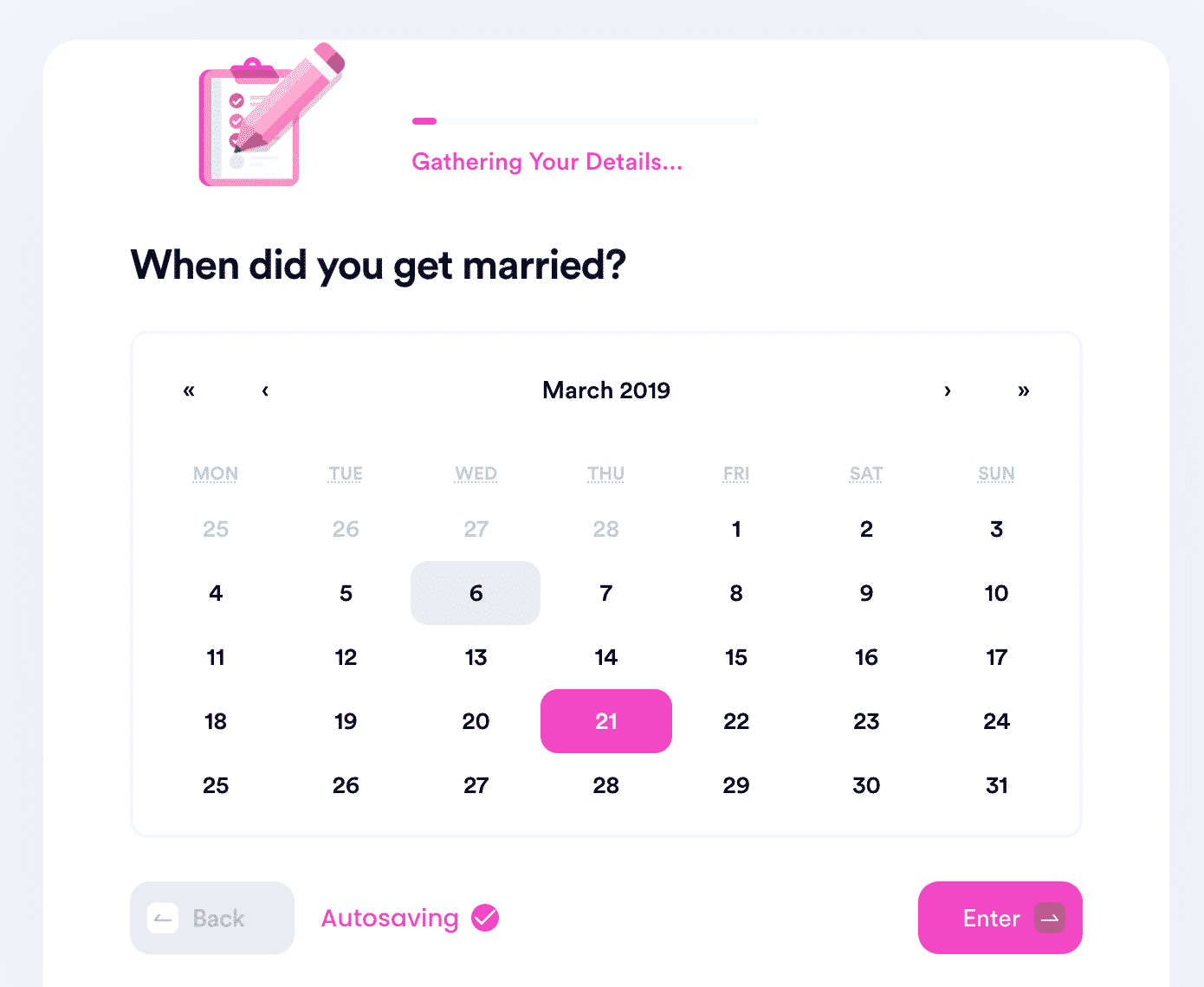 Once we process your request, we'll draft a tailor-made divorce settlement agreement. Follow the link you receive in your email to set up an appointment with an online notary.
Need more info about your California divorce process? Check out our learning center and discover how to:
We can also help you figure out what mediation in divorce is and how it works in California.
Serving the Divorce Papers in Alameda County
Once you have all your documents ready, file the petition for divorce with the court clerk's office. You will need to make at least two copies of the forms for you and your spouse. The court will keep the original forms.
To serve your divorce papers, you will need to:
Ask any adult who is neutral to the case to deliver the papers via certified mail or in person
Hire a professional process server or county sheriff to do it for you
The served party will have to sign a Proof of Service of Summons form, which the server will have to file with the court.
According to California State laws, once all papers are filed, it will take at least six months for your divorce to be finalized.
Need Legal Assistance? DoNotPay Got You Covered!
Forget about getting a migraine every time there is an administrative task to handle. DoNotPay makes it easy and stress-free to deal with any bureaucratic issue that comes your way.
Not only can we assist you in drafting a legal document and getting it notarized, but we also help you:
Finishing Your Daily Errands Has Never Been Easier!
Looking for help with running errands? You don't have to spend hours trying to make a DMV appointment or contacting a customer service rep! Completing your day-to-day tasks stops being a burden once DoNotPay gets involved.
There is no shortage of errands we'll help you run for a small subscription fee, including:
Sign up for DoNotPay and avoid spending hours on simple daily tasks that can be done in a jiffy!