The Best Way to Get an Alameda County Birth Certificate
It can be stressful and time-consuming to get copies of government forms, as the process can often be cumbersome and tough to navigate. For an Alameda County birth certificate, you have quite a few ways to obtain a copy, though it's critical to look at the fine print before embarking on your own.
For a major edge, however, DoNotPay can do the heavy lifting and let you begin the birth certificate copy process with confidence.
What to Know About Getting an Alameda County Birth Certificate Copy
Every county tends to do things a little bit differently, which is why it's important to know the specific guidelines for Alameda County birth certificates before getting started.
Consider the following steps for a lost birth certificate or if you have a general need for a copy:
All forms go through the Alameda County Clerk-Recorder's Office
The typical fee is $34 (plus a $2 fee for online orders)
You can submit request forms in person, by mail, or online
Visa and MasterCard are the only credit cards accepted
Certificates are broken down as unrestricted or informational
Notarization is required for unrestricted certificates
One of the essentials to know is which type of birth certificate copy you are able to request. There are looser requirements for informational certificates, but unrestricted copies—one you can use to prove identity—are typically only available to parents and legal guardians. Some exceptions can include those with court orders, siblings, and law-enforcement officials. If you need a birth certificate copy to obtain a passport, you will need an unrestricted version.
If you have specific questions, you can contact the Alameda County Clerk-Recorder's office. Their contact information is shown in the table below.
Obtaining an Alameda County Birth Certificate Without Assistance
Once you've read over the basics, you can use these steps to move forward with obtaining a birth certificate copy:
Choose which way you want to deliver your form
Print request form (unless it's an online request)
Leave Item 4 blank until notarization
Mail, drop off, in person, or submit the completed form along with payment
Follow up with the recorder's office to check processing times
The most important item for a birth certificate copy is likely the notarization; requests for unrestricted copies that are not notarized will be returned without being processed. Checks and money orders are accepted payments, and your request won't be processed until payment is received.
While you can have your birth certificate mailed to you for no charge, you can also pick it up at the Oakland office with a government-issued ID. The site specifically mentions to try and avoid the very busy 12-2 p.m. window. Overnight shipping is also available via Federal Express for additional fees.
Other Things You Should Know
The Alameda County birth certificate office site separates requests into those born in Berkeley and not born in Berkeley. For Berkeley newborn births up to two months after the birth date, you will need to go through the Berkeley Department of Health and/or Office of Vital Statistics.
For those looking to submit a form via fax, you can find further instructions on the main request form.
How DoNotPay Can Help You Order an Alameda County Birth Certificate
Instead of learning all of the ins and outs of the process, you can quickly get started on an Alameda County birth certificate with DoNotPay by following eight easy steps:
1. Go to the Birth Certificates product on DoNotPay.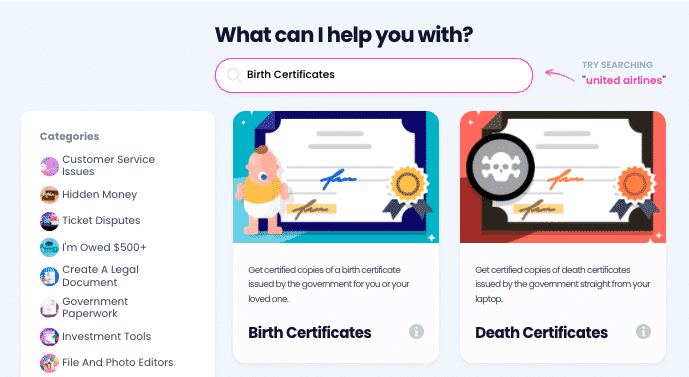 2. Select who the certificate is for (you or a loved one). If you are requesting a copy of someone else's certificate, enter their personal details, and upload evidence that proves your relationship.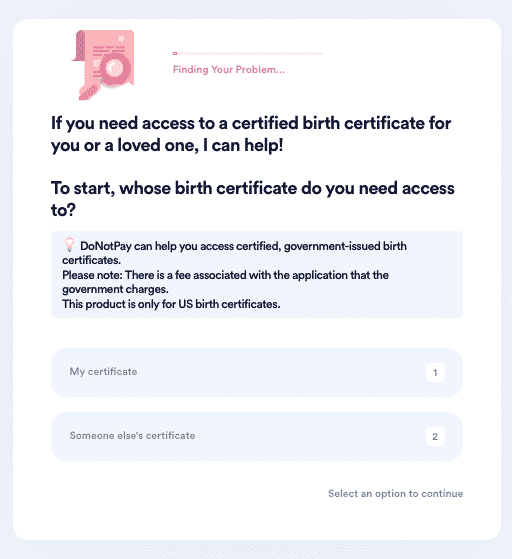 3. Enter the location you or your loved one was born in, so we can complete the form specific to your state.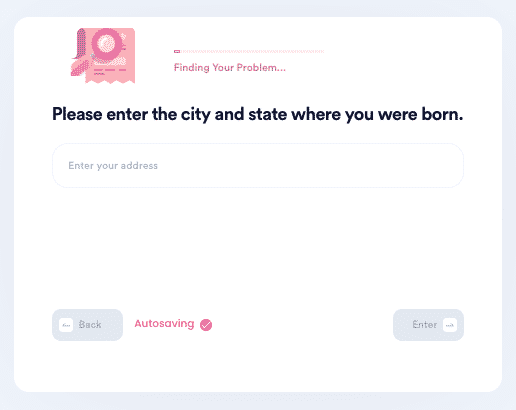 4. Enter the name(s) of the parent(s) as displayed on the certificate.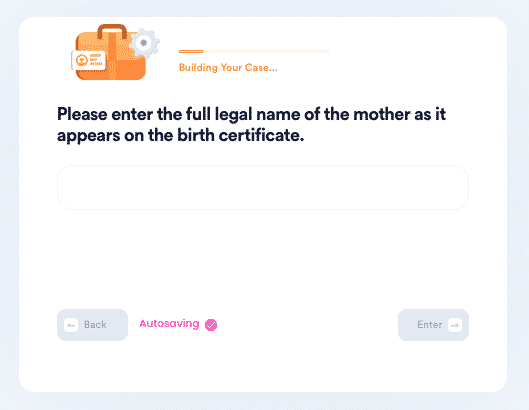 5*. Indicate what you will be using this certificate for, and choose whether you need an authorized or certified copy.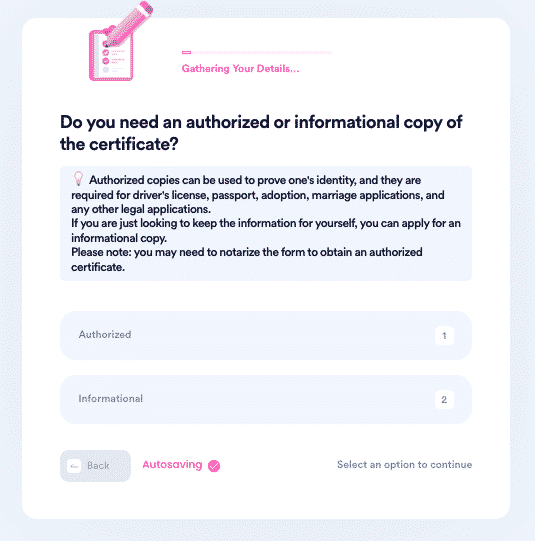 6. Enter your contact information and shipping address. Upload copies of your government-issued identification, such as a driver's license.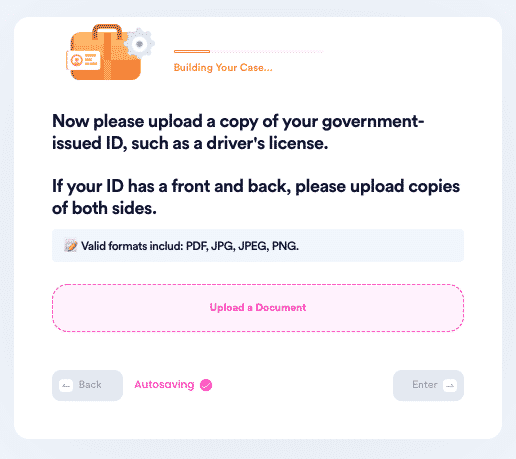 7. Choose whether you would like to electronically sign this form or not. Once we generate the form, verify that all of the information is correct.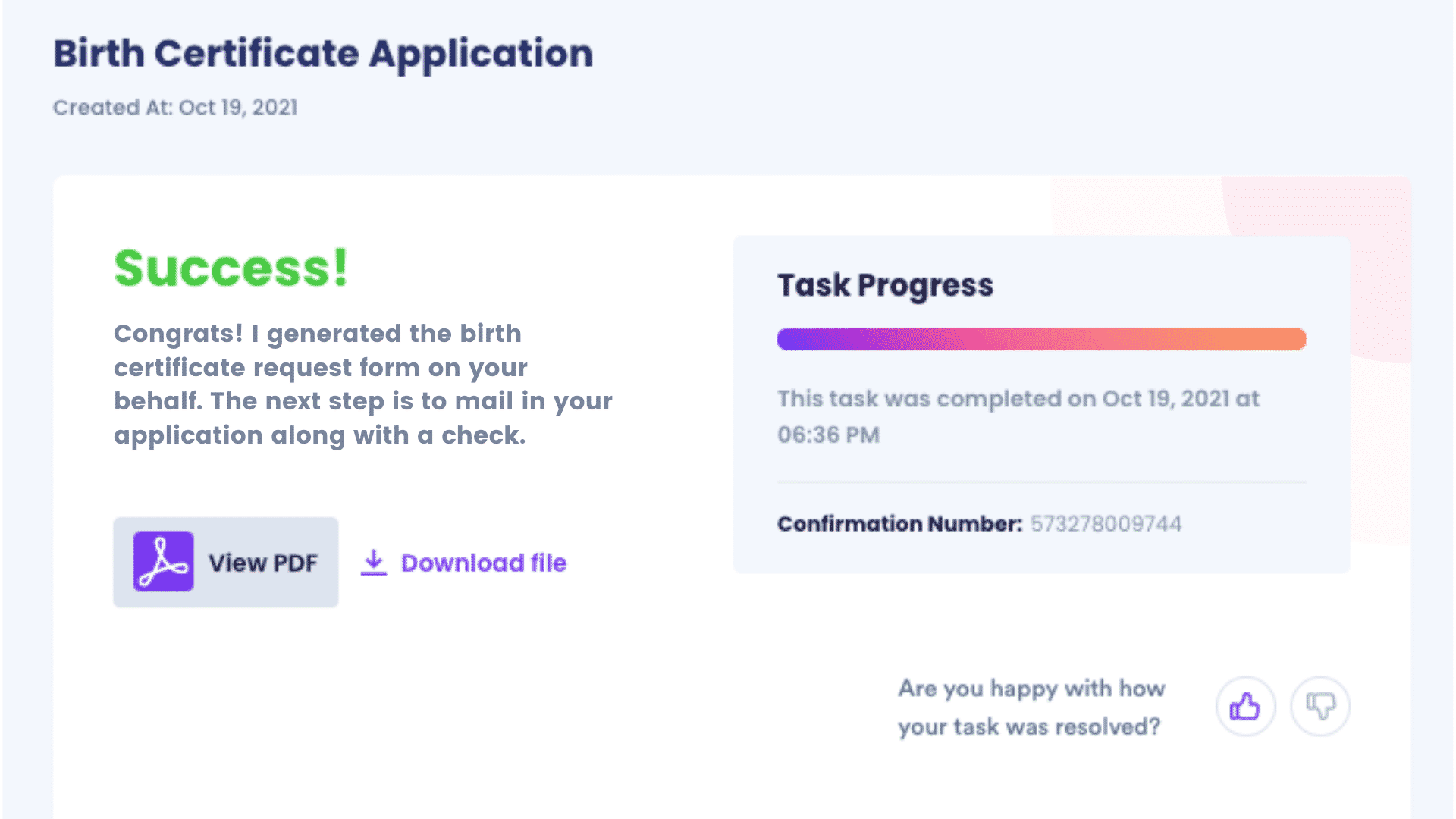 8. If you need the document to be notarized, schedule a notarization appointment using our Notary product. Otherwise, proceed to our Mail Checks product and let DoNotPay mail-in your request form with a check on your behalf.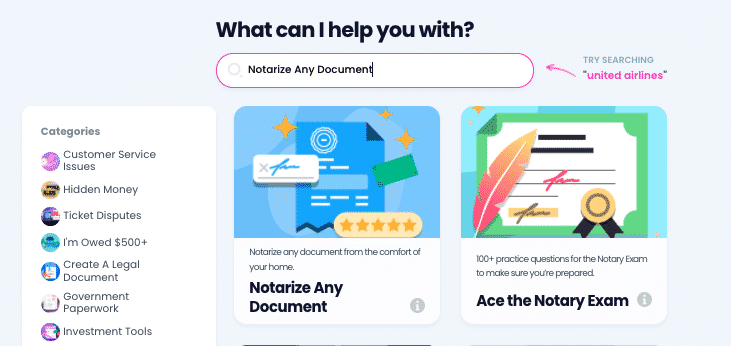 DoNotPay will then take all your information and make sure it gets to the right place on your behalf. All you have to do is sit back and wait for your birth certificate copy to get processed.
Why Using DoNotPay for a Birth Certificate Is the Way to Go
Nobody wants to spend a lot of time filling out forms and dealing with slow-moving bureaucracies. That's where DoNotPay can step in to simplify the entire process, saving you time and also helping ensure everything goes as smoothly as possible. With its user-friendly prompts and reputation for getting results, DoNotPay is the ideal way to turn a problem into a solution.
Other Ways DoNotPay Can Help
The many tools of DoNotPay are endlessly applicable in the hyper-paced modern world, where a little legal expertise can go a long way. With DoNotPay, you can do all sorts of things, including:
From saving money to cutting through red tape with a few clicks, DoNotPay always has you covered. Spend some time on the app and try it today!