Applying for the Alabama Property Tax Exemption for Seniors Has Never Been Easier!
Alabama's effective real property tax rate of 3.33% is one of the lowest property tax rates in the country. The Alabama property tax exemption for seniors can be applied to reduce property tax further. If you are looking for simplified and user-friendly guides on how to lower your property tax rates, DoNotPay will swoop in to help you pay your property taxes!
What Is Property Tax and How Do I Calculate It?
Property taxes are paid by property owners and enforced by the government. Paying your taxes is mandatory. The money gathered from property taxes is used by the government to fund the services that benefit the community, such as: 
Water and sewer improvements

Law enforcement

Fire protection

Highway construction

Libraries
Property taxes in Alabama are usually calculated by a tax assessor who comes to your property to evaluate it. You can use online property tax calculators if you want to do it on your own, but that's not a recommendable and reliable option.
The Alabama Property Tax Exemptions for Seniors
The Alabama citizens who are over 65 years of age, disabled, or legally blind are exempt from the state portion of property tax. County taxes may still be due. You can reach out to your local taxing official to claim your homestead exemption.
Seniors with a net taxable income of $12,000 or less on their combined (taxpayer and spouse) federal income tax return are exempt from all property taxes on their principal residence.
The Alabama Property Tax Exemption for Disabled—Requirements
If you are curious about the requirements regarding the property tax exemption for disabled Alabama citizens, check out the list below:
Disability status must be evidenced by at least two medical documents explaining the nature of the disability or a copy of the original letter of award from Social Security or the Veterans Administration

Documents must state the month and year that disability began

You must validate the documents annually by signature
Convenient Ways To Lower Your Property Taxes
Find out what are the other methods to lower taxes and use any of the options mentioned below to reduce your property taxes as much as possible.
Option
How It Works

Skip all home improvement project

If you decide to do any home improvement projects before the property tax assessment, it is possible that your tax will amount to much more than it would before any renovations, so make sure you avoid doing them

Make sure your tax bill doesn't contain any inaccuracies

Errors on your property tax bill are common and easily made, so it is of utmost importance to double-check if your bill has any

Find all property tax exemptions and relief you can qualify for

The best way to reduce your property taxes is by letting DoNotPay generate a guide and identify every property tax exemption you could qualify for

Make sure you are present when the assessor evaluates your property

Make certain that the assessor who came to evaluate your property is doing a good job. 

Be around if you are needed to elaborate on your property or answer any questions

Be ready to appeal your property tax bill

You can appeal your property tax bill in a few simple steps using DoNotPay, so don't hesitate to do it
The Most Common Property Tax Exemptions
You may be qualified for other Alabama exemptions apart from the property tax exemption for seniors. Here are some of the most common ones and the eligibility details:
| | |
| --- | --- |
| Exemption | You Are Eligible if You Are |
| | An Alabama resident and a homeowner occupying your property as your principal place of residence |
| | A citizen over the age of 65 meeting the income limitations set by the state of Alabama |
| | A person with a disability who can prove their disability and meet the income requirements and limitations |
| | A disabled veteran with a 100% disability rating who is disabled as a result of military service |
Apply for the Property Tax Exemption in Alabama With DoNotPay Easily!
Searching for applicable exemptions and applying for them doesn't have to be burdensome! DoNotPay can cut your work in half and provide you with instructions on how to get everything done without breaking a sweat! Our Property Tax feature does almost all the work and is super easy to use!
Go to DoNotPay from any web browser and follow the next instructions to apply for property tax exemptions in no time:
Select the

Property Tax

feature

Type in a few answers about your property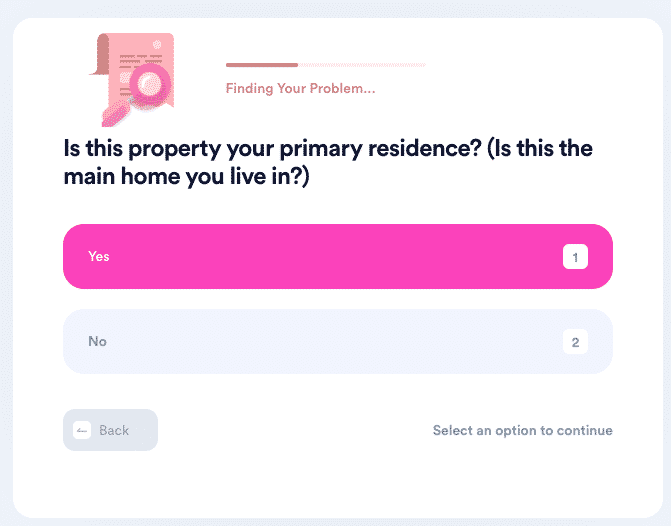 Once you are done, DoNotPay makes you a personalized guide that you can follow to get your property taxes reduced.
DoNotPay Helps You Claim Your Money
Our virtual assistant app makes sure you get back funds that are rightfully yours.
Whether you need to claim insurance, warranties, or your property held by the state, we will help you do it in minutes.
DoNotPay can also help you initiate a chargeback on any transaction you disagree with. We can help you secure compensation from airlines, robocall and text scammers, or in case you've been a victim of a crime.
In case you are dealing with an unfair company regarding your subscription cancellation or any other matter, we can help you get your money back by suing them in small claims court.
Bypass the Administration With DoNotPay
There's no more need for extensive research, abundant paperwork, or endless phone calls with customer service reps.
DoNotPay brings the administrative nonsense to a minimum.
Book DMV appointments fast and easy, appeal your parking citations, sign up for free trials without disclosing your credit card info or phone number, or reach your loved ones in jail—all in less than five minutes.
We also generate any legal document, provide full access to public records, offer DMCA protection, and reduce your property taxes with a few clicks.