How To Draw Up an Alabama Lease Agreement Effortlessly
Renting a property in Alabama can be risky if you don't create a state-specific legal document to regulate it. By creating a lease agreement, you fortify the verbal deal and ensure a transparent relationship.
The problem arises when it comes to writing a contract. It's not an easy task, and people have trouble creating a valid document with all relevant provisions and details. In this guide, you will learn the essentials of the Alabama lease agreement and get tips for making it in no time!
Defining Alabama Lease Agreements
When signing a lease agreement in Alabama, a property owner allows another person to live in their residence in exchange for a monthly rent. This contract regulates the landlord-tenant relationship by stipulating both entities' conditions and expectations. Besides protecting both parties' rights, it helps them understand and comply with predetermined duties.
The landlord has the right to perform a background check on the future tenant and get more details about their finances or employment. It's the best way to ensure that the lessee will pay their rent on time.
What Parts Should Your Alabama Lease Agreement Include?
Alabama laws allow the parties to draw up a lease contract based on their wishes and preferences. The only requirement is that all provisions align with the landlord-tenant rules from Title 39, Chapter 9A of the Code of Alabama.
The more information you add, the better the understanding between the parties. Here are some disclosures every Alabama lease agreement should cover:
Recommended Clauses
Mandatory Clauses

Full names and birthdates of all tenants

Tenant's contact information for legal notices

Lease duration

Lease renewal options

Signatures of all parties involved

Property location and description

Rent details

Security deposit

Late fees

Utility bills

Responsibilities of the landlord and tenants

Alterations and improvements of the property

Pet policy

Health and safety

Medical marijuana use

Bed bugs

Mold

Asbestos

Lead-based hazards

—The landlord must inform the tenant if there may be lead-paint traces in the interior structure of the building

Full name and address of the landlord

—The landlord must provide their name and physical address or authorize another person to act on their behalf
Are Alabama Lease Agreements Legally Binding?
All lease agreements with signatures of both parties involved are legally binding. Having this document notarized won't affect the legality or strength of the contract.
How Can You Get an Alabama Lease Agreement?
The following table shows three available ways to obtain a lease agreement in Alabama:
Method
Benefits
Drawbacks

Using online

templates

These templates are usually free

You can find them easily

It's a quick solution

They can be incomplete

In some cases, you must sign up to a service or a platform to download them

They may be vague or too generic, and you may not be able to adapt them to your needs

You can't know for sure if they are reliable and up-to-date

Hiring a lawyer to draft your contract

Lawyers are proficient in making a contract solid

They understand state-specific rules

They have already composed loads of similar agreements

Their services are too costly. You may need to put aside hundreds or even thousands of dollars to get a single document draft

Composing an agreement on your own

You don't spend any money

You can add specific sections tailored to your wishes

It's time-consuming

You will need to learn state-specific laws

It needs a lot of research
There's a way to avoid all difficulties the above-mentioned options entail. If you are looking for a simple, quick, and affordable solution, give a chance to !
DoNotPay Will Generate Your Contract Instantly
DoNotPay is a perfect tool for drafting legal documents within minutes and with minimal effort. Our user-friendly app offers excellent customizable templates you can adjust to your needs and generate rock-solid contracts. All you need to do is disclose a few essential details, and we will create a personalized agreement based on landlord-tenant rules in your state.
The procedure can't be simpler. Open DoNotPay in your preferred and follow these easy steps:
Enter the name of the document in the search box

Provide the basic info—the state you live in, the start and end date of the contract, etc.

Wait for a few seconds to get your agreement!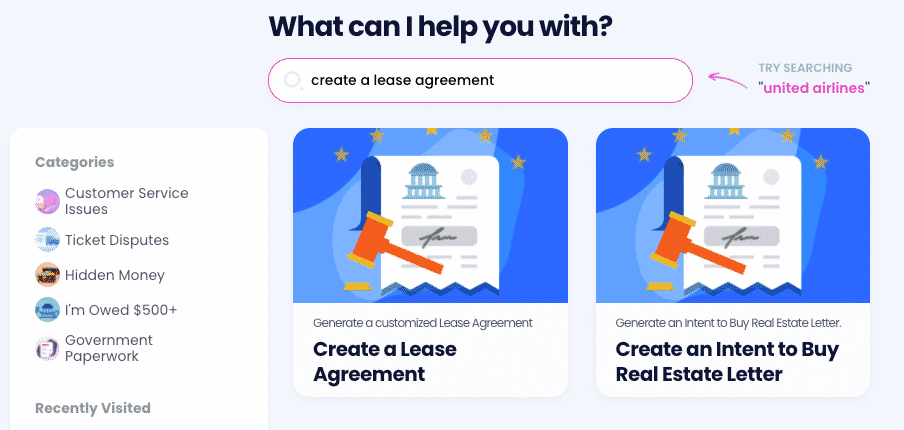 Leave expensive professional services and poorly made samples in the past! Our Standardized Legal Documents feature allows you to create various contracts, including:
Quitclaim Deed

General Affidavit

Child Care Authorization Form

Intent to Purchase Real Estate

Promissory Note

General Business Contract

Estoppel Certificate

Residential Lease Agreement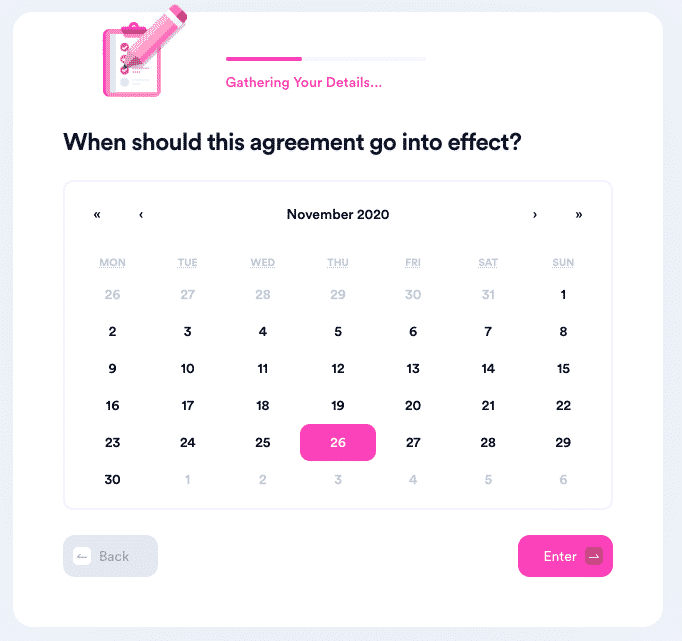 Get Familiar With Other Legal Documents Using DoNotPay
We created a rich knowledge base containing guides to the most popular agreements, including:
Discovering DoNotPay Will Make Your Day
If you feel overwhelmed by tons of paperwork flooding every area of your life, you can finally breathe out and let go of that stress. DoNotPay is the world's first robot lawyer that handles your bureaucratic chores for you.
Some of the benefits that come with our service include:
Why Get a Lawyer When You Have DoNotPay?
Our agenda has one major goal—provide easy legal access to anyone who needs it. Every new feature we come up with relies on AI technology that simplifies bureaucratic procedures and saves you time and money.
If you're wondering how to navigate tasks like contacting imprisoned friends and family members or reducing your property taxes, DoNotPay has the answers. Our service cuts through the red tape even if you need to deal with stalking and harassment, claim forgotten assets the proper way, or secure compensation for crime victims.