Alabama Divorce Forms—How and Where To Obtain Them
Are you getting a divorce in Alabama? You're probably dreading the whole process because you think it has to involve lawyers and court trials. The good news is that you don't need a lawyer if you and your spouse can agree on everything. All you need are Alabama divorce forms, and DoNotPay can tell you how and where to acquire them.
If you opt for an uncontested divorce, DoNotPay will include instructions on how you can create a marital settlement agreement—a crucial document to be included in your uncontested divorce papers. Register for DoNotPay to create your divorce settlement agreement with zero effort!
Do-It-Yourself Divorce in Alabama—Explained
A do-it-yourself divorce implies that you want to complete the whole divorce procedure without engaging a lawyer. It means that collecting the necessary paperwork, filing it with the correct court, and serving your spouse is your responsibility.
If you want to complete the divorce process in the Yellowhammer State by yourself, you need to file for an uncontested divorce. Check out the table to find out whether you qualify for this type of marriage dissolution:
Main Requirements for Alabama Divorce
Details
Residency requirements
One of the spouses needs to have lived in Alabama for at least six months before filing for divorce
Waiting period
Alabama has a mandatory 30-day waiting period before the divorce can be finalized
Grounds for divorce
Alabama recognizes both no-fault and fault-based grounds for divorce. The only acceptable grounds for an uncontested divorce is irretrievable breakdown of a marriage (no-fault-based grounds)
Spouses' cooperation
If you want a DIY divorce, you and your spouse:

Have to settle all terms before starting the divorce process, including:
Need to be willing to sign all necessary divorce papers
Which Alabama Divorce Forms Do You Need?
Before you file for divorce in Alabama, you'll have to collect all the necessary paperwork. You'll need the following forms:
Divorce Complaint
Marital Settlement Agreement
Child Support Information Sheet (if you and your spouse have children)
Notarized Testimony of Plaintiff Affidavit
Vital Statistics Form
Depending on your county of residence, you might need to complete some additional forms. Make sure to check with your county court clerk's office which other forms you need to fill out.
Where Can You Find Alabama Uncontested Divorce Forms?
Alabama Administrative Office of Courts offers divorce forms for couples who opt for a DIY divorce. The Alabama divorce papers are in PDF form and easy to download, print, and fill out.
Plenty of other online divorce services offer free printable divorce forms for Alabama divorces, but you need to make sure they fully comply with state laws.
A marital settlement agreement spells out all the terms of your divorce—such as alimony, child support, and division of assets—and must be created with utmost care.
You shouldn't take your chances with unreliable online templates—DoNotPay can create a professional marital settlement agreement customized to your needs in record time!
How Much Does It Cost To File the Uncontested Divorce Forms in Alabama?
The cost of your uncontested divorce filing fee will depend on whether you have children or not. If you don't have children, your filing fee will be $390. For couples who have children, the fee is $490. If you can't afford to pay the filing fee, you can request a fee waiver.
How To File for an Uncontested Divorce in Alabama
Once you collect and fill out all the paperwork, you can start your divorce process. Follow the steps below to file for your friendly, uncontested, and low-cost divorce in Alabama:
Make copies of your documents—You'll need to make at least two copies of your forms as you need to keep one for yourself and give the other to your spouse
File the divorce forms—You can file your divorce forms with a county clerk's office. The clerk will put a date stamp and notation that you've filed the form with the court
Serve the divorce papers—After you file your Divorce Complaint, you'll need to serve your spouse. You have two methods of serving your spouse at your disposal:

Their attorney agrees to accept the complaint, and they file the Acknowledgment of Service with the court
You hire a professional process server—a sheriff, constable, or any adult third party that's impartial to the case—to serve the papers

Complete the divorce process—After the mandatory 30-day waiting period, you should appear at the court hearing. Once the judge reviews your divorce papers (marital settlement agreement included), they should sign the Divorce Decree (provided everything is in order)
DoNotPay Helps You Create One of the Most Important Divorce Papers for an Alabama Divorce!
You'll need a professional, fully personalized divorce settlement agreement to proceed with your uncontested divorce. DoNotPay offers a tool that can assist you in creating a document specifically tailored to your needs.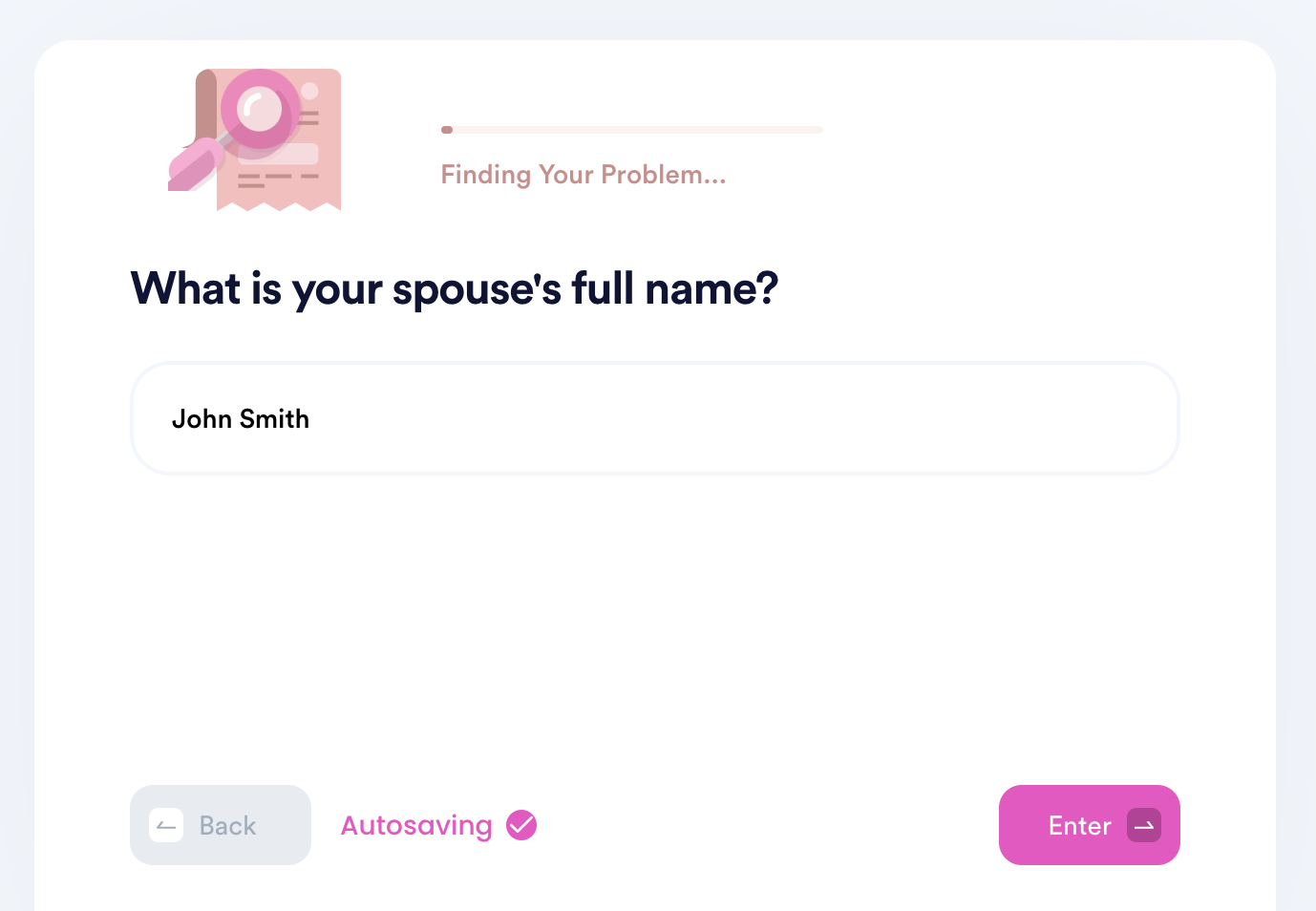 All you need to do is subscribe to our platform and follow the instructions below:
Open our Divorce Settlement Agreement product
Answer a few questions regarding yourself, your spouse, your marriage, and the way you want to divide your assets
Notify us if you need the services of an online notary
You'll receive your customized document in the blink of an eye. You and your spouse should sign it and get it notarized. If you choose that option, we'll connect you with a notary for divorce papers, who will witness the signing over a live video call.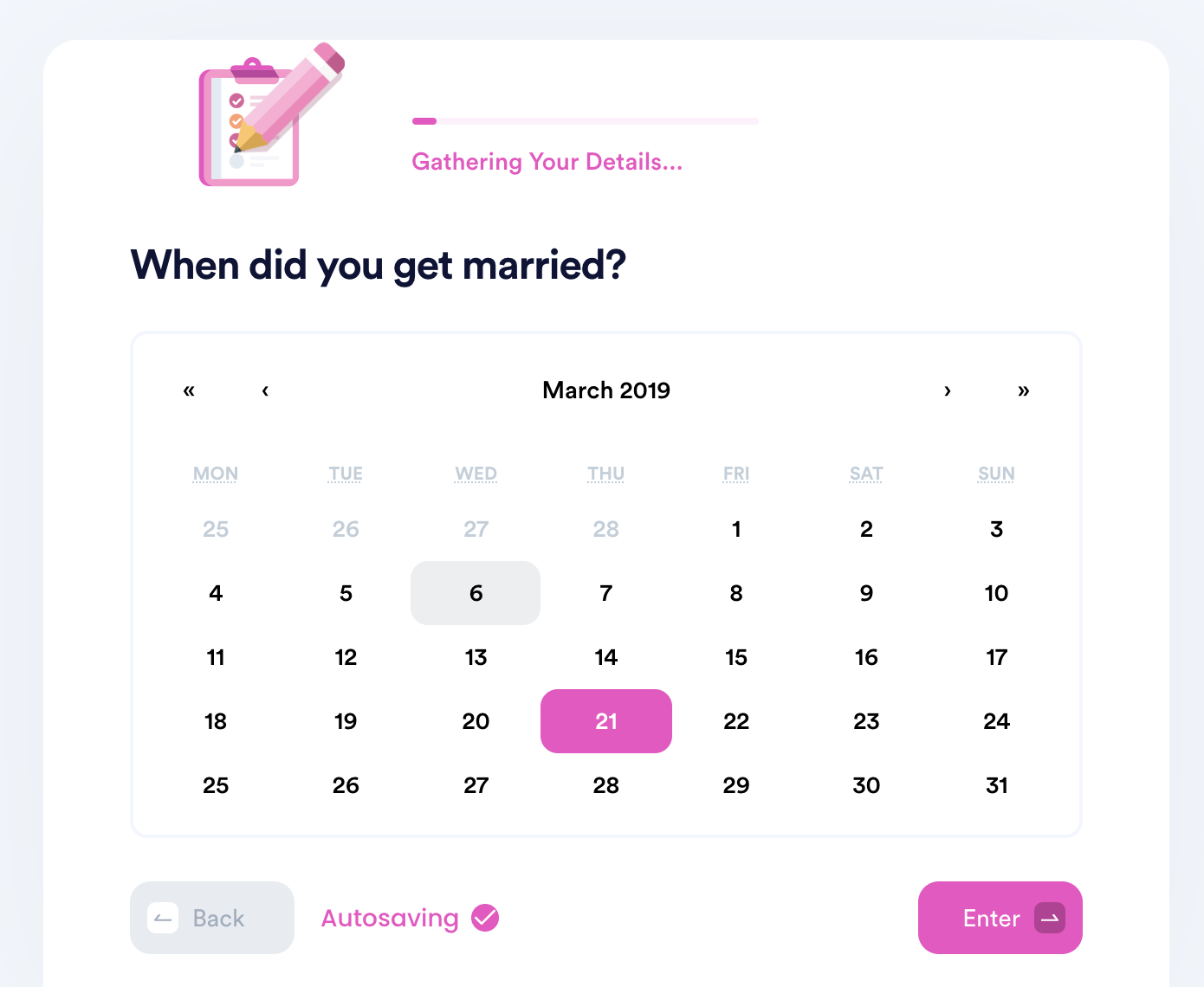 Do you have more questions about divorce-related issues? DoNotPay is happy to provide answers to any of the following and more:
Tackling Administrative Issues Has Never Been Easier
DoNotPay was created to help you deal with burdensome everyday tasks you would rather skip. The features we offer will make sure you can:
Dealing With Legal or Security Issues? DoNotPay Will Make Them Go Away
Has a company refused to issue a refund you are entitled to? Sue it in small claims court and get your money back with the help of the world's first robot lawyer! You can also turn to us if you want to protect your work from copyright violation, prevent stalking or harassment, or get virtual credit cards to avoid disclosing your credit card info.
Besides assisting you in seeking justice and security, DoNotPay can help you arrange DMV appointments, contest parking tickets, prepare divorce settlement agreements, and compose various legal documents.