How To Apply for Alabama Crime Victims Compensation the Easy Way
Alabama crime victims and their family members don't have to go through the traumatizing experience alone. If the unexpected crime-related costs represent a financial burden for you, consider applying for Alabama crime victims compensation. Financial hardship is the last thing you need to worry about while healing from injuries and trauma.
DoNotPay is here to help you as effortlessly as possible.
Learn All About the Alabama Crime Victims Compensation Commission Law
Since June 1, 1984, the Alabama Crime Victims Compensation Commission has been helping victims cover the costs related to the injuries sustained in a violent crime. The compensation program receives funding from:
Court costs

Offender fees
The maximum compensation amount that a victim or claimant can receive in Alabama is $20,000.
The Alabama Crime Victims Compensation Board consists of three members. A law enforcement officer with at least ten years of experience needs to be one of the members. As opposed to other states, Alabama's Compensation Board includes the victim or a family member if the victim is deceased. In that way, the other two members can review the claim from the victim's standpoint.
The Commission meets once a month to make decisions about the claims that exceed $2,000. The executive director of the program decides for the claims lower than $2,000 and supplemental expenses lower than $1,000.
Alabama Crime Victims Compensation Requirements
You qualify for the crime victims compensation in Alabama if you are the victim or a surviving family member of the deceased victim. There are some additional requirements that have to be met. Namely, the victim or the claimant has:
Reported the crime in the first 72 hours

Applied for compensation no later than one year after the crime

Cooperated with law enforcement during the investigation and prosecution
The Alabama crime victims compensation can be used as a "last resort" only if other sources—such as insurance and restitution—can't cover the expenses.
Which Costs Does the Alabama Crime Victims Compensation Fund Cover?
The Alabama Crime Victims Compensation Commission grants reimbursement for various medical, counseling, funeral, and other expenses caused by the crime. Here's a short overview of the covered costs and potential limitations:
Compensable Costs
Description
Limitations

Medical expenses

Doctor and hospital care

Prescriptions

Dental expenses

Inpatient psychiatric care

Medical supplies

You can receive a 100% compensation as long as it doesn't exceed $20,000

Rehabilitation expenses

Vocational and physical therapy

Counseling expenses

Counselor

Psychologist

Psychiatrist

50 sessions per claim

$80 per hour for social workers and licensed counselors

$100 per hour for psychologists

$125 per hour for psychiatrists

$60 per hour for group therapy

Work loss

Work compensation that the victim or claimant couldn't earn because of the crime

Limited to 52 weeks

$600 per week

Replacement services loss

Expenses that the victim or claimant wouldn't have had if the victim had not been hurt or killed in the crime

Funeral

Funeral home expenses

Monument

Cremation

Property expenses

Property damaged during the crime, such as clothing (you should contact the Commission for the list of eligible items)

Moving expenses

Security deposits

Utility deposits

Relocation cost

Granted if the victim is in physical danger in his or her current home

Future economic loss

Future expenses or loss (you need to justify the claim and explain how losses were calculated)

Guardianship fees

Legal fees for obtaining guardianship of a minor victim
Apply for Alabama Crime Victims Compensation in Under Five Minutes With DoNotPay
Dealing with crime-related trauma and injuries is never easy. Medical, funeral, and other unexpected costs only make the healing more difficult.
While all states have various victims compensation funds, the application process for most Crime Victims Compensation Programs is usually time-consuming and complicated. Many victims don't even know that they are eligible to get reimbursement. Only a small percentage of victims apply for compensation each year.
DoNotPay wants to change that. We have developed a product that can help victims of any violent crime—including terrorist attacks—or surviving family members apply for a compensation program in a few clicks.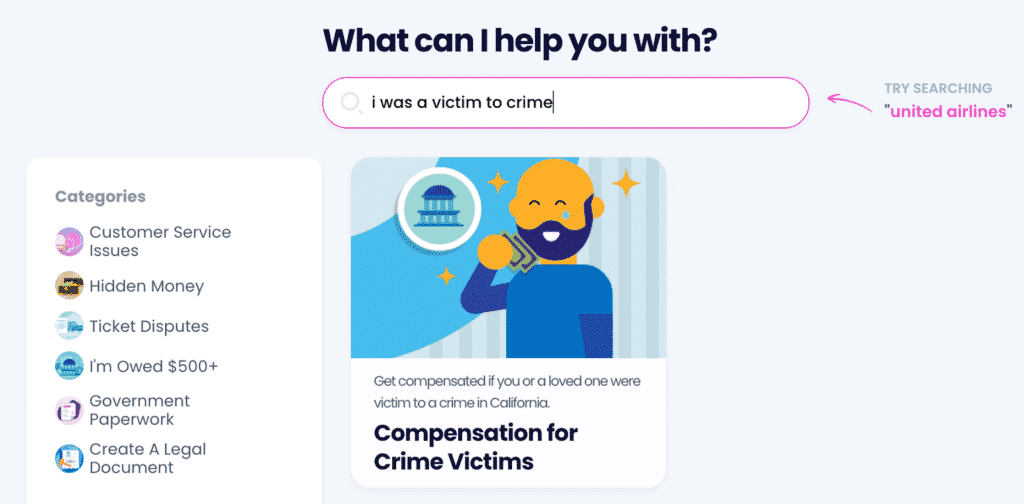 If you'd like to apply for victim compensation in Alabama or any other state in a matter of minutes, do the following:
Open the

Compensation for Crime Victims

product

Tell us whether you're the victim or another claimant

Respond to our questions

Verify your signature
We will complete your application and send it to the right office.
You can use DoNotPay's Compensation for Crime Victims product in any state, including:
How To Appeal the Commission's Decision
If you're not happy with the outcome of your request, you can file an appeal within 30 days of being notified about the Commission's decision. Your appeal must be in writing. Once you send the appeal letter, you will be invited to a hearing.
More Benefits of DoNotPay
DoNotPay is a useful tool for handling many otherwise annoying life's trifles, including:
What Else Can Our Award-Winning App Do for You?
If you think that's impressive, wait until you've heard about other features we boast!
Our powerful app can draft paperwork for you, locate unclaimed funds under your name, cancel subscriptions, sue robocallers, and protect you from stalkers and harassers—all in one nifty browser app!
Our services have been recognized by the esteemed ABA Brown award, serving as a testament to our abilities to assist you with your small claims issues, free trial auto-renewals, college fee waivers, public records, copyright protection, and much more!