How Remarriage Affects Your Alabama Child Support Obligations
The decision to divorce implies that parents have to divide custodial duties. When that is the case, one parent will assume primary custody (custodial parent) while the other one takes on visitation or secondary custody (non-custodial parent).
Mostly, the non-custodial parent makes monthly child support payments to the custodial parent. However, remarrying may require one to assess how that will affect their Alabama child support obligations.
Before going deeper into that, it is worth mentioning that DoNotPay proves instrumental when filing a demand letter for late child support payments. Here are some details about Alabama child support.
An Overview of Alabama Child Support
An "Income Shares Model" is what Alabama courts use when calculating child support. The first thing a judge does is to combine the parents' income to determine the amount they should be spending on their children every month.
The amount is known as Basic Child Support Obligation or BCSO. After that, the next thing is for the courts to divide the BCSO between the parents depending on the income of each individual. Note that the BCSO can be adjusted up or down by judges depending on the circumstances of each parent.
When deciding whether to deviate from the BCSO, courts consider each of the following factors.
Whether either parent has a very low or very high income.
The parents' custody arrangement.
Health insurance costs.
Any other factors the court deems relevant.
Understand that the Basic Child Support Obligations Schedule can help you estimate your Alabama child support obligation.
Alabama Child Support Guidelines at a Glance
While it's important to read the actual language of the law, an overview of the statutes can help you to better understand the law. The following chart offers a helpful overview of Alabama laws related to child support guidelines:
Statute(s)
Alabama Code, Title 30, Chapter 3. Section 30-3-1, et seq. (Child Custody and Support)
Who's Responsible?
Both parents, although it's presumed that the custodial parent will spend their share directly on the child.
Deviating from the Guidelines
The court may deviate from the child support guidelines for a variety of reasons, including but not limited to:

Shared physical custody or visitation rights where the non-custodial parent cares for the child substantially longer than usually approved or ordered by the court;
One parent having to pap extraordinary costs of transportation for visitation;
College education expenses that are incurred before the child reaches the age of majority;
Assets of, or unearned income received by/on behalf of, a child; and
Any other facts or circumstances that the court finds are in the child's best interests.

Calculating Child Support
Basic steps for calculating child support:

Child support is generally calculated by adding basic child support obligation, work-related child care costs, and health insurance costs.
The total is then divided between the parents in proportion to each parent's adjusted gross income.
Each parent's obligation is calculated by multiplying the total child support by each parent's percentage share of their combined gross income.

Related Statute(s)
Alabama Code, Title 30, Chapter 3D. Section 30-3D-101, et seq. (Uniform Interstate Family Support Act)
Remarriage and Alabama Child Support
Probably, you are wondering whether remarrying will affect your Alabama child support obligations. Below are some details to shed light on that.
1. Can Either Parent's Remarriage Impact Alabama Child Support Order?
A parent's remarriage, alone, cannot affect child support in the state of Alabama. However, if remarriage results in a parent having a significant change in their financial circumstances, that may affect their Alabama child support order in one way or another.
For instance, if a mother receiving child support from her child's father remarries, the probability is that the basis to modify child support will be nonexistent.
As much as that is the case, if the mother's new husband is wealthy and pays for her household expenses, courts can consider that when determining the mother's contribution towards their Alabama child support obligation.
Although the judge will not use the new husband's income directly when calculating child support, the father may realize a reduction in child support payments. On the other hand, it is highly unlikely that courts will reduce child support payments when the parent who pays child support remarries.
A case in point is a father who pays child support, and his expenses increase drastically after marrying a woman without an income. In that case, such a father would not be eligible for a reduction in child support.
2. The Impact of A New Child on Alabama Child Support Orders
Having a new child does not permit parents in Alabama to reduce their existing child support obligations. Whether parents adopt children, have children with their new spouse, or take responsibility for stepchildren, courts view additional kids as voluntary decisions.
For that reason, a new child should not impact child support for children from previous relationships. Also, understand that courts will consider existing child support awards when determining a parent's available income to pay child support for new children.
Steps to File A Demand Letter for Late Child Support Payments Using DoNotPay
Probably, you need to file a demand letter for late child support payments, but you do not know where to start. If that is the case, follow the simple steps below that DoNotPay offers.
1. Search child support on DoNotPay and enter the details of the person who owes the payments.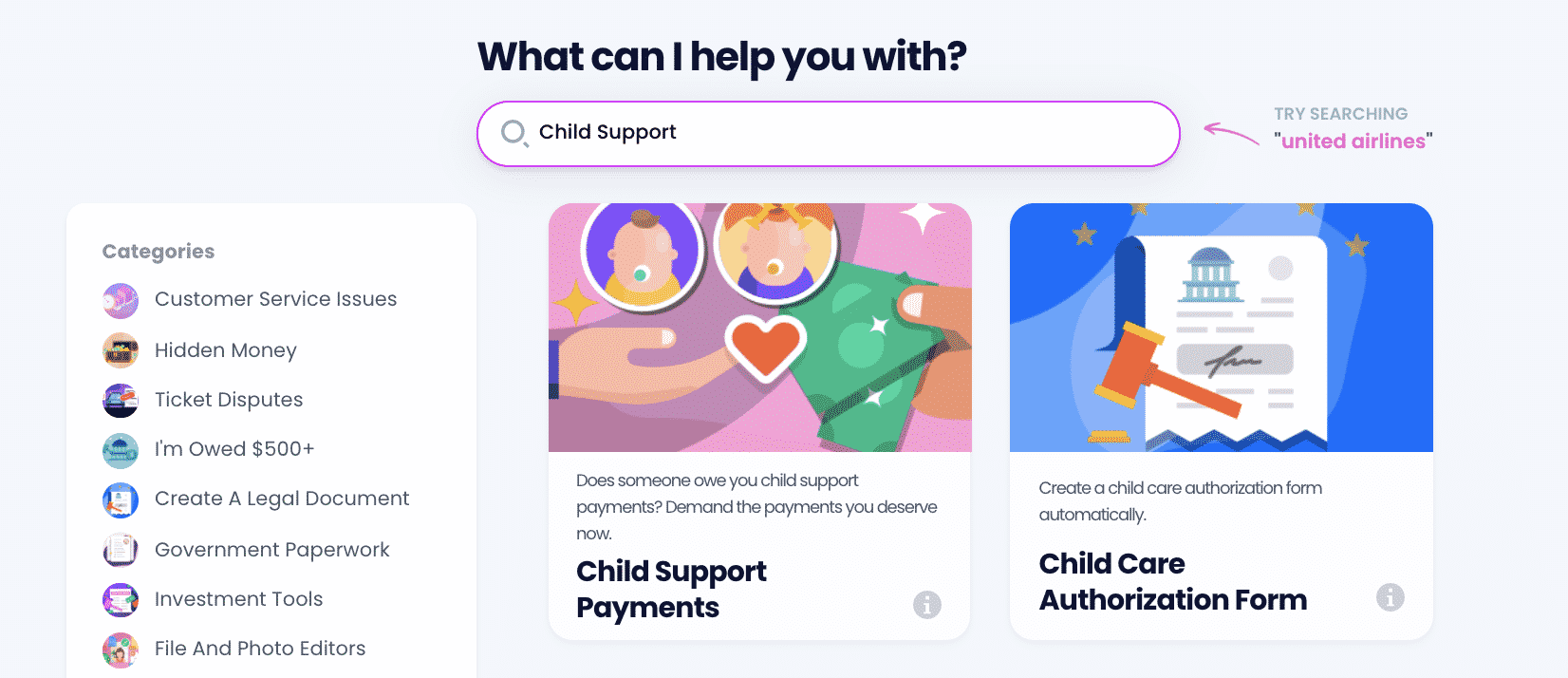 2. Tell us more about the payment schedule, including the amount and frequency of the payments, the last payment they made and number of missed payments, and how much they owe you in total.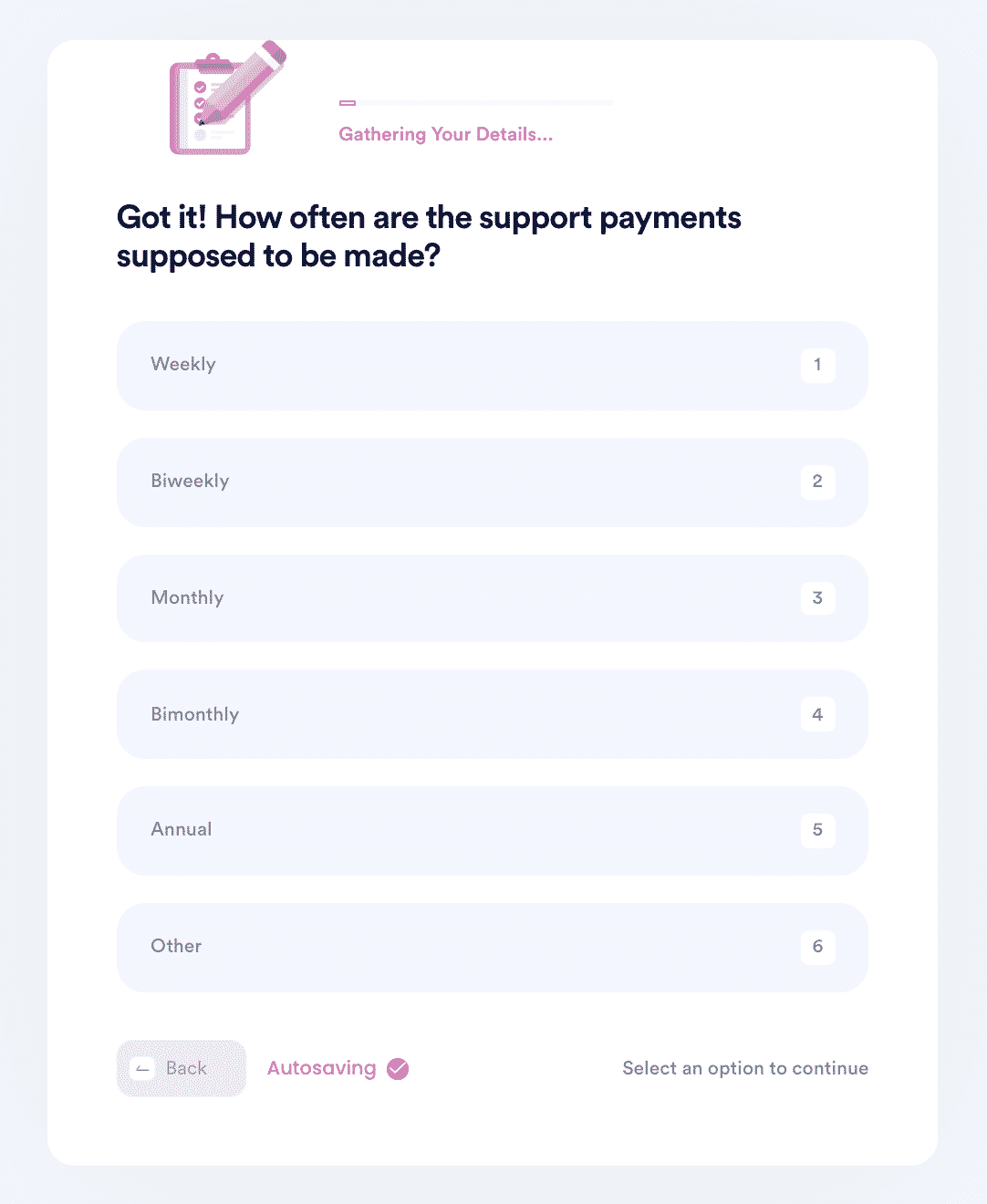 3. Confirm your contact information and select whether you want us to mail or email the letter on your behalf. Choose how you would like to receive the payment and verify your signature.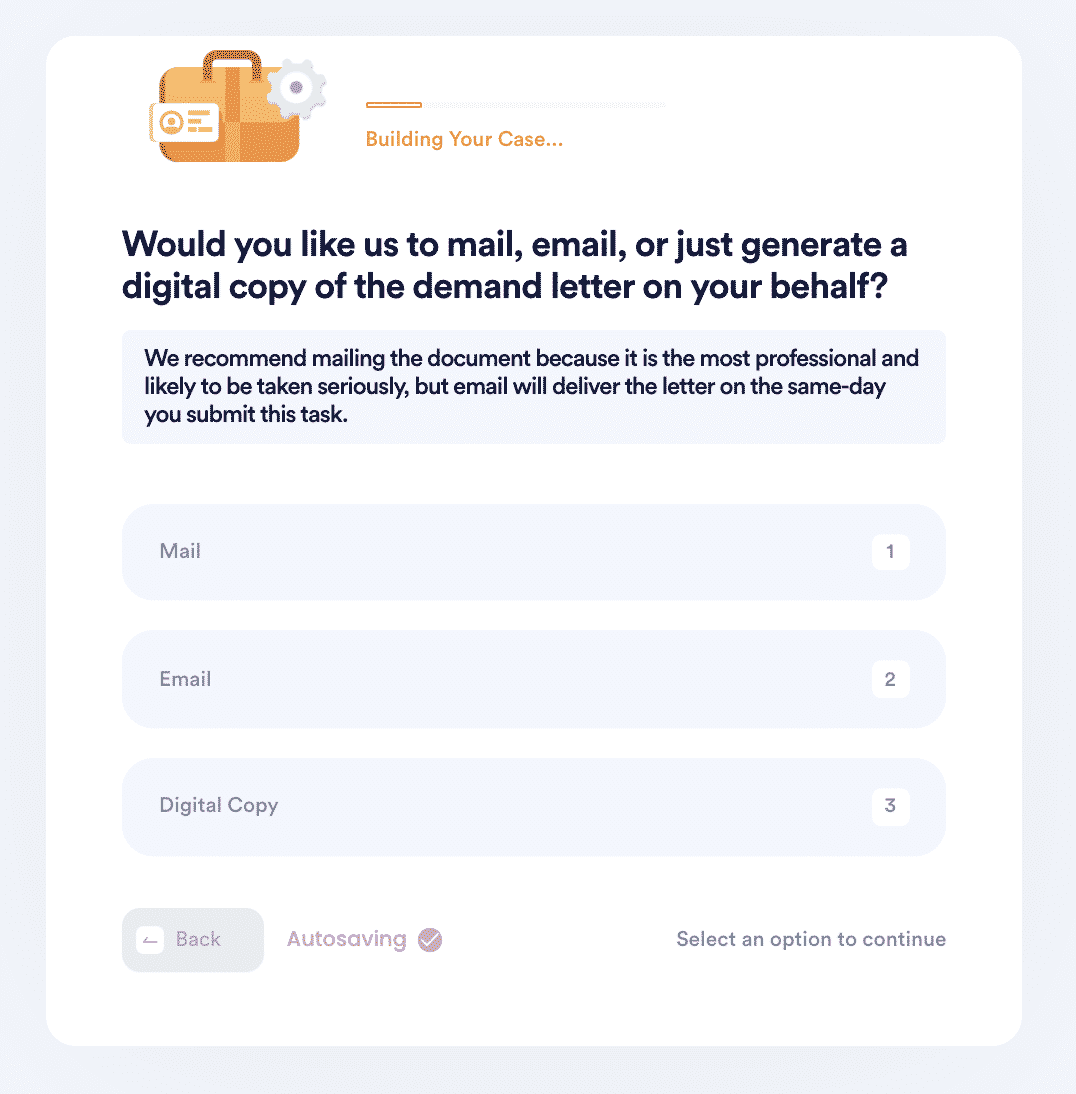 As a parent, you can choose to remarry after a divorce. However, when it comes to your Alabama child support obligations, you need to plan in advance if you intend to have more children after remarrying.
DoNotPay Works Across All States With the Click of a Button
Each state has different rules and regulations regarding child support, making the entire process confusing and overwhelming. Luckily, DoNotPay has child support guides for each state. Find yours below:
Reasons for Using DoNotPay to File A Demand Letter for Late Child Support Payments
Successful – Accessing the help you need when using DoNotPay promotes success.
Fast – You save a lot of time when filing a demand letter for late child support payments using DoNotPay.
Easy – Keeping track of all the steps involved in filing a demand letter for late child support payments when using DoNotPay is unnecessary. Also, you do not need to fill out tedious forms in this case.
What Else Can DoNotPay Do?
There are several ways you can use DoNotPay to help you besides getting back child support or reducing your monthly child support payments. For instance, DoNotPay is the ideal resource if you need help with: