Is There an Air Canada Child Travel Consent Form? DoNotPay Has the Answers!
Unaccompanied minors on the plane have become a huge issue when traveling from the U.S. to countries like Canada, India, and the UK. To ensure children's safety while crossing borders, customs officers, immigration agents, and airlines have established strict policies.
Air Canada has set regulations when it comes to minors traveling without the presence of both parents. The question is—does Air Canada ask for a child travel consent form? DoNotPay will answer this question and give you inside info on how Air Canada handles unaccompanied minors on the plane. We can also help you create a minor travel consent form in a jiffy!
What Is Air Canada Policy for Unaccompanied Minors?
Air Canada protects minors traveling alone with an Unaccompanied Minor service. The airline's highly trained staff takes care of the child from the moment they arrive at the airport until they reach their destination.
If you wish to purchase an Unaccompanied Minor service for your child, you should contact the Air Canada reservations department. You will get all necessary information regarding their procedure with a minor on the plane.
The Unaccompanied Minors service generally looks like this:
An airline agent will give your child a hand tag so that the airline staff can identify him/her as an unaccompanied minor

The agent will guide your child through the security check and pass the boarding gate area

The child will be escorted to the aircraft, where an in-flight service director will escort him/her to the assigned seat

The in-flight service director will help your child disembark upon arrival and hand him/her over to the airline agent

The airline agent will escort your child to the person they are supposed to meet. The individual will have to show a photo ID and sign the Unaccompanied Minor envelope, accepting responsibility for the child
What Are the Age Restrictions for Children Traveling With Air Canada?
Take a look at the Air Canada policy regarding the use of the Unaccompanied Minor service:
The Unaccompanied Minor Service

Age

Mandatory

Children age 8

–

11 traveling alone

Optional

Youth age 12

–

15 traveling alone

Not Available

Children under eight must be accompanied by an adult age 16 or older
Does Air Canada Ask for a Child Travel Consent Form?
All airlines typically ask for a child travel consent form for any child traveling alone, with one parent, or an authorized adult. Air Canada is no different.
Customs officers and immigration agents also frequently require proof that the child is authorized to travel without a parent(s) or legal guardian(s), so it's safe to assume you will need to prepare a document providing that proof.
What Should a Child Travel Consent Form Include?
If the child is traveling alone or with a third party, the child travel consent form must be signed by both parents. When a child is accompanied by one parent, the non-traveling parent has to sign the form.
Take a look at the essential elements a minor travel consent form should include:
Details about the minor

—name, birthplace, passport information
Special needs information

—the child's medical conditions or allergies

Details about the parent or legal guardian accompanying the child

—name, custody information, passport details

Information about the parent or legal guardian giving authorization

—name, contact info

Travel details

—start/end date of the trip, destination

Signature

—by a non-traveling parent or legal guardian
If you want to authorize the accompanying adult to make medical decisions for your child during the trip, consider filling out a child medical consent form.
You should also have the minor travel consent form notarized. Should a problem at the border appear, customs and immigration officers are less likely to question a notarized document.
DoNotPay Helps You Create a Child Travel Consent Form Without a Hitch
Are you wondering where and how to get the child travel consent form? Is the thought of getting it notarized giving you a headache? DoNotPay has the solution!
We can create the document for you and help you get it notarized by an online notary! Take a look at all the advantages you are getting by :
Not having to write the child travel consent form yourself or rely on iffy online templates

Saving time and nerves by not getting the document notarized in person

Completing the process via any digital device, such as a laptop, tablet, or phone

Having access to all DoNotPay's features for the same monthly price
How Can DoNotPay Create and Get a Child Travel Consent Form Notarized?
The steps for completing both procedures are simple. All you need to do is:
in a web browser

Find our

Child Travel Consent

product

Answer a few questions to help us personalize the form

Choose to get the document notarized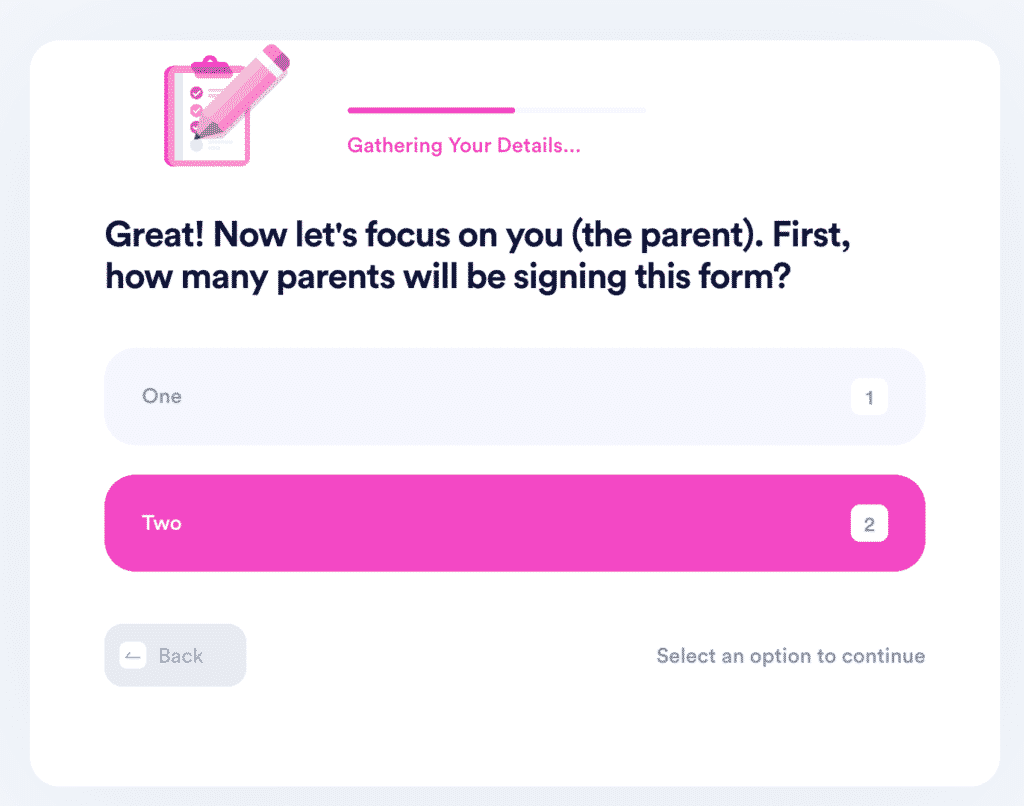 After you get the child travel consent form, click on the link you'll receive from us via email to schedule an appointment with an online notary. You'll meet him or her on a video call, e-sign the document, and get it back with an electronic stamp and signature.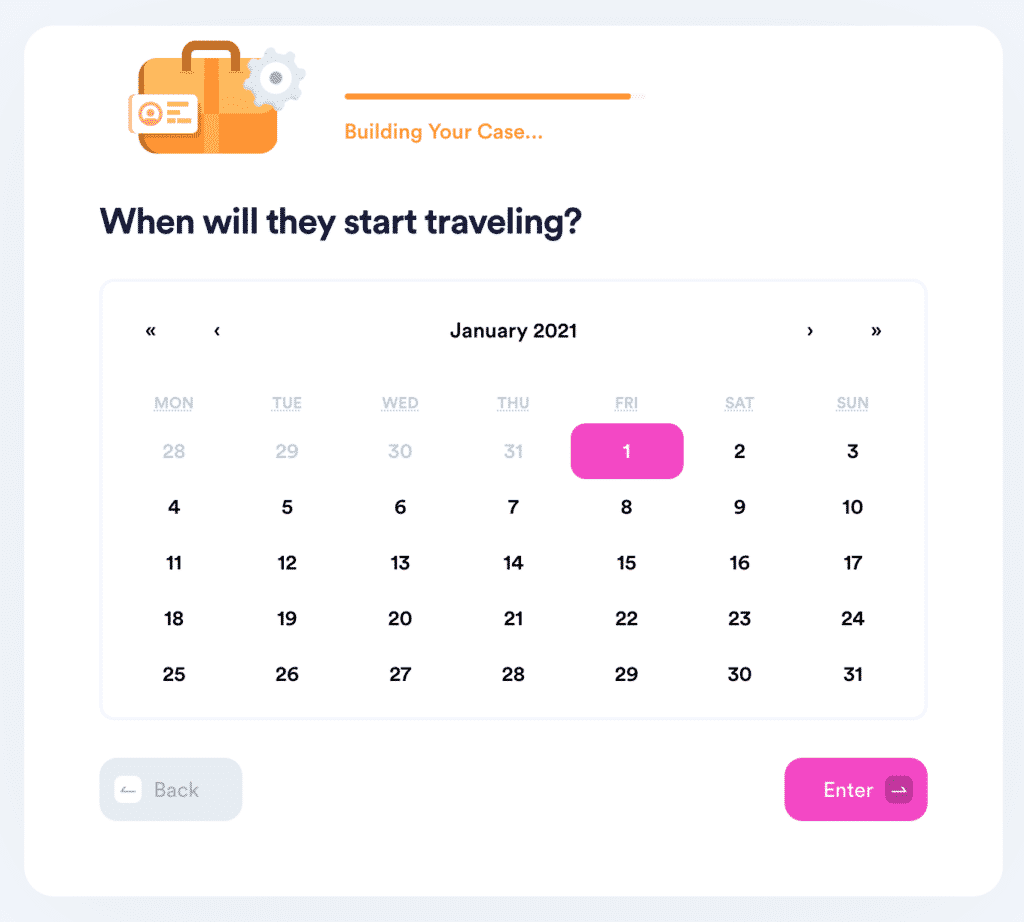 Need To Draft Other Legal Docs? DoNotPay Does It for You!
Your battle with legal docs likely won't stop with this child travel consent form. Nearly every transaction (whether it's renting a place or hiring a sitter) requires a professionally written contact.
Lawyers are pricey, and figuring out how to draft even a simple rental agreement can be a nightmare. Wouldn't you rather spend time with your family and let us handle the administrative nonsense for you?
With DoNotPay, you can:
How DoNotPay Can Help You Protect Your Family
Our award-winning app is here to keep your data safe.
Scammers everywhere are trying to get your personal info, but with DoNotPay's anti-spam features, you can fight email and online spam, text spammers, and even get robocall compensation.
Go a step further and use our virtual credit card to sign up for free trials without disclosing your real credit card details. If a website is asking for your phone number to verify your account, use our Burner Phone tool and protect your privacy!
DoNotPay's Money-Saving Tools
Don't let greedy companies get their fingers on your wallet! Your virtual assistant helps you manage your finances in a super simple and efficient way.
We can help you: