Smallholdings Get Smaller Property Tax Bills With an
Agricultural Property Tax Exemption in California
Land is at a premium in California. If you own a large plot and want to generate cash, it is tempting to sell it off for lucrative property development.
The State of California values its farmland, though. With this in mind, you can reduce your property tax bill in California by agreeing to keep your real estate as agricultural or open land.
DoNotPay understands that many people want to lower their property tax bill or get help with paying property tax. We are your best resource to find ways of getting property tax relief in California.
What Are California Agricultural Property Tax Exemptions?
After the Second World War, the State of California saw that many of its residents were being tempted to convert their open land to residential properties in response to the rising demand for accommodation and the increasing property tax burden in the state.
In response to the disappearance of agricultural land, California passed the Williamson Act, allowing the state to offer incentives to agricultural landowners for not selling their land for property development.
California also committed to maintaining its open spaces in Article 13 of its Constitution, which allows the state to value land according to its use. If you use your land as open space or recreational land—or for agricultural purposes—the state is allowed to offer you lower property assessments.
The result is that you can reduce your property tax bill in California significantly if you agree to keep your land free from real estate development.
What Is the California Agricultural Property Tax Exemption Supposed To Achieve?
California's agricultural property tax exemption has three goals:
Protecting agricultural production

Preserving open spaces

Supporting controlled urban growth
Protecting Agricultural Production
California views agricultural production as vital to its economy. There is a mix of prime and non-prime land in the state, and both crop growing and grazing areas are protected by the exemption.
Preserving Open Spaces
Open spaces are not just areas for recreation. They perform a vital function in managing water quality, preventing floods, and providing a habitat for wildlife.
Supporting Controlled Urban Growth
California knows that its population—and therefore the demand for housing—is growing. The agricultural property tax exemption supports sensible urban growth, ensuring that real estate development doesn't destroy the Californian landscape.
How Does the Agricultural Property Tax Exemption Work in California?
If you own a parcel of land in California that is used either as farmland or as an open space, you can enter into a contract with your county to determine what you can do with your land.
There are two types of contract, as follows:
Williamson Act contract

Farmland Security Zone (FSZ) contract
Williamson Act Contract
A Williamson Act contract includes the following conditions:
Its duration is ten years with automatic renewal

The parcel of land is restricted to use as agricultural land or open recreational space

Property tax assessments are based on income generated instead of property market value
FSZ Contract
An FSZ contract has the following stipulations:
The length of the contract is 20 years

The parcel cannot be appropriated by cities, schools, or commercial developments

The land is valued at 65% of its Williamson Contract value for property tax purposes
Either of these could mean a substantial property tax saving over many years for the landowner.
What Other Property Tax Exemptions Are Available in California?
California is one of the states with low property tax rates and offers further property tax exemptions to help reduce your property tax bill.
The exemptions on offer in California are:
Homeowners' property tax exemption

Veterans' property tax exemption and disabled veterans' exemption

Parent/child and grandparent/grandchild property tax exemption
All these can go a long way to keeping your property tax bill low while fulfilling California's mandate to preserve its open spaces and agricultural land.
How Can DoNotPay Help With Agricultural Property Tax Exemptions in California?
We know you want to keep your property tax liability as low as possible, so DoNotPay offers you a customized guide to reducing property tax.
The guide looks at your area and your circumstances and gives you advice on two points:
Section

Explanation

Property tax exemptions

This includes information on:

Exemptions available in your area

Documents you need

Offices where you can apply

Property tax assessments

This features advice on:

How to negotiate your property assessment

Where to lodge an appeal
Where Can I Get My DoNotPay Property Guide?
Your guide is easy to get by following these steps:
Sign up for DoNotPay

using your web browser and look for the

Property Tax

feature

Fill in some details about yourself, your location, and your property

Get your customized property guide after a few moments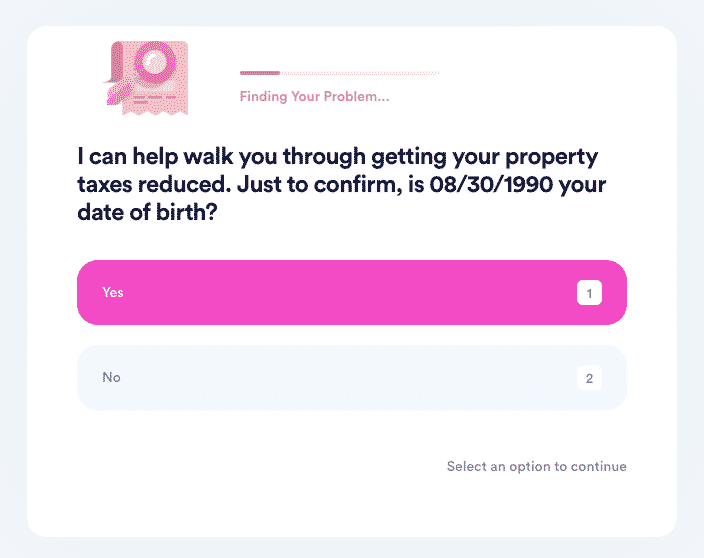 How Else Can DoNotPay Help Me With Property Tax?
If you have looked into all the exemption options and still want to lower your property tax, you may have the option of appealing your property tax assessment in California.
DoNotPay's property guide can give you advice on:
| | |
| --- | --- |
| Area | Explanation |
| Process | Explains how the appeal process works in California |
| Documents | Explains the documents you will need |
| Location | Lists the offices where you can lodge your appeal |
Do You Need Help With All That Paperwork?
Saving money is great, but cutting the time wasted on bureaucracy sometimes sounds even better. DoNotPay joins the best of both worlds and helps you avoid boring paperwork while preventing future unnecessary charges and expenses. 
With our help, you can enjoy free trials without any risk, file insurance claims, or handle issues with credit cards. 
You won't have to waste time on researching the right procedures or pay for help if you need to stop stalkers and harassers or put together all sorts of legal documents. 
DoNotPay—The Easy Way To Save Money
If it looks like your wallet has a hole and the money keeps pouring out for unnecessary expenses, it might be time to come up with a better saving strategy. 
DoNotPay uses AI-powered technology to identify the best opportunities for some serious penny-pinching or earning a few extra bucks:
| | |
| --- | --- |
| Saving Money | Earning Money |
| | |