How To Create an Agreement of Sale Without a Hassle
When transferring property, it is crucial to protect your legal rights and obligations.
Even if you do not know the first thing about creating legal documents or writing a contract yourself, DoNotPay can help you figure it out! We will provide the vital info to understand the basic concepts of an agreement of sale, why it is important, and how to draft it effortlessly.
What Is an Agreement of Sale?
An agreement of sale, also known as a contract of purchase, is a legal document that defines the terms of a future property sale. It incorporates the terms and conditions of the property transfer and is signed by the seller and the buyer.
An agreement of sale is preferred when buyers don't have enough money to finance the purchase. The buyer can use the property after signing the contract but cannot claim complete ownership until they have paid the entire purchase price, which could take months or even years. 
What Is Seller Financing?
Seller financing is a concept where the seller lends money to the buyer to pay for a property. It is usually applicable if the buyer does not qualify for a mortgage or other loan options due to insufficient or poor credit ratings. 
How Does an Agreement of Sale Work?
An agreement of sale works as follows:
The parties negotiate the terms of the contract, including the down payment, number of monthly installments, and duration of the contract 

Once the details have been laid out, the contract is written, signed, and notarized by a state official

The agreement of sale results in an actual sale when both parties meet all the terms and conditions mentioned in the contract.
Are Agreement of Sale and Sale Agreement the Same Thing?
Although they might sound similar, an agreement of sale and sale agreement are two completely different documents. 
The sale agreement confirms the immediate transfer of the property from the seller to the buyer. An agreement of sale confirms the buyer's interest in the property. They can make down payments and monthly installments and even use the property if they want, but the property title and ownership get transferred once all the terms and conditions of the agreement have been met. 
What Happens if a Party Fails To Honor the Agreement?
An agreement of sale is a legally binding contract, and both parties have mutual responsibility. If any party violates the contract, they risk facing legal consequences. These consequences can range from negative credit ratings to lawsuits and legal action.
If you don't make payments for over 90 days, the seller might repossess the property, even if you have paid most of the price. The seller can also take over your paid installments as liquidated damages.
Although these contracts are legally binding, getting them notarized can be beneficial, especially if there is a legal dispute between the two parties. The notary will confirm that both parties understood the contract and signed it willingly before adding their stamp and signature. 
How To Draw Up an Agreement of Sale Yourself
Creating an agreement isn't difficult if you know what to include. It is advisable to consult a lawyer to ensure you add all essential details into the contract and protect yourself from legal blowback. 
If you're on a budget and hiring a lawyer is not something you can afford, check out contract templates online to get the gist of the document you want to create and then set about drafting it yourself. Make sure to understand and apply appropriate state laws in the process.
What Terms Do You Need To Include in Your Agreement?
Some essential clauses you should incorporate in your agreement are in the list below:
Purchase price

Down payment

The average duration of the contract

Number of installments 

Responsibilities of the buyer and the seller

Indemnification

Legal repercussions if the buyer is unable to pay the amount
DoNotPay Can Create Legal Documents in the Blink of an Eye
Do you want to create legal documents but don't have the means to hire a professional to assist you? DoNotPay has got your back! We can generate contracts and agreements in no time! 
Follow these straightforward instructions to create a customized document:
Enter the name of the document you want to draft

Answer our chatbot's questions to personalize your agreement
You will receive the document tailored according to your requirements.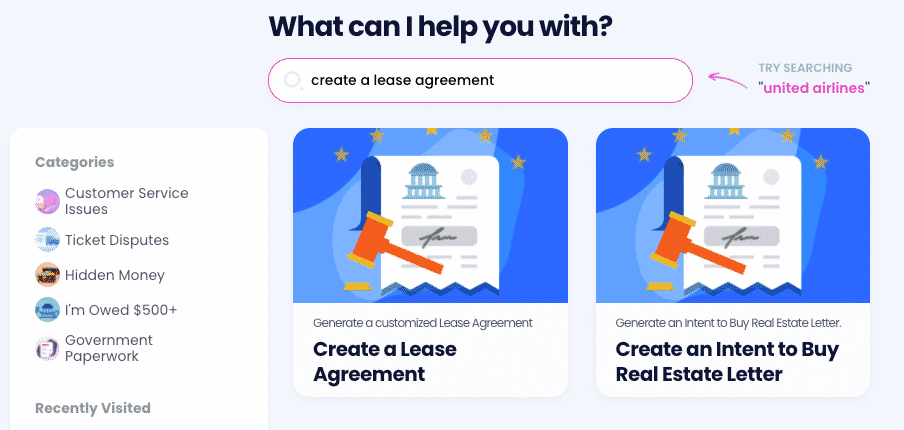 DoNotPay can create many legal documents, such as:
Real Estate
Business Contracts
Other

Intent to Purchase Real Estate

Quitclaim Deed

General Business Contract

Promissory Note

Child Care Authorization Form

General Affidavit
Easy-Breezy Ways To Deal With Not So Breezy Issues
Administrative and similar tasks don't have to be as complicated as we've known them to be. With DoNotPay, dealing with paperwork and companies is done in a few clicks. Let the world's first robot lawyer help you:
Money Troubles? I Don't Know Her!
As our app's name says, DoNotPay's mission is to put a stop to losing money and overpaying. We will help you get your hands on free trials and snatch free raffle tickets. DoNotPay can also provide solutions for you to get help covering bills and reduce your property taxes.
If you want to get some additional funds, use our app to sign up for clinical trials. You may also take our practice tests to ace a government test and land a better-paying job.
It doesn't hurt to check whether you are owed some unclaimed money, and we can help you with the application.