How To Deal With Age Discrimination in the Workplace
Your years and experience should stand in your favor if you are over 40—unless you are the victim of discrimination at work based on your age.
Ageism and discrimination against older employees can cause harm to both you as an employee and the company you work for. You lose confidence, and your employer loses your valuable experience and know-how.
DoNotPay is committed to helping you fight age discrimination at work. In this article, we will present everything you need to know!
What Is Age Discrimination?
Age discrimination refers to treating someone differently at work because they are over 40.
Anti-discrimination laws forbid companies from discriminating against you if you are 40 or over and address practices such as:
Hiring younger employees

Firing or constructive dismissal after a certain age

Limiting promotion opportunities

Disbarring older employees from certain types of work without good cause
The laws also cover harassment due to age, as long as the harassment can be proven to go beyond banter, occasional comments, or isolated incidents.
The specific age discrimination laws in the U.S. are:
Title VII of the Civil Rights Act of 1964

Age Discrimination in Employment Act of 1967
Title VII of the Civil Rights Act of 1964
This law is the basis of all anti-discrimination legislation, covering:
Gender

Age

National origin

Harassment

of any kind, such as:
Under the terms of Title VII, any company with 15 or more employees is bound to abide by the law against discrimination. A landmark case in 2012 led to Title VII being extended to cover LGBTQ+ discrimination.
Age Discrimination in Employment Act of 1967 (ADEA)
The ADEA goes slightly further than the Civil Rights Act and stipulates that employees over 40 must not be discriminated against in the workplace.
Despite these two federal laws, age discrimination in the workplace is still widespread in the U.S. The laws are clear and comprehensive but can only be enforced if there is enough evidence to prove a case of discrimination.
How Can I Prove I Am a Victim of Age Discrimination?
If you are an employee over 40 and feel you are disadvantaged due to your age, you need to start collecting evidence.
Here's what you can do:
Action

Explanation

Keep records

You need a written record of every time you feel you have been discriminated against due to your age. This should include:

When the incident occurred

What happened

Who was involved

Who witnessed the occurrence

Check your company age policy

Your company should have a

written policy

stating that it does not condone or practice age discrimination. This is useful ammunition for you

Report ageism to the HR department

You should report every incident of age-related discrimination to the HR department. Another option is to talk to your supervisor unless he or she is implicated in the discriminatory actions

Insist on formal records of your complaints

If the HR department or your supervisor try to downplay your reports, you should insist on a written record being made of each complaint
The best-case scenario is that the company takes your case seriously and resolves the matter to your satisfaction.
If that doesn't happen, you will have to escalate the grievance to the next level.
Who Will Help Fight My Case if I'm a Victim of Age Discrimination at Work?
The agency tasked with combating discrimination in the workplace is the Equal Employment Opportunities Commission (EEOC).
If you feel you are a victim of age discrimination, your first step—after trying to resolve the situation internally—is to file a complaint with the EEOC. They will investigate your allegation and, if they find enough evidence, instigate legal proceedings against your company.
Any complaint you have must go through this authority. The two laws listed above make it impossible for you to approach a lawyer and launch a case without having first filed a charge of discrimination with the EEOC.
You have an ally, though. DoNotPay is here to in a few clicks!
What Can DoNotPay Do To Help Me File a Complaint?
We can make the process of lodging a complaint with the EEOC quick and easy—here is what you need to do: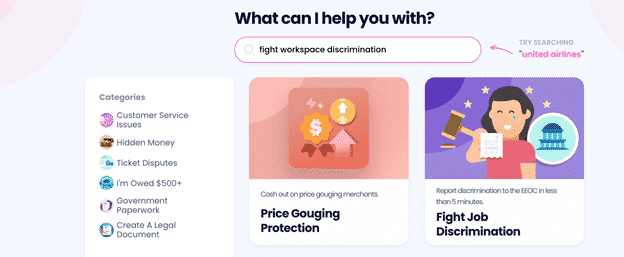 Navigate to DoNotPay in your web browser and

Look for our

Fight Workplace Discrimination

product

Give us the details of the discrimination you have suffered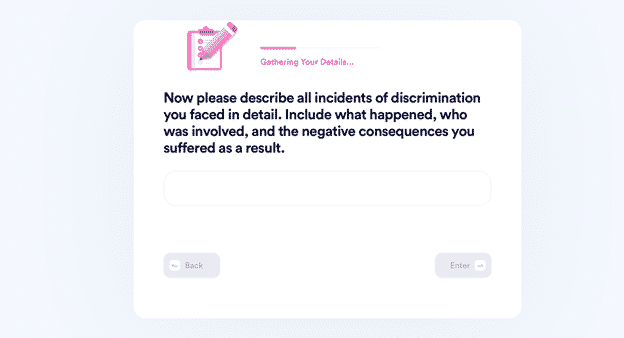 We can take over from there—we will file your complaint with the nearest EEOC office, and their investigation can begin.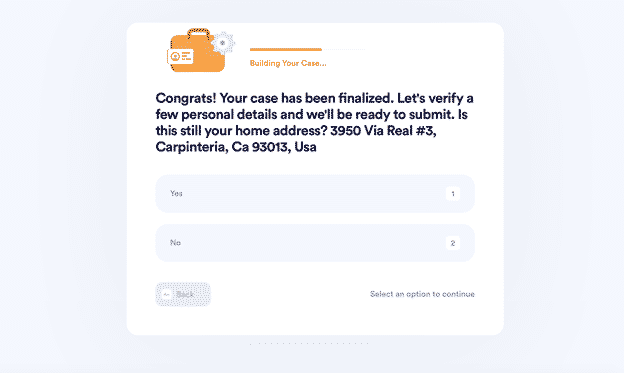 Is It Worth Complaining About Age Discrimination?
Companies that discriminate against employees over 40 are breaking the law and need to be called out—with legal action if necessary.
If your complaint is upheld, you could also stand to receive:
Lost back pay and future pay compensation

Reimbursement of lost benefits

Damages for emotional distress

Punitive damages
Discrimination in any form should be brought to light—DoNotPay is here to help you win your case!
Money Doesn't Grow on Trees, but DoNotPay Is a Close Second
Experiencing workplace discrimination can affect the victim in more ways than one. Filing a report with the EEOC should help, but in reality, people sometimes lose jobs if they stand up to bullies.
If that happens to you, there are several ways how DoNotPay can help. Our app is a great resource for fighting injustice and administration, but it can also help you save and earn money if you lose your regular income:
We Can Help You Fight for Your Rights
DoNotPay was created to support anyone who feels small and helpless in front of big corporations, confusing administration, or downright criminals.
We can help you get a refund even when companies won't budge, stop email and text message scams, protect your work from copyright infringement, save yourself from stalking and harassment, or even take individuals or companies to small claims court!