Fight Ageism and Injustice With an Age Discrimination Lawsuit
If you are over 40, you are in danger of becoming a victim of workplace discrimination.
Employers see younger employees as being cheaper, more able to learn, and more resilient—your experience and knowledge may count for nothing in the face of younger competition.
Thankfully, anti-discrimination laws are in place to protect you. DoNotPay will show you how to launch and fight an anti-discrimination lawsuit to stand up for your rights.
What Is the Law on Age Discrimination?
Two laws provide security to you as an older employee:
Title VII of the Civil Rights Act of 1964
The Civil Rights Act is the cornerstone of all anti-discrimination laws, and Title VII deals with discrimination in the workplace. Under the terms of the act, employers cannot discriminate against you based on your:
The act defines discrimination as being the following:
The Age Discrimination in Employment Act of 1967 (ADEA)
The ADEA goes beyond the Civil Rights Act and makes it illegal to discriminate against any employee aged 40 or over.
Proving Age Discrimination
Since many decisions on hiring or promoting employees are made behind closed doors, proving that age discrimination has taken place at work is not easy.
You will need to provide a body of evidence strong enough to prove on the balance of probability that your employer has discriminated against you. The key factors in determining this are:
Evidence of Discrimination
Explanation
Written records
You should make a written note of every incident of age discrimination, including:

What happened
When it occurred
Who was the perpetrator
Who witnessed the incident

If a single manager in your company is guilty of discrimination despite the company's anti-discrimination policies, the organization can still be held responsible for their actions

Proof of official complaints
You must lodge official complaints of every incident of age discrimination with your supervisor or the HR department.

If the age discrimination in your company is systemic, management may attempt to ignore your grievances. Official records of complaints will strengthen your case

Pattern of behavior
If you can establish a pattern of behavior, it will be considerably easier to prove age discrimination has taken place. You should look for colleagues who have been treated in a similar way to you to corroborate your claims
The more concrete evidence you collect, the easier it will be to prove that your employer has discriminated against you due to your age.
Recent Age Discrimination Cases
In recent years, age discrimination cases have been difficult to prove because the plaintiffs have had to show that their age was the only reason for exclusion from a job.
New legislation passed recently by the House of Representatives—the Protecting Older Workers Against Discrimination Act—may rectify this by allowing plaintiffs to demonstrate that age was no more than a motivating factor. Until it is passed by the Senate, though, the onus remains on you—the plaintiff—to prove that age was the sole factor in your case.
The following landmark cases illustrate how difficult it is to prove age discrimination in the workplace:
Gross v. FBL Financial Group (2009)
EEOC v. Ruby Tuesday (2017)
Taaffe and Moon v. Ohio State University (2016)
Gross v. FBL Financial Group (2009)
Jack Gross was demoted from his management position at FBL Financial Group and claimed this was due to his age.
Under appeal in the Supreme Court, the company was exonerated. The resulting precedent meant that employees had to prove that age was the sole factor in the discrimination against them.
EEOC v. Ruby Tuesday (2017)
The Equal Employment Opportunities Commission (EEOC) filed a lawsuit against the Ruby Tuesday restaurant in Boca Raton, FL, claiming that it had refused to hire Floyd Cardwell due to his age.
The case hinged on an email the restaurant sent to Cardwell, in which it stated it was looking to hire a manager to "maximize longevity and minimize premature resignations." Cardwell received a settlement of $45,000.
Taaffe and Moon v. Ohio State University (2016)
Julianne Taaffe and Kathryn Moon claimed they had been forced into retirement by Ohio State University and submitted evidence that the university had used derogatory language to refer to older employees.
After intervention by the EEOC, the university settled the case by reinstating the two teachers and reimbursing their back pay and benefits.
What Are Average Age Discrimination Settlements?
In contrast to other discrimination cases, age discrimination lawsuits do not allow compensation in the form of damages.
The only compensation you are likely to receive is:
Reinstatement if you have lost your job or been demoted due to age
Reimbursement of lost back pay and benefits
Payment of legal fees and court costs
How Do You Start the Process of an Age Discrimination Court Case?
If you feel you have enough evidence to prove age discrimination, you must first lodge a complaint with the EEOC.
Your complaint—known as a charge of discrimination—must contain all the details of your case. Once the EEOC has received it, it will launch an investigation into your allegations. If they prove to be justified, the EEOC will:
Offer to facilitate conciliation or arbitration to reach an out-of-court settlement
Launch legal action against your employer
Give you written permission to sue
Once you have permission to proceed, you can contact a discrimination lawyer to launch your legal action. To help get you started, DoNotPay can in a few easy steps!
How Can DoNotPay Help With Age Discrimination Lawsuits?
DoNotPay is here to make your life easier, and we have developed a product to make this happen.
We can get you over the first hurdle of your lawsuit against your employer by filing your charge of discrimination for you.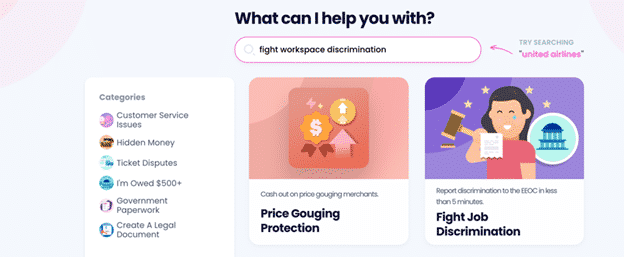 All you need to do to file your complaint with the EEOC is follow these steps:
in your web browser
Search for our Fight Workplace Discrimination product
Follow the prompts and give us the details of your case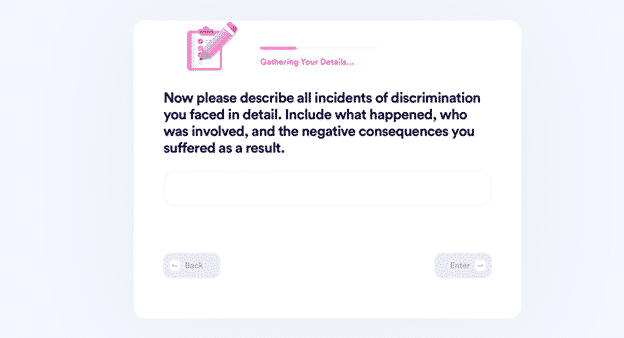 Once you have filled all the details in, we will submit your charge to the nearest EEOC office.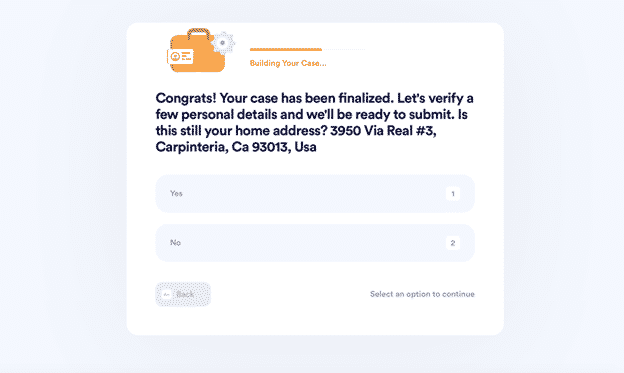 DoNotPay's Other Resources for the Victims of Discrimination
Fighting discriminatory bosses and colleagues is not the only item on DoNotPay's agenda. If your EEOC report doesn't work out, explore the option of suing the perpetrator in small claims court with our help.
Those who experience full-blown hate crimes can use our platform to file for crime victims compensation or deal with insurance claims. Lost a job because of discrimination? Use DoNotPay to get help with bills, reduce your property taxes, or find any unclaimed assets in your name.
We can also help you create numerous legal documents for personal, business, or real estate matters. You'll have a chance to fax your paperwork or find an online notary in the same app!
Use Our App To Right Other Wrongs
Injustice lurks around every corner, and DoNotPay won't have any of it. That's why we keep creating tools and services to help you fight back against all kinds of unfair treatment.
With our help, you'll be able to:
There's more where this came from because the good fight doesn't stop here.