What Is an Age Discrimination Complaint?
Age discrimination occurs when people are treated unfairly because of their age. Ageism is more common than you think. According to the Bureau of Labor Statistics, 64% of workers have experienced or witnessed age discrimination.
Directly complaining to HR about age discrimination can be intimidating. There's always the threat of retaliation, or worse—termination. This article will dive into ageism complaints and explain the steps you need to take when you witness or face age discrimination from your employer or colleagues. We'll also introduce a way to report ageism anonymously through !
What Does Age Discrimination in the Workplace Look Like?
Ageism in the workplace affects both older and younger employees. The table below outlines examples of age discrimination.
Type of Discrimination
What It Looks Like

Age-related

insults

and

comments

Hearing that you're "over the hill" or having a

manager

, jokingly or not, asking when you are going to retire.

Younger employees being referred to as a "young whippersnapper" or a "kid."

Missing out on opportunities

Training opportunities and new projects are offered to younger employees because they can "pick things up faster."

Supervisors may view an older employee as "weaker" and give them less demanding work in order to "lighten the load."

Promotions are offered to younger employees even though an older employee is more qualified for the role.

Younger employees may be skipped over for projects they are qualified for because they haven't "paid their dues yet."

Early termination

Being forced to retire at a certain age or being the first to be let go in a

layoff situation

because your salary may be higher than your younger peers.

Being laid off because your position is no longer needed, only to find that your employer hired a younger candidate to do your exact job, just under a different title.

Younger employees may be laid off in companies that follow the "last one hired is the first one fired" policy.

Recruitment and hiring

Older workers may have their resume and phone interviews be met with enthusiasm only to be rejected for the role because the company is looking for someone younger.

A study that sent identical job applications to companies found that young and middle-aged candidates had a better chance of getting a call back than older ones.

Younger employees may only be offered unpaid or low-paying internships. They may also be offered a salary that is below their position's pay range.

Hours for work can be reduced and given to older employees because managers believe that older employees have more pressing needs (e.g., mortgage payments) than younger employees, and thus deserve the extra pay.

Isolation

Being turned away from client meetings and being left out of internal meetings. This could be the first step in phasing you out completely or pushing you towards quitting.

Young workers and their opinions may not be taken seriously and ultimately ignored in meetings.
Laws that Protect You from Age Discrimination
If you believe that you've been unfairly discriminated against due to your age, remember that you are legally entitled to protect your rights. The table below outlines the laws and government agencies that are in place to protect you:
| | |
| --- | --- |
| Law/Government Agency | Protection |
| The Age Discrimination in Employment Act (ADEA) | Prohibits age discrimination in the workplace against employees 40 years of age or older with regards to hiring, firing, pay, promotions, demotions, benefits, and performance reviews. |
| State Age Discrimination Laws | Although federal law requires at least 20 employees at your workplace to file an age discrimination case, your state law may have a different requirement. Equally, some state laws permit longer filing deadlines—up to 300 days from the infringement. |
| Equal Employment Opportunity Commission (EEOC) | To file an age discrimination charge through the EEOC, submit your complaint and supporting evidence within 180 days of the incident. |
The Benefits and Inconveniences of Reporting Age Discrimination
Not only is reporting workplace discrimination a complicated process, but it can also be a risky one. The table below outlines some benefits and drawbacks that come with filing a formal complaint:
| | |
| --- | --- |
| Benefits | Inconveniences |
| If you win your case, you can receive compensation for lost income, emotional distress, lawyer fees, and in less common cases, punitive damages. | Legal fees, such as attorney fees and court costs, can be very high and may be burdensome. |
| If you bring a convincing case directly to HR, they may be inclined to resolve the issue as quickly as possible in order to avoid legal ramifications. In these instances, you're more likely to receive a settlement and your desired resolution. | Discrimination against age is difficult to prove in court. The emotional toll of experiencing discrimination, making your case, and possibly facing backlash can be incredibly taxing. It may be easier, better for your mental health, and more cost-effective to spend the energy looking for another job. |
| Reporting age discrimination will make your employer and coworkers more aware of the issue, which can curtail age discrimination in the workplace. | An unfound complaint will most likely burn bridges with your current employer and make you unhireable in your industry going forward. |
File an Age Discrimination Complaint With DoNotPay Today
Filing an age discrimination complaint through traditional channels can have unintended consequences, such as retaliation from your employer. helps employees deal with complex HR issues through a streamlined process that guarantees anonymity. If you're an employee looking to report age discrimination to HR, all you have to do is:
1. Access and search for the Anonymous HR Complaint product.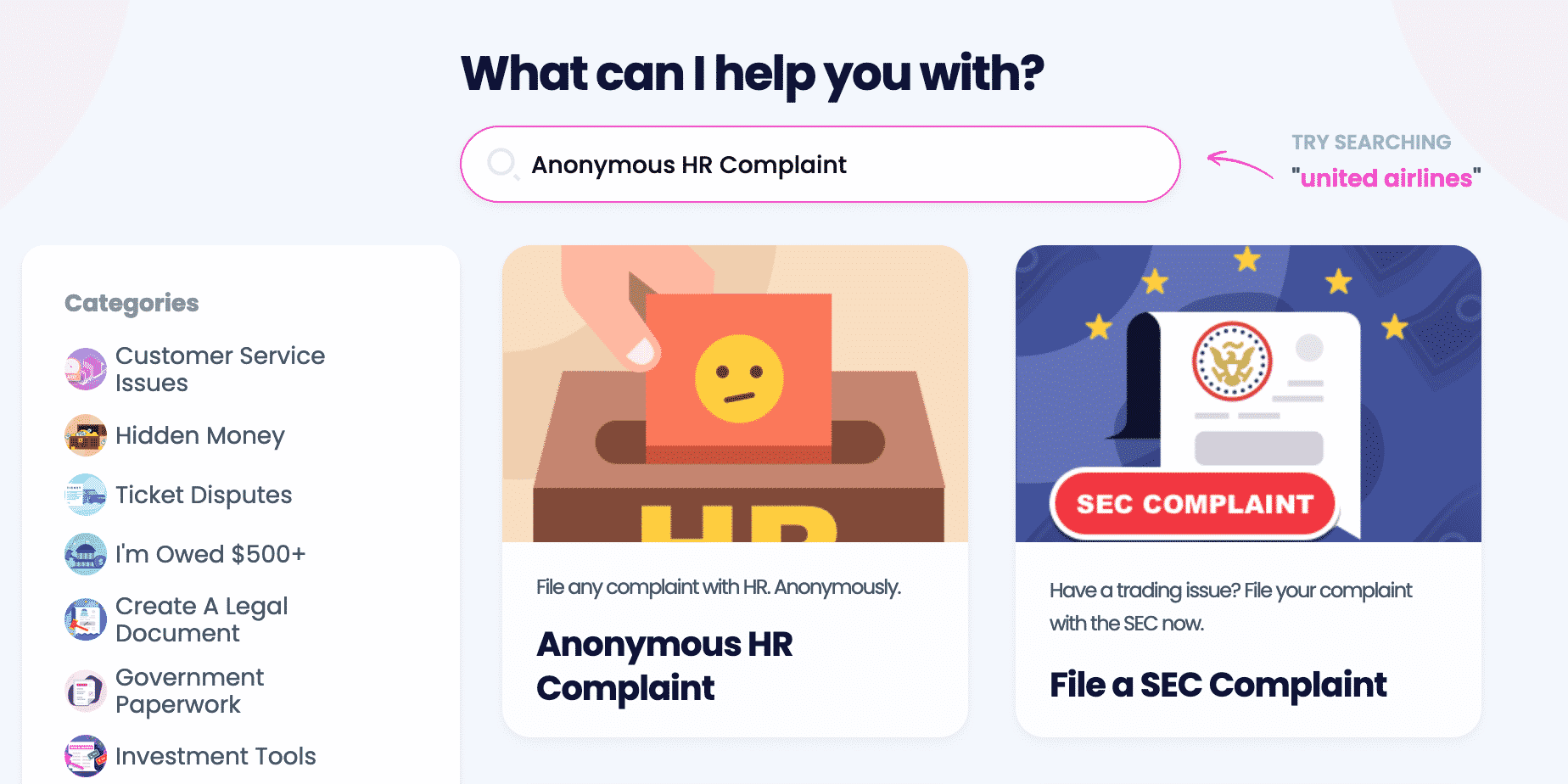 2. Provide your employer's name and the HR department's mailing address.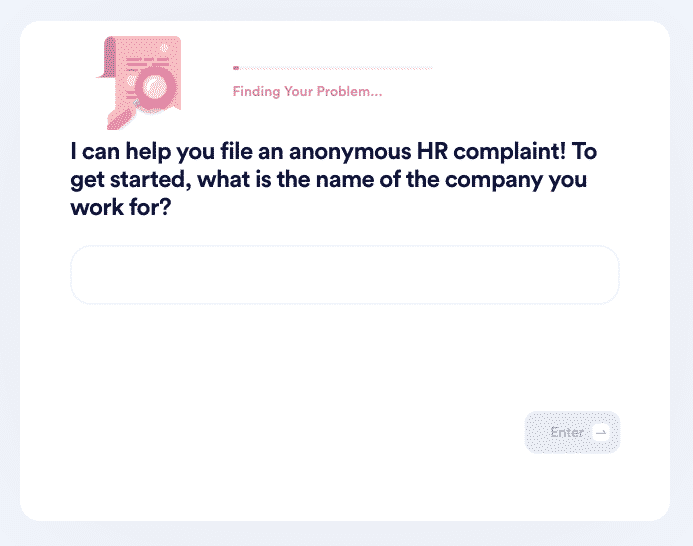 3. Explain your experiences with age discrimination and state your desired resolution.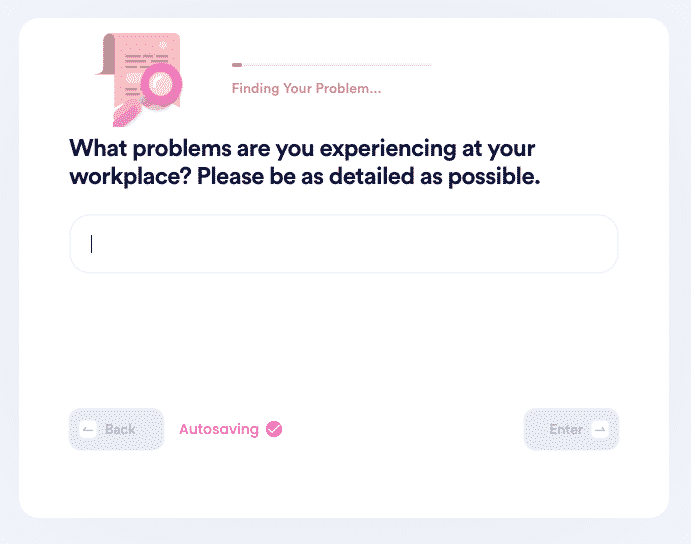 That's it! DoNotPay will do the rest. It will deliver your anonymous age discrimination complaint to your employer or HR department!
DoNotPay - the World's First Robot Lawyer
Aside from fighting discrimination, DoNotPay empowers you to fight other injustices. DoNotPay - the world's first robot lawyer - is your sidekick as you set out to address the following issues:
Reducing property taxes

Standardizing Legal Documents