How to File A Lawsuit Against Aflac and Win

American Family Life Assurance Company (Aflac) is a Georgia-based insurance provider that underwrites a wide range of insurance policies. Aflac is known for its payroll deduction insurance coverage, paying cash benefits when a policyholder has an accident or illness that is covered in their plan. The company vehemently suggests that it provides financial protection to more than 50 million people worldwide.
In recent years, Aflac has been criticized for returning fewer dollars to cancer patients covered under cancer insurance than the standard insurance holders, fraud and even failing to pay life insurance to the families of plan holders.
If you've incurred damages as a result of your interaction with Aflac, pursuing a claim through Small Claims Court is the way to go. Small Claims Court is a specialized division of the judicial system that deals with claims under $10,000 in most states, allowing individuals to pursue legal action against another party without a lawyer. To find out more about Small Claims and how streamlines this process, see below!
Can You Sue Aflac?
The short answer is yes! The table below outlines reasons why individual consumers choose to sue Aflac.
Reason
Explanation
Discrimination

Making biased decisions and awarding promotions/raises on the basis of protected characteristics
Discriminatory practices in the hiring process, or giving preferential treatment to employees based on protected characteristics

Unfair Cancer Payoffs

Not adequately paying Cancer patients in comparison to state-instated statutes
For example, cancer patients being paid 34% of their benefits while regular patients are paid around 63%

Insurance Violations

Violating the terms of its own insurance contract, failing to compensate victims, or not adhering to the legal statute in regards to insurance
For example, refusing to pay families of life insurance holders, breaching terms and conditions of a contract, and failing to pay lump sums to lump-sum insurance clients

Banking Violations

Violating the terms and conditions of a bank or bank account, resulting in a loss of benefits or a lack of payout
What to Consider Before Suing Aflac?
Before you sue, consider the following. If these details apply to your case, you are likely going to be successful in filing your legal case before a small claims court. If not, it is unlikely your case will go forward.
Do You Have A Valid Legal Case?
Take a step back, reconsider the details of your case in an objective way

Establish a burden of proof — was a contract broken? Were you injured by this company? Did you lose money as a result of these injuries?

Can You Sue This Company?
Establish pre-filing requirements — you will have to prepare hearings and depositions

Figure out the best method of alternative dispute resolution — is small claims the approach you want?

Have You Sent An Informal Final Demand?
Send a letter that is typed, with clear contact information

State what happened, the attempts you've made for restitution, and what you are willing to accept; should they not comply, state that you will file a lawsuit (in the letter)
Suing Aflac in Small Claims Court
Below, find the steps on how to sue Aflac in Small Claims Court. Keep in mind that every Small Claims Court varies from state to state and that local regulations are most important when considering the validity and legitimacy of your case.
Step
Details
Send a Demand Letter
First, send a letter detailing the following:

Who you are (name, phone number, address, and account number if applicable)
What you encountered (state the issue)
What you want from Aflac (for instance, how much money)

When this is completed, mail it to:

Aflac Claims Department

1932 Wynnton Road

Columbus, GA

31999

Fill Out Court Forms
Fill out your state-specific paperwork and any additional forms that might be requested by the county in which the incident took place.

Most court forms are free of charge on the court's website;

Keep these forms
Maintain copies
Have excess at your disposal in the event that the court clerk requires multiple

File A Complaint With The Court

Depending on state and county regulations, you might need to mail, fax, or file in-person
You will likely need to pay a small filing fee before you're allowed to sue, but this CAN be waived if you are of a low-income background
Then, you'll receive the finalized forms that have been notarized

"Serve" Aflac

Deliver a copy of the filed paperwork to Aflac
Check your state and county regulations and follow them to a tee, as many states invalidate small-claims suits if they are not "served" properly

Go To Court
Show up to relevant court dates, keep track of filed forms and maintain records of evidence to support your claim.
How to Sue Aflac in Small Claims Court With DoNotPay?
Although it appears simple, suing Aflac on your own might not be the best option, concerning time and money. As a solution to this issue, DoNotPay provides an automated lawsuit generator, with artificial intelligence technology that makes suing concise. All you need to do is:
Log on to DoNotPay on any web browser and select "Sue Now"
Enter the dollar amount of your damages incurred by Aflac
Select whether you'd like to receive a demand letter or court filing forms
Describe your reason for filing the lawsuit and submit any applicable evidence
That's all! DoNotPay will generate a demand letter or court filing forms for you, and a copy of your demand letter will even be mailed to Aflac on your behalf!
What Else Can DoNotPay Do?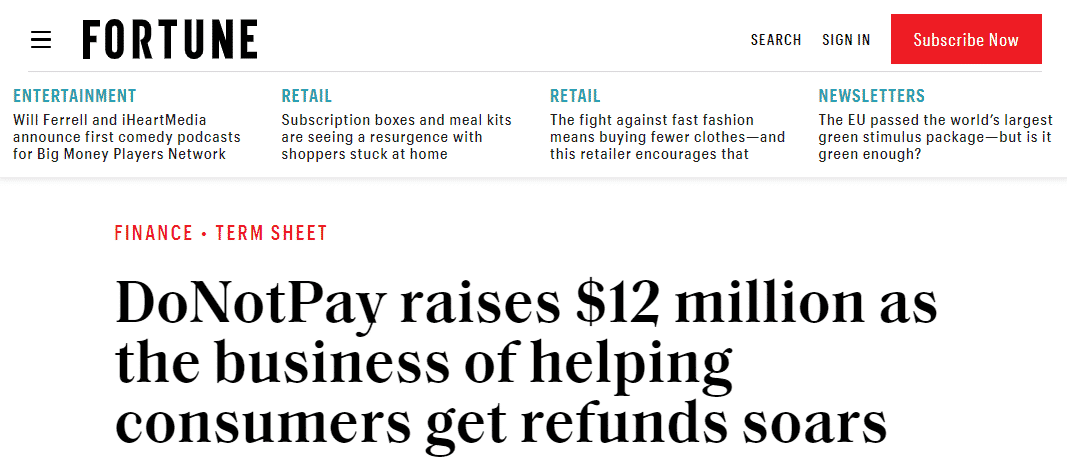 DoNotPay has a track record of helping people sue anyone and win! Check out some of the big corporations we have helped sue: