Set Up an Affordable Living Trust in Minutes
You might believe that trusts are something that only super rich people can create. But, you do not need to be wealthy to set up your own living trust. Creating a living trust, or a revocable trust, can be affordable when you use . With a living trust, you can manage your assets throughout your life in an affordable, easy way! Read on to learn about living trusts and your cost-friendly options.
All About Living Trusts
Before you set up your own living trust, it is important that you understand exactly what a living trust is. A living trust, also known as a revocable trust, is one way for you to legally manage your assets while you are alive and after your death. When a revocable trust is created, the assets you place within the trust are managed by the chosen trustee according to the guidelines outlined in the trust. This trustee can either be the person who created the trust or a third party. No matter who the trustee is, they must follow the management rules of the trust.
A living trust is one of a few kinds of trusts that can be used to manage your assets, and you can create one easily and affordably using . To learn more about the different types of trusts, read below. 
Revocable vs. Irrevocable Trusts
A living or revocable trust is one type of trust that you can use to manage your estate easily. There are two major kinds of trusts that are often used to handle your assets. The two common types of trusts are:
Living Revocable Trusts

Irrevocable Trusts
The key difference between the two trusts is that a living revocable trust is open to changes at any time after its creation. You can adjust how the trust manages your assets and add or remove beneficiaries, relatively easily with a living trust. On the other hand, once an irrevocable trust is created it is very difficult to change any of the terms of your trust and how the assets within it are handled. You can read more about the difference between trusts here. 
Living Trusts Versus Wills
When thinking of how to manage your estate after your death, the most common legal method most people think of is a will. But there are differences that make a will separate from a living trust. The table below can help you understand how wills and living trusts are different:
| | |
| --- | --- |
| Living Trusts | Wills |
| Active while you are alive, incapacitated, and after your death | Only active after your death |
| No need for probate | Must go through the probate process |
| Keeps your records private | Makes your information public records |
| Avoid disputes in court | Potentially cause disputes in court |
| Avoid future costs for your beneficiaries | Likely create future costs for your beneficiaries |
The major difference between the two legal methods is that living trusts are in effect while you are alive, incapacitated, and after your death. Wills, on the other hand, only become active after you have passed away. Creating a living trust does not mean you can't or shouldn't also create a will. A living trust is another way to manage your assets both during your lifetime and after it. Read more about living trusts and wills here, and what happens to a living trust after death here. 
How to Set Up an Affordable Living Trust
A living trust is a great way to ensure your estate is managed well both during your life and after your death. Setting up a living trust can seem intimidating, but creating a revocable trust for yourself can be an affordable and easy process. There are many ways to go about drawing up your living trust, including:
Doing it yourself

Using an online template

Hiring a lawyer to help you

Using

to help you
While you can try to make your living trust by yourself, it is not advisable to go about it alone. A living trust is a very important legal process, and you want to be sure you create it correctly. But, hiring a lawyer can be very expensive. Luckily, can help you create a living trust so you can ensure your estate is well managed without paying extreme fees. Find out more about the process for drawing up a living trust with the links below:
Get an Affordable Living Trust with DoNotPay
Living trusts are a great way for you to manage your estate, but the process can be confusing, time consuming, and expensive if you are doing it on your own. can help you create your living trust in minutes, without all of the expensive lawyers' fees. To start making your living trust with DoNotPay, all you need to do is:
Log-in to your

account

Go to the Revocable Living Trust icon
Tell us which state you live in
Tell us about your trustees, beneficiaries, and assets

Allocate your assets and properties to your beneficiaries and/or organizations
That's it! You have created a living trust! The process with DoNotPay can help you save time and money, making trusts accessible and easy for you.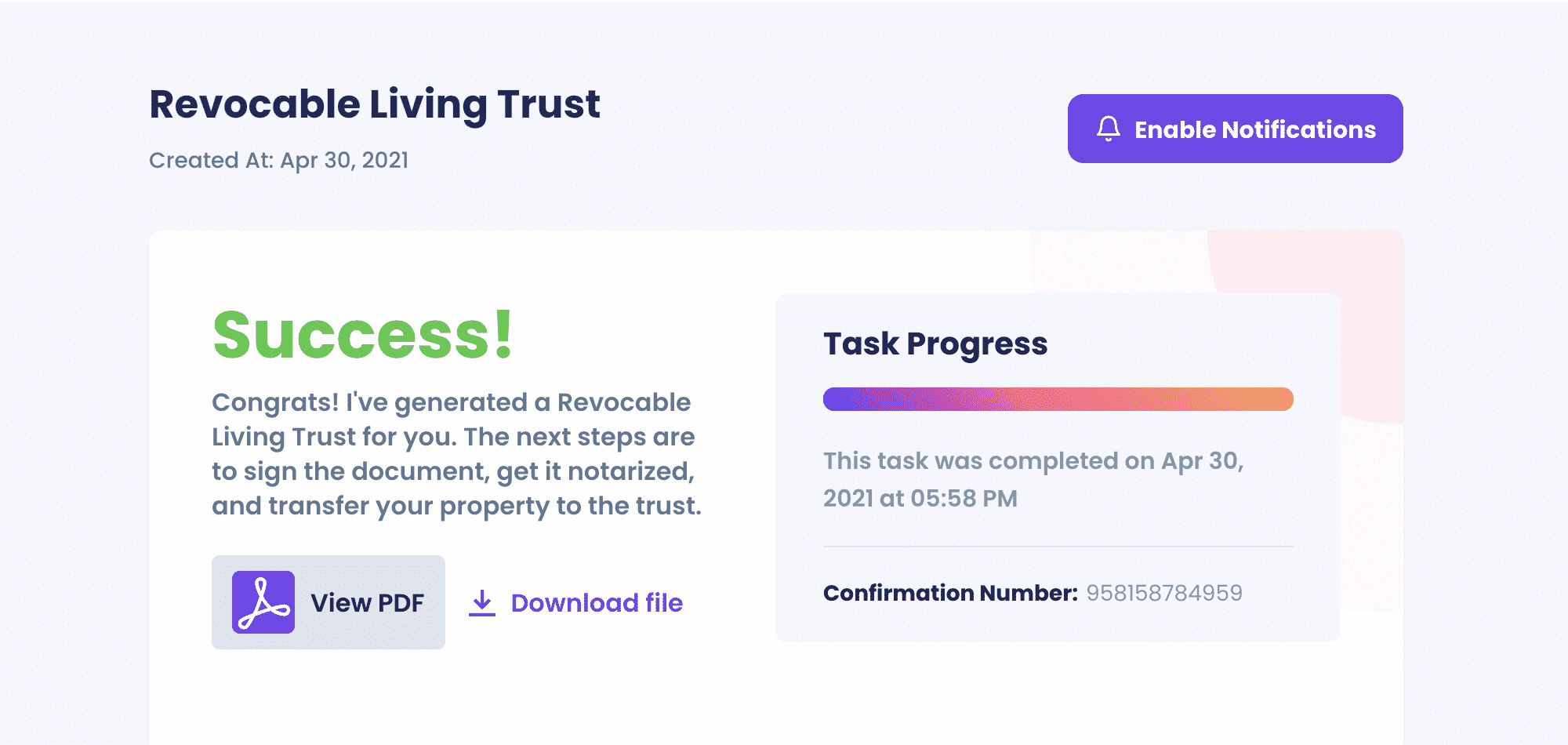 Living Trusts in Your State:
DoNotPay Can Help With…