How to Find an Affordable Dentist With No Insurance
One of the unfortunate quirks of the American healthcare system is that your health insurance generally does not cover dental care. This means that even if you have an employer who provides health benefits, they may not cover your visits to the dentist, and you need to find affordable dental care with no insurance.
Dental care can be costly, and many people neglect their teeth, resulting in long-term problems. If you have no dental insurance, it can be a real challenge to find affordable dental care. At the same time, taking care of your teeth is vital, and dentists can often spot other health issues, such as certain cancers or acid reflux.
DoNotPay can help you find options, including cheap dentists and free dental clinics in your area.
Options for Free or Low-Cost Dental Care
If you need an affordable dentist and have a low income and no insurance, there are various options for getting dental care at a low cost or even free. Here are some options:
Bureau of Primary Health Care
This service supports federally-funded community health centers across the United States that provide reduced-cost or free dental care.
Medicare, Medicaid, CHIP
These three are administered by the Centers for Medicare & Medicaid Services.

Medicare: A health insurance program for those 65 and above or with specific disabilities. Dental coverage is limited and does not cover dentures or most routine dental care.
Medicaid: A state-run program that provides dental care, in some cases, to individuals and families. Each state sets the guidelines for who is eligible and the covered services.
CHIP: This program provides dental services to children up to 19 years who are uninsured. The dental services covered vary depending on the state.

Dental schools
A good source of quality, reduced-cost dental services. Students gain experience treating patients and providing care at a lower cost. Experienced, licensed dentists closely supervise these students. Faculty and post-grad clinics are also available at most schools.
Dental hygiene schools
Dental hygienist students may provide supervised, low-cost preventive dental care as part of their training.
Clinical trials
The National Institutes of Dental and Craniofacial Research (NIDCR) sometimes look for participants with specific craniofacial, oral, and dental conditions for their clinical trials. Participants may get limited low-cost or free dental services for the specific condition being studied.

To find clinical trials, visit this page: NIDCR Studies Seeking Patients.

State and local resources
Enquire with your local or state health departments for any programs in the area that offer reduced-cost or free dental care. They may also offer financial assistance for dental services.
United Way
The organization may be able to direct you to reduced-cost or free dental care in your community. Check their website for local chapters in your area.
Dental clinics
Many areas have low-income dental clinics established to provide low-cost services to people without insurance. These clinics are often staffed by volunteers and typically charge based on your ability to pay.
Another option worth considering is that many dentists have fees that can be somewhat negotiable and offer discounts to uninsured patients. For more complicated and expensive procedures, ask about a payment plan.
How to Find Affordable Dental Services Without Insurance
Although Medicare only provides minimal dental care, the options above are worth checking out. If you don't have insurance and are eligible for Medicare or Medicaid, however, it is good to enroll as soon as possible as they will help with other health problems you might have.
The best thing to do is try the following:
If there is a dental school or dental hygiene school in your area, check their website to see if they offer free or low-cost clinics. This is a good option for routine checkups. While you will be treated by students who need the practice, there will always be a qualified dentist watching, and if a more complicated issue is found, you are in a good place to have it checked out. This is often a good source for quality care at a low cost.
Look for low-income or no-insurance dental clinics in your area. While these are not ubiquitous, they also offer good routine care at a low cost. A similar option is the Donated Dental Services program. Under this program, dentists donate part of their time to provide free treatment to those who qualify (depending on the state). Patients are treated in their office rather than in a clinic.
Check with your local United Way chapter to see if they know of any programs that might help.
Call your state health department or check their website to determine if state programs exist for people with no dental insurance.
Call your local health department.
Going through these steps will allow you to find an option in most cases. If all of these options fail, you can also call local dentists and ask what they can do for you.
However, this is a highly tedious process with no guarantee of success.
Find Affordable Dental Care With No Insurance With the Help of DoNotPay
DoNotPay offers a faster and easier way to find affordable dental care with no insurance. Instead of going through a long list of possibilities, spending hours on the Internet, and making multiple phone calls, just use DoNotPay.
Here's how you can use DoNotPay to find free dental clinics:
1. Go to the DoNotPay website and search "dentist" on DoNotPay products.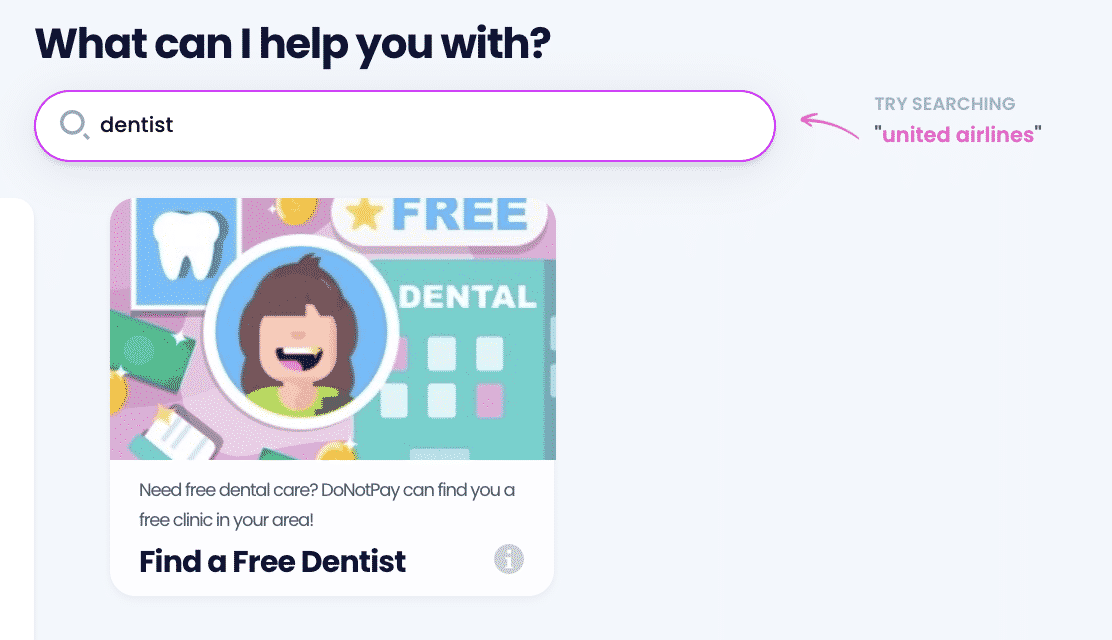 2. Enter your current address, so we can find the clinic nearest to you.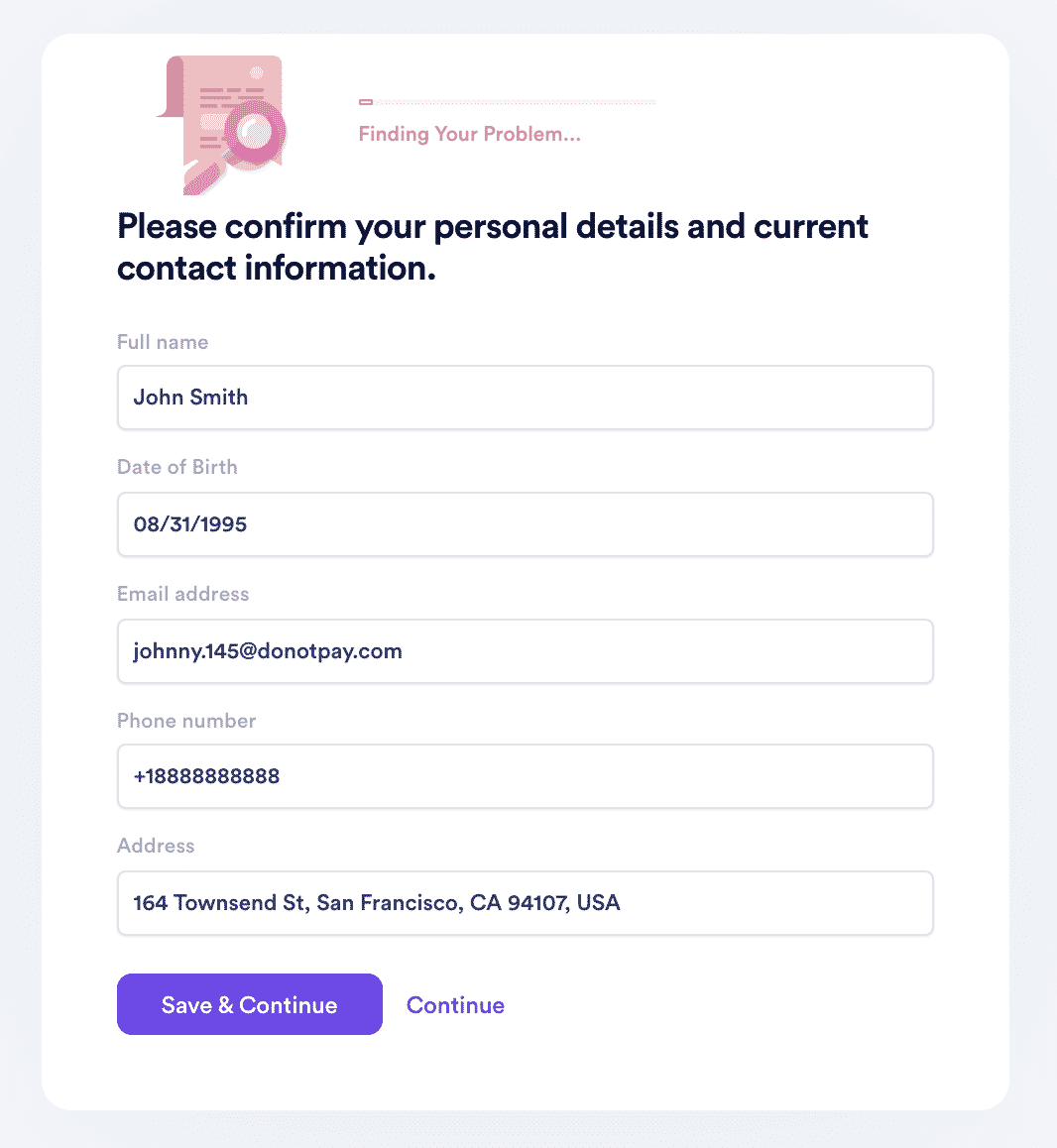 3. Next, choose if you would like to ask a question about your eligibility, receive a quote for a specific procedure, or set up an appointment.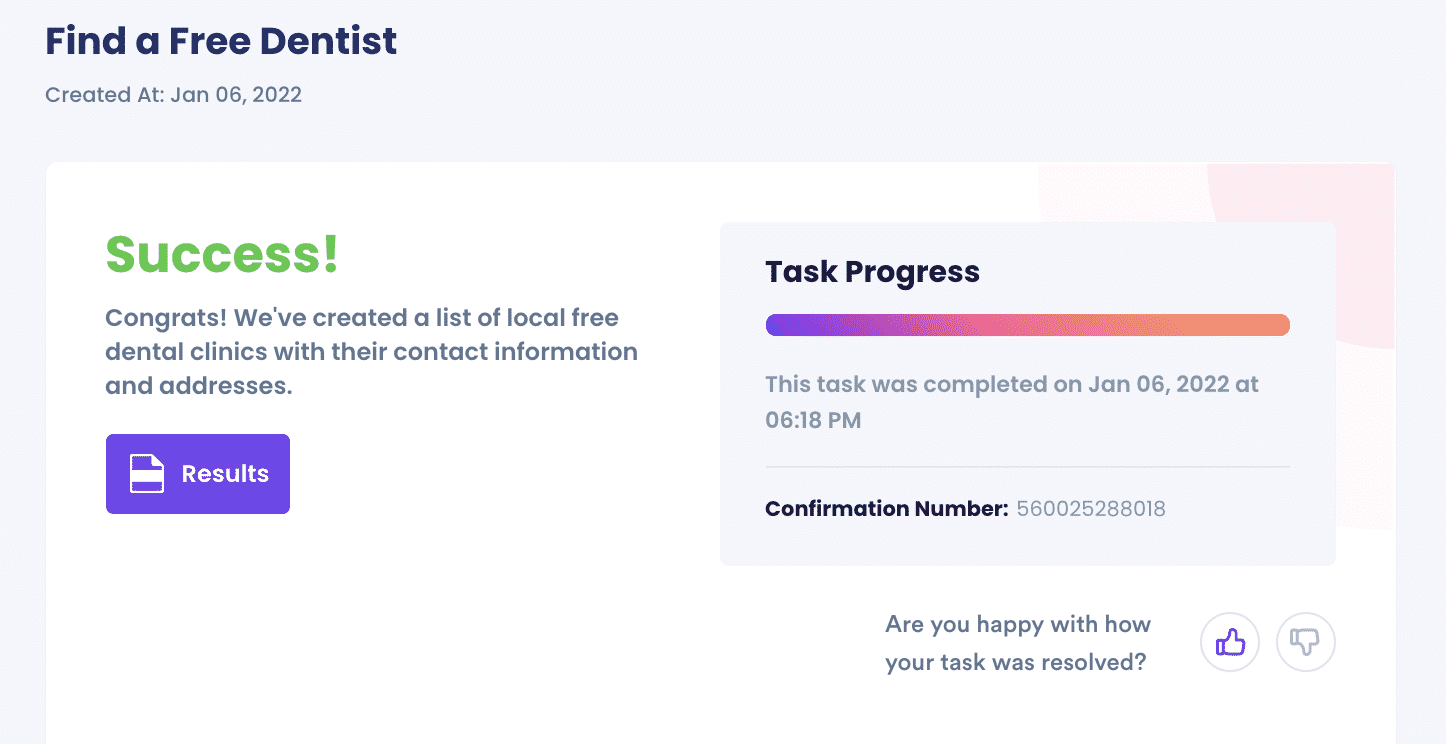 And that's it! DoNotPay will contact the clinic on your behalf and get back to you with your requested information.
Why Use DoNotPay to Find Affordable Dental Care With No Insurance
Using DoNotPay is simply easier and faster. It may find options you missed, and you won't be spending hours and hours that you could dedicate to something more productive.
Because we can find all of the options for you, you have a much higher chance of success, and DoNotPay may find several options, allowing you to pick the closest or the one with the most convenient hours.
What Else Can DoNotPay Do?
Trust our robot lawyer with all of your tedious and challenging problems. It can handle things like:
Let DoNotPay help you solve all of your problems so you can spend your time on more important matters.