Why You Don't Need an Affidavit of Support and Consent for Minors To Travel Sample
Rules and regulations are strict when it comes to children traveling. Parents need to comply with them carefully to avoid unpleasant situations with customs and immigration officers. Various procedures need to be followed, and several documents are necessary.
One of these mandatory docs is an affidavit allowing minors to travel without a parent.
This article will explain how to find a typical affidavit of support and consent for minors to travel sample! Even better—we will explain why you don't need one! Our app will generate a consent form for your child in a minute!
What Is an Affidavit of Consent and Support?
An affidavit of consent and support is a legal document used when a minor is:
Applying for a passport

Traveling alone, with one parent, or another authorized individual

Applying for a travel clearance
The document should be signed by the child's parents or the child's legal guardian.
An Affidavit of Consent and Support for the Child Traveling Abroad
An affidavit of consent and support can be used as a child travel consent form. It gives the child permission to travel domestically or internationally without parents or guardians. The form should be signed by both parents/guardians if the child is traveling:
Alone

With a group or organization

Accompanied by a relative

With any other authorized adult, such as a teacher, coach, or a family friend
The form needs to be signed by a parent not accompanying the child on the trip if the parents are:
Married/in a common-law relationship and living with the child

Legally divorced, separated, or not living together
What Should an Affidavit of Consent for Children Traveling Abroad Contain?
Parents need to provide specific information when creating a child travel consent form. Omitting an important element can cause the airline, customs officers, or immigration agents to prevent the child and the accompanying adult from traveling.
A comprehensive affidavit of consent for a child traveling abroad should include:
Full name, place of birth, and passport details of the child

Contact details and permission statement from the non-traveling parent

Relevant information about the parent or accompanying adult, such as full name, custody information, and passport details

Medical or allergy details about the minor

Travel details, including the start/end date and destination

Signature of the parent or guardian giving permission
If you want to make sure your child will be taken care of in case of a medical emergency, you may also consider filling out a child medical consent form. It authorizes the accompanying adult to make healthcare decisions for the child during the trip.
The affidavit of consent for children traveling abroad should also be notarized. Notarization is proof that the signatures on the consent form are authentic.
Country-Specific Rules for Minors Traveling Abroad
Countries have different rules when it comes to children traveling. Some have a rigid policy for children entering/exiting their country without both parents. Before sending your child on a trip, you should check the specific entry-exit regulations with the country's consulate.
To get a general idea, check out the following countries' rules about minors traveling without parents:
Country

Requirements

Canada

A child travel consent form to travel to Canada

Passport

Copy of the birth certificate

Photocopies of parents' passports

United Kingdom

A letter of consent for a child to travel to the UK

Passport

Visa (for staying more than six months)

India

A consent form for minor traveling to India

Visa

Passport

Photocopy of parents' relevant passport pages (for more details, contact the consulate)

Botswana

An

affidavit of a consent form for children traveling abroad to Botswana

Passport

Visa

Birth certificate
Are the Child Travel Consent Form Templates Reliable?
You can find samples of child travel consent forms online. Using a sample form seems like an easy solution, but online templates come with disadvantages. The most notable downsides are that:
Templates are faulty

—They often contain grammatical or spelling errors or lack important sections

The selection is too wide

—Numerous websites offer child travel consent forms. You will lose a fair amount of time deciding on one

There are hidden costs

—Even if they advertise themselves as completely free, most websites wait for you to complete all steps before revealing hidden charges. Some will ask for your credit card information to let you download the template, and others will charge you to update the form
You can use a sample child contract template as a guide for writing an affidavit yourself. A better option is to and let us create the child travel consent form for you!
DoNotPay Can Help You Create a Child Travel Consent Form in a Jiffy
You can ditch online templates—they are far too unreliable. DoNotPay can create and get your child travel consent form notarized in a few simple clicks!
Here is all you need to do to get a professional and comprehensive child travel consent form:
in a web browser

Go to our

Child Travel Consent

product

Answer a few questions about your child, the guardian, and the trip

Opt to get the document notarized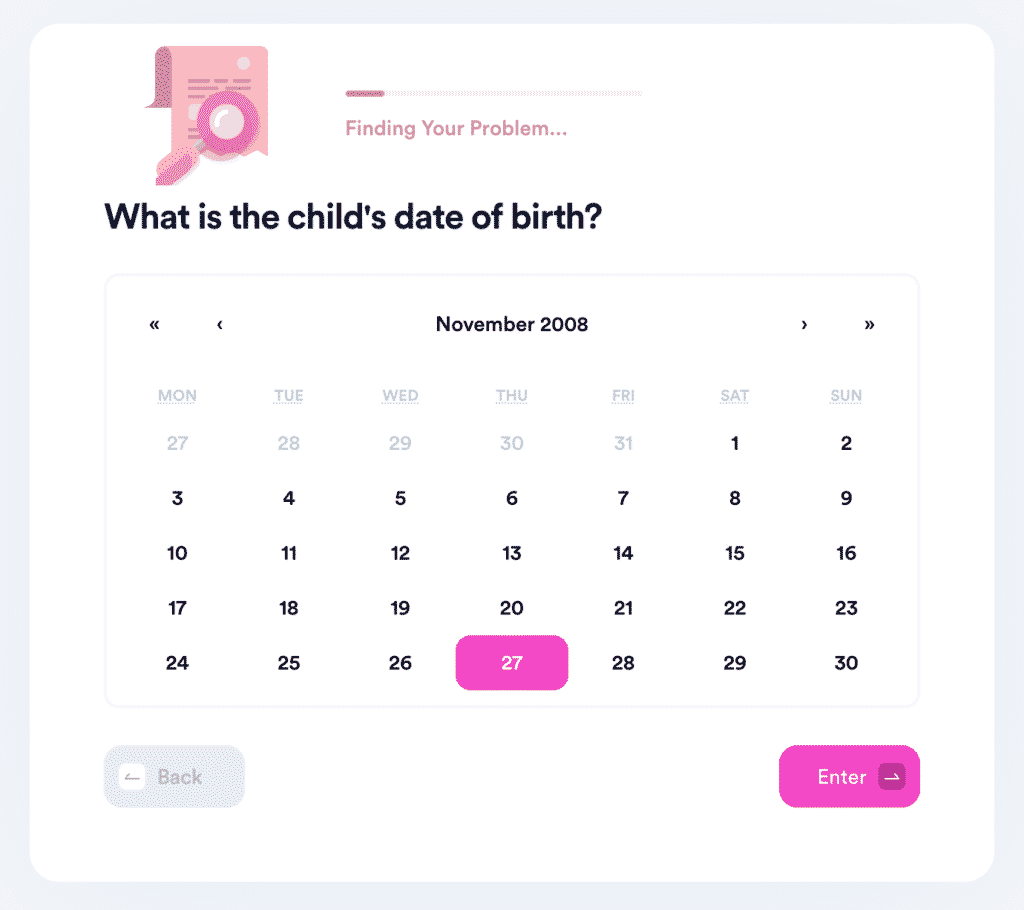 There is no need to lose time visiting the notary in person! We will send you a link via email that you can use to schedule an appointment with the online notary. You can meet them on a video call using any digital device and finish the whole process without leaving the house.
A notary will witness you e-signing the form and notarize it with an electronic stamp and signature. After that, download and print your child travel consent form, and you are good to go!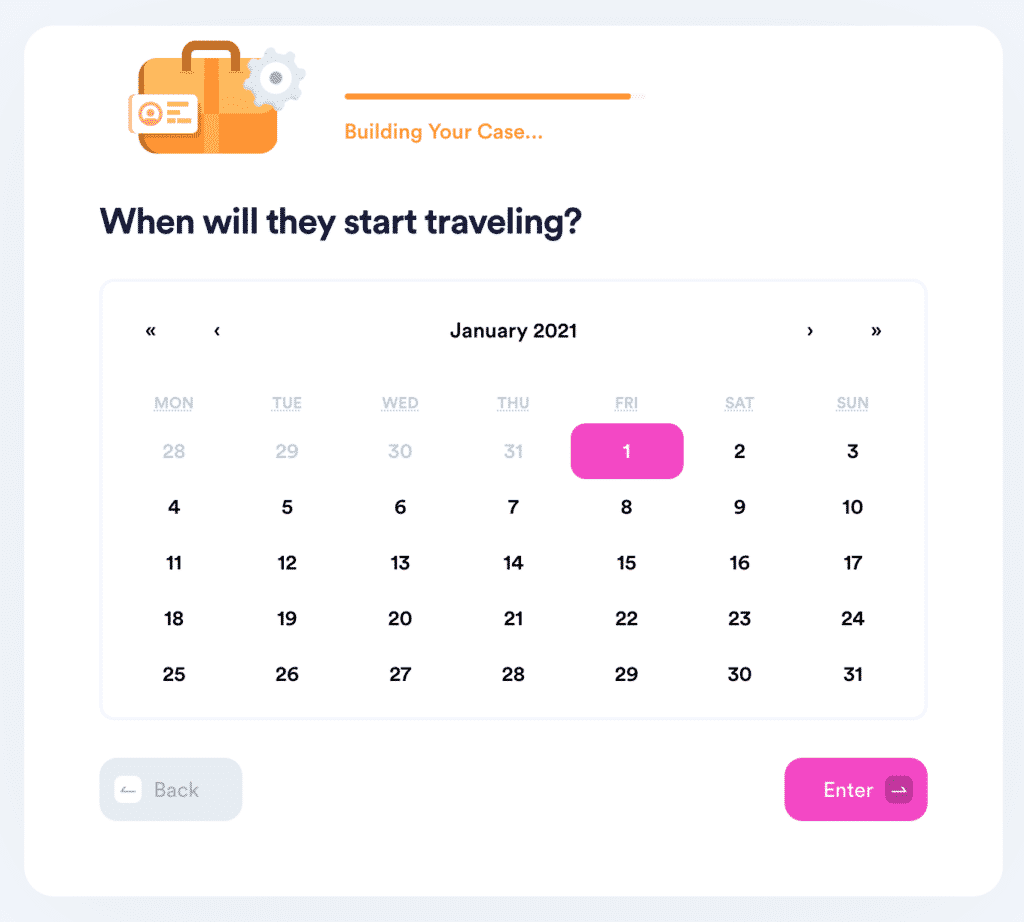 Make Your Life Simpler With DoNotPay
Why stop at drafting your child travel consent form?
DoNotPay can help you write, notarize, and even fax multiple legal docs—all from your phone!
That is not all!
A company is refusing to issue you a refund or cancel your subscription? Don't waste your time on driving to their office or dealing with customer service reps over the phone.
Your virtual assistant will cancel any service for you in a few clicks! We will also request a refund for an unsatisfactory purchase or a late delivery from any company.
DoNotPay helps you cut through the red tape when you have to:
DoNotPay Protects Your Privacy
If you like trying out various services but not so much leaving your personal information, we have the two tools perfect for you:
Our

virtual credit card

lets you sign up for

free trials

without disclosing your real credit card details or even your email address

DoNotPay's

burner phone

tool allows you to verify various online accounts with a fake phone number
Use DoNotPay and enjoy your online experience stress-free!