Looking for an
Advertising Contract Template
? We Got You Covered!
Searching through a ton of contract templates online is never a fun experience. It takes too much time and effort, especially when you have a simpler solution at your fingertips! We'll provide you with all the info about an advertising contract template and show you how to draft a contract easily!
Sign up for DoNotPay to handle demanding administrative tasks head-on!
Advertising Contract
Explained
An advertising contract—also known as a marketing contract—is a contract signed between the following parties:
A provider of products that need to be advertised

A supplier of advertising time/space
Drafting a written marketing agreement is a good idea since it outlines and clarifies the arrangement between the parties mentioned above. It helps secure the business relationship and can be used to avoid any confusion regarding the terms and conditions. Such a contract is also super useful in the case of any issues or disputes. You can use the document as proof in court and resolve disputes efficiently.
What an
Advertising Contract Template
Should Include
The advertising contract templates that you can find online are often incorrect and unreliable. That is why we provide you with a list of all the crucial sections an advertising contract should contain. If the template you found does not meet these criteria, it would be better not to use it.
Section

What To Do

Legal names and addresses

Include the full legal names of the parties involved. Add their addresses to avoid any confusion and misidentification

Contract duration

State the start and end date of the agreement

Project scope

Elaborate on the scope of work as clearly and specifically as possible. Include the following details:

What the parties agreed on and what the goal is

What services will be provided

How the services will be delivered

What is the required from the client

Budget and payment schedule

Say what amount the client will pay for the provided services and what payment method he or she will use. Feel free to add specifics, like:

Payment dues

Payment periods

Late payment fee

Termination

Explain what will happen if a party decides to terminate the agreement. You should also say whether a prior notice is mandatory and what happens if they fail to give it

Breach of contract

Indicate what happens if there is a breach of contract. The immediate agreement termination is a common outcome, sometimes with certain compensation

Copyrights

Specify the intellectual property rights and elaborate on the relevant details in this section
Is an
Advertising Contract
Legally Binding?
Like most business-related contracts, marketing agreements are legally binding. Specific prerequisites must be honored, though, so check out what they are in the list below.
A legally binding contract must have:
An offer and acceptance

The intention of making a legally binding contract

An item of value exchanged for a promise
If your contract contains the above-mentioned elements, along with signatures of all parties involved, it is enforceable.
Draft Legal Documents With DoNotPay Effortlessly!
Forget about wasting days trying to figure out how to write a contract and use DoNotPay to create legal documents in minutes! We can generate numerous agreements in your stead, and it only takes a few clicks. Subscribe to DoNotPay and follow our straightforward instructions:
Access the

Standardized Legal Documents

product

Type in the name of the document you want to draw up

Provide some info about the agreement to help us customize it
We'll generate a personalized contract instantly. You can choose to download or print it.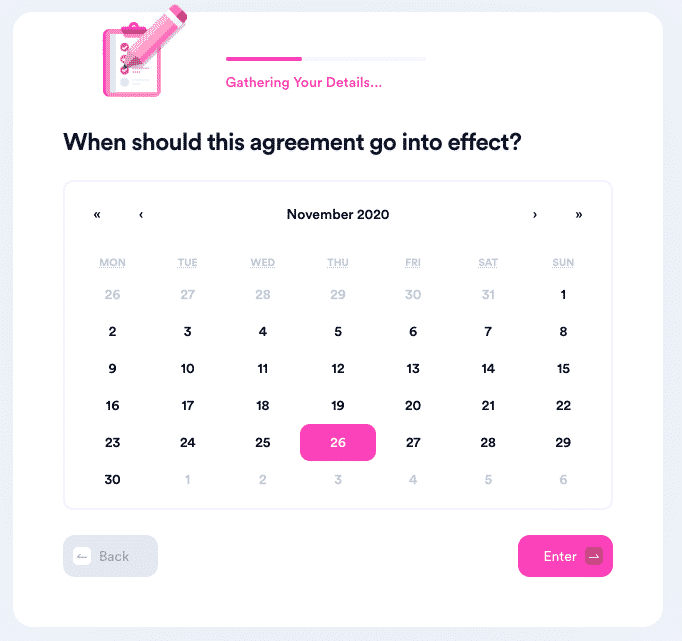 Check out the table below to see the agreements you can make with us:
Business Agreements
Real Estate Agreements
Other Agreements

General Business Contract

Intent To Purchase Real Estate

Quitclaim Deed

Promissory Note

General Affidavit
Creating documents isn't all DoNotPay can help you with! We integrated two features to allow you to both draw up contracts and get them notarized using the same app! The entire notarization process happens online via video call, and both you and a notary provide digital signatures.
Looking for Assistance in Creating More Contracts? We Can Help!
If you need help with a contract that DoNotPay can't generate, you can follow our step-by-step guides and draft it yourself with ease! Here are some useful articles about the:
Say No to Spam and Unnecessary Paperwork
If your inbox, mailbox, or to-do list is overflowing, our app is exactly what you need! Check out ways to declutter your life:
You can have your cake and eat it too—DoNotPay makes it possible to cut down on unnecessary red tape and save you money—all in one full swing. We can help you overturn your parking tickets, apply for a college fee waiver, uncover missing money, submit a FOIA request, and much more.
Discover Numerous Fast and Easy Solutions
DoNotPay is all about helping you through a complicated task by coming up with simple solutions: