How To Draw Up an Advance Health Care Directive in Hawaii
Preparing for unfortunate events in the future is no one's favorite activity. It would be a wise choice to think about and list your preferences for health care in case you cannot make decisions for yourself.
Should you prepare a living will, medical power of attorney, or advance health care directive in Hawaii to put your mind at ease? Use DoNotPay to create these documents smoothly and this article to get your answers.
What Is an Advance Health Care Directive in Hawaii?
An advance directive in Hawaii is a legal document that allows you to give instructions about the medical care you would like and not like to receive in case you are:
Terminally ill
In a coma or persistent vegetative state
Unable or unwilling to express your wishes for yourself
This document also lets you choose a person to make health care decisions on your behalf.
Parts of a Hawaii Advance Health Care Directive
To get a better understanding of aspects you will need to provide, take a look at the following table presenting different parts of a State of Hawaii advance healthcare directive form:
Sections of an Advance Directive in Hawaii
Details
Individual instructions for health care
This first part of an advance directive is also called a living will in Hawaii.

You should create a living will to specify your wishes regarding health care you would want or not want to receive in case you:

Are close to death
Need to get life support
Have brain damage that makes you unable to make medical decisions

A medical power of attorney in Hawaii
In this part of an advance directive, you can appoint a person to make medical decisions for you in case you cannot or do not want to make them yourself.

This person:

Is called your agent or health care proxy
Should be someone you can trust, e.g., your:

Spouse
Sibling
Parent
Adult child
Close friend
Keep in mind that a medical power of attorney (POA):
Pay Attention When Preparing an Advance Directive in Hawaii
When drafting your advance health care directive in Hawaii, you should:
DoNotPay Ensures Your Advance Health Care Directive Is Rock-Solid
There is no need to:
Our AI-powered app is familiar with different state laws and will ensure your specific needs meet all legal requirements.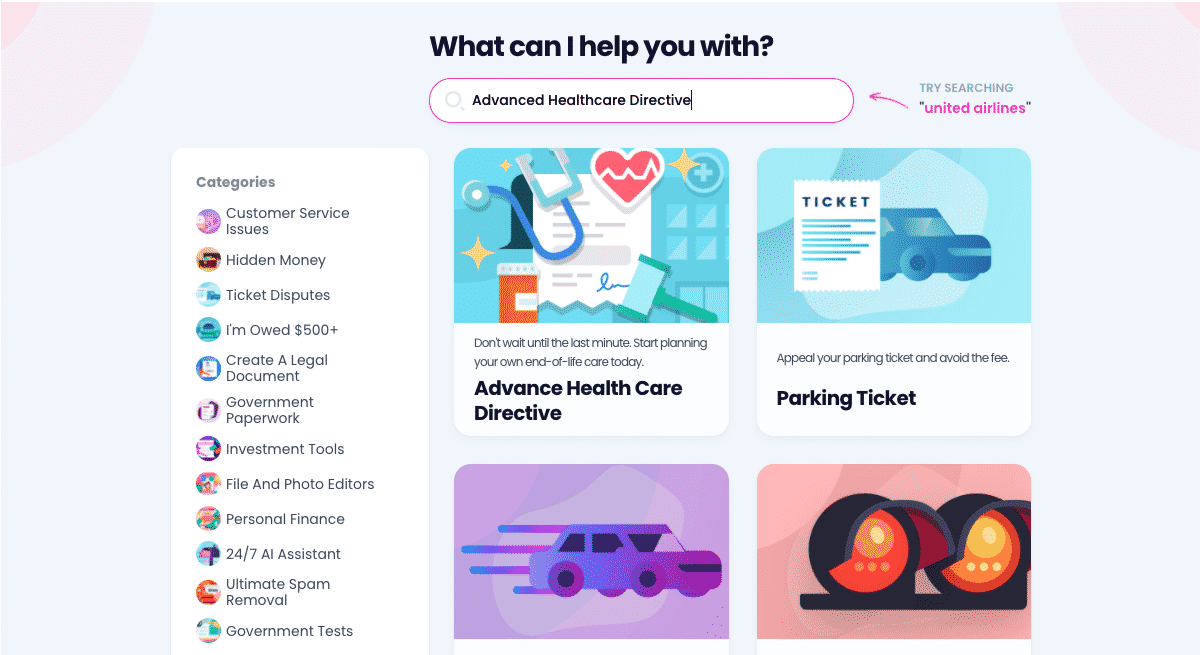 Sign up for DoNotPay and:
Open our Advance Health Care Directive feature
Provide:

The name(s) of your health care agent(s)
Your health care preferences

Indicate the:

Powers you are giving your agent
Medical treatments you want and do not want to get

Enter the names of the witnesses or select to get the document notarized online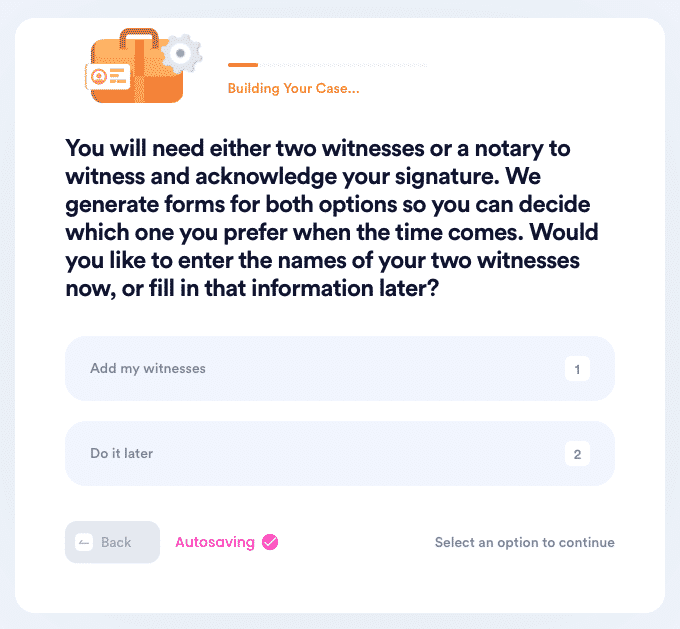 Solve Any Problem Within a Few Clicks
DoNotPay keeps adding new features that are designed to help you navigate your tasks and resolve issues. You can rely on your AI-powered app whenever you need to:
Earn and Save Money Using DoNotPay
When money is tight, every penny counts. DoNotPay can help you get what you're owed and also some extra cash.
Here are some of the ways our app can help you get paid:
We can also assist you in searching for your unclaimed funds, demanding a college fee waiver, and joining clinical trials.
If a company refuses to give you what you're owed, don't hesitate to file a complaint and take it to small claims court.