Find Out Who Can Be an Advance Directive Witness
Creating a health care directive is the best way to ensure your medical care wishes are honored if you become incapacitated. The statutes that govern the creation of advance directives are state-specific, but most require the documents to be signed in the presence of one or two witnesses. The laws also clearly state who can or can't be an advance directive witness! This guide will teach you about the requirements for choosing a witness, as well as creating a valid document. You will also learn how to draw up an advance directive the easy way—using DoNotPay.
An Advance Directive Explained
An advance directive is a written or oral statement in which you:
Name someone (typically called a health care agent) to make medical care decisions in your stead
State the health care treatments you would or wouldn't want to receive in the event of incapacitation
The common types of advance directives are:
Medical power of attorney (sometimes known as health care proxy)
In some states, the two exist as separate documents. In others, they are combined as a single document called the advance directive. Bear in mind that a health care proxy is not the same as standard power of attorney.
What Does Witnessing an Advance Directive Mean?
A witness to the advance directive has to attest that:
The principal is of sound mind
No one influenced the principal's decision
The principal is of legal age at the time of signing the document
A witness is crucial in case the validity of the advance directive is challenged.
Legal Requirements for Executing an Advance Directive
Every state has specific requirements for creating a legally valid advance directive, including choosing a proper witness. Check out the table below for more details:
Legal Requirements
Explanation
How are the documents signed?
With a few exceptions, like New Mexico, the document must be signed in the presence of either:

Witnesses (one or two)
Notary public

In some states, such as West Virginia, the document requires the presence of both a notary public and witnesses

Who can witness an advance directive?
In most states, the witness must be an adult individual who can't be:

Your healthcare provider or your attending physician
An employee of your healthcare provider or a healthcare facility you attend
Your health care agent
A person entitled to your estate
An individual who has direct financial responsibility for your medical care
Insurance provider
What To Do After Signing an Advance Directive
After executing your advance directive in compliance with your state laws, you should give the copies to your:
Health care agent
Attending physician or health care facility you visit
Trusted family members and friends
You should also review the document occasionally to make sure it still reflects your preferences. If it doesn't, you can update or revoke it. If you revoke the document, be sure to inform everyone who has a copy of the document.
Get Your Advance Directive Hassle-Free Using DoNotPay
Drawing up a living will or health care proxy shouldn't take up too much of your time or cost you a fortune. That is why you should use DoNotPay! Our Advance Health Care Directive tool smoothens the process by:
Gathering your personal details, as well as those of your agent and witnesses
Collecting the information regarding your medical care preferences
Generating a document according to your wishes and state-specific legal framework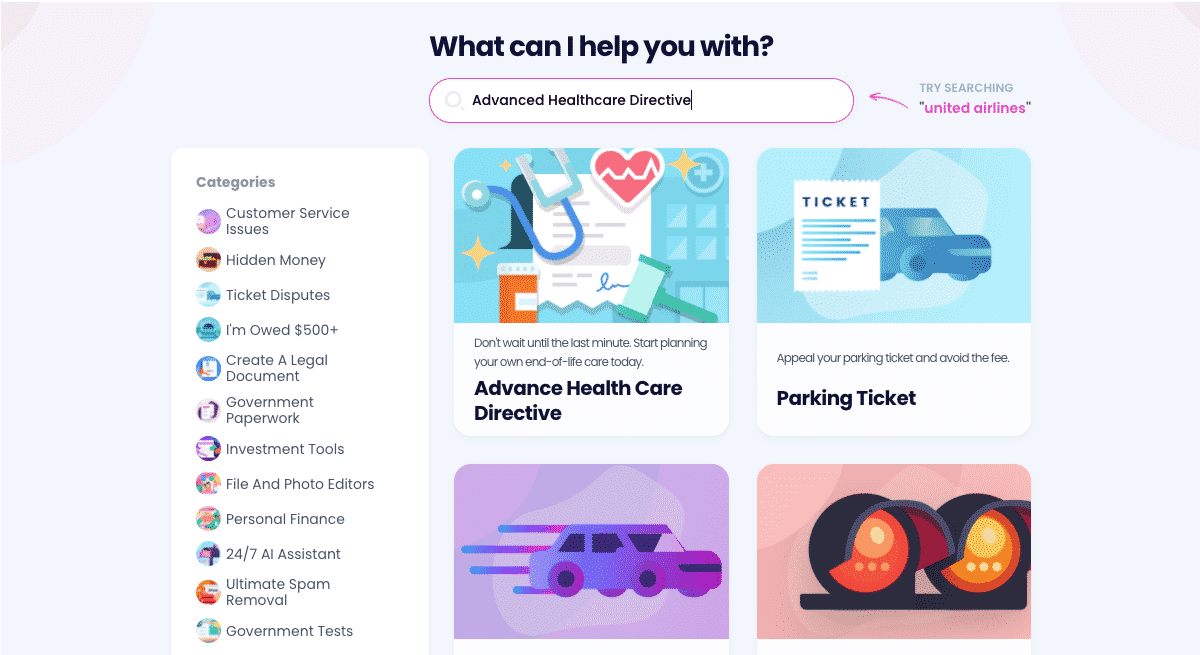 Create your advance directive now by following these steps:
Access the Advance Health Care Directive tool
Answer our chatbot's questions
If your document requires notarization, we can help with that as well. DoNotPay will connect you with an online notary, and you can arrange a meeting at your own convenience!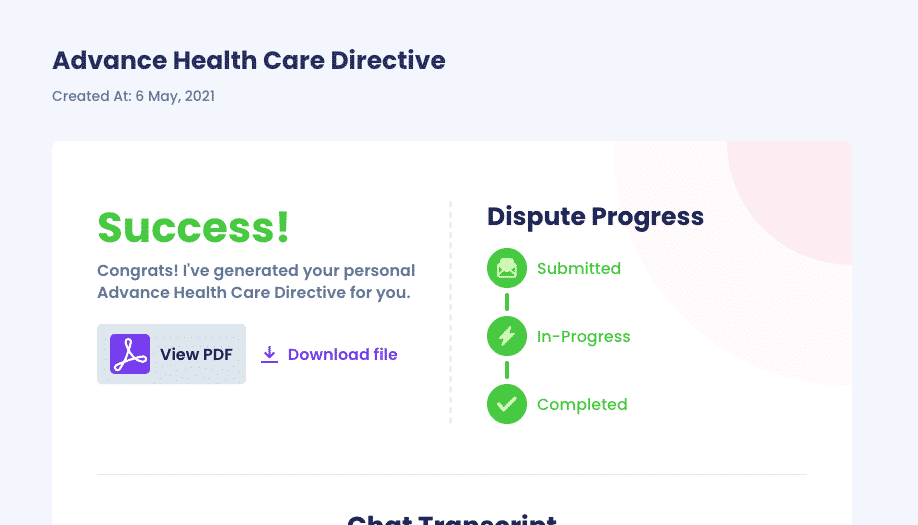 How Can DoNotPay Tackle Tricky Tasks for You?
Using DoNotPay is like having a magic wand that helps you with the assignments you are too busy or bored to do. Here are some procedures we can simplify for you:
Keeping in Touch Is Simple With Our App
Are you having trouble communicating with your loved ones in jail? Our app features a tool that enables you to send letters to inmates from any device! We can help you get in touch with a notary public who can notarize your legal documents virtually or reach out to embassies and consulates or government reps. Reaching customer care centers also gets much simpler with DoNotPay by your side as you can skip phone queues the easy way.
We can help you avoid unwanted communication by stopping persistent robocalls and text or email spam. All you need to do is sign up for our services!