Deciphering an Advance Directive in Washington
What would happen if you got sick and were unable to make health decisions for yourself? Your family or friends would have to decide how the doctors should treat you, but their choice may not match your preferences. In all U.S. states, including Washington, you can avoid such inconveniences by creating an advance directive based on local standards.
Our manual helps you figure out the essentials of an advance directive in Washington. We also explain how to use DoNotPay to create a living will or a health care proxy without trouble!
How Is an Advance Directive Defined in Washington?
In Washington, an advance directive is a compilation of precise instructions about future health care if a person loses the ability to communicate their wishes to doctors due to:
Being in a coma
Undergoing total anesthesia
Suffering a severe injury and remaining unconscious
Being mentally unstable or unable to think clearly
Such a document allows people to spell out both wanted and unwanted treatments, ensuring their wishes are honored. It also specifies the desired end-of-life care when a patient is seriously or terminally ill.
What Types of Washington Advance Directives Are There?
There are two forms of advance directives in Washington:
Durable power of attorney for health care
The table below offers a short review for each form:
Type
Explanation
Health care directive

Document that lists general desires related to medical and end-of-life care. Its primary purpose is to inform others—family or medical staff—about your wishes
Health care directive is also known as a living will and must be signed by two witnesses above the age of 18

Durable power of attorney for health care

Written statement that grants another person—a friend, family member, or any other individual you trust—the right and responsibility to make health-related decisions on your behalf
A durable power of attorney for health care is similar to a medical power of attorney and doesn't involve making any financial decisions
Many Washington residents combine these two documents into a single form.
What Health-Care Preferences Should You Address in Your Washington Advance Directive?
When composing your health care directive, you can mention your preferences related to various aspects of medical care, such as:
Artificial nutrition and hydration
Mechanical ventilation
Cardiopulmonary resuscitation (CPR)
Blood transfusion
Blood dialysis
Surgeries
Medication
Chemotherapy and radiation
Treatments during pregnancy
Comfort care
Hospice care for terminally ill patients
Organ, tissue, and eye donation
Ways To Create a Washington State Advance Directive
When searching for ways to create an advance directive in Washington, you must factor in the cost and accessibility of the document.
Free options include:
Acquiring a specific form provided by the state of Washington
Using a ready-made online template or sample
Drafting the document from scratch yourself
Attorneys can compose a bullet-proof document, but their services are on the expensive side and often unnecessary.
If both options seem unappealing, your best bet is to go with DoNotPay!
Making Health Care Directives Is a Child's Play With DoNotPay
Have you decided to secure your future health-related decisions with a solid medical power of attorney in Washington or any other state? No problem—DoNotPay can help you create this or any other health care directive in a few clicks!
You don't need to pay for the contract or waste time writing one on your own. Our app will generate a personalized document as soon as you provide us with the crucial details about your medical preferences.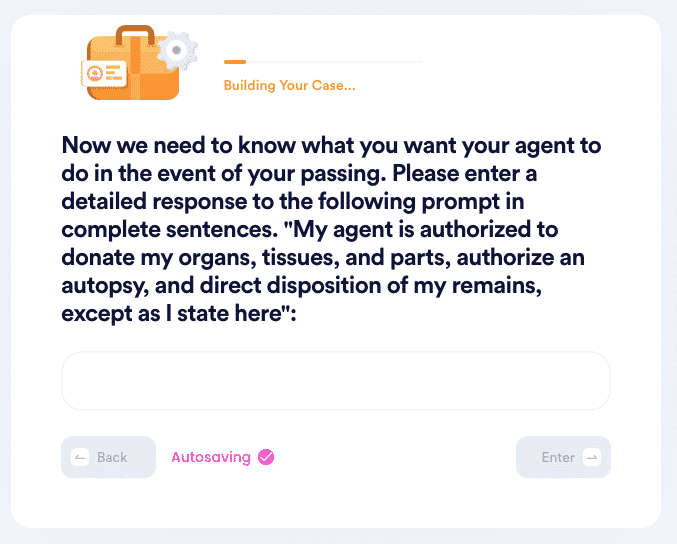 Here are the prompts you should follow:
Go to Advance Health Care Directive
Give us the names of your primary agent and witnesses
Answer some questions about your health-related wishes
DoNotPay also explains whether a living will has to be notarized, teaches you the difference between a health proxy and a regular power of attorney, and much more.
DoNotPay Offers More Assistance!
Our app boasts many features that can make your life easier.
Do you need help searching for unclaimed money or covering bills? Are you looking for clinical trials you can sign up for to earn some extra money? We can help you out in a flash!
Other tasks we can streamline for you are the following:
Forget Hiring a Lawyer—Use DoNotPay Instead
You don't want to spend a fortune on lawyer fees? No problem! DoNotPay—the world's first robot lawyer—is here to assist you! With our help, you'll be able to file complaints, sue anyone in small claims court, handle stalking and harassment, get crime victims' compensation, and draft numerous documents, including:
If you need to get a document notarized, you can also count on our help. We'll connect you with an online notary who will notarize your document in a flash.