Advance Directive in TN—Everything There Is To Know
Tennessee laws allow the residents of this state to establish their future medical care preferences in case of a debilitating illness or incapacitation. Almost anyone over 18 and mentally stable can do it by completing and signing an advance or health care directive form.
If you want to find out how this document can ensure your future health-associated wishes are respected, you are in the right place! and discover the best way to get an advance directive in TN without poor-quality templates or exorbitant attorney fees!
What Is a Tennessee Advance Directive?
An advance directive in Tennessee is a document instructing your medical practitioner on your preferred medical care if you become too ill to decide for yourself. The instructions you provide can be oral or written, but it's more desirable to note them down and have the document signed by two witnesses or a notary public.
You can prepare an advance directive while you are still healthy and able to express your preferences, but it doesn't become effective right away. It will come into effect once your primary physician confirms that you can no longer make health care choices for yourself.
What Does a Tennessee Health Care Directive Package Include?
There are two common types of Tennessee advance directives:
Appointment of health care agent (acting as the health care proxy or medical power of attorney in some states)
Advance care plan (acting as the state's living will)
Tennessee residents can choose between completing one or both forms. The following table shows more details about both advance directives:
Form
Details and Components
Tennessee medical power of attorney
A Tennessee power of attorney for health care helps you convey your rights to decide on your medical care preferences to another person. It should include the following parts:

A written appointment of your new health care agent
Name, phone number, and mailing address of the agent
Relationship between you and the agent
Name, phone number, and mailing address of the secondary (alternate) agent
Rights you transfer to the agent
Potential limitations and special instructions
Your name, signature, and date of signing

Tennessee living will
A Tennessee advance care plan lists all specific wishes you have related to:

Medical personnel that should treat you
Care facilities you want to attend
Cardiopulmonary resuscitation
Life support options and tube feeding
Medications and treatments
End-of-life care options

Like medical proxies, a living will can be created from scratch, downloaded as a template, or composed by attorneys, which is a more expensive option
Who Should Get a Copy of Your TN Advance Directive?
Once you complete and sign your document, you can have it notarized and give copies to anyone who is involved in your medical care in any way, including your:
Agent
Alternate agent
Family members
Designated medical practitioner
Friends
Clergy
It's also recommendable to keep a photocopy of your advance directive in your medical records.
Kiss Your Failed Advance Directive Drafts Goodbye—DoNotPay Jumps In To Help!
Forget about wasting hours trying to compose a health care directive yourself or seeking overpriced legal help. You can receive a complete and personalized document in five minutes from DoNotPay only by answering a few quick questions!
Here's how to do it:
Select Advance Health Care Directive
Provide us with information about your preferred health care
Name your agent and witnesses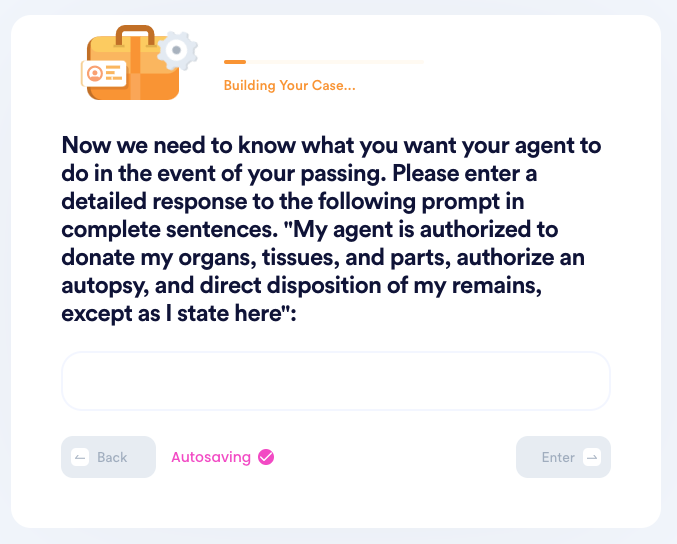 Not only will we generate your advance directive in a snap, but we will also assist you in making it legal by connecting you with an online notary public!
Our knowledge base is an invaluable source of information regarding advance health care directives! Whether you are confused about the difference between a health care proxy and power of attorney, wonder if a living will needs to be notarized, or want to find out if a power of attorney can deny visitation, we have all the answers!
Save Time and Money Using DoNotPay
Being on hold while trying to reach customer service is no picnic. With DoNotPay, you can jump the phone queue and reach a rep with ease. Are you contacting a company to request a refund or cancellation? No need for that! Our app can get it done in a few clicks. We can also help you return an item or handle a late delivery.
Dispute parking tickets, claim your warranty or insurance, set up a DMV appointment, contact an embassy, and deal with any other task with our assistance.
You can also request access to public records, apply for tourist visas, or file complaints with the help of our AI-powered app.
We're Not Done Helping You!
Our multifaceted app keeps getting new features that can streamline numerous tasks and solve all kinds of problems.
Would you like to join sweepstakes or giveaways? Are you up for participating in clinical trials and earning some money? Are you interested in sending mail without visiting the post office? We've got it covered!
We will help you protect your privacy by putting an end to spam emails, incessant text messages, and robocalls. If you think you're being stalked, you can count on our assistance. You can also use our app to perform a sex offender search, fight workplace discrimination, and handle annoying neighbors.