The Ins and Outs of an Advance Directive in Texas
While mulling over possible scenarios for when you are in a near-death situation is not thrilling, it could save your life.
You should make decisions about your health care in advance and put them in writing in a medical power of attorney, living will, and an advance directive in Texas.
This article explains what these documents should contain and how you can prepare them hassle-free.
What Is a Texas Advance Directive?
An advance directive in Texas is a legal document that lets you provide instructions for your health care provider in advance in case:
You cannot communicate your wishes regarding medical treatments for yourself
Someone else needs to make health care decisions for you
Advance Directive Forms in Texas
Texas law provides the following advance directive forms:
Texas Advance Directive Form
Specifics
Directive to physicians and family or surrogates
This document is also called a Texas living form that you should produce to specify your wishes regarding health care treatments in case you cannot communicate them for yourself because you:

Have a terminal or irreversible disease
Have been in a coma or vegetative state for an extended time

A Medical power of attorney
A Texas medical power of attorney lets you choose a person—a health care agent—to make medical decisions on your behalf if you are unable to make them yourself.

This form can also be referred to as a:

Health care power of attorney
Durable power of attorney for health care
Health care proxy—Some U.S. states make a difference between a medical POA and health care proxy

Out-of-hospital do-not-resuscitate (DNR) order
For this form to be valid, it needs to:

Comply with the rules of the Texas Department of Health
Be signed by a doctor

Mental health treatment declaration
According to the law, if you sign this form, your health care agent cannot consent to the following:

Voluntary inpatient mental health services
Abortion
Psychosurgery
Convulsive treatment
Who Can Act as a Health Care Agent in an Advance Directive in Texas
You should select a reliable and trustworthy person for your health care agent since that person will be in charge of your medical care when you cannot do it yourself.
Your agent should be someone who understands your medical wishes and is willing to honor them if the time comes. You could turn to someone near you, including your:
Close friend
Spouse
Parent
Relative
Adult child
Spiritual guide
Keep in mind that—according to Texas law—you cannot appoint the following to serve as your health care agent:
Your health care provider or their employee
Your residential care provider or their employee
If an employee of your health care or residential care provider is your relative, they can serve as your health care agent.
How To Draft an Advance Directive Form in Texas
If you are not sure how to prepare an advance directive in Texas, here are available options for you to consider:
Get in touch with a lawyer—While any lawyer can draft this form for you, there is no need to pay substantial attorney fees for an advance directive
Find an online template—You could go through different online forms and check whether they suit your specific situation. Keep in mind that you should inspect available templates carefully since some might not fit the legal requirements and your wishes
Register for DoNotPay—You should use our robot lawyer since we will ensure your medical preferences comply with the legal framework
Use DoNotPay for an Effective Advance Directive
Once you think everything through and consult with people you care about, you should turn to DoNotPay to create an advance directive.
Our AI-powered app is at your disposal 24/7 and can generate the document for you in a matter of minutes!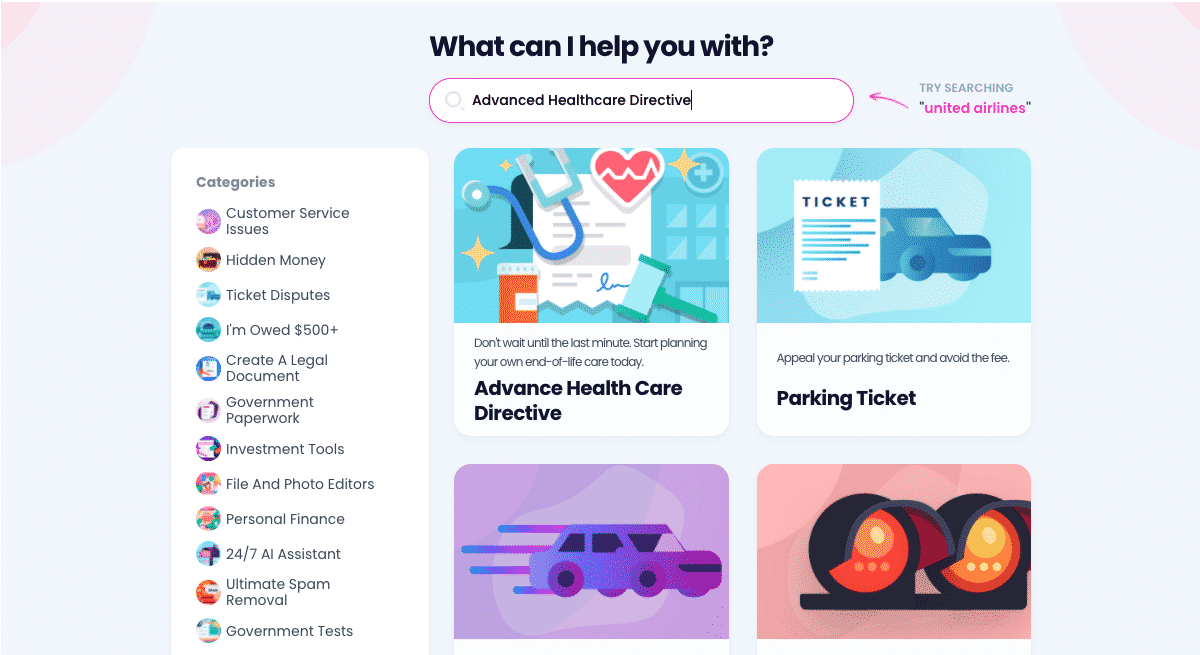 The process is smooth—Subscribe to DoNotPay and take these steps:
Access the Advance Health Care Directive product
Provide your medical wishes and the name of your agent
Indicate the powers you have decided to grant the agent
Enter the names of your witnesses or get the document notarized quickly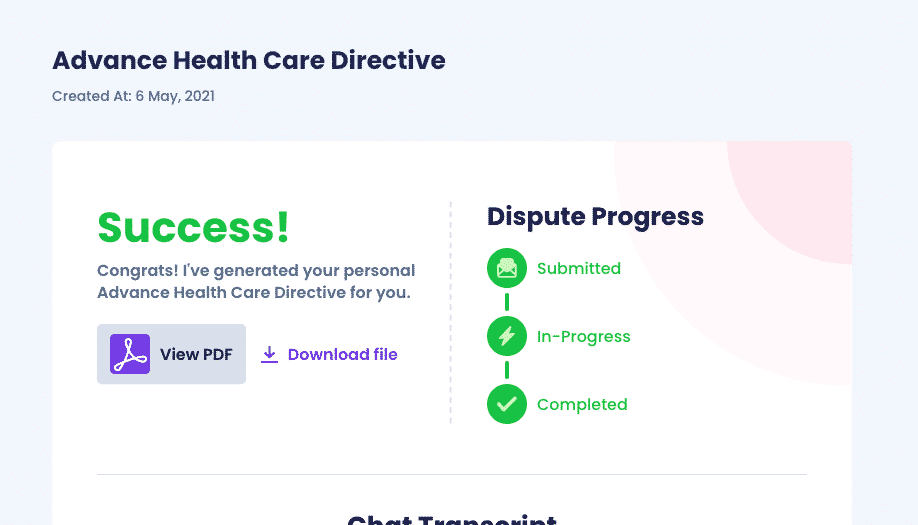 Solve Any Problem Within a Few Clicks
DoNotPay keeps adding new features that are designed to help you navigate your tasks and resolve issues. You can rely on your AI-powered app whenever you need to:
Earn and Save Money Using DoNotPay
When money is tight, every penny counts. DoNotPay can help you get what you're owed and also some extra cash.
Here are some of the ways our app can help you get paid:
We can also assist you in searching for your unclaimed funds, demanding a college fee waiver, and joining clinical trials.
If a company refuses to give you what you're owed, don't hesitate to file a complaint and take it to small claims court.