The Basics of an Advance Directive in Oregon
Letting someone decide about your life is no easy task, but once you're sure of who it is, an advance health care directive will help you make your decision official. Learn what an advance directive in Oregon entails and how to prepare one in a jiffy with DoNotPay!
What Is an Oregon Advance Directive?
An Oregon advance directive is a document Oregon citizens use to appoint someone else to decide for them about treatment methods (or lack thereof) in an emergency. The signers of an Oregon advance directive are:
The person giving the medical power of attorney—the person who completes the form
The designated health care proxy (also known as the primary agent or health care representative)—the person you entrust with making decisions about your health
Two witnesses—Only if you're not getting the document notarized
What Does the Oregon Health Care Directive Look Like?
The advance directive form in Oregon consists of four parts:
Parts
Details
Part A
The first part of an Oregon advance directive explains:

The purpose of the form—You're letting someone make health decisions for you
The validity of the form—The document must be signed and notarized to be effective

Part B
The appointment of a health care proxy—the person you entrust with making decisions about your health once the doctors determine that you're unable to do so by yourself
Part C
The third part of the Oregon health care directive works as a living will—here, you can specify the types of treatment you (don't) want to receive
Part D
The final section of the document contains your and your witnesses' signatures (or notary stamp)
In the document, you can also point out what should be done with any previously signed health care powers of attorney.
Other Documents You May Want To Include With Your Oregon Advance Directive
It's not enough to have an advance directive in Oregon if you:
Want to donate your organs—You will also have to include an Oregon Organ Donation Form with your advance directive
Suffer from mental illness—You will have to ask your physician and attorney about documents you may want to include with your advance directive, depending on the type and severity of your condition
Don't want to be resuscitated—The nurses must ensure your wishes are respected when you enter any treatment facility. Unfortunately, in some cases, the advance directive can be overlooked or unclear. To make it clear you don't want to be resuscitated in a critical condition, you may wish to complete the following forms:

DNR (Do Not Resuscitate)
OHDNR (Outside The Hospital Do-Not-Resuscitate)
How To Create an Advance Directive in Oregon
The following table explains all the ways you can draft an advance directive in Oregon:
| Method | Details |
| --- | --- |
| Writing the document from scratch | If you decide to write an Oregon advance directive on your own, you must make sure it isn't missing any of the three parts you would have to complete in a premade form |
| Downloading an online template | You can find many available templates and samples of a properly completed advance directive online |
| Paying a lawyer to create your document | Lawyers are experts in their field, but paying one to make your advance directive can turn out to be a hefty cost—even more so when you find out that there are better and cheaper ways to get the document you need |
| Using DoNotPay | With DoNotPay, it takes only a couple of minutes of your time to get a personalized advance directive |
Create Your Oregon Advance Directive With DoNotPay—Your Personal Pocket Lawyer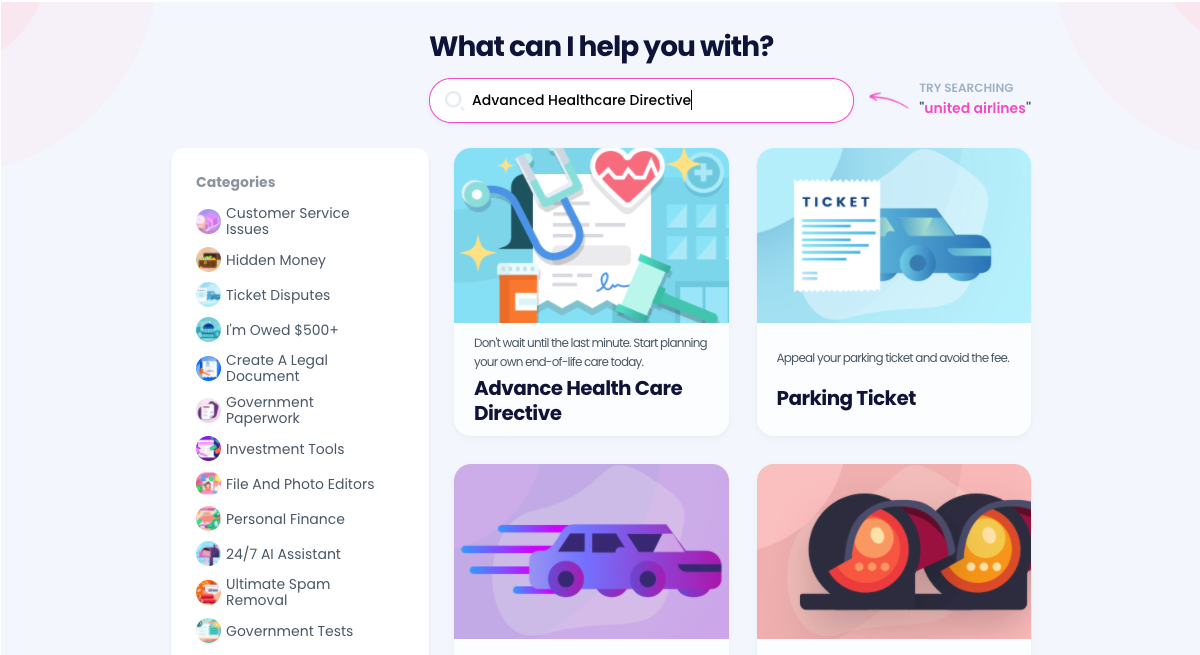 Ensuring your advance directive works in your favor doesn't have to be expensive or time-consuming. Whether you're in Oregon or any other state, DoNotPay can draft a custom advance health care directive for you in a matter of moments. To get started, visit DoNotPay and:
Search for the Advance Health Care Directive feature
Enter the name of the health care representative
Tell us about the treatment you authorize (or don't) in a case of an emergency
Type in the names of your two witnesses
Sit back and relax while we create your custom advance directive.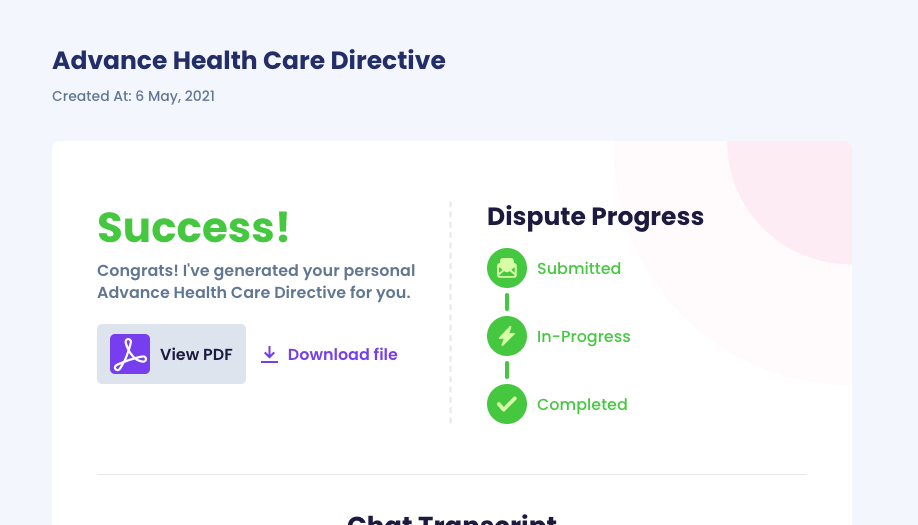 Do you need a notary? Let us connect you with an online notary so you can get the document notarized in a snap! We can also teach you about the specifics of a Jehovah's Witness advance directive form, the difference between a health care proxy and power of attorney, and much more!
With DoNotPay, There's Always a Way
There's so much more we can do for you! As soon as you sign up for our AI-powered app, you will have a myriad of nifty products at your disposal. We can do any of the following and more:
Tired of Companies Mistreating You?
If you're sick of dealing with greedy companies, subscribe to DoNotPay—we'll assist you with any issue at hand.
If you want to get a refund, send an item return request, file a complaint, claim insurance or warranty, get a free trial without getting charged by using our virtual credit card, or put an end to robocalls, your AI-powered assistant will be there to help.
When you decide to take legal action, our app will support you along the way. Sue any company in small claims court worry-free!