Creating a Spotless Health Care Advance Directive in NY
Determining your medical care and end-of-life preferences is a complicated and potentially stressful matter. New York law allows you to prepare your family, friends, and doctors for such situations by creating an advance directive.
What is the point of an advance directive in NY? Can you create such a document yourself? You can find answers to these and more questions in this straightforward guide. Our article will also show you how to use DoNotPay to create a living will or a health care directive and other similar documents without legal help or poor-quality online samples!
What Is a NY Advance Directive?
As per New York law, an advance directive is a set of clear instructions reflecting your health care wishes if you become too ill to communicate them. Creating such a document and sharing it with your loved ones saves them from having to make medical care decisions on your behalf. An advance directive also ensures that your wishes are respected by medical staff even if you can't express them yourself.
What Types of Advance Directives Are There in New York State?
There are three types of advance directives in New York:
Living will—A set of written instructions that explain how you want to be treated in case of a serious/terminal illness. It serves to inform your doctors and loved ones what treatments or end-of-life care you want or don't want to receive
Health care proxy (also known as a medical power of attorney or medical proxy in some other states)—A written document that lets you designate a person you trust as your health care agent (someone to make medical decisions on your behalf). You can choose any adult to be your health care agent unless they are:

Under 18 years old
Your medical practitioner—excluding of your spouse or family member
Employee or administrator of the hospital or any other health-related residence you reside in
A health care proxy in New York shouldn't be confused with a financial power of attorney
Do Not Resuscitate (DNR) order—A medical order that prevents your healthcare provider from performing CPR or any other life-saving procedure if you stop breathing or your heart stops
These documents become effective when two medical practitioners confirm that you can't make decisions yourself due to a serious illness or any other reason.
Advance Directive New York—What Should It Include?
Additional details about each type of advance directive in New York are stated in the table below:
Advance Direction Type
It Should Contain:
Living will

Your legal name and signature
Signatures and statements of two witnesses
Date of signature
Exact statement about your health care preferences

Health care proxy

Your name
Name of your health care agent
Authorization statement
Organ donation clause
Optional limitation clause
Optional expiration date
Signatures of both parties and two witnesses
Date of signature

DNR order

Simple statement written by a qualified medical practitioner
Your signature
Signatures of two witnesses
Do You Need a Personalized New York State Advance Directive? Rely on DoNotPay!
Are you trying to compose a decent living will or a medical proxy in New York but keep failing? You don't have to pay a lawyer's considerable fees or search for cheap and unreliable online templates. Sign up for DoNotPay, and we will prepare a personalized advance directive tailored to your wishes before you know it!
Here's the drill:
Open DoNotPay and choose Advance Health Care Directive
Enter the name of your agent
Disclose more info about your medical care wishes
Name your witnesses
Our app also offers you the possibility of having your documents notarized if your state requires you to do so!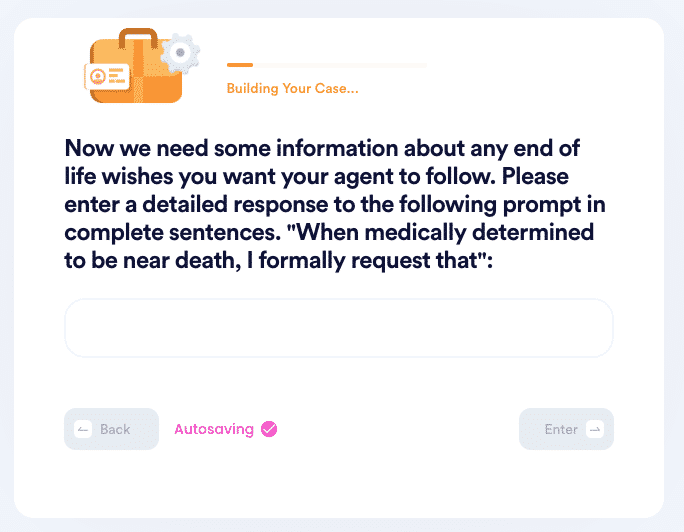 DoNotPay Offers More Assistance!
Our app boasts many features that can make your life easier.
Do you need help searching for unclaimed money or covering bills? Are you looking for clinical trials you can sign up for to earn some extra money? We can help you out in a flash!
Other tasks we can streamline for you are the following:
Forget Hiring a Lawyer—Use DoNotPay Instead
You don't want to spend a fortune on lawyer fees? No problem! DoNotPay—the world's first robot lawyer—is here to assist you! With our help, you'll be able to file complaints, sue anyone in small claims court, handle stalking and harassment, get crime victims' compensation, and draft numerous documents, including:
If you need to get a document notarized, you can also count on our help. We'll connect you with an online notary who will notarize your document in a flash.