The Simplest Way To Get a Solid Advance Directive in New Mexico
Surviving a brutal accident or getting sick can leave you incapacitated regardless of your age. In such cases, you may be subjected to treatments you don't want to undergo since you can't inform the medical personnel about your wishes. You can state your future health care preferences on time by creating an advance directive.
This guide is all you need to get familiar with the concept of an advance directive in New Mexico. You will also discover how to use DoNotPay to compose a living will, health care proxy, or any health care directive without immense attorney costs!
How Is a New Mexico Health Care Directive Defined?
As per the New Mexico Statutes, an advance directive is a compilation of straightforward instructions related to your future medical and end-of-life care. Its purpose is to inform your family, friends, and health care provider how they should act if you become incapacitated.
By putting this document into effect, you secure your rights to:
Refuse or accept specific medications and therapies
Choose the medical care facilities where you want to stay
Accept or deny the use of life support mechanisms
Donate your eyes, tissues, and organs
Make anatomical gifts (particular organs or the entire body)
Manage your end-of-life decisions, such as comfort care, hospice care, or funeral arrangements
It's recommendable to prepare an advance directive while you are still healthy, as debilitating medical issues can occur unexpectedly.
Which Forms Does a New Mexico Advance Directive Include?
The New Mexico advance health care directive consists of three main forms:
Power of attorney for health care (known as the state's medical power of attorney)
Instructions for health care (known as the state's living will)
Designation of a primary physician
All the parts are described further in the following table:
Form
Details
New Mexico power of attorney for health care
A document that delegates your rights to make health care-related choices to someone else. It should be a trusted, loving individual who's ready to take on the responsibility. It can be your:

Spouse
Long-term partner
Parent
Brother
Sister
Adult child
Grandparent
Grandchild

New Mexico living will or instructions for health care
A form that lists your future health care requests that doctors and family should follow if you can't express them yourself. You can sign it along with the medical power of attorney or as a separate document
Designation of a primary physician
A document that allows you to choose a preferred medical practitioner to treat you
While these forms are beneficial, you don't need to complete and sign them all. You can prepare the crucial ones and add the rest later if necessary. All the documents mentioned above come into effect once a certified medical practitioner confirms you have lost the ability to decide for yourself.
Do You Need Witnesses for Your New Mexico Health Care Directive?
New Mexico law states that an advanced directive doesn't need to be signed by witnesses or notarized. It's still desirable to do both to be on the safe side if the document's validity is challenged in the future.
Struggling With Finding a New Mexico Advance Health Care Directive Form? Make Your Document With DoNotPay
Making a health directive form in New Mexico or any other part of the U.S. can be tricky due to potential mistakes. If you want to get a flawless document in a few taps, DoNotPay is the solution you have been waiting for!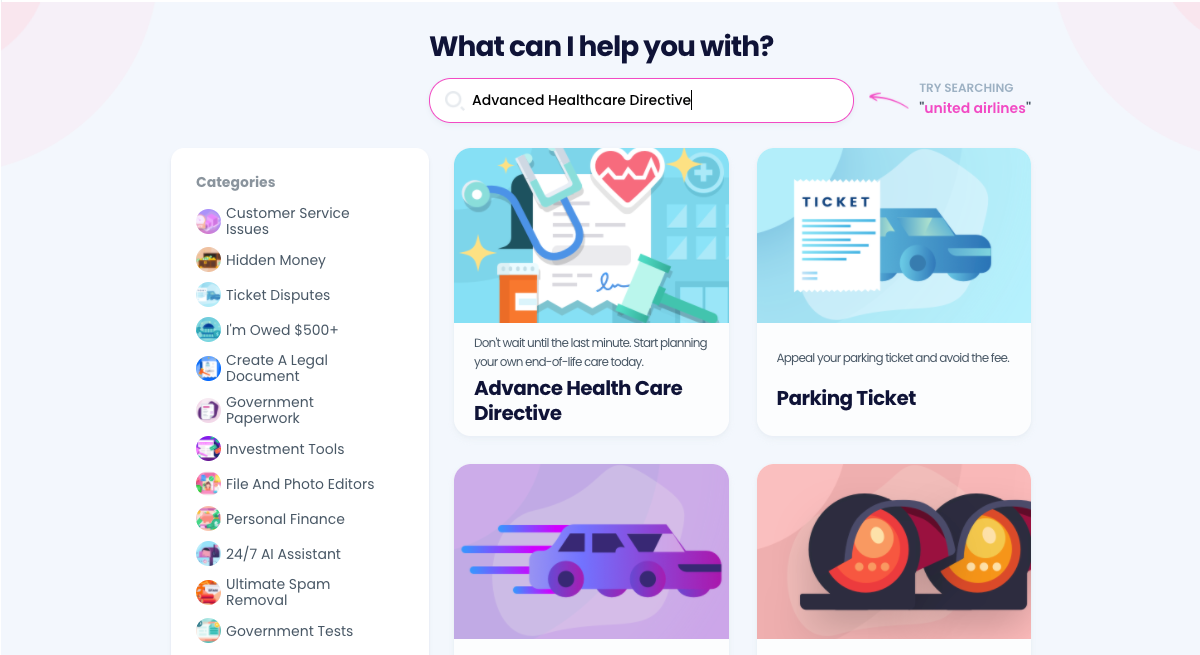 To get our help, proceed as follows:
Open DoNotPay and go to Advance Health Care Directive
Provide us with the names of your agent/alternate agent/witnesses
Fill out our chatbot's short questionnaire about your end-of-life and medical choices
Our AI-powered system will prepare a fully personalized health care directive before you know it! If you decide to have it notarized, DoNotPay can assist you by connecting you to a remote notary public!
Would you like to know what the difference between a health care proxy and a power of attorney is, if a nurse can witness a living will signing, and much more? Consult our extensive knowledge base!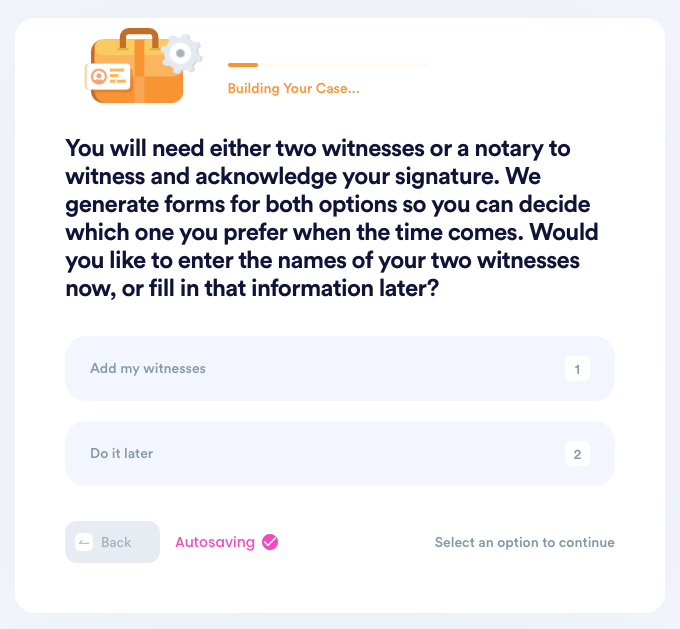 DoNotPay Offers More Assistance!
Our app boasts many features that can make your life easier.
Do you need help searching for unclaimed money or covering bills? Are you looking for clinical trials you can sign up for to earn some extra money? We can help you out in a flash!
Other tasks we can streamline for you are the following:
Forget Hiring a Lawyer—Use DoNotPay Instead
You don't want to spend a fortune on lawyer fees? No problem! DoNotPay—the world's first robot lawyer—is here to assist you! With our help, you'll be able to file complaints, sue anyone in small claims court, handle stalking and harassment, get crime victims' compensation, and draft numerous documents, including:
If you need to get a document notarized, you can also count on our help. We'll connect you with an online notary who will notarize your document in a flash.