An Advance Directive in Nevada Explained
Thinking about what might happen to you if you get badly injured or seriously ill might not be your favorite activity—but it could determine the direction of your health care. To avoid unwanted treatments and end-of-life procedures, you should create a living will, medical power of attorney, or advance directive.
This article provides details regarding an advance directive in Nevada as different states have different rules you need to follow.
What Is a Nevada Advance Directive?
A Nevada advance health care directive is a legal document that allows you to:
Appoint a person to make medical decisions for you in case you're not able to do it yourself
State your wishes regarding health care treatments and life-sustaining procedures
Indicate whether you'd like to donate your body or organs upon your death
You should prepare a Nevada health care directive to inform your family members, friends, and health care providers of your preferences in case of a terminal illness or medical emergency.
Different Parts of an Advance Directive Form in Nevada
The following table presents sections of a Nevada advance directive form:
How To Prepare a Nevada Advance Health Care Directive
If you'd like to get assistance with your advance directive, you could consider the following options:
Use services—While hiring a lawyer could be your first choice, you should keep in mind that:
Download a template—There are numerous online forms you could use when creating your advance directive, but make sure you:

Check the form thoroughly as some might not suit your needs
Adjust the chosen template to fulfill the necessary legal requirements

Register for DoNotPay—Our robot lawyer is:

More reliable than the generic online forms
Familiar with relevant rules
More affordable than an attorney
Turn to DoNotPay To Get an Airtight Advance Directive
Our AI-powered app saves you:
The energy and time you'd need to spend inspecting and changing unreliable online forms
The money you'd have to collect to settle costly services
We can help you generate a top-notch advance directive, (medical) power of attorney, or living will in minutes!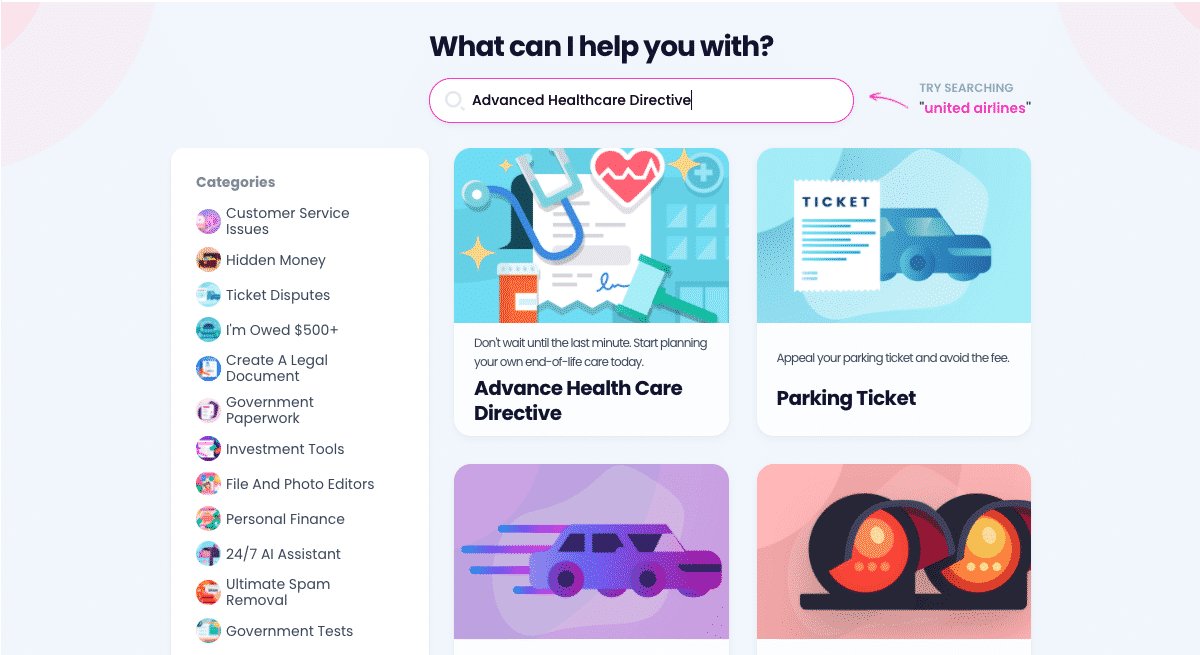 Head to the Advance Health Care Directive product
Enter your medical wishes and the name of your agent
Specify the powers you have decided to grant the agent
Choose to get the document notarized online or provide the names of your witnesses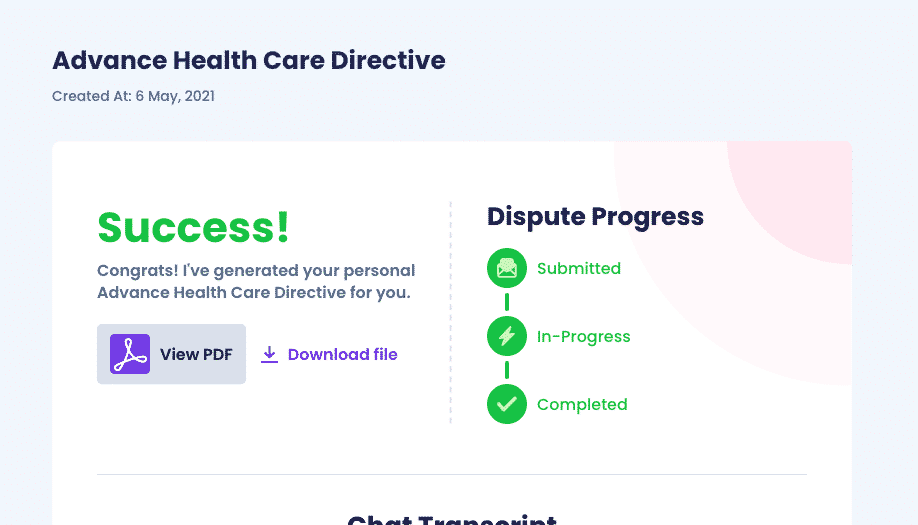 Make an Advance Directive in Nevada Valid
To make a Nevada advance directive valid, you need to get the document notarized. You can use DoNotPay to have any document notarized fast.
Another option you could take is to have two people witness your signature. Keep in mind that you cannot choose your:
Health care agent
Relative—At least one witness must be someone who isn't:

Related to you
Entitled to your property

Health care providers, including their:
What About Other Perks Our App Offers?
DoNotPay offers valuable assistance with the following tasks:
DoNotPay Cares About Health Matters
Finding suitable and verified clinical trials you can participate in is often complicated and time-consuming. Still, with DoNotPay, it becomes a breeze! Our platform allows you to search through clinical trial databases and apply for the ones that seem acceptable to you.
If you want to make sure your health wishes are honored if you get too sick, we help you compose an advance health care directive based on your preferences. That's not all—you can also name a person who can decide on your finances and estate if you get incapacitated by creating a power of attorney in our app!