The Fastest Way to an Advance Directive in Michigan
The generally accepted definition of an advance directive is that it's a group of documents that help the declarant express their wishes regarding end-of-life health care. What states cannot agree about is which documents are part of that group.
DoNotPay clarifies what is considered an advance directive in Michigan and introduces you to the fastest way to create yours!
What Is a Medical Directive in Michigan?
The State of Michigan recognizes only two advance directives:
Do-not-resuscitate (DNR) declaration
A living will isn't considered an advance directive in Michigan, but declarants often complete that form as well to help the assigned health care agent (also known as a patient advocate) understand their wishes.
Which Michigan Advance Directive Should You Opt For?
Let's take a look at the differences between the two types of advance directives in Michigan:
Document
What Is the Document Used For?
A durable power of attorney for health care (or health care proxy)
Allows you to designate a patient advocate. The patient advocate is supposed to carry out your wishes regarding life-sustaining treatment if you become incapacitated.

You can also express your wishes to the patient advocate regarding:

Organ donations
End-of-life location
Spiritual care

You might come across a document called a health care proxy, which is identical to the DPOA-HC in most states

Do-not-resuscitate declaration
A do-not-resuscitate order informs your physician and their employees that you don't want to be brought back to life if your heart stops beating. You can choose to carry a copy of the declaration with you or wear a DNR bracelet
When Is a Michigan Advance Directive Valid?
The legal requirements for advance directive forms in Michigan depend on the document you opt for. A Michigan DPOA-HC is valid if:
You complete all the required fields and sign it
A notary public witnesses you signing the document and verifies it, or two witnesses sign the document
For a do-not-resuscitate declaration to be valid in Michigan, it needs to be:
Signed by the:

Declarant
Two witnesses
The declarant's assigned physician (physician's signature not required if the declarant's religion prohibits resuscitation)

Included in the declarant's medical record
Why You Should Consider Completing Advance Directive Forms in Michigan
Some of the reasons why you should complete advance directive forms are to:
Inform your loved ones about your wishes regarding health care (or lack thereof)
Tell your physician and their employees about your preferences before you need life-sustaining treatment
Ensure that someone acts in your best interest when you become incapacitated
Make your final stages of life more bearable and comfortable
Prolong your final moments with your loved ones (if you want to)
Creating your advance directives can be a time-consuming and expensive process, especially if you're hiring a lawyer, but it doesn't have to be. DoNotPay helps you create your advance directive in a jiffy without breaking the bank!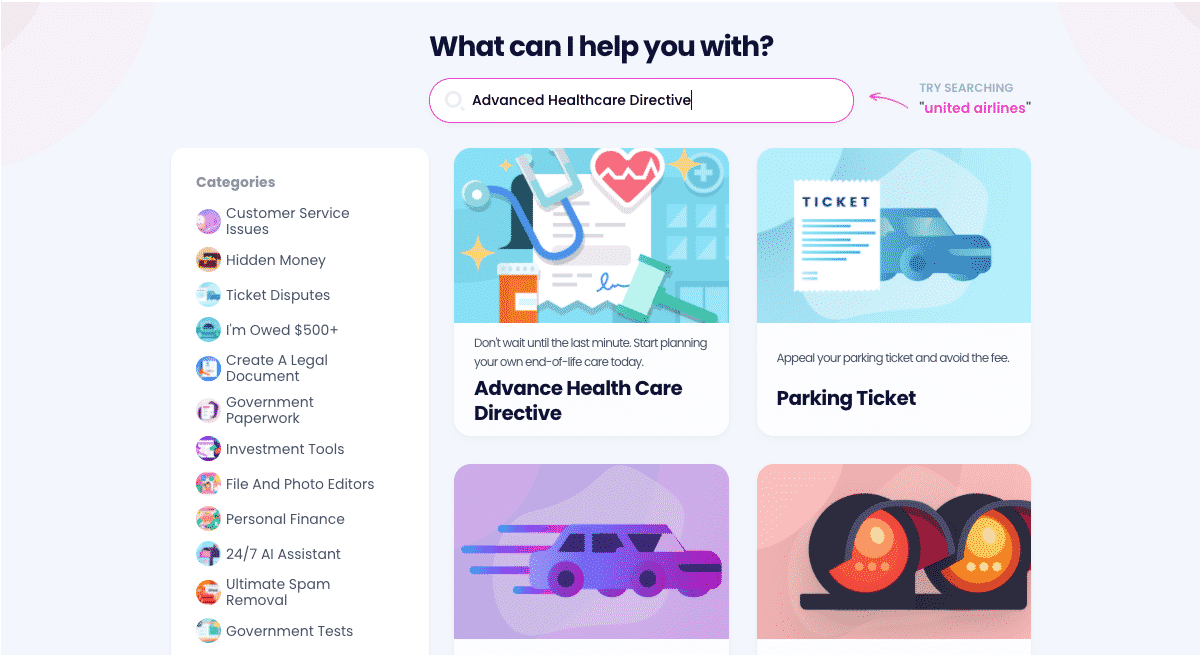 The Easiest Way to a Rock-Solid Advance Directive in Michigan Is DoNotPay
You don't have to wait until your condition worsens to create an advance directive. With DoNotPay, you can prepare in time for every scenario from the comfort of your home.
All you need to do to create a personalized advance directive is to visit DoNotPay and:
Select the Advance Health Care Directive feature
Enter the name of your patient advocate
Specify the treatment you do or don't authorize in emergencies
List the names of the two witnesses
You completed all the steps—what now? Once you get your advance directive, you only need to:
Sign it
Let your witnesses sign it
Get it notarized
Are you looking for a notary public in Michigan? Try our online notaries and get all of your documents notarized without having to leave your home!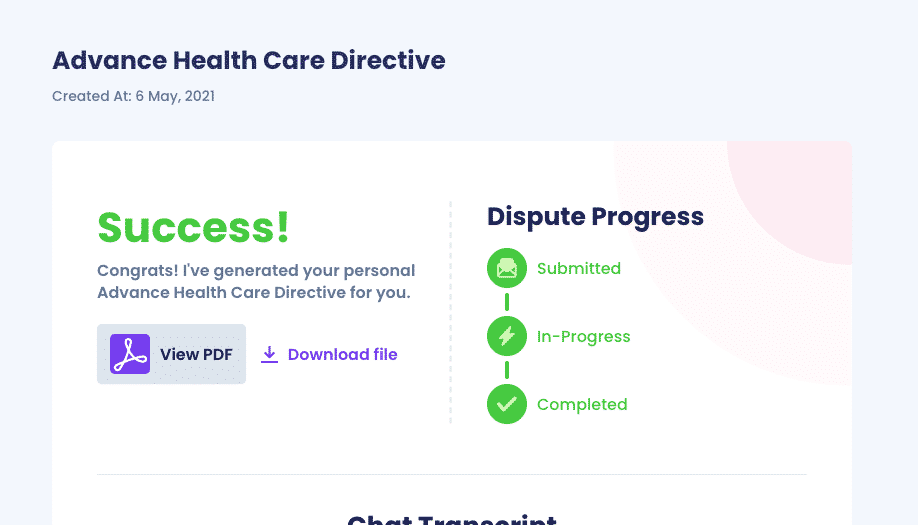 With DoNotPay, There's Always a Way
There's so much more we can do for you! As soon as you sign up for our AI-powered app, you will have a myriad of nifty products at your disposal. We can do any of the following and more:
Tired of Companies Mistreating You?
If you're sick of dealing with greedy companies, subscribe to DoNotPay—we'll assist you with any issue at hand.
If you want to get a refund, send an item return request, file a complaint, claim insurance or warranty, get a free trial without getting charged by using our virtual credit card, or put an end to robocalls, your AI-powered assistant will be there to help.
When you decide to take legal action, our app will support you along the way. Sue any company in small claims court worry-free!