Advance Directive Laws Explained
Planning ahead is a good way to ensure you get the health care treatment you want when the time comes.
What happens in a situation when you are unable to communicate your wishes regarding medical procedures? Advance directive laws let you appoint a health care proxy and create an advance directive, medical power of attorney, and living will. Your health care provider needs to respect the medical preferences you have specified in these documents.
Creating an Advance Directive—Laws To Obey
An advance directive is a legal document that needs to be in writing and—depending on your state laws—either:
Signed in front of witnesses
Advance directives usually include the following two forms:
Advance Directive Forms
Details
A medical power of attorney (POA)
A health care power of attorney is a document you should prepare to name a person—called an agent or health care proxy—to make decisions about your medical treatment in case you cannot make them for yourself
Living will
You should produce a living will to give instructions regarding end-of-life situations, i.e., if you are:

Terminally ill
In a coma or vegetative state
Advance Directive Laws and Terminology
To get familiar with advance directive terminology, take a look at the following table that lists different names you can come across:
Health Care Agent
Medical Power of Attorney
Aside from a health care agent, the person you choose to make medical decisions for you is also called:

Agent
Health care proxy
Health care surrogate
Health care representative
Health care attorney-in-fact

A medical power of attorney can also be referred to as:

Durable power of attorney for health care
Power of attorney for health care
Health care power of attorney
Health care proxy
Keep in mind that:
What Is a Physician Directive?
A directive to physicians is another name for a living will. It is a legal document that specifies your wishes about the medical treatment you want or do not want to receive in case your health condition is terminal or irreversible.
To make sure your health care preferences are respected, you should provide a list of all treatments you approve and disapprove of. If you would like to get a better understanding of medical decisions that you should specify in this document, you could think about the following:
Cardiopulmonary resuscitation (CPR)
Body, organ, and tissue donations
Mechanical ventilation
Palliative care
Tube feeding
Dialysis
Keep in mind that you should not confuse a directive to physicians with a do-not-resuscitate (DNR) order as these are different forms.
How To Prepare an Advance Directive
Advance directive laws do not require you to hire a lawyer to draft an advance health care directive, medical POA, or living will.
Instead of using this costly service, you could consider the following options:
Use online templates—There are numerous forms available on different websites. You should inspect them carefully and change them to suit your needs and state laws
Use DoNotPay—Our AI-powered app can generate an airtight advance directive, medical POA, and living will tailored to your wishes in minutes!
DoNotPay Creates Rock-Solid Advance Directives
Our robot lawyer is familiar with state legislation and will ensure your preferences for health care fit the legal framework.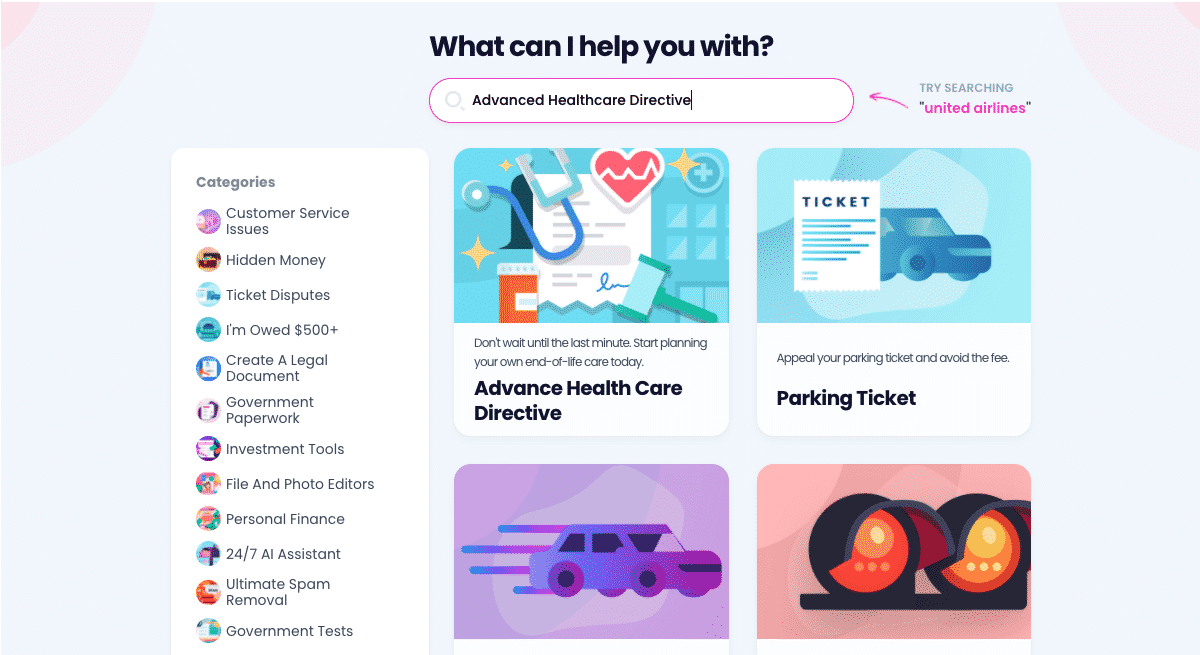 Sign up for DoNotPay and:
Head to the Advance Health Care Directive product
Type in the name of your health care agent and enter your medical wishes
Specify the powers you are granting your agent and treatments you want and do not want to receive
Enter the names of the witnesses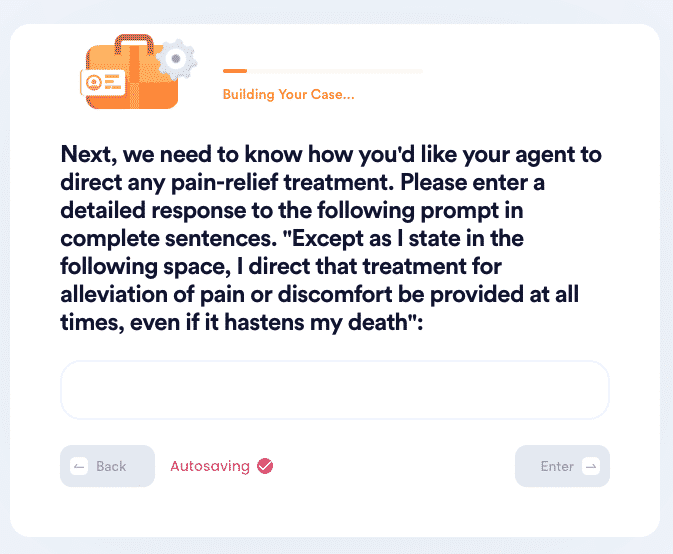 Keep in mind that according to advance directive laws, you need to get an advance directive document witnessed or notarized. DoNotPay can help you with the latter by connecting you with an online notary.
Solve Any Problem Within a Few Clicks
DoNotPay keeps adding new features that are designed to help you navigate your tasks and resolve issues. You can rely on your AI-powered app whenever you need to:
Earn and Save Money Using DoNotPay
When money is tight, every penny counts. DoNotPay can help you get what you're owed and also some extra cash.
Here are some of the ways our app can help you get paid:
We can also assist you in searching for your unclaimed funds, demanding a college fee waiver, and joining clinical trials.
If a company refuses to give you what you're owed, don't hesitate to file a complaint and take it to small claims court.