A Quick Guide to Advance Directive Laws by State
Anyone at any age can lose the ability to make their own health care decisions due to a serious injury or illness. In such situations, a health care directive can instruct your loved ones and physicians on which medical interventions they should approve for you.
The laws that govern the creation of these documents vary by state. This guide will unravel the advance directive laws by state and teach you how to create advance directives that comply with them using DoNotPay.
What Is an Advance Directive?
An advance directive is a legal document that allows you to plan for your future health care if you become incapacitated or terminally ill by:
Listing your medical care wishes
Appointing someone to make health care decisions in your stead
Two types of advance directives are commonly used in most states:
Medical power of attorney
Living will
The table below contains essential details regarding these documents:
Advance Directive
Explanation
Alternative Names
Medical power of attorney (POA)
It allows you to choose someone (typically called a health care agent or representative) who will:

Communicate your medical care wishes to health care providers
Make health care-related choices on your behalf

An agent assumes their responsibility once it is confirmed you're no longer capable of deciding for yourself

Depending on your state, the document can be referred to as a:

Durable power of attorney for health care
Designation of a health care surrogate
Health care power of attorney

Living will
This type of advance directive is used to spell out the medical interventions you wish or don't wish to receive if you become incapacitated or terminally ill
The document can also be called an instructional directive
An Overview of Advance Directive Laws by State
Every state has its own statutes that govern drafting and the use of advance directives—meaning the requirements for this document vary. The general points of health care proxy and living will laws by state are outlined in the table below:
State Law Requirements Regarding
Details
Signing of the documents
Here is the summary of signing requirements for all U.S. states:

Two witnesses when signing both a living will and medical POA
One witness—for example, in Arizona
Notary public and witnesses—for instance, in West Virginia
One document to be signed by witnesses—for example, a health care POA in Alaska must be signed in the presence of two witnesses
No witnesses—for instance, in New Mexico

Choice of an agent and witnesses
State laws impose restrictions on the choice of witnesses for an advance directive. In most states, your witness cannot be:

Your attending physician or their employee
Worker of a health care facility you are in (unless they are related to you)
Insurance provider
Estate beneficiary
Individual responsible for your medical bills

The concept of the document
Some states statutes govern the creation of:

Both living will and medical POA
One advance directive—for instance, Massachusetts and Michigan allow you to create both documents but don't govern the creation of a living will, so there are no formal requirements
A single document that combines a living will and health care proxy
Create a Legally Valid Advance Directive With DoNotPay
DoNotPay is the best method of creating an advance directive. Our AI-powered app generates your document from scratch and ensures that it:
Complies with the laws in your state of residence
Is ready in a matter of minutes
Accommodates your wishes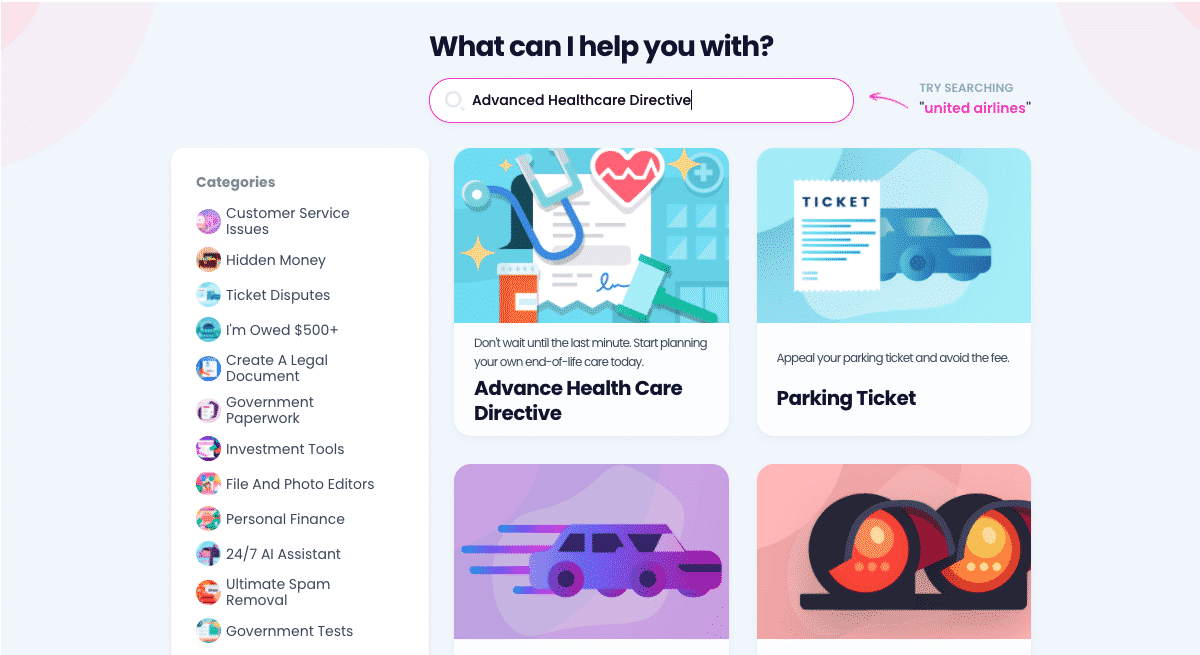 The process of creating a living will or health care proxy with our app is straightforward:
Select the Advance Health Care Directive tool
Name your agent and witnesses
Answer a few questions about your medical care preferences
We can also match you with an online notary if you want to get the document notarized.
You can turn to our knowledge base for more helpful guides to advance directives—such as how to compare a health care proxy to a power of attorney, estimate the cost of creating a living will, and many more!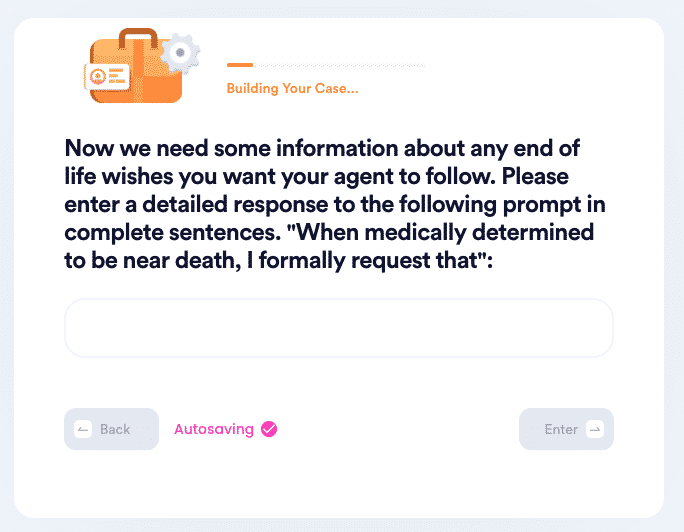 We Have Even More To Offer!
Find more information about the perks we offer in the table below:
Stay Safe by Relying on DoNotPay
One of the primary purposes of our app is to improve your safety. We help you stay secure and avoid incidents or privacy issues by:
Blocking:
Fighting against:
DoNotPay will also help you avoid unwanted personal info disclosure with single-use burner phone numbers. Our app can create a virtual credit card with a fake name and card details and prevent you from getting charged once your free trials expire!