Advance Directive Form—The Essential Info
Thinking about worst-case scenarios and planning your future medical treatments is not a pleasant task, but it is an important one. Making these decisions on time will bring peace of mind and help your family members deal with the situation more easily.
The process includes several steps, including completing an advance directive form. DoNotPay explains everything about creating an advanced health care directive and what you must know about related procedures.
When Would You Benefit From a Health Care Directive?
A health care directive can be used in various situations that require making important decisions regarding your treatment if you are incapacitated and unable to decide for yourself. We listed the most common treatment cases that this document can cover:
Mechanical ventilation
Dialysis
Resuscitation
Antibiotics or antiviral care
Comfort care
Organ and tissue donation
You will come across many names for this document. In some states, there are significant differences between them, so it is paramount to know what local laws impose.
Advance Health Care Directive—Alternative Names
Here are common alternative names for an advance health care directive you should know about:
Medical directive
Personal directive
Advance directive
Durable power of attorney for health care
Advance decision
Health care power of attorney
Living will
If you would like to know more about this sensitive document, DoNotPay can explain how to create a living will and fill out the living will form or break down the difference between a health care proxy and a power of attorney.
What Should Be Included in an Advance Directive?
Your advance directive must contain specific information to be valid and enforceable when needed. Here is what you need to include in a health care directive:
Contact information of your health care proxy (agent)
Information on how you wish to be cared for if you become unable to decide for yourself
Signatures and names of individuals who will witness the signing of your advance directive (if required by the state you live in)
A seal and signature of a notary (if required by your local laws)
Who Can You Choose as Your Advance Directive Health Care Proxy?
The essential quality of a health care directive agent or a proxy is trustworthiness. You can choose any person over 18 should you deem them reliable, for example:
Your spouse
Other family members
A close friend
Member of a faith community
Ways To Create an Advance Health Care Directive
It is of utmost importance to create an advance health care directive by following all the requirements because it can be declared invalid or void. Check out your options in the table below:
| Create a Health Care Directive | Brief Explanation |
| --- | --- |
| Yourself | Making any legal document yourself is not a good idea if you lack legal knowledge. A minor mistake can make it unenforceable |
| By hiring a lawyer | Getting a professional to handle such a task is a much better idea. The issue with lawyers is the cost of their service |
| With DoNotPay | The easiest yet affordable solution to get the airtight health care directive is to turn to DoNotPay! |
How To Create an Advance Directive With DoNotPay
You can find online forms to download and fill out, but relying on vague or unreliable templates is not the best course of action for creating such a sensitive document. With DoNotPay, you'll get a top-notch product without spending a fortune.
All you need is to answer a few simple questions, and we'll generate the document for you. Here are the steps to take:
Select the Advance Health Care Directive tool
Choose your agent and enter other relevant information, such as your hospital and primary physician
Enter the powers you would like to appoint to your agent (e.g., a list of authorized treatments)
Type in the names of witnesses
If you would like to define the health care issues regarding your kids, DoNotPay also offers essential information about medical power of attorney for children.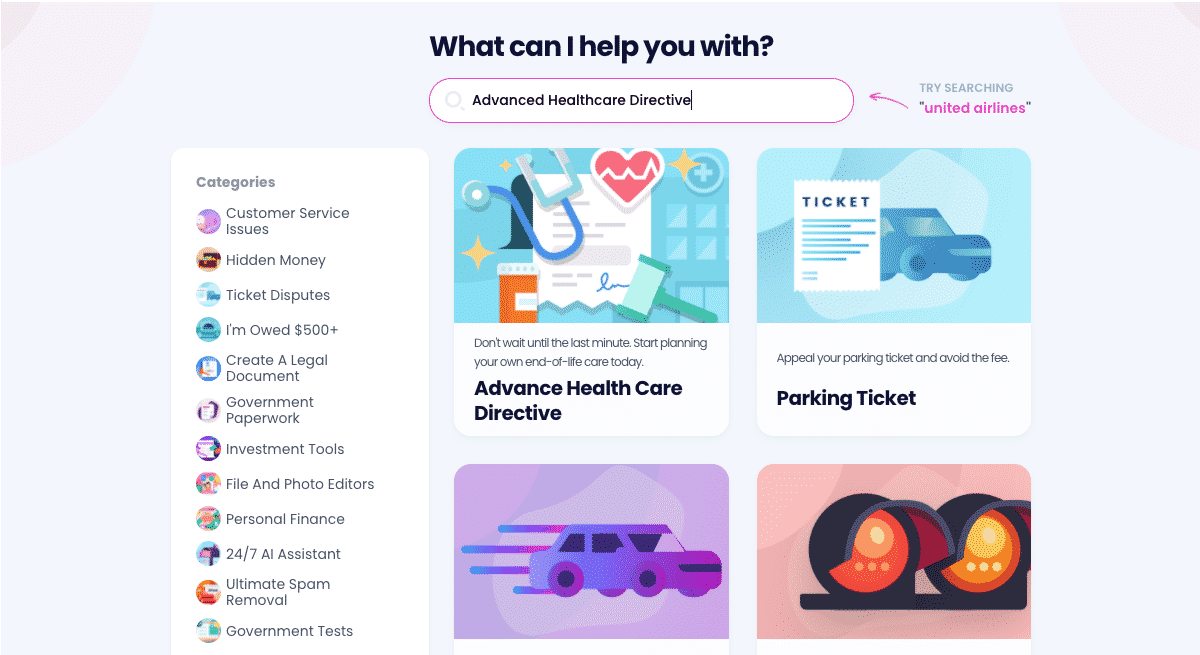 DoNotPay Has More Products in Store for You!
Our app is adept at solving numerous issues and completing various tasks in your stead.
You may want to use DoNotPay to protect your work from copyright infringement, reduce your property taxes, send defamation demand letters, or file FOIA requests.
Through the same app, you'll be able to skip many bureaucratic hurdles. Here are more tasks DoNotPay can help you with:
Use DoNotPay To Keep in Touch
If your friend or family member is in jail, we can help you locate them and send and receive letters with ease. Do you need to send other letters but hate going to the post office? You can use our Mailing Service product and save time.
We can also help you send online faxes, reach customer service, and contact embassies or government representatives.
In case you're drowning in email and text spam, our app can end it for good. Even if robocalls are bothering you, we have a solution!