Advance Directive in Florida Explained by DoNotPay
Putting your clear wishes regarding potential medical treatments on paper can be helpful for your loved ones and ensure your preferences are honored in the case of incapacitation.
U.S. states have different requirements and names for this document, so DoNotPay will provide you with the relevant info about an advance directive in Florida. Our app can also draw up this sensitive agreement for you.
What Is a Health Care Directive in Florida?
A Florida advance health care directive states your choices about medical treatment if you are unable to communicate due to a serious injury or illness. The advance implies that the document is signed in advance while you can still decide for yourself.
The agreement goes by many names, including:
Medical directive
Durable power of attorney for health care
Health care power of attorney
Personal directive
Living will
You can count on DoNotPay to explain slight differences between these documents, such as a power of attorney vs. health care proxy dilemma, for example.
What Types of Florida Advanced Directive Exist?
Florida law recognizes two types of advance directive:
A designation of health care surrogate
Take a look at the table below for more information about them:
Designation of Health Care Surrogate
Living Will

Appoints a suitable adult to make decisions regarding your medical care if you can no longer communicate
Allows the surrogate to speak for you any time you can't make medical decisions, not only at the end of life
Goes into effect when your physician decides that you are mentally or physically unable to communicate your decisions

States your wishes about health care in case that you:

Are in a persistent vegetative state
Have an end-stage condition
Develop a terminal condition

Goes into effect when your doctor determines that you have one of the named conditions
Lets you state your organ donation wishes
Doesn't require you to appoint an agent/proxy because it addresses the medical staff directly
If you decide a living will is a more suitable option for you, you can count on DoNotPay for information about:
Who Can You Select as Your Surrogate?
You can appoint any adult person to act as your surrogate. Make sure they are:
Reliable and trustworthy
Aware of your values, wishes, and religious beliefs
People most commonly choose their siblings, adult children, close friends, or spouses as surrogates, but an impartial third party can also perform the role. If you get a divorce, the appointment of your spouse will be revoked.
Do You Need a Lawyer To Make an Advance Directive in Florida?
You don't have to hire a lawyer to create an advance directive in Florida, but people without the required legal knowledge shouldn't take on this task because the document is highly sensitive. The downside of hiring a legal professional is the sky-high fee they will likely charge. The best option is to have DoNotPay create this legal document for you.
Draw Up an Advance Directive in Florida With DoNotPay's Help
If you would rather not be left with an empty wallet but don't want to risk using iffy online forms, DoNotPay is the best choice. We will make sure you receive an enforceable document with all the essential information.
These are the only steps you should take:
Type in Advance Health Care Directive in the search box
Appoint your agent and enter other relevant medical information (hospital, physician, etc.)
Let us know what powers you want to transfer to your agent
Include the names of the witnesses who will be present at the signing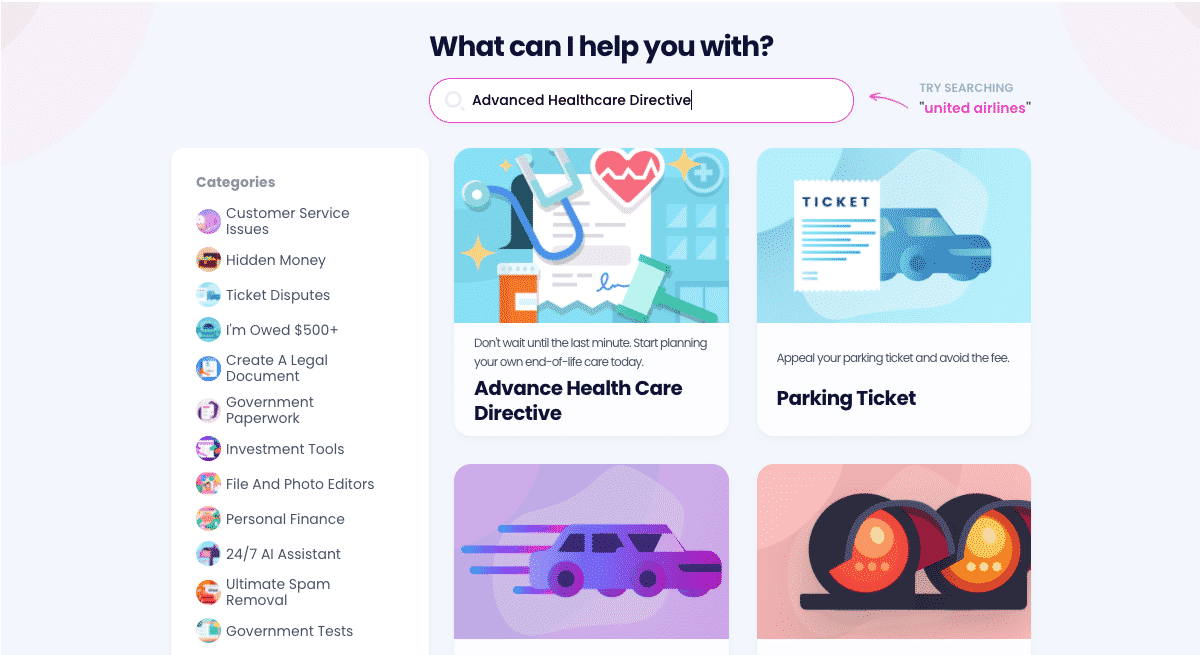 DoNotPay Has More Products in Store for You!
Our app is adept at solving numerous issues and completing various tasks in your stead.
You may want to use DoNotPay to protect your work from copyright infringement, reduce your property taxes, send defamation demand letters, or file FOIA requests.
Through the same app, you'll be able to skip many bureaucratic hurdles. Here are more tasks DoNotPay can help you with:
Use DoNotPay To Keep in Touch
If your friend or family member is in jail, we can help you locate them and send and receive letters with ease. Do you need to send other letters but hate going to the post office? You can use our Mailing Service product and save time.
We can also help you send online faxes, reach customer service, and contact embassies or government representatives.
In case you're drowning in email and text spam, our app can end it for good. Even if robocalls are bothering you, we have a solution!