All About an Advance Directive in D.C.
Putting your wishes regarding medical treatments on paper is a crucial step towards a more peaceful future. When you decide to create such a document—most commonly known as an advance directive—you should ensure it complies with your state laws.
DoNotPay is here to provide all the necessary information about an advance directive in D.C. and create the document for you—all you need to do is sign up.
What Is an Advance Directive in Washington, D.C.?
An advance directive is a legal document that includes details on how you want to be treated in certain medical situations. There are two types of advance directive in Washington, D.C., including:
Durable power of attorney for health care
Declaration (living will)
Washington, D.C., Durable Power of Attorney for Health Care
It is a document that lets you appoint a health care agent who will make medical decisions for you when you no longer can. Consult the table below for information on who you can appoint and what powers they can have:
Who Can Be a Health Care Agent?
What Powers Can Your Agent Have?
A reliable individual who is at least 18 years old, including:

Your spouse
Close friend
Adult child
Another close family member

Start or stop medical treatments or life support, such as:

CPR
Breathing machine or ventilator
Dialysis
Feeding tube
Blood and water transfusions
Surgery
Medicines

Call in a religious or spiritual leader
Decide if you pass away in a hospital or at home
Don't let the name confuse you. A durable POA for health care is also referred to as a medical power of attorney or a health care proxy in some states—others even recognize subtle differences between the two.
Washington, D.C., Living Will
A declaration or living will is a type of advance directive that lets you state your wishes regarding medical treatments without choosing an agent. This document is used in situations when you:
Have a terminal disease
Are in a persistent vegetative state
DoNotPay can provide you with information on how to create a living will, what the form should contain, and how much money you will need for the process.
When Do D.C. Advance Directives Go Into Effect?
When your Washington, D.C., advance directive becomes effective depends on the type. Your durable health care power of attorney starts when your doctor and a qualified mental health professional (a psychiatrist or psychologist) determine you can't make decisions independently.
A living will goes into effect when your physician and one other doctor certify that you have a terminal illness that will lead to your death without life-sustaining procedures.
How To Make an Advance Directive in D.C. Valid
To make an advance directive legally binding in D.C., you need to have it signed by two witnesses who are at least 18 years old. Neither of these individuals can:
Be your health care provider
Work for your health care provider
Be your health care agent
Work at the hospital you are being treated at
In addition to this, one of the witnesses must not:
Be related to you by blood, adoption, or marriage
Benefit financially after your death
Be in charge of paying your medical costs
Create an Advance Directive in a Few Simple Steps With DoNotPay
You can avoid paying sky-high lawyer fees and using generic advance directive forms if you opt for DoNotPay. Our app can generate this legal document in a matter of minutes. Here are the only steps you need to take:
Choose the Advance Health Care Directive product
Appoint your agent
Choose the powers you want to transfer to your agent
Type in the witnesses' names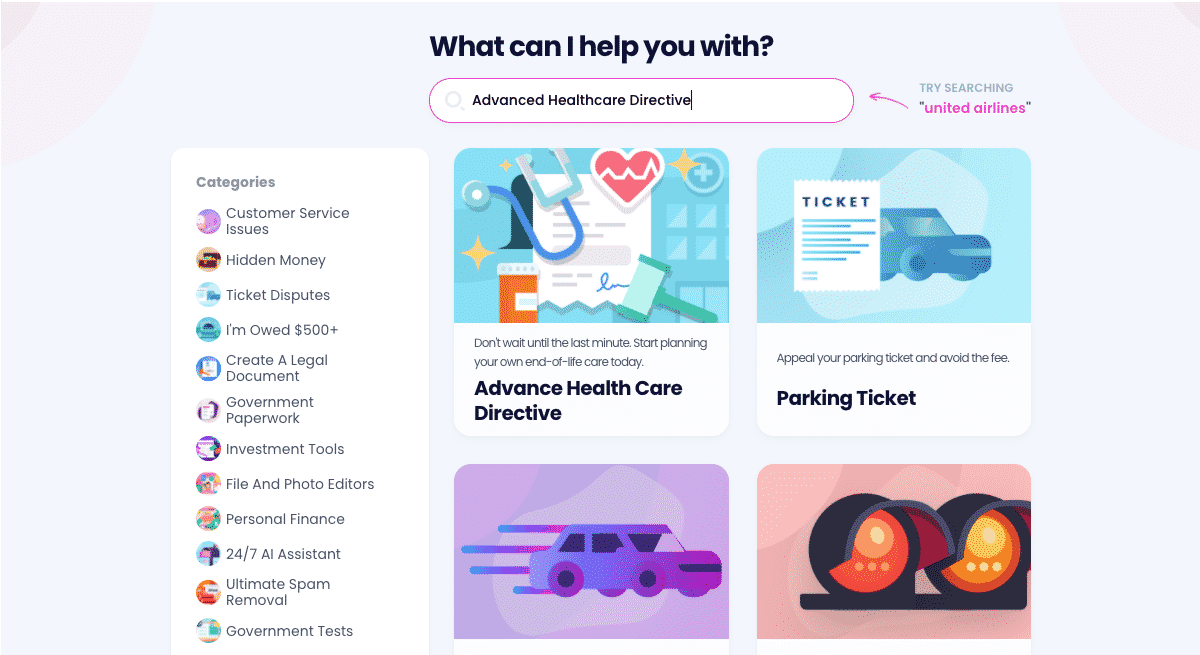 We Have Even More To Offer!
Find more information about the perks we offer in the table below:
Stay Safe by Relying on DoNotPay
One of the primary purposes of our app is to improve your safety. We help you stay secure and avoid incidents or privacy issues by:
Blocking:
Fighting against:
DoNotPay will also help you avoid unwanted personal info disclosure with single-use burner phone numbers. Our app can create a virtual credit card with a fake name and card details and prevent you from getting charged once your free trials expire!